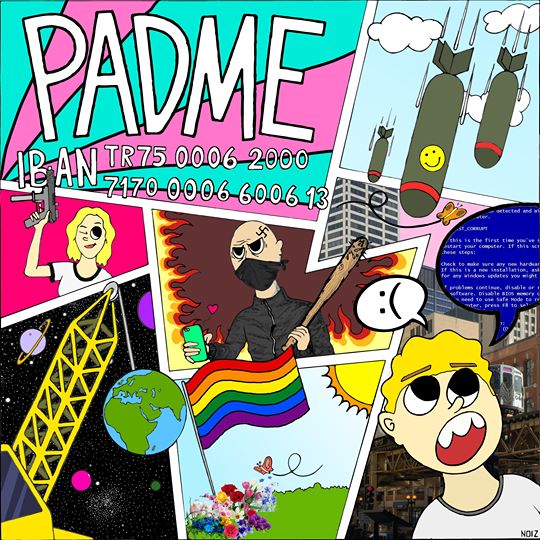 This review was written by Community Contributor, Adam Brown.
'WE REALLY LIKE LAGWAGON' – proclaims their official Facebook page. And with that please welcome to the stage Padme: a fast-paced melodic Punk band from Istanbul, Turkey. Padme are Arda Turan (Bass); Topri (Guitars/Vocals); and Orhi (Drums). As the statement on Facebook suggests this music is obviously an instant hit for any Lagwagon fan. It doesn't end there however, their music jumps between the drawling vocals of west-coast American Pop-Punk; a healthy dose of reggae & Ska-Punk; and a plethora of throwbacks to the 1970's UK punk scene: this is a Punk band for the people.
Padme first hit the scene in 2016 with their EP Re-Vizyon, followed up in 2017 with their debut album Bugün: an album dedicated to a life lived with perpetually empty wallets and under a corrupt Turkish government. If you haven't yet checked out the album then throw on the opening track 'Drones' right now, it's three minutes of pit-moshing splendour you won't regret letting tickle your ear canals, I promise.
More recently they dropped the somewhat strangely titled IBAN TR75 0006 2000 7170 0006 6006 13 in 2018 through Mevzu Records. After some research, it turns out IBAN stands for International Bank Account Number, although I am not sure how much mystery this clears up. IBAN TR75 0006 2000 7170 0006 6006 13 (herein referred to as "the album") is a continuation of Padme delivering music much in the same vein as their previous records. Track by track they serve up a swift and varied series of relentless Punk-Rock punches (or PUNK-ches, sorry).
The album opens with 'We Don't Care (About You)', a track instantly showcasing how technically proficient Padme are as a band, the amount of variety they manage to squeeze into this two-minute track is simply put: impressive. It kicks off with an upbeat catchy bass-line, dives fast into heavy guitar distortion noise, slides into a Reggae-Punk riff, and chucks a solo in for good measure. Along with the next two tracks: 'Tragedies' and 'Internet', the introduction to this record is enough to convince any fan of the genre. 'Tragedies' is an absolute winner with its machine-gun-fast drumming playing perfectly off the accompanying thrashing guitar chords, and the vocals in 'Internet' are a great example of tongue-to-big-for-mouth vocals packaged up in a one minute track delivered with a punchy NOFX-style riff.
A dose of Punk in its purest form is provided for listeners in 'Gotta Pee'. The band is in home territory for their lyrical inspiration, the riffs are snappy and raw, and the song doesn't really give a shit what you think about it at the end of the day. The vocals get weird, the song laments about the pains of living a life constantly short on money, and a heavy message is delivered about the difficulties of constantly having to find time to go and pee.
'Sing It On' is perhaps my highlight of the album. It sees the band move away from their more usual fast-tempo into a track with a solid Reggae/Ska-Punk guitar and trumpet accompaniment. Along with the crooning vocal chorus of 'We'll sing it on/sing it on-and-on!' the whole song merges into a beautiful drunken Punk-Rock lullaby fit for singing arm-in-arm together at the end of a hard nights drinking.
Things shift quickly back to politically-fuelled Punk-Rock outrage with the gritty opening riff of 'Aim, Shoot!' – a rasping guitar distortion heavy track which has some fantastic Nirvana-esque vocals partway through. This is followed up by the interlude track 'Seker' which unleashes the classic weapon from the Punk-Rock arsenal: The Sham 69 era "oi-oi-oi!" chant.
Elsewhere on the album there are hints of The Clash's experiments with reggae in the track 'Bos Tus'. Whilst not immediately as strong as other tracks on the album it ends up striking all the right notes and winds things up with a heavy shower of powerful guitar chords.
Closing off the album Padme show they have no shortage of inspiration with their longest track simply titled 'X'. The track does not once let up, fluctuating up and down in tempo throughout the four minutes, consistently hitting you hard across the face with its variety of watertight bass and guitar riffs. A smart and solid way to close the album.
IBAN TR75 0006 2000 7170 0006 6006 13 is a well-crafted album that dips its toes in all the classic Punk mediums from modern day back to its early inception. However, don't listen to it too much because I'm a little bit worried that when Padme hit it big they will no longer be able to access being skint as one of their main lyrical influences. I joke, just go and fucking listen.