The Expanse Of The Internet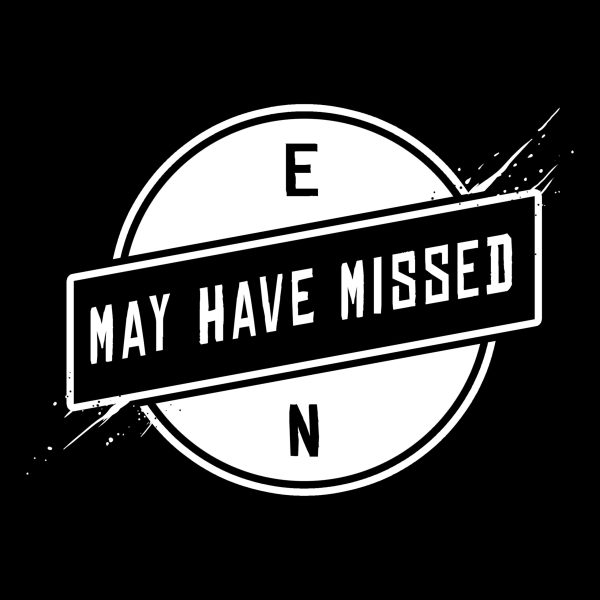 The "May Have Missed Special: Melodic Fast Punk Volume 2" is the order of the day. If you don't know, the "May Have Missed" series is a (now) long list of volumes covering a variety of releases from across the Punk and Alternative scene that, through sheer volume within and outside of my cavernous inbox, I, you and other music devotees "may have missed" as we navigate our increasingly busy, distracted lives. Though it is impossible to cover everything that is thrown my way or exists in the greater, ever-growing music scene in these coveted and precious spare moments, you can find all previous volumes of the series – Here.
However, as Punk-Rock in its fast, melodious and often serrated drive is a common feature in this series, I thought it about time to begin a sub-series sticking to those technically proficient, fast-firing guns specifically. And so, "May Have Missed Special: Melodic Fast Punk Volume 2". Off we go!
If you missed it, you can find "May Have Missed Special: Melodic Fast Punk Volume 1" – Here
---
Slang Poor Kids – Go Round The Bend (October 2022)
(Skate Punk/Melodic Punk)
Kicking off this "may have missed" special, is a band championing a more "old-school" approach to a genre in the utmost health.
Based between Brescia and Crema, Italy, Slang Poor Kids are another in a long line of Italian Skate Punk bands offering the greater European scene some notable noise. Go Round The Bend is the band's fourth effort from a four-year back catalogue of no-bullshit, raw, yet also distinctly classicist melodic Skate Punk. From clear nods to Bad Religion both pre and post-Suffer, the riff-heavy clout of Pennywise and the often upbeat drive of Lagwagon or Guttermouth, Slang Poor Kids repertoire is well researched from those prior names all the way to seminal melodic guitar work of Luke Pabich of Good Riddance and the earnest Melodic Hardcore of 88 Fingers Louie. That sentence may have been a veritable history lesson in itself but it does well to quantify the SPKs bedrock.
Go Round The Bend embodies but also builds on and refines this modus operandi. From the opening 'Last In Line' to the finalising, emotive 'Waiting For The Real Thing', classic melodic guitar lines round an overall more melodic sound this time around. That's not to say that the band's low-ridden rhythms, jagged refrains and Melodic Hardcore tendencies aren't present though, as the aforementioned comparisons to both Good Riddance and 88 Fingers Louie still make themselves known.
Riled with more confidence on Go Round The Bend Slang Poor Kids' "go-to" archetype masters this contrast between the harder and the more rounded with regular tempo changes and refrains, maintaining this upbeat but deceptively heavy-sound without the more modern Skate and Crossover Thrash-isms taking hold. That said, there are some clever nods to it for keen ears.
Slang Poor Kids have delivered with their latest. If ain't broke, Go Round The Bend.
Slang Poor Kids: Facebook / Instagram / bandcamp / Spotify / Apple Music / YouTube Music / Deezer
---
One Of Us – One Of Us (January 2023)
(Skate Punk/"Skate Thrash"/Melodic Hardcore)
It's difficult to contest the fact that the Canadian Punk scene has contributed some of the best in the way of fast melodic Punk into the greater scene in the last few decades. Despite such a historically rich and voluminous back catalogue, somehow the fire is yet to ember and it continues to raise its benchmark. Unsurprisingly then, "May Have Missed Special: Melodic Fast Punk Volume 2", heads to Canada.
Enter, One Of Us from, Winnipeg, Manitoba.
Within seconds, the tireless trademark of Canadian melody exerts full control with its impassioned statement of intent, as the harsh poignant truth of humanity's effect on the earth is laid bare. Succinctly put, One of Us aren't a band for wasting time.
As an entirety, One Of Us is unrelenting in its soaring ode to various historical points in the genre's history. From dashes of the "old school" so lovingly refreshed into the now, the band amalgamate tuneful mid-'90s Pop-Skate Punk in amongst the shredded, metallically-infused proto-tech-Punk of the late '90s and beyond.
As expected but by no means yielding any negative, Propagandhi-esque "Skate Thrash" is laced throughout the debut, with its most satisfying renditions present in the standout 'The Force', 'Sometimes Relief' and 'Wait and Fall'. Interspersed around such abrasion, the band's masterful and anthemic melody makes it hard not to hear the influence of  Mute in the contrasting steps between the keenest edge and its most polished inverse. This is something innate to this debut as from said "Skate Thrash" and other metallic jaunts onward to the most straight-running tempo, aspects of the more contemporary "technical" wings of the scene are infused into the very earlier forms of themselves. Consider the work of Propagandhi (again) and the likes of Adhesive, Belvedere and Strung Out and then see the likes of 'Four A.M' and 'Complete Fire'.
There are of course, segues into the Melodic Hardcore compadre so often found close to Skate Punk majorities. One Of Us are clearly aware of the omnipresent risk of being too reliant on the genre's underpinning pace and along with such forays into Melodic Hardcore ('Stuck In A Ditch' and 'Safety In States') and otherwise, album-wide, alternating variants of "fast" are expertly cast to avoid such a complacency.
One Of Us have released an eponymous debut a true contender for the best of 2023's faster crop.
One Of Us: Facebook / Instagram / bandcamp / bandcamp (label) / Spotify / Apple Music / YouTube Music / Deezer
---
Stone Leek – Revival (May 2022)
(Skate Punk/Melodic Hardcore)
After having the privilege of witnessing Stone Leek obliterate The Bread Shed at Manchester Punk Festival, their place in this list of tempo-junkie Punk-Rock you may have missed was well and truly assured. To momentarily pace back in time however, it's crucial to state that the band's previous full-length, 2010's My Last Words, is an album that warrants a thorough examination in its own right, as its own commanding display of furious Skate Punk and Melodic Hardcore is truly something to behold.
You can imagine then, that when Stone Leek began to tease new music in 2019 and 2020 ahead of what would become Revival, devoted fans of this wing of fast Punk (such as myself) struggled to contain their excitement. Revival, with these initial forays back into the game, then arrived in 2022, complete with 'Testimonial' / 'Temperament' (2019) in toe alongside both 'Blast' and their rendition of 'Who Knew' (Pink) from their 6613 Miles split with Bates Motel.
Revival owns its definition to the highest order. Release-wide, Stone Leek infuse a keen awareness of harmonious Pop melody, albeit darker, in, amongst and on either side of their furious and impossibly tight display. The four-piece continuously segue between unrelenting, overclocked and often metallically-inclined Skate Punk and quickfire fast melodic Punk both organically supplemented with bouts of frenzied Melodic Hardcore. Dual guitars are embattled but only in jest, as their unified aim unabatedly tears the fabric of our understanding of how powerfully anthemic such a style can be. Though varied, both 'Blast' and 'Stick To My Guns' boast an unquestionable directive on HOW this is done.
'Testimonial', 'Temperament' and the aforementioned 'Stick To Your Guns' stand as proficient examples of how to supplement a tempo-dependent foundation with such keen alternation. Though Stone Leek's rhythm section moves seamlessly between their fluidic Skate Punk and harder, comparatively angular blasts of Melodic Hardcore, the band's control of their slick deviations don't end there. Revival may well boast the best of their faster work ('But I Think Hope's Inside', 'Blast' 'Game Or Fake', 'Silly Things') but also as a greater body, showcases how comfortable the band are at thinking outside the box. See the finalising duo of the acoustic 'The Purpose Of Life' and the technical-Pop-Punk crossover of 'Goodfellas' closing an album that is very much that; confident and comfortable in itself.
Stone Leek present an impeccably hi-standard of fast melodic Punk.
'I no longer have a face' – Myself at Manchester Punk Festival after Stone Leek's set
Stone Leek: Facebook / Instagram / bandcamp / bandcamp (label) / Spotify / Apple Music / YouTube Music / Deezer
---
Main Line 10 – Painful (November 2022)
(Skate Punk/"Skate Thrash"/Melodic Hardcore)
Another that you may have missed from the tail-end of 2022's fast Punk offering was the latest from Spain's Main Line 10. Perio Rápido. Statement of tempo aside, the Palma band's legacy is one of brutally fast and tightly wound metallic Skate Punk and Melodic Hardcore that at times dances devilishly close Crossover Thrash, with the main deviant being, akin to others on this list, their equally colossal and commanding reserves of harmonious melody near-utterly permeating their performance.
'I Don't Care' opens a five-track EP hell-bent on the refinement of a Main Line 10 modus operandi forever expanding the top of its game. Ripping "Skate Thrash" markets its all-important melodic attribute over a body of the latter part of that acronym charged with Punk urgency, laden with quickfire stop-starts and lengthy descending drum-fills set to spool power for the outburst-refrain of fast Hardcore Punk localised in the centre. 'I Don't Care' is commanding yet it is 'The Silent' that pummels you into a husk of your former self. Track two's perfect contrast between its powerful, room-filling vocals, lacerating "Skate" to Crossover Thrash and huge, hypnotic chorus leaves you completely beholden to the Palma-four.
Painful further compounds and expands on the band's penchant for Pop melody with the resoundingly heavy-hitting, complex and upbeat PMA-anthem of 'Bright Falls'. 'Ohana' then follows on with more of the same, seeing soaring dual guitars incessantly layering as they hit an almost ethereal altitude over a buoyant rhythm section. Finally, the closing 'Heartbeat' feeds the band's development back into aspects of their bedrock, boasting shifting tempos, Easycore-like Pop-Punk and thick, Four Year Strong-esque riffs alongside dashes of Skate Punk tempo.
Main Line 10 honour their past as they chart a path of refinement and exploration.
Main Line 10: Facebook / Instagram / bandcamp / Spotify / Apple Music / YouTube Music / Deezer
---
One Fall – One Fall (November 2022)
(Skate Punk/Melodic Punk/Pop-Punk)
Pop-Punk-leaning or Pop-Punk adjacent melodic Punk bands are often overlooked when discussing the greater melodious and tempo-ingrained wing of the Punk scene. Cut with more regular mid-tempo buoyancy, crooning melodies and gleaming, cleaner tonality bands in this vein so often reference and at times even downright embody the faster and harder tempos and rhythms that in reality don't sit too far from this more Pop-fuelled base.
This is where the debut, self-titled EP from One Fall makes its clever three-track play, confidently showcasing what comprises their "now" whilst pointing at what they are set to develop. 'Slingshot' boasts a slick grafting 2:41 of Pop-Skate Punk defiantly led by soulful vocals, fronting a contrastingly heavy underbelly in complete control between the up and down tempo alternation that sees the band easily comparable to the likes of Coral Springs, Failing Up and For I Am.
'Rats Abandon Ship' takes a darker, shredded and significantly more metallically derived approach in an intro showcasing the power that resides below such a melodic outlook. Sharp, technically minded and layered, track two of One Fall hybridises either end of track one's format and then accentuates them both to fuller, more powerful versions of themselves, marking 'Rats Abandon Ship' as the EPs standout number. One Fall's influence pool is comparatively vaster than its three-track stature implies.
The Salem band's debut closes with 'Shoot Straight' and its rumbling mid-tempo jaunt. Threaded with a meandering, ear-worming lead lighting the way for further buoyant melodic Punk, track three is permeated with Pop-sensibilities carefully measured and displaying a masterclass in how Pop-Punk is far more amorphous than its cliche aspects suggest.
One Fall's blueprint is honed by default and stands as an excellent staging ground. You may well have missed it initially, but I doubt, now that you've caught up, that you;ll make the same mistake twice.
One Fall: Facebook / Instagram / bandcamp / Spotify / Apple Music / YouTube Music
---
Half Dizzy – Courtesy Flush (October 2022)
(Skate Punk/Melodic Punk)
Long Island's Half Dizzy are another you may have missed in the ongoing ode and nuance of the '90s melodic Punk formula. Openly toasting the likes of Millencolin and Lagwagon with darts of Skate Punk classicism, thick, driving riffs and momentary bouts of horn-backed guitar Ska parallel to shameless Pop-Punk, the band's debut from 2022 is a must-listen.
'Propaganda' rages discernibly against very much that with keen vocal interplay matching the intensity found in the fluidic tempo changes between verse and chorus. A brooding, anthemic lead keeps 'Propaganda' on target in a track where simply relying on a straight tempo is far outweighed in a constant alternation that pins you for the whole 2:25. The band's riff-heavy, latter- Lagwagon and Pennywise-esque approach shines a much as the earnest darts of pace in tracks such as the above 'Petty Things' and though rather only interspersed with faster sections, leaves you in want of nothing.
Thick, melodic and playful Punk is the way of it in 'Never Been Happier' and the Ska, Skate Punk crossover of 'Conspiracy' marks an absolute high point across the board on Courtesy Flush, with every aspect of the Half Dizzy ensemble, contrary to their moniker, standing in top, lucid form. 'Broken Down' further implies the wealth of the collective influence the band allows to run free in their smiling frenzy of Punk-Rock. Powered, grounded and twisting shredded Skate Punk with a Rock n' Roll swagger, Half Dizzy are utterly commanding in every essence.
The band close the EP proper with the chugging, mid-paced '90s ode that is the hook-laden 'Surrogate' prior to acoustic renditions of both 'Never Been Happier' and 'Propaganda'
Relative to what Half Dizzy offer on this debut, there is certainly no conspiracy attached to how replayable this release really is.
Half Dizzy: Facebook / Instagram / bandcamp / Spotify / Apple Music / YouTube Music / Deezer
---
Colorsfade – Built From The Wreckage (January 2023)
(Skate Punk/"Skate Thrash"/Melodic-Hardcore/Post-Hardcore)
After a run of shorter releases and a full-length debut that cemented their place in the metallically inclined fast melodic Skate Punk scene in 2018, Colorsfade returned earlier in 2023. This time via People Of Punk-Rock Records, the band offered ten tracks taking full ownership of a dynamic thirty-eight minutes and eleven seconds designed to entirely annex that exact time frame from you. Repeatedly. And so, the "May Have Missed Special: Melodic Fast Punk Volume 2" heads to Canada, again!
'Line In The Sand' draws the Built From The Wreckage mission statement with its anthemic, two-stage intro carrying the band through a flexing instrumental onward to shredded high notes, themselves spooling energy for a core run of melodious Skate Punk fluidically propelled by strings marking the synergy between Skate Punk and Metal in this particular timeline.
Built From The Wreckage doubles down on the post-Propagandhi Thrash-Punk, the gleaming melodies of Mute and the slick technicality of Belvedere-brand tech-Punk but also on the harder, comparatively more punishing displays drip-fed from 2018. The metallic leads of the previous album are that much more pronounced, lethally sharp rather than just heavy and shamelessly more confident but equally, are now more so juxtaposed with huge soaring (often Strung Out-esque) melodies drawn from Punk, Metal, and (notably) bouts of both early 2000s Post and Melodic Hardcore.
You'll, of course, find shameless '90s Pop-Punk-isms thrown in for continuity, playfully in amongst the streamlined drive honed on In Real Time. This time, however, the latter still returns as the intrinsic underpin but does so with considerably more weight. The cutting nature of the band on Built From The Wreckage and its harder, more aggravated and varied fervour now renders both core components of the Colorsfade arsenal even further prominent and then some, with the near-constant variation in tempo assisting in this perfectly throughout.
Be it the aforementioned Thrash, the harder, more traditional metallic leads or the structural contortion of Post-Hardcore and its onset, emotive melody, the scope that Built From The Wreckage is derived from is impressive at every corner. From any and all of the above, onward to a glimpse of jagged, Easycore Pop-Punk, Colorsfade are far from afraid of experimentation, comfortable and confident in the fact that their archetypal Skate Punk foundation is ancestrally indomitable. Lyrically, as expected, Colorsfade battle to comprehend what they see, from flawed social and political structures and addiction to glimmers of defiant hope; all are backed with the clarity of emotion that you come to expect from the four-piece.
Colorsfade have an acuity when it comes to composing an all-enveloping, heavy and impassioned contemporary melodic Punk sound and Built From The Wreckage is a fantastic entry into this year's crop.
Colorsfade: Facebook / Instagram / bandcamp / Spotify / Apple / YouTube Music / Deezer
---
And so passes "May Have Missed Special: Melodic Fast Punk Volume 2", but fast.
Perhaps I'll do another in the future but for now, there are twenty-one volumes of the regular run of the "may have missed" series to peruse – Here for those looking for more variety. Equally, as this is article #654, it goes without too much direct utterance that there are six-hundred and fifty-three others to kill some time with.
Thanks for reading!