The Expanse Of The Internet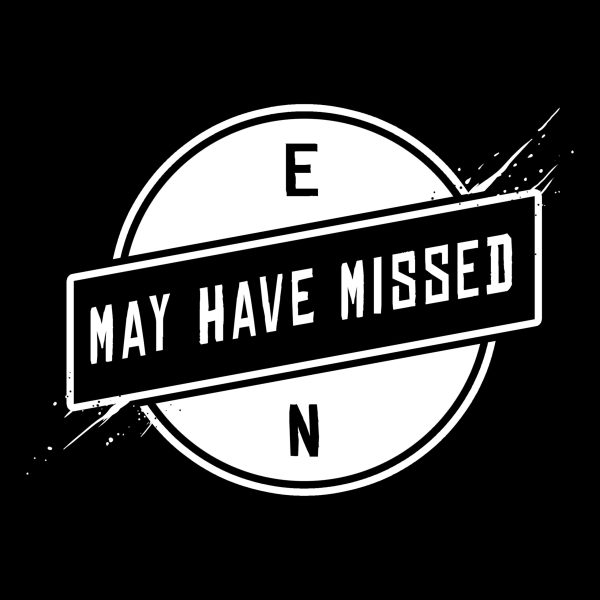 The "May Have Missed Special: Melodic Fast Punk Volume 1" is the order of the day. If you don't know, the "May Have Missed" series is a (now) long list of volumes covering a variety of releases from across the Punk and Alternative scene that, through sheer volume within and outside of my cavernous inbox, I, you and other music devotees "may have missed" as we navigate our increasingly busy, distracted lives. Though it is impossible to cover everything that is thrown my way or exists in the greater, ever-growing music scene in these coveted and precious spare moments, you can find all previous volumes of the series – Here.
However, as Punk-Rock in its fast, melodious and often serrated drive is a common feature in this series, I thought it about time to begin a sub-series sticking to those technically proficient, fast-firing guns specifically. And so, "May Have Missed Special: Melodic Fast Punk Volume 1". Off we go!
---
Friends With The Enemy – Divide and Conquer (September 2022)
(Skate Punk/"Skate Thrash")
Australian Gold Coast fast Punks Friends With The Enemy returned to the fold-proper this year after a concentrated period away. The band's back catalogue up until 2016 boasted a merging of seminal stylistics purveyed by the likes of NOFX, Pulley and the like but also the proto and full-blown penchant for proficiency that cut across the Skate Punk scene in the late '90s and beyond. Beyond and until now, where the metallicized, the technical norm is perpetually shifting, amorphous in nature but crucially retraining the core characteristics underpinning it.
Divide and Conquer is a child of these times, Friends With The Enemy have had ample time to refine yet also to depart and the confidence in which they have returned emblazoned with is brash yet also considered on this latest. 'Raise The Alarm' is a sharp affirmation of Skate Punk tuned and weighted by a metallic ferocity contorted to the former's use, whilst the following 'Days Are Numbered' tips the scales further beyond Skate Punks' contemporary Thrash penchant and not for the last time. Find a full breakdown of the single – Here.
Though prevalent, don't allow all this talk of "the metal" to overtake the melodic Skate Punk focus of this entry. Friends With The Enemy balance such juxtaposition well on Divide and Conquer. 'SML' soars over a serrated frame. 'Facebook Value' narrates the abject "social media verse" over a riff-heavy Bad Religion-esque slowed refrain and further on, 'Running Wild' and 'Waking Up' own the indomitable, meandering guitar lines, path-finding leads and tempo alternation that characterise contemporary Skate Punk's odes to its continued, anthemic journey.
'Set Me Free' in its penultimate defiance to negativity and laments to mistakes and previous anguish is another boasted display of contemporary Skate Punk-Trash while the closing 'Forever Gone' flexes with more of that championing confidence. Track ten cleverly deploys the warped Post-Hardcore-isms you know you've been hearing throughout Divide and Conquer with a wash of layered guitars, choice distortion and emotive, poignant lyricism and a melodic lead equating the same emotion.
Friends With The Enemy: Facebook / Instagram / bandcamp / bandcamp (label) / Spotify / Apple Music / YouTube Music /Deezer
---
Shrug Dealer – Infested (September 2022)
("Post-Hardcore-Imbued" Skate Punk)
Outside of the "token" bands, the more "technical" wing of DIY Skate Punk is less prevalent than the more "traditionally" inclined bands in the greater US scene and that is not meant in a derogatory sense. However, such a precision and nuanced punch is slowly softening these barriers with each tempo-dependent clout. Consider the monikers of Oh The Humanity!, Head Honcho and PEARS to name a few and said prevalence is only increasing. Now it has been prefaced, it is with Shrug Dealer, who on top of a stellar debut have unleashed Infested, a key release in this proliferation. You can find an introduction to the band – Here and both a track-by-track for Infested and an interview with the NYC four-piece – Here.
Combine the clear influence of the likes of A Wilhelm Scream, Cigar, Such Gold and Belvedere on the band's debut (and its particularly skilful remaster) with jarring and definitively jaunting Post-Hardcore-isms, a penchant for more standardized melodic Punk and a further specificity toward the influence of Propagandhi, Hot Water Music and maturity nuanced Pop-Punk and you have a hook to pull you in for what Infested offers.
The debut EP was laden with all the hallmarks of technical Skate Punk stamped with intrinsic Shrug Dealer quirks but with 'Participation Trophies' opening Infested, the doubled-down display is shameless. Bursts of relentless tempo are prefaced and layered equally with sentient, determined guitars playing off each other to perfection. Such rides over a rhythm section flirting with "Skate Thrash" but on all levels unambiguously grounded to a decimal place level of precision accuracy across the track with multiple deviations in tempo and style. 'Tilt Mode' boasts an awareness of thick, Easycore-esque Pop-Punk cut with a Post-Hardcore that quickly merges with the band's foundational Skate Punk, itself cut with additional existential "Pop-Punk" mired in further sardonic and jaunting lyricism.
'Summer Camp' is a writhing and jagged Skate Punk tune cut with the above Post-Hardcore odes just enough as it takes the anthemic, politicised Punk song to a punch-face masterclass. 'Please Turn Off The Gramaphone' moves through the band's entire repertoire in a grinning flex and the later 'The Call Of Epigon' marks Shrug Dealers' ambitious Prog-Punk zenith on Infested.  With some blessed help from a Punk staple, that is. 'The Desperate Housewives Of Ada County' is another encompassing this era of the band and as for 'Sk8 & Decoy', well, you can digest that bailing beauty below.
 Shrug Dealer: Facebook / Instagram / bandcamp / Spotify / YouTube Music / Apple Music / Deezer
---
Dalmatans x – 'Sheep's Shadows' / 'Silly Guys' (September 2022/October 2022)
(Skate Punk/Melodic Hardcore)
In a scene where bands come and go through huge tenure-like careers, spanning swathes of releases and personnel changes as fast as they push their tempo-dependant craft, it is easy, though not from any derision on my part, to stick to the same crop. Equally, there is also a mirror-image occurrence with the opposite effect, where so many bands are thrown at you in a barrage of battered snares and sound-barrier rendering riffs that it's easy to get lost in the din. Enter then, Dalmatans X, a band from Salvador, Brazil that epitomises the coming of a fresh, new and indeed young band.
September of this year saw the debut single, 'Sheep's Shadows', a track echoing the likes of Straightline, Mute, Thousand Oaks and the melodic, yet powered and aggressive fervour those bands continue to inspire. 'Sheep's Shadows' is short and sharp but considered. A bedrock of streamlined Post-2000s Skate Punk is filtered through the band's raw three-piece gauze as its aggravated nature moves to further allude to what the band have coming. At 1:35, a thick, contemporary Hardcore riff forebodingly eases in a heavy-set refrain as a statement to what, again, later work from Dalmatans X will entail prior to a finalising blast of tempo straddling Melodic Hardcore closes the band's first single.
'Silly Guys' followed a month later with its interesting perspective on the omnipresent social media verse. Now, it's not unheard of across contemporary Punk and Hardcore yet alone the more melodious echelons of the scene to hear songs lambasting and crashing through the onset worry this "world" places in our heads. However, in Dalmatans X's case, it is nuanced remarkably harder considering their respective ages. 'Silly Guys' is this perspective and stylistically, continues to cut the band's raw Punk-Rock with groove-laden refrains or breakdowns on either side of bouts of determined, cathartic pace. See the best example of this between 1:55 and the tracks close where the band again, hint at future sonics ready and waiting.
This a band that will go far.
Dalmatans X: Instagram / Spotify / Apple Music / YouTube Music / Deezer
---
Straightline – Keep Your Cool (September 2022)
(Skate Punk/"Skate Thrash"/Crossover Thrash)
Though the quality of this release arguably yields a brief snap of incredulity when considering the fact that people may have missed its scene-monumental arrival, that is precisely why you are reading this special issue of the "May Have Missed" series. Straightline have been around for a certifiable "time". They've "punked" in an insatiable quest for tempo, sang and exuded their conviction through soaring, ear-worming lyrical and matching anthemic guitar melodies, "thrashed" to the point of sound barrier evisceration and absolutely, under no circumstance, covered The Venga Boys live on a Slovenian riverside. Never.
Digression aside, though it sat stewing, poised to by no means prospectively (and rather certainly) perforate the eardrums of the fast Punk scene, for quite some time, September saw Keep Your Cool burst from its sequestering confines.
And what of it? Keep Your Cool wastes none of its lengthy duration, culminating all the components that have resulted in Straightline going as long as they have. 'Global Frustration' moves from reverberating Metallic Hardcore to crashing through Crossover Thrash and then spends the rest of its duration switching between and feeding the above through soaring Skate Punk-Rock.
This is something the standout 'Virus' perpetuates, though with a slightly higher penchant for the fast, streamlined, yet also aggravated melodic Punk the band are known for. The Straightline-brand Pop-Punk of 'Undone' then takes a hard deviation for that crucial album contrast ahead of the shamelessly late '90s Skate Punk of 'Weltchermerz'. I will state that this variety is but just four of the band's latest salvo of twelve that I could easily write a volume on, from its beckoning hooks, ear-canal destabilising structures to its resonant lyrical hammer strikes on the heads of pertinent nails.
Coming back to it, Thrash is a huge aspect of the band's modus operandi, that much is incontestable but its presence is cleverly cut across contemporary Skate Punk's obsession with it, vehement Crossover Thrash and its Hardcore roots and of course, in its purest form. Though, even in the latter, Straightline can't help but play it faster. In fact, the indomitable nature of the genre is so organically intrinsic to Straightline's sound, that I would argue they are up there with the very best of those playing this vein of hybridised fast Punk. Fret not though, the emotive and anthemic tendrils of this band's Skate Punk foundation permeate Keep Your Cool enough to keep all you aficionados content, on an album that truly stands as one of best of this year's tempo-dependent efforts, unambiguously so across the band's four-piece board.
But fast.
Straightline: Facebook / Instagram / bandcamp / Spotify / Apple Music / YouTube Music / Deezer
---
Have No Heroes – Letters To Nowhere (May 2022)
(Skate Punk)
On a "May Have Missed" list where the more, as a good friend would say, "noodley Skate Punk" is a dominant force, it would be foolish not to introduce releases on either end of the technical maelstrom of this accelerated scene. Enter Have No Heroes from Latvia and their 2022, second full-length Letters To Nowhere. I would thoroughly recommend their debut Plastic World but for those looking to read on, consider the following. If you were to culminate the fast melodic acumen of the Swedish Punk scene, the heavy set riffs of Pennywise, the melodious power of One Hidden Frame and then nods to No Use For A Name or Pulley, you will have an idea of the Have No Heroes repertoire.
After an aptly titled 'Intro' presenting a powered flexing of muscles, the four-piece hit the vintage train cut with heavy, Bad Religion-adjacent, Pennywise-infused riffage that slowly edges toward the shredded, techy-allure of the contemporary scene. Further imbued with key tempo changes and refrains, themselves helping to transcend and negate the risk Have No Heroes have taken with placing the eponymous 'Letters To Nowhere' so high in the running order, the band have you pinned for what's to come.
The standout pair of 'No Regrets' and 'Funeral Of The Genre' balance Pulley-esque singalongs with a layered, technical late '90s Punk in preparation for the serrated and brooding 'Advice'. Have No Heroes, but five tracks in, task their fastest work and its opposite number to accentuate each other's clout, resulting in a lossless dynamic confidently moving back and forth. 'Funeral Of The Genre' is also renditioned again in the band's native tongue as 'Žanra Bēres' to close Letters To Nowhere.
Though perhaps less "technical" and complex than others on this list, such is not a criticism, for Have No Heroes are filtering Skate and melodic Punk classicism through such contemporary conditioning with skilful ease. See the crooning, anthemic mid-paced highpoint that is 'Better Way' or the Thrash-supplemented, 'Divide and Conquer' or 'Final Destination'. That is also not to say, that those who prefer the intricate layering and complexity fated for the majority of current Skate Punk bands won't find something here, because you undoubtedly will. See below.
Have No Heroes have crafted an album that seamlessly and unabatedly darts between schools of this fast Punk game and they beckon you to join them.
Have No Heroes: Facebook / Instagram / bandcamp / Spotify / Apple Music / YouTube Music / Deezer
---
Making Friends // Shackleford – Making Friends With Shackleford (July 2022)
(Skate Punk/Melodic Punk/Pop-Punk)
Australia, Germany, Brazil, Latvia, fast shit has an unambiguously unquenchable reach but I'd be doing this list a disservice if didn't include at least one release from my home shores. "May Have Missed Special: Melodic Fast Punk Volume 1" closes then with a split EP release from the UK, via Brighton's Making Friends and Nuneaton's Shackleford.
Making Friends are a relatively fresh-faced four-piece focussed on tenaciously questing, for the most part, for ways to cathartically express as fast as their bodies will let them. Lagwagon, Belvedere, Adhesive, Cigar, you get the idea, filtered through a frantic UK gauze, Making Friend's catalogue to date markets some of the best, modern renditions of raw, yet precise late '90s/early 2000's Skate Punk that inspired so much. 'Die Trying' is a veritable catapult, winding and firing in its alternating tempo as it wrestles a fervent inner turmoil sponsored by revelations of existential sequestration by the monied system keeping it down.
Making Friends casually segue between bouts of scrappy melodic Punk and a more relentless pace across 'Die Trying', layering a more complex, layered and harmonious guitar sound as they go, over a gritted, angular rhythm section itself incrementally increasing in fervour and depth. 'Ignore The Exit' repeats this process with accentuated riff-heavy display, alluding to what a band that is always writing are motioning toward. 'We Aren't Making Friends' then markets a class in sardonic lyricism backed by an ironic alacrity for talking about daily dread chasing a meandering lead line darting for some sort of peace of mind.
As for the Shackleford side of the split. Though not adverse to faster BPM (as you will hear), Shackleford occupies the slower to mid-range of the melodic spectrum, contrasting Making Friends on the one hand and matching them with their effortless, expertly orchestrated command of melody on the other. The band continue the thematic, aspirational, intro and extrospective thought on the split existential release. In a succinctly put, thoughtful nutshell, this where Shackleford truly excel and 'Fixing A Divot' is another in this consistently quality melodic Punk band's catalogue. One I thoroughly suggest you absorb – Here
'Pendejo' is yet another, choppy, chugging and rumblingly addictive Pop-Punk song from a band whose ability to nestle themselves in your ear canal forevermore is at the top of its own and indeed the UK scene's game regarding such an accolade. However, this is a list primarily focused on unbridled tempo and fittingly, Shacklefold close both the split and consequently this specialised volume of the "May Have Missed" series with a fantastic ode to a song that many owe. A fantastic cover of 'You' from Bad Religion's notorious, 1989 LP, No Control.
It's almost as if some semblance of planning went into this list.
Making Friends: Facebook / Instagram / bandcamp / Spotify / Apple Music / YouTube Music / Deezer
Shackleford: Facebook / Instagram / bandcamp / Spotify / Apple Music / YouTube Music / Deezer
---
"May Have Missed Special: Melodic Fast Punk Volume 1", then. Perhaps I'll do another, who knows!
For further fast bits as well as other tantalising talent derived from the underground Punk and Alternative scene, you can currently peruse eighteen other volumes of the "May Have Missed" series  – Here, with the most recent Volume 18 being a particularly lucrative one.
Nice.