The Expanse Of The Internet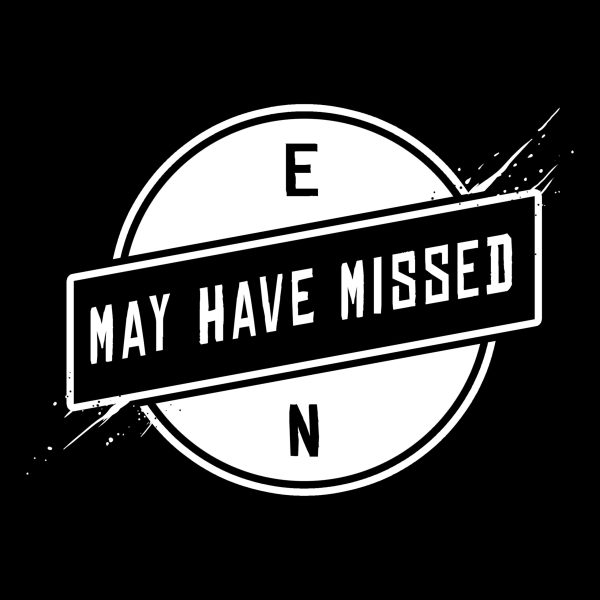 "May Have Missed Volume 18" is an attempt to counter the volume of requests I receive in the various Ear Nutrition inboxes as I type away. The venture of EN, when it boils down to the barebones of itself, is a spare-time hobby. I try to do what I can, as there is only so much I can electro-scribble down on a screen. Some don't fit and others are simply irrelevant to the site but overall, if they pique my interest or "fit" the site and whatever trend it's pursuing at that time, they get featured. I obviously don't have the time to cover everything and even though I would if I could, it's just not possible.
So, without further waffle, here is some music that I haven't had the time to sit down with-proper. The purpose of this series is to provide some varied new noise as an enticement to indulge in the plethora that is the underground music scene worldwide. "May Have Missed Volume 18" consists of cuts from the inbox but also a few from outside of it. Enjoy!
Volume 17 and the past volumes of May Have Missed can be found – Here
---
Take It To Heart – Hymns For The Hopeless (August 2022)
(Hardcore Punk/Melodic Hardcore)
Another from the Safe Inside Records vault of modern Hardcore, Take It To Heart epitomise much of what the label's roster is achieving. The San Diego label's penchant for fast, emotive and melodic Hardcore Punk stands as a very real and bonafide commitment to it and I implore you to cast your ears across their roster, both past and present.
Speaking of Take It To Heart, the band's debut was released in the severely limited 2020 and though like many releases, it may not have gotten as much of a chance as it should have, the band's evocative Hardcore is one worth consistently experiencing. Do so – Here and then we can move on.
Fast, streamlined, honest and yet also severe as well as accosting, powerful and heavy set, the Take It To Heart formula has had two years to mature before returning refined with a six-track EP. With a thick, groove-laden trudge, layered, emotive guitars and a spooling barrage of tempo, the opening 'Ghostwriting A Catharsis' cuts across a three-pronged trident of Hardcore before its bitter vocals hurtle into a void as hopeless as it is hopeful as they simply try to do their best.
The band's melodious lead lights a determined path as a charged, low-ridden rhythm section turns previously barred doors into splinters. Track one of Hymns For The Hopeless may carry the weight and fury of contemporary Hardcore but the legacy of early 2000s Punk-Rock-infused Melodic Hardcore is an underpinning foundation to the band. In fact, 'Ghostwriting A Catharsis', rife with its vigorous yet seamless tempo changes and navigation through the nuances of Hardcore, marks itself as THE track of choice for both an opener and a prospectus for the MO of Take It To Heart.
Next in line, 'Letting Go' accentuates the wild, unhinged 'core aspects of the previous with its tonally low drive and fiercely jagged metallic abrasion. Beyond that, the riff-heavy 'No Love No Trust' is a masterclass in how Metallic Hardcore groove, a traditional burst of tempo and emotive guitar lines can coalesce into a furiously raw and intrinsically occurring bout of organic modern Hardcore Punk-Rock. Well, that and its closing sample.
And the rest of it? Well, I think I've given you reason enough to investigate.
Take It To Heart: Instagram / bandcamp (label) / Spotify / Apple Music / YouTube Music / Deezer
---
Deux Furieuses – 'Bring Down The Government' (June 2022)
(Post-Punk/Grunge)
Taking the time to chart a course through the back catalogue of London/Glasgow-based Deux Furieuses is a lucrative endeavour that I would recommend to anyone wishing to chart the (stylistically) guitar-based fringe-Punk genres. Post-Punk, Indie, Grunge and further forays are amalgamated into a Punk sound fuelled by a miasmic discontent that, as of June 2022 and a part of a trident of singles ahead of their next full-length in November, yielded the topical, 'Bring Down The Government'.
Focussed on the blatant disregard for the population during a global pandemic, the token fiscal fuckery of public money and abject levels of hypocrisy, 'Bring Down The Government' chronicles the tenure of Boris Johnson's Conservative government in the UK over the pandemic period, including much of what would eventually bring his leadership down. Not that things have improved since then of course but that's another conversation, though it does indeed share the sentiment of this particular track.
Digression aside, 'Bring Down The Government' is haunted by a plodding bass in its intro as a stripped-back Grunge-ism flexes in a jabbing frustration before leading to a brooding and sardonic Post-Punk motion. This gloom-laden trudge varies in intensity as the single progresses with its cycling, hypnotic drum patterns equating the consistency of the failings the track cites as much as the cranial stress it all induced. This is then infused with an eerie grin represented by an electrified wobble contrasting the foreboding atmosphere of hopelessness not so easily forgotten with an erratic hope. Deux Furieuses then play you out with a further hypnotic fervour, although this time, their defiant resignation is feeding off its own self-sustaining, fervent power.
Deux Furieuses' sound across their three singles from the forthcoming Songs From Planet Earth has skillfully differed and with the dark frustrated nature of 'Bring Down The Government' contrasting on the one hand and furthering the band's intrinsic conviction on the other, the 11th of November is a date you should note. That and this coming Friday the 21st of October as Deux Furieuses are set to release another single ahead of the full whack in November.
Deux Furieuses: Facebook / Instagram / bandcamp / Spotify / Apple Music / YouTube Music / Deezer
---
Spite House – Spite House (August 2022)
(Melodic Punk/Post-Hardcore)
A friend put me onto Spite House around the time the Montreal band released their Awake EP earlier this year and instantaneously, their modern Punk sound captured my attention. The layers upon layers of nuances, deviations and derivatives of stylistics strewn across the ever-widening and developing Punk scene can make it difficult articulate for reference but, despite that, Spite House's stamp on the above is one you may have missed to your detriment. Nuances on existing Punk music are a huge part of the "May Have Missed" series and on this debut full-length, the blend Spite House offer substantiates the ubiquitous reach of the unending Post-Hardcore spectrum confidently.
Consider Samiam, Jawbreaker, The Last Mile, Phantom Bay and the like, then, supplement that with a modern flair for heavily distorted melodious power and shamelessly heavy-set, barraging refrains. Following that, apply the contemporary obsession with fuzzed yet soaring Shoegaze guitar tones and you have an intro. Spite House-the album encompasses many of these words across its twenty-nine minutes. 'Awake' captures the exuberant charge of Punk guitars over a grounded, grizzled rhythm section determined to fuel the band's gruff yet melodious catharsis. Quick-fire time changes and prominent tempo alternations echo the lasting influence of Post-Hardcore on the subsequent years of emotive melodic Punk as the track's rough structures are tempered by melody just enough. A move that is itself contrasted with abrasive, heavy-set, pounding bouts of powerful breakdowns charged from beneath.
Throughout the rest of Spite House, the band's command of rousing vocals, angular rhythms and frantic, effortless drumming back an amorphous melodic lead that fits every purpose it's Post-Hardcore Punk foundation throws at it. "Pop-Punk", "Emo", and Post-Hardcore retroactively filtered through seminal Black Flag-isms and a middling, but by no means mediocre appearance of organic Punk-charged Alternative Rock, all of these are seamlessly transitioned with a musical acumen and acuity that permeates every second of this debut full-length. In fact, there isn't a moment where the band don't have you pinned in place.
This is an album you will repeat time and time again. Trust me, I'm a self-identifying audio nutritionist; apparently.
Spite House: Facebook / Instagram / bandcamp / Spotify / Apple Music / YouTube Music / Deezer
---
Hoi-Poi – Glasshead (September 2022)
(Post-Hardcore/Skate Punk)
The eighteenth edition of "May Have Missed" and its thematic ties to Post-Hardcore continue, this time with a band that is no stranger to Ear Nutrition. Hoi-Poi (sometimes referred to as Hoi-Poi Far Plane Wind) are a Post-Hardcore band from Greece who, though I own my bias, are "up there" with the best of modern DIY and underground Post-Hardcore. Each release from the band refines, builds from and experiments on the foundations of each previous effort and with Glasshead, said process has yielded what I would argue, quite defiantly, to be their best work to date. Now, allow me to explain why.
The band's Post-Hardcore cascades across the genre's current place in its complacency-devoid timeline with the ease it always has. Be it direct, gloom-laden Punk-Rock, faster, technically layered Post-Hardcore, occasional Skate Punk drenched in the former or brooding, slowed tempos writhing to shifting time signatures, Hoi-Poi's latest, with the addition of an omnipresent influence from Hot Water Music, truly repeats the crucial process denoted above on Glasshead, doing so with acumen nigh-on impossible to criticise. That was a long sentence but you get the picture.
'Don't Leave Town' lumbers into play with a rumbling and dark underbelly propping up harmonious vocals and a greater display of Kostas Grammadas' versatile range. The band's structure shifts fluidly here despite its defined angular nature as discordant harmonisation from the two guitars fuel each other, culminating in intricate yet rilled layering.
Tempo is no stranger to the Hoi-Poi modus operandi. However, on 'Crease Teens' and either side of a playful technical amble into a weighted, anthemic and reverberating gyration-inducing hypnotism, Hoi-Poi execute an accentuation of a Skate Punk penchant rarely seen but always perfected. 'little eye' then furthers this Hoi-Poi-grade hybrid, this time, opting for a more cohesive clout. That is however, not to say that the unabated freedom of the band's wild leads don't strike out eventually. 'Worm Of Care' follows on, taking the scope of Hoi-Poi further into their habitual hybridisation, with help from Pendulum Of Zero (Here), as they transition from layered melodic Punk toward focusing on the "Hardcore" aspect of their bedrock.
The eponymous 'Glasshead' closes by falling back on what the band does best soundtracking their honest, cathartic and observant lyricism with the quality warped Punk they continue to hone.
Hoi-Poi: Facebook / Instagram / bandcamp / Spotify / Apple Music / YouTube Music / Deezer
---
Celebration Summer – Patience In Presence (September 2022)
(Post-Hardcore/Punk-Rock)
Consider the monikers of Fugazi, Rites Of Spring and Dag Nasty, as well as the likes of Leatherface, Samiam, Hot Water Music and the like and you have quite the image. One charged with either directly purveying or perpetuating contributions or nuances to the Post-Hardcore Punk-Rock that has so fervently and irrevocably metamorphosised the Punk scene. Do so and you have a forerunning "FFO" foci to acclimate your ears to Washington DC's  best contemporary export. That export being of course, Celebration Summer and now specifically, their debut full-length, following an EP you can read about in detail – Here.
Track one is a certifiable ode to what made and continues to make Post-Hardcore Punk so indomitable in its wild, chaotic but expertly and invisibly corralled structure, made by a band in a comfort that dwarfs the very effectiveness of the word's definition within the highest, accentuated exclamation. Succinctly put, it slaps and you can hear the developmental stages of the genre over its various "waves" in unbridled clarity in the eponymous 'Patience In Presence'.
Tracks such as the gritted bounce of 'Bitter End' and the poignant 'Against The Gun' have transcended their initial appearance and along with those singles such as 'Fraud', 'Disconnected' and of course 'Patience Is Presence', fans of the band have plenty to pull them in ahead of six more tracks. Six that show that Celebration Summer haven't simply followed the trend of releasing all of their best tracks to satisfy stream-format listening. In fact, the DC four-piece have pulled from a crop containing NOTHING remotely over-ripened or "past it".
In the interest of encouraging an exploratory jaunt for yourselves, I shan't preface the majority of said six, rather simply the standout 'A Good Year To Forget'. Track ten of eleven is another at the apex of an album that exudes pure emotion. Melodious yet discordant synchronicity owns a song structured to perfection, paring an intricacy with a gritted urgency soundtracking an outward, unstoppable output of existential duress. 'A Good Year To Forget' may well yearn for time to forget, but it's not a track forgetful to any discernable metric.
You need to listen to this album.
Celebration Summer: Facebook / Instagram / bandcamp / Spotify / Apple Music / YouTube Music /Deezer
---
Then it was finished, "May Have Missed Volume 18". This volume took weeks to write but I'm glad its finally finished! Something, something, life getting in the way.
The list for the next one has been drafted, now, indulge in these fine bands and consider sifting through the rest of the site for some audio goodness.
This is article 631.
Nice.
Laurence Crow Illustration: