The Expanse Of The Internet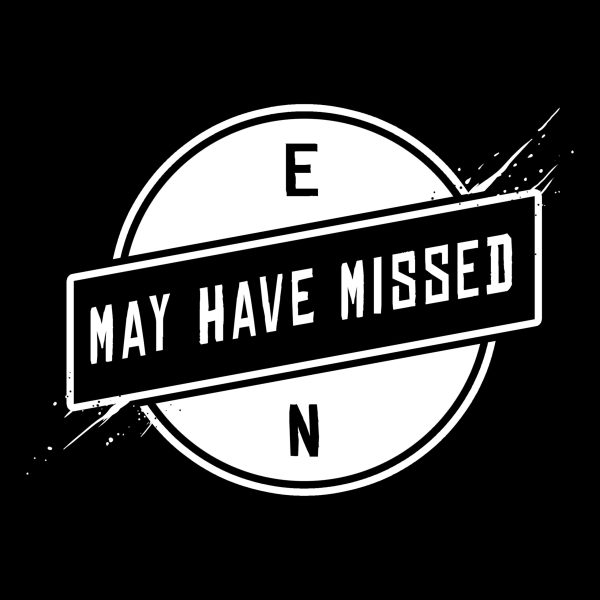 "May Have Missed Volume 21". You know how this goes by now. The following slew of audio-focused, literary musings has been (predominantly) sourced from my cavernous part-time inboxes. EN, when it boils down to its plant-based barebones, is a spare-time hobby. I try to do what I can outside of my daily grind but as with all personal ventures, the hegemonic construct known as "time" ubiquitously conditions every sub-constructed layer.
The purpose of this series is to provide some varied new noise as an enticement to indulge in the plethora that is the underground music scene worldwide. Every week, music is released often unbeknownst to us, despite its status and ability as noise more than likely adept in releasing much-needed dopamine into our daily lives. Which ultimately means, that you may have missed more than just a few of those likely tuned towards your personal taste.
"May Have Missed Volume 21" consists of cuts from the inbox but also a few from outside of it. Enjoy!
Volume 20 and the past volumes of May Have Missed can be found – Here
---
Punitive Damage – This Is The Blackout (October 2022)
(Hardcore Punk)
Another "may have missed" volume starts with yet another immolating and combustible propellant of Hardcore Punk-Rock, one soundtracking this age of woe and subsequent catharsis. Born in 2019 and based in the pacific northwest between Seattle and Vancouver, Punitive Damage unleashed a salvo of meticulous yet raw and abrasive Hardcore in 2022, set to skillfully navigate the genre's ever-widening and nuanced history.
From the opening 'Pure Blood/Sixth Sunrise' and its quick-fire arpeggiated clout to the lumbering metallic thud of its latter half, Punitive Damage masterfully break you in. 'Nothing' follows with modern fervour layered over further-vintage pace cut with all important tempo changes crucially contrasting an often compositionally uptempo underbelly. Before you can recover from such an alternating barrage, 'Drawn Out' crosses Hardcore lines again, with its wild leads and Black Flag-esque classicism in loggerheads with a two-fold "east coast" core.
This Is The Blackout is rife with further nods for Hardcore nerds, however. Be it the darts of unhinged extremity juxtaposing an almost proto-Sludge groove on 'Fool' or in contrast to the more "traditional" sound on 'Sangre Y Oro/The Blight Of Christ'. This album ceases to be still as it navigates the Hardcore-filtered classic Punk structures of 'Big Man', 'Bottom Feeder', 'Leech III' and more. Concisely put, This Is The Blackout make quite the showcase. All of which is inextricably linked by vocals both terrifying and fantastically enthralling in what feels akin to a constant and simultaneous wave of punches, comprised of nothing but intrinsic potency.
The closing and eponymous 'This Is The Blackout'* obliterates whatever is left, brilliantly capping off this full-length with PD's ubiquitous groove on either side of wild leads, excellent tempo control and an eerily, fellow groove-laden warm down.
This Is The Blackout was released on Atomic Action Records.
*'This Is The Blackout' is the final track on the streaming version of the album.
Punitive Damage: Facebook /Instagram / bandcamp/ Spotify / Apple Music / YouTube Music / Deezer
---
Big Laugh – Consume Me (February 2023)
(Hardcore Punk/Metallic Hardcore/Crossover Thrash)
Akin to the above, despite such a presence in the current crop and an equally prominent and robust home on Revelation Records, there's a chance you "may have missed" Big Laugh's latest. Quickly, if you don't know, the band's 2020 debut, Manic Revision, tore a headlong four-track breach through ear canals with its Thrash-shredded east coast-leaning 'core, heavily reverberating with an enticing yet abrasive groove. I thoroughly implore you to absorb the seven minutes and fifty-four seconds for yourself.
On Consume Me, however, greater production has in no way diminished Big Laugh's keen, writhing, DIY edge, but rather accentuated it. 'Artificial Piece' is a frenetic pairing of vicious Metallic Hardcore Punk, seething with a barely confined and inexorably determined outward combustion of extreme Hardcore. Track one sets the tone for the superlative relationship between Zach's guitar and Mata's unabatedly present bass across Consume Me.
Wilds leads permeate yet another Hardcore album organically renditioning a rich history. 'Abomination' is a snarling yet playful jaunt across such while the brilliantly layered 'Square One' frees up a taunting lead guitar dangling as a hook, coating the furious Big Laugh rhythm section with a teasing, historically REVHQ melody where required.
Big Laugh pack variety into their genre-nuancing box but its execution, though precise, is raw, natural and straightforward. See the mayhem of 'Mask' and the Crossover Thrash-inclined 'Animosity'. It isn't all unrelating urgency, however, Consume Me offers a masterful contrast of (predominantly) down-tempo groove and wild, eerie, dissonant melody on 'Shadow Figure' and the eponymous 'Consume Me'. Both acting as just a few examples of their excellent tempo control, owed in obvious part to Jesse's balance of the precision and the unhinged. A comparison that can easily be applied to the band as a whole.
The band close this modern Hardcore opus with their longest track to date in the form of 'The Fall'. From its pounding, gargantuan thud, onward to its wild leads spooling and flexing between each drop, Big Laugh's Hardcore filtered metallic penchant explodes into another Thrash-licked spin off the back of a classic Hardcore riff-refrain. On 'The Fall' each of the band's four components feel just as free and unbridled as they did upon entry, with vocalist Drew's performance amidst a band playing perfectly around his pissed-off and snarling directive as he himself navigates such a backdrop with a discerning focus.
Consume Me was released on Revelation Records.
Big Laugh: Instagram / bandcamp / Spotify / Apple Music / YouTube Music / Deezer
---
Bar Tape – Bar Tape (January 2023)
(Punk-Rock/Skate Punk/Classic Pop-Punk)
Bar Tape are no stranger to Ear Nutrition. I've had the pleasure of seeing the band fill a room comprised of bobbing smiles at the esteemed Manchester Punk Festival as well as raucously doing the same, more recently on their home turf when I made the trip to Ireland to give them a hand for their release shows in January. After a string of demos, a split with Canada's Flagpolers and a single ahead of what would be their first full-length, Bar Tape's writhing-grin variant of straight-to-the-point gruff Punk-Rock finally culminated what I would argue to be at the apex of no pretension, good-grit fun in 2023's Punk calendar.
Visualize the likes of Dillinger Four, Bad Religion, Face To Face, and Latterman, soundtrack the image with an amalgamation of the very same, whilst of course leaving room for the band's intrinsic qualities and you'll have a set of previous releases ready and waiting prior to a self-titled poised to hammer all of such well and truly home. 'Chewing Tobacco' rides a familiar line of playful, jagged and sufficiently popped-Punk before the standout Skate Punk of 'One Way East'. Track two unashamedly teases more of the same prior to chewing the heels off and chasing the soaring, meandering lead to its end. Further in, the likes of 'God Damn' are deceptively upbeat over heavy-set rhythms, giving way to the controlled chaos of the band's vocal interplay, probing melody and a defiant stance taking itself only as seriously as is natural.
Bar Tape's bravado is innate proof of not only the hard work put into this release but of the fun had during and what I would imagine included a fair few regular breaks to piss about. That said, whether per or by track, album wide you'll find melodic lines laced over jagged, buoyant punches and cheerfully blunt chord progressions owning their shameless ode to classicist Pop-Punk. Cleverly kept in check by regular changes in pace, the band's resident tempo control precisely executes each rise and fall, keenly contrasting each simplistic beat with a latter charge of complexity. Succinctly put, Bar Tapes' genre shifts and slick odes to harder Punk-Rock leave the not-so-obligatory "moment's notice" far behind, woefully regretting that ill-advised lay-in.
There isn't a point on this self-titled where you are left in want of entertainment.
Bar Tape: Facebook / Instagram / bandcamp / Spotify / Apple Music / YouTube Music / Deezer
---
Houseghost – Another Realm (December 2022)
(Garage Punk/Power-Pop/Punk-Rock)
Despite everything, 2020 was still a time of music capturing ears and minds with a welcoming dart of dopamine as a stark distraction from the lot. Dayton, Ohio's Houseghost and their eponymous debut full-length provided such a service and I implore you to cast your ear canals back to the album's October 2020 release if you are unaware, as it will provide an excellent introduction to the following.
The tail-end of 2022 saw Another Realm charted by the Ohio three-piece, an album whose introductory 0:59 sets a playfully eerie tone ahead of the gloomed, instantaneous ear-worm of 'Night In The Woods'. Track two sets an album-wide trend for a subtly heavier and more driven tone over the naturally occurring, spirited Garage Punk and Power-Pop hybrid the band excel at.
This latest truly boasts Houseghosts' harmonic best on either side of alternating vocal duties. Both 'The Calling' and the excellent thematically chilled-to-the-bone 'Born On Halloween' brilliantly capture this harmonious vocal union, as much as they simultaneously encapsulate the harder Punk-Rock and brilliantly placed melodic leads now more comfortable than ever within Houseghost's repertoire.
Another Realm may well accentuate the genre's quintessentially exuberant grit but it does the very same for its and indeed Houseghost's shamelessly grinning pop-sensibilities. The likes of 'Heart Up', 'Happiest' and the eponymous 'Another Realm' not only present such with as much ease as the three-piece execute anything with, but they also make a case for the amorphously energetic versatility the band's resident stick man employs throughout album number two.
I've said it before when covering the indomitable and unending tide of Garage Punk releases, but there is ample reason why such words can be used to describe them and Houseghost are once again an integral part of it.
Another Realm was released on Rad Girlfriend Records.
Houseghost: Facebook / Instagram / bandcamp / bandcamp (label) / Spotify / Apple Music / YouTube Music / Deezer
---
STUTTR – Stuck In The Muck (October 2022)
(Post-Punk/Post-Hardcore/Hardcore Punk)
After a debut EP in 2020 best described as warped, wonderful and terrifyingly rilled, Vancouver Punk and Hardcore contortionists STUTTR returned with Stuck In The Muck in 2022. On said debut, the band showed a willing, innate and arguably unstoppable need to twist the above foundation into a corrupted yet still discernibly decided, determined and (more) powerful version of itself. It's A Kadoozy was still a recognizable collection of Hardcore impetus but it so obviously planned more than it relinquished.
Stuck In The Muck is the result of that brooding, unhinged need to evolve. STUTTR's explosive bedrock continues to fuel them from beneath, their gloomed and raw Post-Punk is just as caustic and their abrasive yet precise Post-Hardcore is just as imposing. All of this is as transfixing as it is obvious within seconds of rumbling and frenetic 'Medicate'. STUTTR's route on this follow-up is darker as it revamps and hones the harder, comparatively uptempo aspects of their debut. '2 b Tangoed' fronts a frantic lead guitar chaotically glossing the band's work in a more present but just as unhinged melodic lacquer, dancing above a just as unpredictable Post-Hardcore rhythm section battling for supremacy with its Post-Punk sibling.
'Nebraska' lays this moody, brooding tone over callbacks to the band's penchant for longer, more dulcet instrumentals in perhaps their greatest culmination, contrast and finally blunt segue into the progressive Shoegaze jaunt that lurks adjacent to their progressive Punk ensemble. 'Bob Mentality' returns to the chaos-ante 'Nebraska' spooled. Track four is struggling with itself in the confusing social backdrop of this very digitised age of politicised everything. Simply existing in this time is illustrated perfectly in the multi-layered and wildly spasmodic powerhouse of 'Bob Mentality'. STUTTR might be inspired by cranial stress and besieged by inordinate conundrums but the manner in which they present such musically on track four is a thrill ride of everything they excel at.
In short, STUTTR are wild, technically brilliant and uncompromisingly themselves on Stuck In The Muck.
Early Onset Records handled this one.
STUTTR: Facebook / Instagram / bandcamp / Spotify / Apple Music / YouTube Music / Deezer
---
Five more bands with five more releases that you may have missed along the way. Thanks for reading!
Don't forget! You can find the rest – Here
Laurence Crow Illustration: