The Expanse Of The Internet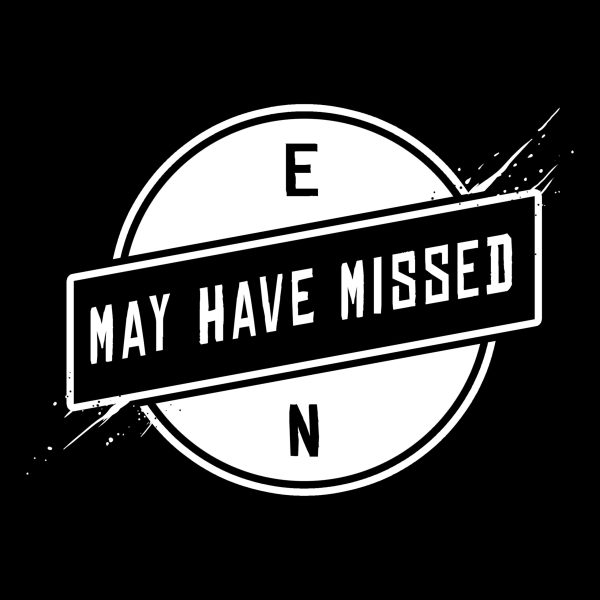 "May Have Missed Volume 17" is an attempt to counter the volume of requests I receive in the various Ear Nutrition inboxes as I type away. The venture of EN, when it boils down to the barebones of itself, is a spare-time hobby. I try to do what I can, as there is only so much I can electro-scribble down on a screen. Some don't fit and others are simply irrelevant to the site but overall, if they pique my interest or "fit" the site and whatever trend it's pursuing at that time, they get featured. I obviously don't have the time to cover everything and even though I would if I could, it's just not possible.
So, without further waffle, here is some music that I haven't had the time to sit down with-proper. The purpose of this series is to provide some varied new noise as an enticement to indulge in the plethora that is the underground music scene worldwide. "May Have Missed Volume 17" consists of cuts from the inbox but also a few from outside of it. Enjoy!
Volume 16 and the past volumes of May Have Missed can be found – Here
---
ABANGLUPA – Of Rats and Swine // 'Habitual Fabricator' (February 2022/June 2022)
(Hardcore Punk/Crust Punk/Sludge/Grindcore)
This volume of the "May Have Missed" series doesn't understand the term "fucking about". "Volume 17" begins its five-band salvo with the vitriolic, ear-drum eviscerating force of Filipino two-piece ABANGLUPA, a band whose variant of Hardcore Punk encapsulates not only their own rage, but that of the genres platform for it to be cathartically released so explosively.
Bordering on Crust Punk, Sludge and Grindcore with an underpinning metallic penchant across its pummelling duration, ABANGLUPA's debut Of Rats and Swine is for lack of a better set of words, for those who seek the extremity of Hardcore Punk's intrinsic fervour. The opening 'Misery Chambers' is a wash of fast tempos and heavily Sludge imbued refrains over drumming caught in said fervour but twisted by a tightly wound metallic twine, itself just as abrasive as the heavily distorted power. Vocally, ABANGLUPA sound as you'd (positively) expect them to with such a soundtrack. 'Forced Dementia' then follows and continues to tear its path asunder with its comparatively more streamlined assault. Though, truthfully, "streamlined" is not the word I'd use outside of this function.
Of Rats and Swine is volatile, that much I will elude. The rest is for you to experience for yourself. Trust me on this one.
Fast forward from February to June and ABANGLUPA returned with 'Habitual Fabricator'.
Filipino political history is as dark as it is coloured red and with 'Habitual Fabricator', ABANGLUPA respond to the onset wave of dictatorial reminiscence charged with dangerous populism following a "change", or rather a continuation of the same power.  The "war on drugs" in the Philippines is one ongoing and an example of unbridled governmental and police power that has left thousands of civilians dead. ABANGLUPA are not falling for these faux smiles and in the thick, cycling and brooding Sludge-drenched display of their latest, the band own their open disgust.
ABANGLUPA translates to 'Oppressed Land'.
ABANGLUPA: Facebook / bandcamp
---
Stinky – Resolve (April 2022)
(Hardcore Punk/Melodic Hardcore)
Now, if you've met me or "know me online" chances are, I may well have bombarded you with Punk and Hardcore suggestions unyieldingly over the years. Now, realistically and especially in the last few years, one of those very suggestive sonic projectiles has likely been the Nantes Hardcore band, Stinky. The French five-piece have shifted over the years, both in personnel and in actively nuancing their robustly confident barrage across their three albums and now, as of April of this year, an EP. Stinky's seamlessly slick disambiguation between Hardcore Punk rife with melodious power and canonised "Melodic Hardcore" is rendered all the more impressive with Hardcore-fuelled Punk-Rock, the ubiquitous influence of Post-Hardcore and of course, a vicious barrage of Metallic Hardcore and powered groove where suited
That, in a nutshell, is the experience you will have across the band's first three releases. As a disclaimer, though the band's touring schedule this year has been extensive, Resolve released a statement that the band would be taking a break following said schedule in 2023. Does this mean this band are less worth investigating? Absolutely fucking not.
'In Control' crashes through the door reverberating through riffs and drum patterns charging a pertinent discussion of performative, digital personalities, masking uncomfortable truths. Such a topic is frequent in the contemporary scene and Stinky's perspective is more than valid. The band's signature melodic leads twist and turn between heavy-set rhythms that own their classicism. Vocally, the contrast between their staple, scorn-fuelled, throat-baring screams and clean, but no less urgent displays and timely backing vocals help to encapsulate a band confident in their ability to enthral.
'Overload' begins atop an ominous, early 2000s Hardcore rumble into a melodic overlay. Stinky are adept at any tempo and in the latter of the two tracks on Resolve, they prove it. The winding, anthemic guitar work of  Stinky has always been an intrinsically occurring underpin but on 'Overload' they echo the memorable, ear-worming hooks of 2017s From Dead-End Street as they meet the cumbersome riffs of 2020's Of Lost Things. 'Overload' and its faster tempos equate the existential worries piling up faster than the standard blink and the thudding serrated breakdowns the weight of each one of them sequentially landing.
'Swarm of locust eating pills. Media pressuring me. Plastic oceans, toxic waste, arctic melts. Years passed and we're stuck on the same drifting boat'
Stinky are masterful.
Stinky: Facebook / Instagram / bandcamp / Spotify / Apple Music / YouTube Music / Deezer 
---
Moonraker – The Forest (May 2022)
(Punk-Rock/Skate Punk) 
As stated in nearly every volume, "May Have Missed" would be nothing without featuring bands in close proximity to or embodying Skate Punk. California's Moonraker have been a mainstay in my ear canal for as long as they have existed. In that time, I have found it rare to get such an emphatically open-handed lyrical slap in the face accompanied with displays perfectly suiting to each word, be it in humour or via a more prevalent self-sardonic humour of introspective discussion into what does or doesn't make the band tick. Moonraker are another whose back catalogue is a requirement in modern "life-punk"-sphere, where the existential assault course is unavoidably ubiquitous.
With Lanterns (2018) riding harder than Fail Better (2016), it stands to reason then that this incrementally faster, more abrasive take on the Moonraker modus operandi would reach yet another benchmark on 2022's The Forest. This time around, both Nick and Dave are joined by one Matt Sampson whose ripping leads and rounding lines do nothing but enrich the harder sound carried on from Lanterns across to the entirety of The Forest. 'Crickets', the debut single from the latest, is perhaps the best example of this latest Moonraker. 'Crickets' sees Matt's guitar unleashed whilst band-wide, the abrasion of said previous record is refined and gifted with a tighter technical proficiency that is as targetted as Moonraker's ever-quotable, lyrical acuity. – 'Give them hell! (GIVE THEM HELL) But give them a gift receipt!'. This refined technical ability, I might add, is one that populates and cascades through the album wholly.
There have never been any holds barred in the Moonraker realm. The aforementioned slap-face honesty on The Forest is true to itself. From escapism to the observation of societal hypocrisy, shifting selfishness to an inward identity crisis and the struggle it is to be amongst an ever-apathetic crowd, on this latest, Moonraker radiate the frustration of being encumbered by it all. Musically, again, their soundtrack to these ever-present conundrums is truly at the band's unequivocal best as it coalesces to the highest order on one of the best melodic Punk/Skate Punk albums of the year.
Moonraker are 'The Michael Jordan of Baseball of Punk-Rock' in their own words and are truly underrated and deserving of "huge" status. But what do I know, eh? I bet that's the sentence I get quoted on.
Moonraker: Facebook / Instagram / bandcamp / Spotify / Apple Music / YouTube Music / Deezer
---
Arizona Law – A Little Bit Too Rad (May 2022)
("Riff" Punk-Rock/Skate Punk/Hardcore Punk)
"May Have Missed Volume 17" continues with another band dwelling in Skate Punk adjacent territory with the only UK band on this list, Arizona Law. The Devonian band's back catalogue presents as an amalgamative hybrid of The Bronx and their Hard Rock-infused Hardcore Punk and yet also often repurposes said energy into fast Skate Punk. Consider this, then add Rise Against-inspired guitars and then a few Misfits-isms just because. Or at least, if you were to start from the bottom and then meet me here to feel A Little Bit Too Rad, then such would adequately describe your journey!
'Still Waiting (On Scallops)' substantiates the intrinsic Skate Punk accolades Arizona Law have been rapidly accumulating. That said, there is far more to the impressive duration of the ambitious opener. Clocking in at 5:24, said Skate Punk is charged, old-school and a gateway to an interlude itself leaning heavily on a band key to their journey. From 2:08 until 3:10, AL aggressively but melodiously cycle through a Rise Against-esque and specifically Zach Blair-era barrage of jagged Post-Hardcore in one of the finest (and lyrically hopeful) moments on A Little Bit Too Rad. 'I Wanna Die' sardonically boasts itself as the riff-heavy, Garagey-Hardcore tune devoted to cranial numbing with clever segues into both melodic Punk and again, Skate Punk with seamless refrains. Arizona Law are showing you their all on A Little Bit Too Rad.
'I Wrote A Message' is another powerfully coalescent display of the four-piece's array of inspirations, whilst 'Fuck You' channels early 2000s Melodic Hardcore and a shamelessly Hard Rock solo into a specifically vitriolic 1:22. 'Floating Away' is the band's crowd-pleasing, singalong eliciting gruff, melodic Punk-Rock song, soundtracking the ever-long battle with mental health. Arizona Law own their contrasting cascade through and through, especially as following on from this, 'Stand Up' observes recent American politics to a fast melodic beat now fully at home.
Arizona Law closes A Little Bit Too Rad with the youth-lamenting 'Live Like We're Still Twenty-One' and that is where I shall leave you.
Arizona Law: Facebook / Instagram / Spotify / Apple Music / YouTube Music / Deezer
---
SPACED – Spaced Jams (July 2022)
("Far Out" Hardcore Punk)
Since around "Volume 6" the prevalence of Hardcore in the "May Have Missed" series has increased exponentially and with SPACED closing this issue, a volume heavily leaning on such yet again, I don't think this trend will fade any time soon. SPACED, what can I say? After first discovering them on the tour poster for the most recent Comeback Kid tour, the band's warped, D-Beat-infused, Post-Hardcore aware variant of groove-laden, playful but demonically driven "New York Hardcore" hasn't left my ears or verbal recommendation.
After spamming their debut singles and Demo repeatedly, July saw the unapologetic and certifiably "far out" Hardcore of the Buffalo, New York band coalesce into a further set of "repeat" yielding tracks. A collection wound together by a groove-laden rhythm section at the top of its game, a winding pedal-fed warped lead guitar and shameless, authentic vocal and lyrical defiance. Give or take a little two-stepping, obviously. Spaced Jams, as stated, combines the band's music to date and yet despite its nine-track stature, never gets old. I was lucky enough to see the band on said tour twice in about a week, the latter of which saw them play 'Prove You Wrong'* twice amidst a maelstrom of dopamine-imbued dust at Punk Rock Holiday.
SPACED balance the metallic grove of the NYHC legacy, the abrasive barrages of riff-heavy refrains and thudding breakdowns with the crisp nature of modern production and the bursts of cathartic pace so much in the way of contemporary Hardcore often omits. As erratic as they are tight, in tracks such as 'Point Of View', they rhythmically rage against myopic minds impossible to change. 'Not Like You' follows a similar thematic trend as much as it does stylistically in one of the finest tempo changes in the band's catalogue.
That'll do. SPACED. You get the idea.
*Please correct me, SPACED, if I got that wrong!
SPACED: Instagram / bandcamp / Spotify / Apple Music / YouTube Music / Deezer
---
I hope you enjoyed this one as much as I did writing it. There will be more as and when I have time!
As usual, thanks for reading and supporting my spare time killer. Recently, I have added a new section to the 'Courses' menu, pertaining to non-review-centric features. You can find 'Columns and Guides' – Here.
This is article 617. You know where the rest are.
Laurence Crow Illustration: