The Expanse Of The Internet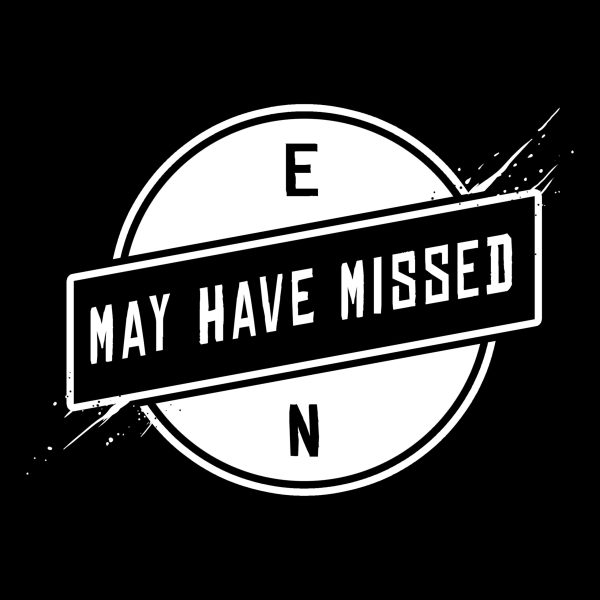 "May Have Missed Volume 16" is an attempt to counter the volume of requests I receive in the various Ear Nutrition inboxes as I type away. The venture of EN, when it boils down to the barebones of itself, is a spare-time hobby. I try to do what I can, as, after all, there is only so much I can electro-scribble down on a screen. Some don't fit and others are simply irrelevant to the site but overall, if they pique my interest or fit the site and whatever trend it's pursuing at that time, they get featured. I obviously don't have the time to cover everything and even though I would if I could, it's just not possible.
So, without further waffle, here is some music that I haven't had the time to sit down with-proper. The purpose of this series is to provide some varied new noise as an enticement to indulge in the plethora that is the underground music scene worldwide. "May Have Missed Volume 16" consists of cuts from the inbox, but also outside of it. Enjoy!
Volume 15 and the past volumes of May Have Missed can be found – Here
---
Le Tunnel De L'Enfer – A Tribute To Daylight (Janurary 2022)
(Hardcore Punk/D-Beat/Powerviolence/Crossover Thrash)
In the interest of clarity, I am really quite uncertain if I've ever seen the '90s action film Daylight, starring both Sylvester Stallone and likely an inordinate amount of explosions. Either way, Le Tunnel De L'Enfer are band from Lille, France who for whatever reason, collated their Punk-Rock accolades together in a quest to craft an unabatedly fast Punk tribute to those very '90s action flicks from their past days. Daylight is their first.
With each track pertaining to scenes from the film and also a few external references, I'm not going to break down each lyrical bout but the music in which the band recount the events of Daylight to is quite the cross-reference of Hardcore. Akin to fellow Punks Français Jodie Faster, there is absolutely no fucking around. 'Sly Is Doer' crashes through a whirling metallic Crust intro verging onto Powerviolence before a D-Beat majority cut with the same metallic strings and a bout of reverberating New York Hardcore hurtles through your ear-canal in a modest 1:02. The band's rhythmic clout is as refined, precise and playful as it is limitlessly accosting across its well-researched 'core spectrum. The lacerating Powerviolence that dominates 'Lieutenant Stan' is an effortless example of this and is also but one reason from a total of seven why this EP is so repeatably playable.
'Roy Nord Is A Turd' refers to both Viggo Mortensen's character in Daylight and yet also compares his arc to that of the very glide through the surf made so easy by Bodhi of Point Break. But of course, through the eyes of Le Tunnel De L'Enfer, it is to an intensely expedited rhythmic barrage. 'Street Octogone' moves closer to the EPs inevitable Crossover Thrash with 'Satanic Mom' and 'Not A G Movie' meeting it en route. That is of course, not without the pervading bounce of New York Hardcore Le Tunnel De L'Enfer can't stray too far from. 
A Tribute To Daylight is a masterful display of Hardcore Punk-Rock from a band who knows exactly what they are doing and begs the question. Which film will be gifted an alternative soundtrack next?
Le Tunnel De L'Enfer: Facebook / Instagram / bandcamp
---
Our Souls – I'm An Adult In A Punk Rock Band (March 2022)
("Gruff" Melodic Punk-Rock/Skate Punk)
'Sorry Excuse For A Song' introduces the latest existential "life-punk" barrage from Leicester's gruff heroes, Our Souls. On brand with the opener, I'm here addressing the release in an expedited fashion, so here it is. Instantaneously, you are presented with better production choosing to make its debut with one of the band's occasional forays into Hardcore Punk. It may not be something they do often, but its timely inclusion is attention sequestering. Now you're theirs, 'Still Insisting On The Skater Belt' returns to the "norm" and pushes on with questioning itself to a soundtrack of scrappy Skate Punk that though indicative of the better production, doesn't sacrifice the band's gritty appeal.
Our Souls are by no means a "Skate Punk" band per se. However, on I'm An Adult In A Punk Rock Band, the influence from the stylistic is dotted about far more prevalently this time around. That said, with singles such as 'Ferryman' and 'The Resignation', Our Souls' command over tempo is stringent and solid proof of their acumen in blasting barebones fast and/or energetic Punk without simply overclocking. The band's alternation in tempo is one of the key selling points of this latest, with each differentiation equating to the pertinent and resonating musings of Ian's cranial dilemmas through to expressive, raw articulation. See 'Ignore, Avoid, Repeat' and 'Arrogant or Actually Accurate'.
The crossover between the "Gruff" melodic Punk-Rock scene and that of the seminal Pop-Punk that inspired such a sizable slice of it is captured brilliantly on I'm An Adult In A Punk Rock Band. Shown in bands such as No Matter from Northern Ireland and countless others, Pop-Punk as a style can easily be devoid of the cliché that leads many to lambast and ignore it. On 'Cough Ya Life Up', Our Souls optimise this "mature" take on the playfully rambunctious genre as the soundtrack to the ubiquitously sequential battle to simply reach the end of the day.
The more you play through this latest Our Souls bout, the uninhibited, unapologetically honest display it is comprised of represents nothing but the intrinsic honesty that Punk was made for. I'm An Adult In A Punk Rock Band, with the continued development of the band's Skate, Pop and occasional Hardcore Punk sound is their best work to date.
Our Souls: Facebook / Instagram / bandcamp / Spotify
---
Eat Your Own Head – Neck Deep In The Blyth (May 2022)
(Stoner Rock/Alternative Metal/Grunge/Alt. Rock/Math-Rock/And The Rest)
Eat Your Own Head are one of those bands that I have been meaning to sit down with for quite some time. Heavy-set and always poised to put a spanner in the works of your eardrum's understanding of the noise they consume, the London band are a required listen on the UK "Heavy Rock" scene. 2020's Hank was their previous outing but now, its time for their latest in the form of confidently complex, Neck Deep In The Blyth.
To pin down the band's genre is hard as an entirety, as the collection of words above are joined by arguable infusions of Post-Hardcore, "Prog" and much, much more. EYOH's latest is as pummeling as it is eviscerating. 'Come Undone' is a statement of intent as it showcases eerie melodies, writhing dynamic changes, soaring guitars and complex refrains. 'Bullets' then pushes a Post-Hardcore-esque Math-Rock between incendiary and metallically inclined riffs with the track as a whole oozing with a brooding uneasiness. The instrumental 'Pig' follows, technically minded in its own fashion as it eludes to what's coming. See the sufficiently "mathed" 'Winter Takes Its Toll'. That's "mathed", not "methed", just to disambiguate.
Eat Your Own Head keep continuity with their newer found confidence and "Prog"-esque display but also wear their adoration of the Stoner Rock lynchpin so important to their repertoire proudly. Much of Neck Deep In The Blyth, though crucially not all, is in fact rehashed, re-energised variations of past work that truly, I would argue, unequivocally and retroactively set the Eat Your Own Head sound to where it always should have been. The spasmodic, frenetic energy that their earlier work threw at you was impressive in its first instant, but now, with such a concentrated power behind it, both the band's rehashed tracks and newer, charged compadres coalesce to the highest order.
I'll leave the rest for you. However, with the exception of denoting the durational brilliance of the leviathan track nine, 'Poison'.
Eat Your Own Head: Facebook / Instagram / bandcamp / Spotify / Apple Music / YouTube Music / Deezer
---
Morocco – Been Smart, Ben Dumb (March 2022)
(Skate Punk/Post-Hardcore/Garage Punk)
Now, it's not often that you see three such branches of the Punk tree together in unison but then again, is it an everyday occurrence that you are exposed to the lo-fi-powered two-piece that are Morocco from Texas? No, the answer is no. Usually. Fortuitously for you, "May Have Missed Volume 16" is all about such noise.
The band's 2021 The Cheap Mic EP  boasted a charming, Garage Punk n' Roll overclocked with timely, often relentless tempo borrowed from stripped-back, raw and voracious Skate Punk and now in 2022 the band's follow-up has fervently pushed that sound further. Now, the lo-fi minimalist recording is either going to entice or dissuade but to be subject to the latter would indeed be a mistake. Disclaimer safely aside. Let's crack on.
On the first EP, Forrest Cook's drumming was precise, approaching every beat with a rough and ready alacrity and within seconds of the jagged, technical Post-Hardcore-dusted Skate Punk of 'Intro To Ben', it's clear how his tenacity has been refined but no means rendered less energised. 'Intro To Ben' is perhaps Morocco at their utmost "Skate Punk" to date, albeit laced with strong Post-Hardcore guitar work layered over and contrasting a bass firmly emulating both. This is what you're treated with as 'Intro To Ben' seamlessly morphs into 'Perverseness'.
Track two is beleaguered with its existence, though also feels a juxtaposing glimmer of hope and in the closing instrumental, which outside of Ben Sanchez's lyrics, allows you to feel the full weight of the track's distress. '240' matches vintage '77 Punk with the jarring early discordant notes of Post-Hardcore complete with a decidedly uptempo dash before Morocco ode their roots with the following raucous Garage Pop-Rock of 'Close To You'. This latest EP may not be as consistent in its tempo or even as heavy set as their previous release, but the confidence of experimentation Morocco have on Ben Smart Been Dumb substantiates itself with ease.
The band close their raucous 2022 release with 'Pro Crass Tin Nation'. If the previous played with a more Pop-centric sound, then the finalising blast takes such a playful tone and twists it in to wild, erratic yet precisely techy Garage Punk-Rock, rife with sardonic reflections on the daily struggle to simply get things done.
Morocco make short, sharp, organic and importantly, fun Punk-Rock music perfect for your DIY lo-fi fix. I await what's next.
Morocco: Facebook / Instagram / bandcamp / Spotify / Apple Music / YouTube Music / Deezer
---
Melonball – 'Fast Forward' // 'Sinking' (January 2022/May 2022)
(Skate Punk/Melodic Hardcore)
Named in respect of, to and after a drink synonymous with an annual Punk-Rock festival – or is it a Holiday? – Melonball are new addition to the European Skate Punk scene who are apparently propelled by a catapult from their German home. Now, if the band are not monikered after the above, then that is a conversation I feel I need to have. However, that isn't why we are here, instead honouring the "tradition" of the "May Have Missed" series including fast shit layered with ear-worming, melodious power.
Building toward an inexorably larger release set for 2023, the band's two singles to date are statements of anthemic intent. Pertinently addressing the "issue" of refugees fleeing world conflicts or simply searching for a better life, the common poignancy found in German Punk-Rock as is direct as ever. 'Fast Forward' wastes no time in repeating the venomous narrative fed by the right, as well as that of ruling bodies. Melodic, harmonious and incredibly well produced across the board, the band's raw rumbling bass tone and abrasive but streamlined Melodic Hardcore-inclined rhythm section contrasts emotive leads rearing their strings only when necessary.
'Sinking', Melonball's second single, furthers the former's mild but essential penchant for early 2000s Melodic Hardcore. The band's second single maintains such a charge and laces it with sharp, late '90s Skate Punk riffs, refrains and the all-important, structurally underpinning mid-paced melodic chorus. The production enriched bass and vocal-only verses stand as tall as their (symbiotic) dual guitar-inclusive siblings defiantly in a track vehemently challenging the unfortunate progress towards society's abject fall. That being its ever-closed, myopic mind.
Melonball reinforces the fact that the contemporary Skate Punk genre has just as much to say as the rest of the Punk scene and you need to be a part of it.
Melonball: Facebook / Instagram / bandcamp / Spotify / Apple Music / YouTube Music / Deezer
---
The Venomous Pinks – Vita Mors (June 2022)
(Skate Punk/Riot Grrl/Punk-Rock/Hardcore Punk)
Though not necessarily a genre per se, Riot Grrl has had a profound and extensive influence on Punk music, from Grunge, Alt. Rock, Indie-Rock, Hardcore and Queercore and countless others in Punks quest to actually represent the scene, rather than just the same old faces. That "dated" time is indeed over. The Venomous Pinks, since 2014, have, in an unbarred fashion, been crashing through fast, abrasive, riff-heavy Skate Punk, Hardcore and whatever else comes naturally to them as they add to the wealth of the movement. This past June a band who describe themselves as the result of Bikini Kill and TSOL colliding musically with a Russ Myer movie, that are also now a part of the growing SBÄM records familia, unleashed the salvo that is Vita Mors.
'Mercy' rides charged Garage Punk riffs, as melodic vocals and a warped, ripping guitar embed themselves in your ear canal. Throughout the band's latest, monikers such as The Last Gang, Bad Cop/Bad Cop and Death By Stereo offer their contributions to an album rife with a carefully curated variety and track listing. Though the band are far more melodic than on previous efforts, there is no lacking of intensity on conviction Vita Mors. The Venomous Pink's heavy push toward melodic yet raw classic Skate Punk still carries the gusto of their previous efforts, with the album's extra space allowing them to flex their progression comfortably. At times, Vita Mors also unapologetically crosses into an equally intrinsic and vintage Pop-Punk more than once and the effortless transition is very much defined by that word.
The band capture the formative years where Skate Punk and Melodic Hardcore were interchanging and finding their feet in tracks such as 'Apothecary Ailment'. Later, the bounce and groove of NYHC is found in the PMA evoking H2O-esque 'Hold On', adding to the scope of the band's credentials. The fellow rehashed 'Todo Unidos' epitomises the urgency of the record with its tempo as it crosses the tri-fold boundary of Skate Punk and the various variants of Hardcore the band favour playfully, but with the utmost defiant severity.
'We Must Prevail'  then closes Vita Mors with an even more satisfying and vigorous hybrid of the three, where from the 1:45 mark, the three-piece reaches the apex of their combustive Hardcore Punk.
Now you're finished here, go and experience what got the band to where they are And then circle back to blast Vita Mors all over again.
The Venomous Pinks: Facebook / Instagram / bandcamp / Spotify / Apple Music / YouTube Music / Deezer
---
And much like the previous volume, so passes "May Have Missed Volume 16". There will be more of these volumes for along as I do this because as long as I am, there will be more that I may have missed. You can find all those preceding this one – Here.
As usual, thanks for reading and supporting my spare time passion. Recently, I have added a new section to the 'Courses' menu, pertaining to non-review-centric features. You can find 'Columns and Guides' – Here.
This is article 611.
Laurence Crow Illustration: