The Expanse Of The Internet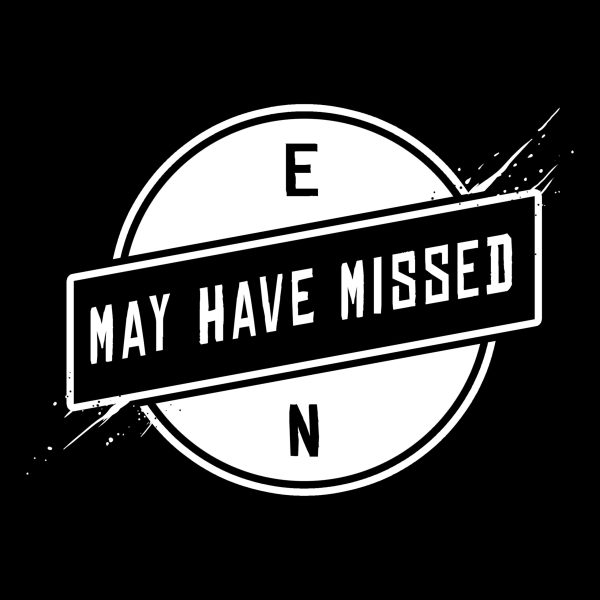 "May Have Missed Volume 14" is an attempt to counter the volume of requests I receive in the various Ear Nutrition inboxes as I type away. The venture of EN, when it boils down to the barebones of itself, is a spare-time hobby. I try to do what I can, as, after all, there is only so much I can electro-scribble down on a screen. Some don't fit, others are simply irrelevant to the site but overall, if they pique my interest or fit the site and whatever trend it's pursuing at that time, they get featured. I obviously don't have the time to cover everything and even though I would if I could, it's just not possible.
So, without further waffle, here is some music that I haven't had the time to sit down with-proper. The purpose of this series is to provide some varied new noise as an enticement to indulge in the plethora that is the underground music scene worldwide. "May Have Missed Volume 14" consists of cuts from the inbox, but also outside of it. Enjoy!
Volume 13 and the past volumes of May Have Missed can be found – Here
---
Far Away From All Of This – Outward Bound (September 2020)
(Indie-Rock/Alt. Rock/Post-Rock)
Straight into this volume of "May Have Missed" and also simultaneously straight back in time. 2020, the year everything broke or rather the year all the problems hidden by willful incredulity truly became apparent, was still, somehow, a fantastic year for DIY music. It was also the year that the experimental Alternative Rock, Indie, Post-Rock and whatever-else two-piece, Far Away From All Of This released their second album, Outward Bound. Eyeing those genres in a sentence together is an automatic eyebrow raise but within the 8:55 of 'Haven', everything is substantiated to the utmost level.
With a melodious, yet rough-cut and playfully technical Indie-Rock rumble until the 2:40 mark, track one of five then takes a turn. This inherently gritty approach then takes on a driven Alt. Rock inflection supplementing its incrementally increasing Post-Rock structure. Slow, drawn-out but transfixing through the raw, high-pitched guitar sound, Far Away From All Of This expertly complete the transition into traditional, soaring Post-Rock as the whirling, grinning crescendo lead plays you out.
The 5:30 'Reality Check' enters with a darting, intricate lead sombrely toned like a cold morning light before an almost New Wave, Indie-hybrid takes hold, notably keeping continuity tonally with track one through such a darting lead. Vocally, akin to track one, FAFAOT's tones are sombre, relaxed and reserved yet in their low display, perfectly contrast the progressive tone track two builds as it effortlessly alternates between stylistic pools. 'Last Call' tackles the far from undulating passing of time as it encapsulates the depth at which Far Away From All Of This hybridise their sound. Track three follows a now tried tested and bonafide pattern before shocking proceedings with a cathartic scream, kicking the band into cycling, enveloping and weighted Post-Rock charged with Alt-Rock vigour. Complexities then build until a thunderous charge of further guttural screams chase soaring guitar work fulled by Post-Metal born from a Post-Rock parent in a catalytic finale.
I could well go on and further describe this release but I have written too much for this entry already. There are two tracks remaining on Outward Bound and their ambient juxtaposition are the perfect, space-themed exploratory comedown. It is also worth noting that the band's 2018 self-titled debut is more than worth your time.
Far Away From All Of This: Facebook / bandcamp / Spotify / Apple Music
---
The Camel City Blackouts – 13 (January 2021)
(Punk-Rock/Alternative Rock)
"Punk-Rock" is becoming as broad a spectrum as "Punk music" in general. As the genre and indeed spirit of the term spreads its wings, pervading and permeating all in its path, more and more bands and ways of noise are integrated, born or incorporated by its alluring vigour. There are countless bands and styles that can trace their lineage to some form of Punk, be it musically or in attitude and that "countless" is only becoming more so. Enter The Camel City Blackouts via North Carolina, USA.
Take a trip through the band's back catalogue and you'll find its amalgamated Punk-Rock fervour contorts itself in what feels to me to be innumerable times. Thick, blues-soaked guitars, brooding Grunge and gritty Alternative Rock litter their work. Pair all of this to the likes of ballad-esque melodic Punk and dustings of OG Punk as much as aggravated Hardcore and the plot thickens. It is truly hard to pin down the band's sound and I would implore you to make your own way through The Camel City Blackouts.
Despite this cleverly deployed and eclectic Punk sound, the band's melodic, gruff, "Life-Punk" is their immovable underpin. Think Dead To Me, Banner Pilot and the Lawrence Arms and you'll arrive at 2021's 13.
The 2:03 'Angels' kicks in the door. Thick, driven low and contrasted by an anthemic guitar almost flying rogue above a brooding bass tone. 'Angels' is driven forth on pummeling, rumbling drums powering a jabbing, powerful yet crucially melodic "punk-a-fied" Alt. Rock assault. Thick, angular refrains break from the anthemic guitar before allowing the aggravated bass to have its time chasing vocal lines that hold the anthemic nature of the track together before that rogueish lead exerts itself once more. 'Angels' is a case for angsty, aggravated, writhing Punk-Rock being able to maintain a sense of melodic allure.
'Another Night' is considerably more light-hearted but in a confused, lost and yet perpetually moving sardonic state of being. The anthemic guitar returns, over light, choppy but effortless drumming freely chasing the hypnotic bass tone as it rumbles into the unknown. Vocally, the "classic Punkisms" that hold their own and yet adapt to TCCBS ever-shifting repertoire are on form as the band battle through another groundhog day-ish night. 'Another Night' is effectively one huge, streamlined and effortless hook and even sees itself renditioned in an acoustic format to close 13.
My advice, listen to this band. Seriously.
The Camel City Blackouts: Facebook / Instagram / Spotify / YouTube Music / Deezer
---
Get The Fuck Outta Dodge – 'It's Not Our Fault That Your Boyfriends Stupid' (February 2022)
(Garage Punk/Hardcore Punk)
"May Have Missed" returns to the recent times. Or does it? The last time I covered this band was amidst a UK national Lockdown (or was it?) and it was around then I lost all perception of time. All of this made a review of Get The Fuck Outta Dodge and their Buzzkill quite the experience, tieing in, on all levels, to the certifiable experience that release was. My review of said album can be found – Here to be perused before or after I tackle their 2022 effort. Shall we?
The sheer power and fervent defiance against any semblance of the "two-piece format" being limiting in any way was negated in a writhing, raucous and absolute fashion on Buzzkill. This was also the case with their 2021 covers album and now such is seen to have proliferated intrinsically on It's Not Our Fault That Your Boyfriends Stupid. 'Our History's Lo-Fi Mystery' channels the band's ode to vintage US Hardcore Punk with My War / Slip It In Black Flag-isms to boot as a groove beholden to the Garage Punk "rule book" transfixes your attention. 'Holy Moses' pushes this reverberating Hardcore bass tone further, in a way echoing its own eventual influence on Sludge and Stoner Rock while the band's resident and often maniacal vocal interplay grounds them firmly within frantic Punk-Rock.
Though the frantic and more often than not, frenetic Punk-Rock of the previous work is still present and earnestly emblazoned with the band's innate quirks, Get The Fuck Out Of Dodge are considerably more clear, better produced and streamlined in this time. Is this a negative? Is this an abject fall from grizzled Punk-Rock grace? Absolutely not! For the tenacious two-piece can be heard wholly as a band able to nuance their craft cleverly and in an unbridled and grinning fashion. This latest album is inundated with violently gyrating groove but also, as hinted and indeed present across the band's work, it is also rife with bursts of contrastingly fast, straight running Punk and Hardcore. Well, that is subject to the context of Get The Fuck Outta Dodge. See tracks three through six for how they round the edges of their chaos.
Though it was present in the band's previous work, the Sludge and Stoner Rock inflections aren't the only spin the noise mongers have utilised to a higher degree here. There is an increased presence of Post-Hardcore this time around, seeing spasmodic changes in tempo, rhythm and structure on It's Not Our Fault That Your Boyfriends Stupid. The urgent 'I'm NOT A Robot', the penultimate 'You Get Yr Hindsight' and the finalising, cycling 'Vampires Are Closer To Me Than You' take this spin to add yet another element to a two-piece band that are up there with the best of them.
Get The Fuck Out Of Dodge: Facebook / Instagram / bandcamp / Spotify / Apple Music/ YouTube Music / Deezer
---
OJOTRUENO – Cuando Vuelvan Los Lobos (January 2022)
(Hardcore Punk/D-Beat/Crust Punk)
Though my limited Spanish is, well, succinctly put, limited, but very, there is something about Punk-Rock, from its barebones stylistics to Skate Punk and onward to Hardcore and its various agitated offshoots that pairs so naturally with its expressive vernacular. A language as effervescent and fiery as those who speak it globally, it is no wonder that pairing it with the likes of D-Beat and Crust the way OJOTRUENO have since 2014 is so beautifully combustive.
The band's three full releases prior to 2022's Cuando Vuelvan Los Lobos lacerate across the Hardcore spectrum with a sleek, keen edge. Barebones Hardcore and D-Beat and the trappings of melody found in Neo-Crust, along with the serrated shredding of Crossover Thrash, the hybridised sound of OJOTRUENO is as multi-faceted as it is an unnerving yet beckoning whole. This is what has led them to their latest and with OJOTRUENO according to the internet, translating to "Thunder Eye" and Cuando Vuelvan Los Lobos to "When The Wolves Return", this latest EP is as you'd expect. Rage filled, diverse and executed with the utmost confidence.
'Piel De Fuego' odes to a time where the natural intensity found in Punk-Rock was doubled down upon, seeing a former gusto driven down into the ground by the next swathe of disaffection. 'Piel De Fuego' captures this while hooking you into place with its shamelessly contrasting melodic guitar work.
'Cordada' embodies a refined Crust Punk, cut with the marginal but crucial melodic leads and rounded yet still abrasive rhythm section as the vocal urgency that pervades the release displays how far it has come in its own right. OJOTRUENO are playing "Melodic" Hardcore on Cuando Vuelvan Los Lobos whilst still definitely keeping their footing in the latter part of that term. 'Rumbo De Colision' boasts an American East Coast groove whilst in 'Apesta', the band alternate. The tenacity of OJOTRUENO's drummer atrophies the prowess of the word "fast" between bouts of razor-sharp refrains only designed to momentarily provide respite to the vicious metallic skin-beating, earnestly chasing the whirling, similarly-metallic Neo-Crust leads.
The band close with the explosive 'Cadaveres' (Corpses), which incidentily, is what you will have been rendered as once you've played this EP all the way through.
OJOTRUENO: Facebook / bandcamp / Spotify / Apple Music / YouTube Music / Deezer
---
F E E Z E – 'Feels Bad' (March 2022)
(Alternative Rock/Shoegaze)
From Switzerland to the US, to the UK, to Spain and now to Indonesia, "May Have Missed Volume 14" is having quite the excursion. With a clear penchant for writhing, rough cut and brooding Grunge-led Alternative Rock and quite crucially, the distorted and aspirationally ethereal Shoegaze, a traversal through the back-catalogue of Bantens's F E E Z E is no wasted amble. The band's long instrumentals and melodious guitar work ride high above an inherent grit, with their approach to warped-fuzz-rock only strengthening the often pained lyricism. Said back catalogue will be linked below.
However, though the above is, again, worth your time, the Banten four-piece have transitioned into 2022 with variant and deviation of their craft. 'Feels Bad' is another personal recollection of struggle against anxiety but also another and more earnest struggle toward better climes. However, this time, from an adjacent angle.
The band's soaring, Shoegaze guitars are comparatively cleaner, more streamlined and arguably treading lightly on Post-Rock as they glide effortlessly over a now refined rhythm section. That is, refined but not devoid of the driving grit so incumbent to the band, which, I might add, later on, finds its way into the path-finding guitar as it leads the way to eventual healing.
Vocals are now at the forefront, retroactively tricking your ears into believing they always have been, coalescing with a whole effort from F E E Z E that is only going to yield the best results in the new era for the band. That'll do.
F E E Z E: Instagram / bandcamp / Spotify / Apple Music / YouTube Music / Deezer
---
Midwich Cuckoos – Death Or Glory (April 2022)
("12-Legged Rock n'Roll, Punk and Metal Machine")
I had initially planned to go through this album as I do habitually but I began to fear I wouldn't relent and I'd write another tome. So, with that fear very much a seamless and undulating chord progression away from reality, I decided to throw the latest from Midwich Cuckoos into this volume of "May Have Missed". That said, on a concept album depicting a raucous redemptive ride through introspection and onward to a garnered atonement, one standing durationally defiant to the Punk scene it occupies in its fifty-one minutes and fifty-one seconds, I may need a few words.
So, with that, where is best to start? Death Or Glory joins the band's slew of EPs and singles together with crucially thematic intros dividing and prefacing each narrative twist as its sonic backing mirrors this contortion. Speaking of which, for a band with as many members as the Cuckoos, their ability to fit on every stage is casual to the point of amazement and the same goes for their coalescing of the hybridised sound their confidently throw at you. The band are grounded in Punk, permeated by Rock n' Roll and Hard Rock and more often than not twisted and tuned into a rhythmic metallic fury to match their harmonic and melodious majority. Midwich Cuckoos are cleverly and intricately diverse.
Sharp metallic refrains and cutting, sharp leads wind through faster, harder tempos and rhythms as much as they back more than one canonically crucial ballad on Death Or Glory. Harmonic backing vocals and shrill, Hardcore-centric screams run with deep, rumbling groove and vintage chord progressions not too dissimilar to Black Flags' seminal work among others. Fast, Skate Punk-leaning tempos are propelled by thunderous and again metallically wound drumming, chasing the middling stack of carefully layered melodic guitars, themselves sitting atop a heavyweight four-axe presence grounded by a powerfully low bass tone, owning the dark beneath the album's journey. All of (Mid)which is led by a powerful, dynamic vocal performance that needs no comment beyond that in the most complimentary way.
On that (mostly) string-comprised note, at no stage do the band falter into the precarious territory of having "too much going on" in a mess of concurrent and muddled guitar work. Which, is a testament to both the new look and unambiguously sizable and heavy presence of the contemporary Cuckoos and that of the impressive efforts Tim Kramer of Signal House Studios.
This is not an album to sleep on.
Midwich Cuckoos: Facebook / Instagram / bandcamp (Onslaught Music) / Spotify / Apple Music / YouTube Music / Deezer
---
Though each volume of this series is rife with noise just yearning for your ears and equally nutritionally so for them upon arrival, I have to say "May Have Missed Volume 14" is itself a rather bountiful one. There is another en route. You can find all those preceding this one – Here.
As usual, thanks for reading and supporting my spare time passion. Recently, I have added a new section to the 'Courses' menu, pertaining to non-review-centric features. You can find 'Columns and Guides' – Here.
EN is almost at 600 (out of a total of over 1000 in eight years) the rest, well, I don't need to tell you where they are. Support the independent music scene.
Laurence Crow Illustration: