The Expanse Of The Internet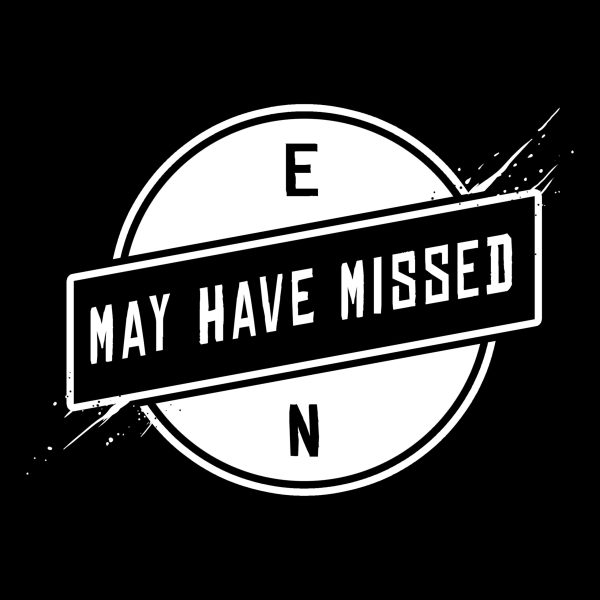 "May Have Missed Volume 13" is an attempt to counter the volume of requests I receive in the various Ear Nutrition inboxes as I type away. The venture of EN, when it boils down to the barebones of itself, is a spare-time hobby. I try to do what I can, as, after all, there is only so much I can electro-scribble down on a screen. Some don't fit, others are simply irrelevant to the site but overall, if they pique my interest or fit the site and whatever trend it's pursuing at that time, they get featured. I obviously don't have the time to cover everything and even though I would if I could, it's just not possible.
So, without further waffle, here is some music that I haven't had the time to sit down with-proper. The purpose of this series is to provide some varied new noise as an enticement to indulge in the plethora that is the underground music scene worldwide. "May Have Missed Volume 13" consists of cuts from the inbox, but also outside of it. Enjoy!
Volume 12 and the past volumes of May Have Missed can be found – Here
---
Mighty Magic Animal – Shtick (February 2022)
(Blues-Rock/Grunge/Alt.Rock/Punk)
Two-piece bands have always pushed boundaries contrary to their limited format and in recent years within the DIY Punk and its adjacent, often related epochs, they have been on the rise. Enter Mighty Magic Animal, who have coincidentally been on Ear Nutrition before proving this very wealth within the two-piece stature. You can find those instances – Here.
Earlier this year, after two EPs that cut across the red-labelled genres above and lyrically explored the act of being alive in this confusing and jarring modern-day, the band have returned with the four-track Shtick. 'Run' thematically continues this path, albeit with an advisory pinch of salt, with a raucous drive of Blues-Punk. Track one is manic in its stop-starts as it navigates its overstimulated, barely coalesced mind, trying its best to simply get on. 'Run' is driven, reflective of its name, crunching, angular and epitomises the potency that two-piece bands can achieve.
Grunge is a huge influence on Mighty Magic Animal and the Nirvana, Presidents Of The USA and general '90s-esque amble of 'Line' is perhaps the purest form of this to date. Their Blues-reverb is replaced by gritty, sardonic smiles of Grunge distortion. 'Picture' further pushes into '90s Alternative territory as it battles the allure of "fitting in" with pictures already painted. Mighty Magic Animal's Punk credentials, in and out of stylised noise, have never been in question and with Shtick, despite this drive toward cycling, punching riffs and heavyset plodding beats, they still stand clearly in view.
The band close with the tongue in cheek, sardonic quest to be a suitable guy for whatever societal beauty standards dictate it. Listen to Mighty Magic Animal. We must all look the same, don't you know?!
Mighty Magic Animal: Facebook / Instagram / bandcamp / Spotify / Apple Music / YouTube / Deezer
---
Dude Safari – 'Treading Water' (April 2022)
(Alt. Rock/Grunge/"Grunge-Pop")
Self-monikered as "Grunge Pop" and apparently continuing the theme of this volume of  "May Missed Have Missed", Dude Safari are in many ways, the definition of starting a band to have fun. To date, the Surrey band have seven singles featuring an underpin of fuzzed, yet melodic Alt. Rock and Grunge with a certifiable nod and gloss of the Pop-Punk they likely grew up with. "Grunge-Pop" will make a resounding level of sense as you move through their tracks thus far. Melodic across the board but also melancholic and riff-heavy elsewhere, love, loss and mental health are explored across Dude Safari's work, sometimes with a bleak honesty and others, a sardonic grin and a sad smile.
Throughout their work, the band nuance their sound, cleverly leaving tidbits and teasers for other aspects of their Alt. Rock base. The previous single, 'I'm Not Good (At Any Sports)' showcased a more jagged, harder sound in amongst their rough-cut melodious efforts and with 'Treading Water' that continues.
Their latest furthers stylistics indicative of the band's respective ages. Melodic, Emo-esque and showing hearts on bare sleeves, 'Treading Water' pushes the anthemic tendencies seen on the previous six singles whilst also tying to the marginally heavier and darker sound they have teased.
This is little more I can say on 'Treading Water' or Dude Safari as a whole, except that the UK Alt. Rock revival, I'm happy to say, seems to be yet still unobstructed.
Dude Safari: Facebook / Instagram / Spotify / Apple Music / YouTube Music / Deezer
---
Anchoress – Stay Positive (March 2022)
(Post-Hardcore)
And, in true "May Have Missed" fashion, it's now time for something completely different. After years on the Canadian circuit, skillfully cascading through the metaphorical myriad of nuances of the stylistics known as Punk and Hardcore, Anchoress have returned. I thoroughly recommend you backtrack and absorb what the band's previous work has to offer you either now or after you're finished with his entry of "May Have Missed", as you won't regret it.
Moving on, then. The Vancouver band have built on the comparatively more melodic, layered, complex and certifiably intense Hardcore sound of their 2016 Anchoress Is Ruining My Life, itself standing as a sizeable shift toward where they are now. Stay Positive is their latest. Shall we?
After an almost soothing, Shoegaze/Post-Rock hybrid marking the eponymous instrumental opener, 'Anxious Hum' battles self-doubt and the anxiety that permeates any level of success or existential fluidity. The band reach inside, internally examining themselves and shouting the findings at us, whilst a predominantly stripped back, undulating rhythm (for Post-Hardcore) soundtracks the cranial journey. 'Anxious Hum' is a crucial, emphatic tale of modern-day anxiety and though presenting itself with no holds barred in its poignant intensity, is enthralling and resonating. 'Peace Lines' openly twists their Modern Life Is War, Touché Amoré-esque Hardcore and Post-Hardcore into the band's new era and defiantly so.
The eventual Emo-isms of much in the way of contemporary Post-Hardcore ebb in and out of this record seamlessly, guided by further Shoegaze-leaning guitars. However, whenever this fluid Emo-Punk takes hold, the abrasive wing of Anchoress springs from its dark corner for precisely as long as it requires to contrast or coalesce. See 'Middle Management At The Money Factory' and 'Psychobabble'.
Lyrically, you are pinned by both delivery and subject, as meandering guitars, resolute drumming and buoyant baselines motion around you. There is a story to tell here and it is of modern, mental health beleaguered existence in the western world. The band close on the 7:35 of The Futurist. Elongated instrumentals and Post-Rock-esque washes crop up again on a release that is pushing a band that pushes persistently on. What will Anchoress change, nuance or explore next? Who knows but the skill in which it will be executed will be impeccable.
Do not sleep on Anchoress.
'You hold back the dawn because you profit off the night'
Anchoress: Facebook / Instagram / bandcamp / Spotify / Apple Music / YouTube Music / Deezer
---
KROM – Music Is My Enemy* (December 2021)
(Post-Punk/Alternative Rock)
Furthest back on this volume of "May Have Missed" we have KROM. The band's bleak, melodic yet transfixing bedrock of Alternative Rock and Post-Punk, also infused by Noise Rock, jabbing electronic influences and whatever else, was initially featured on "May Have Missed Volume 2". You can find that  – Here but for now, the latest from Gothenburg's KROM beckons.
'Music Has Become My Enemy' instantly showcases both the development of the band's raw Alt. Rock but also how the jabbing electronic influences from their previous release are now more at home, either side of or simply running parallel to this intrinsic fuzz. The band's Post-Punk, "Goth" demeanour is also more prevalent on the eponymous opener. Previously I stated that the band's command of your attention is ensnaring once you are too close to their self-sustaining atmosphere and both 'Music Is My Enemy' and the gloomed, 'Adolescent Goth Anthem' do nothing but strengthen this observation, in no small part due to the hypnotic, low and rumbling bass populating both tracks.
The explorative reaches into Post-Metal found on the band's previous release present themselves on the rumbling, brooding and standout 'Itch'. KROM's longer instrumentals ebb, forcefully but slowly while a winding surge of a strained synth meanders through the path beaten down. Serrated and raw, near-Industrial strings dart and jab between the droning bass tone and tribal drumbeat forever indenting what's below, replacing, fighting and then pairing with the winding surge from before. 'Itch' is as close to Post-Metal as the band has gotten and I can't help but think that such a future foray would yield excellent results. However, next and within the thematic tendency the band have to not stay still, KROM merge Post-Punk gloom and Industrial fuzz with a jarring and juxtaposing Alt. Rock just because.
Just because, and actually because of the reverberating Grunge rhythms, Alt. Rock chorus and general unhinged demeanour of 'Aim To Please' need a platform. KROM close on the hypnotic 'All Is Well'. Though it seems as if I am overusing such words as "hypnotic", "enthralling" and "transfixing", or, at the least overemphasising their synonyms, I am doing so in the utmost truth to convey how as such this band are. With this in mind, the rhythmic 'All Is Well' is no different.
KROM continue to develop their dark, explorative sound and they implore you to join them.
*This entry focuses on the standard/streaming services variant of the release.
KROM: Facebook / Instagram / bandcamp / Spotify / YouTube Music
---
Up For Nothing – 'Sick Of The World' (March 2022)
(Melodic Punk/Pop-Punk)
It really wouldn't be an entry into the "May Have Missed" series without a slice of melodic Punk-Rock. So, without further ado, we have the latest from Brooklyn, New York four-piece Up For Nothing ahead of their forthcoming album, Escape Route.
A band matured under the legacy of the formative Pop and Skate Punk eras that inspired so many, you'd be hard-pressed not to find a track from Up ForNothing that doesn't ode to melodic Punk history. Their classic Pop-Punk is shameless in its melodic and youthfully exuberant delivery. Their existential thoughts progress and transcend each album as their worldview moves onward, while their fast, serrated and cathartic Punk rages against the resultant stress or simply tries to outrun it with salvos of Skate Punk adjacent tempo. Consider the likes of Forever Unclean, Moonraker, Banner Pilot, The Dopamines, The Raging Nathans, Dillinger Four and countless more. You get the idea.
It is quite fitting then, given the band's MO, that 'Sick Of The World' is the title of the first single from the forthcoming opus.
Riding in on a meandering lead and a buoyant bassline, Up For Nothing contrast a sickness of everything with the age old method of upbeat, raspy melodic Punk-Rock telling a tall and introspective tale, screaming out in a smiling, audible release. 'Sick Of The World' is an anthem of those now in their late twenties or cascading through their inexorable 30s. The band soundtrack this with their melodic continuity as strong as ever but in tandem with the better-produced full-bodied sound carried from 2016's Swindled. 'Sick Of The World' is as much of a fantastic introduction to the band as it is a milestone in their journey. One that wholly displays their raw and raucous credentials laced with more hooks that you line a sinker at.
On 'Sick Of The World' you hear Up For Nothing wholly, bare all and defiant.
'Can't remember the last time I felt free enough just to be […] I'm a shadow of what I used to be – my reasons for being sick of the world'
Up For Nothing: Facebook / Instagram / bandcamp / Spotify / Apple Music / YouTube Music
---
The was "May Have Missed Volume 13". As always, I hope there is more content coming soon but there's no guarantee. What a time to be alive.
Thanks for reading and supporting my spare time venture. Recently, I have added a new section to the 'Courses' menu, pertaining to non-review-centric features. You can find 'Columns and Guides' – Here.
EN is almost at 600 (out of a total of over 1000 in eight years) the rest, well, I don't need to tell you where they are. Support the independent music scene.
You can find all the other volumes – Here.
Laurence Crow Illustration: