The Expanse Of The Internet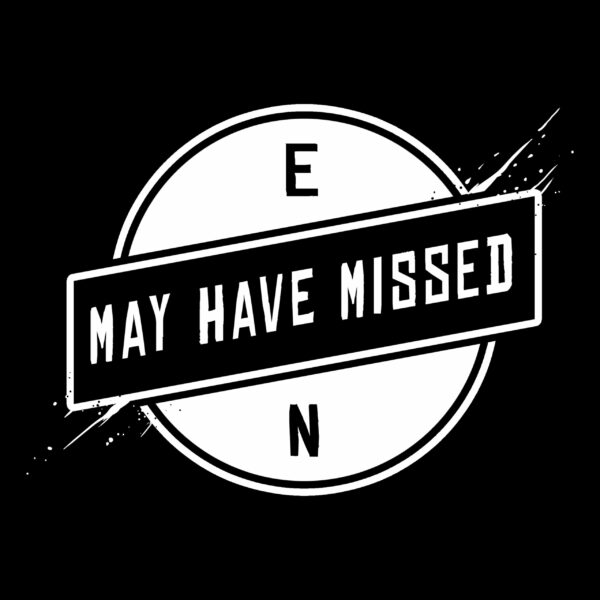 "May Have Missed Volume 2" is an attempt to counter the volume of requests I receive in the various Ear Nutrition inboxes as I type away. The venture of EN, when it boils down to the barebones of itself, is a spare-time hobby. I try to do what I can, as, after all, there is only so much I can electro-scribble down on a screen. Some don't fit, others are simply irrelevant to the site but overall, if they pique my interest or fit the site and whatever trend it's pursuing at that time, they get featured. I obviously don't have the time to cover everything and even though I would if I could, it's just not possible.
So, without further waffle, here is some music that I haven't had the time to sit down with-proper. The purpose of this series is to provide some varied new noise as an enticement to indulge in the plethora that is the underground music scene worldwide. "May Have Missed Volume 2" consists of cuts from the inbox, but also outside of it. Enjoy!
May Have Missed Volume 1 can be found – Here
---
Mr Wu's Pigs – Sick Of Death (August 2020)
(Garage Punk/Grunge)
Mr Wu's Pigs (AKA David Tombesi-Walton) landed in my inbox quite some time ago. I sadly missed it initially but this time around, post-"to-write list" and on "May Have Missed Volume 2", the one-human-band's infectious melodic grit grins after a happy landing. I have mentioned it before on this platform but the rise, revival and general interest toward underground Garage Rock and Punk has seen an exponential increase these past few years. You can find what else in that vein that I have featured – Here – for later reading, but for now Mr Wu's Pigs beckons.
Punk-Rock is very much at the heart of projects sound and has been Mr Wu's Pigs foundation since 2018. Apply the aforementioned coat of Proto-Punk and Garage Rock fuzz and you are almost there. The final completing piece is one that is strongly prevalent on his sarcastic and sardonic Sick Of Death full-length. Mr Wu's Pigs embodies the famed and darkly-toned distorted-fuzz-Rock that is Grunge on this 2020 release. Sick Of Death is rife with humour conditioned with the two "S's" above but don't let that fool you. There is some seriousness on this record. Mr Wu's Pigs may sardonically mock the conduct of "Real Men" on 'Real Men' for example, but there are darker tones of mental frustration and the modern life it is derived from across the eleven-track board.
'I said the mirror is a trial morning ritual: force a smile' are the words that repeat at the end of 'Morning Ritual'. Sick Of Death harkens back to the lighter-hearted Rock n' Roll of the project's previous work but given the intrinsic lyrical poignancy, it has opted for a darker approach. David Tombesi-Walton has quite befittingly soundtracked his 2020 frustration – and the rest – with this moody and predominantly Grunge Punk stylistic in what feels like a much-needed catharsis laced with enough humour to assist its delivery.
There is a lot to be said for minimalist warrens of underground Rock.
Mr Wu's Pigs: Facebook / Instagram / bandcamp / Spotify / Deezer / YouTube Music 
---
KROM – Misplaced (October 2020)

(Post-Punk/Noise Rock/Alternative Rock)
The country of Sweden has in the last forty years, released some of the world's most notable music in both the mainstream and within specific stylised scenes. The Scandinavian nation has exported some of the most notable Metal, Punk, Hardcore and much more and it is here that KROM becomes relevant. October 2020 saw the Gothenburg four-piece release their second effort and first mainline release since their formation and through its dark, beyond sombre and resoundingly brooding tones, is quite something.
Misplaced is enveloped in and envelops the listener in thick, viscous yet ethereal gloom based on Post-Punk but living beyond those confines. Vocally, throughout, the low, menacing and foreboding tones are the anchor tieing the band to their Post-Punk while they push the genre further. 'Hibernation' hybridises this gloomed-Post-Punk with melodic and heavy-set Alt. Rock as a greater, discordant fuzz waits in the wings. 'Missing' settles into this format further but with an increasing emphasis on the driven Alt. Rock sound as the inherent fuzz builds. KROM are by no means a wholly, bonafide Noise Rock group, but their eerie use of discordant feedback, elongated discordant notes and complex drum patterns only benefit their craft. The band's mild electronic influence is also of note here, KROM proliferate their own atmosphere and ensnares any that stray too close.
Tracks such as the majoritively instrumental 'Next' push the band's Noise influences further over a near-blackened Post-Punk, floor-dragging rhythm lost in its own darkness and confusion. Despite vocals being present, the long drives of instrumental, near Post-Metal aesthetic suit KROM and potentially lay a different foundation for any future work. However, it is comparatively standout, energetic and melodic 'Pushing' and 'Leave' that steal the show.
KROM: Facebook / Instagram / bandcamp / Spotify / YouTube Music
---
Corporate Citizen – Six Minute Meeting (May 2020)
(Melodic Hardcore/Skate Punk)
The line between fast melodic Skate Punk and the ever-so-slightly more cutting and classic-leaning Melodic Hardcore is fertile ground in the modern Punk scene. It is land that has been settled countless times with next-to identical results with but one magnum opus. The indomitable determination to "do it right". This is where San Diego's Corporate Citizen load, fire and occupy their own catapult towards the end that is the above target.
Imagine the likes of 88 Fingers Louie, Battery, Give You Nothing, H2O, Modern Enemy and Gorilla Biscuits and you'll land safely, within context that is. Per and within their track listings, the band are known to cross from classic Hardcore, down the genealogical legacy onward to Melodic Hardcore and finally Skate and melodic Punk. Six Minute Meeting boasts three tracks of clean cut-Melodic Hardcore laced with enough threading guitar lines and '90s Punk melodies to stimulate as much jumping around as it does fist-raising and singalong unification. The 2020 release is largely more of the same from the California four-piece but there is sense of refinement and comfortability. Corporate Citizen push their inherent Hardcore bite as far as is needed in 'Culture Vulture' but emphasise and continue to develop the melodic elements of their debut as an intrinsic contrast toward a complete departure when required. See 'Not The One'.
Given the tradition in melodic Punk and veins of the Hardcore scene to write pogoing, youthfully exuberant, life-positive anthems, the closing 'Positivity Anthem' is a track well-suited and an emphatic product of 2020 and undeniably fitting to it's copycat younger sibling 2021. There is little else to say on this release, for Corporate Citizen know exactly what they are doing and "May Have Missed Volume 2" wouldn't be complete without some fast melodic Punk.
Corporate Citizen: Facebook / Instagram / bandcamp / Spotify / Apple Music / YouTube Music / Deezer
---
JSA – Fool's Empire (October 2020)
(Alternative Rock/Indie-Rock)
By definition or rather by genealogy, both Alternative Rock and Indie-Rock are derivative offshoots of the greater Punk-Rock movement from what now seems like aeons ago. You'd be hard-pressed to argue otherwise but what you can reasonably argue is that much of the music in the above veins is often far from its origins. That's not a dig or a passive-aggressive statement, rather one I feel is hard to negate. However, that is not the realm of which South London's JSA inhabit. For the band's playful, mature and exuberantly energetic hybrid of the two is more than in touch with its roots via some healthy Pop-sensibilites.
October 2020 saw the band's run of singles form into debut EP that mischievously straddles the mainstream to the alternative line while resoundingly remaining resolutely underground. The eponymous 'Fool's Empire' opens with a defiant '1, 2, 3, 4!' before heading into a tale of betrayal and ill-feeling set to a contrasting but heavy Indie-beat doing its best to restrain the band's abrasive Alternative Rock. That is at least until it is the right time for it to be unleashed. JSA contrast strained vocals, an aggressive punch-face-Punk chord progression and an eerie, discordant line tieing them to the fuzzed world of underground Alt. Rock. 'Fool's Empire' is addictive from the off as it catalogues what JSA are about. The eponymous blast is near-constantly permeated by an almost sardonically toned line as it gets all it needs off its five-panel chest.
'Orange Juice' favours the band's Indie-quirks as they smilingly show their "mainstream" applicability. Track two is melodic and yet still retains a grit in its bass-tone alone and further in its unified and low-ridden refrains.'Down and Out' closes the band's 2020 three-track as the sonic hybrid of its contrasting compadres. JSA are 100% a band to watch for the future.
JSA: Facebook / Instagram / Spotify / YouTube Music / Apple Music
---
mr. phylzzz – 'KARL AND HIS NEW BIG SUIT' (November 2020)
(Blues-Rock/Stoner Rock/Grunge)
The 'Two-Piece Heavy Queer Trash Rock' of Ohio's mr. phylzzz is no stranger to the realms of EN and it's now considerably less fresh founding whatever it was. The two-piece band are one that have gone through a metamorphic transition these past few years and it has only led them to combustion. The good kind. A kind of volatile matter only really quantified into understanding as some sort of considerably unholy and overtly discordant mass of Blues-Rock rife with an ironically energetic Stoner-groove combined with the brooding-punked-fuzz left behind by Grunge. For a full review of their most recent, mainline release via Amphetamine Reptile Records, reverberate over – Here.
But what of the raucous two-piece's 2020 entry? Well, prior to looking at it, it is important to say that there is more of what you're about to hear and it will arrive precisely when it means to. The lessons learnt from Penitent Curtis are well represented. Although the two-piece still breathes the Blues they have always embodied, it is now buried and corrupted even further than it was on the aforementioned exhausting release. 'KARL AND HIS NEW BIG SUIT' bounce in on playful but bludgeoning riffage into a metallic serration laughing as it accosts your living tissue. The production values on this latest are intentionally overdriven to amplify the inherent dirge of mr. phylzzz's corrupted groove.
Despite this the maniacal abandon, newfound Metal-edge and eerie refrains, mr. phylzzz still manage to beckon you with melodic licks and an overall "come party with us" aesthetic as Karl approaches in his dangerous finery. mr. phylzzz are not clean-cut and it is unambiguously best that way, making them an excellent addition to "May Have Missed Volume 2".
'Two-piece loud ass band from Cincinnati Ohio. Da end'
mr. phylzzz: Facebook / Instagram / bandcamp / Spotify / Apple Music / Deezer / YouTube Music
---
That rounds up the "May Have Missed Volume 2". There will likely be more of them as I attempt to corral the inbox and keep up with the gargantuan underground music scene. Support the scene, buy and bands stream music, buy merch, support labels, buy from record shops and support the underground press and the work we do to further proliferate the above.
In the meantime, check out May Have Missed Volume 1 and the other 438 pieces across the site, as well as the handful of Spotify playlists.
As always, thanks to Laurence Crow for the continued and amazing work for all things Ear Nutrition art.
Laurence Crow Illustration: