The Expanse Of The Internet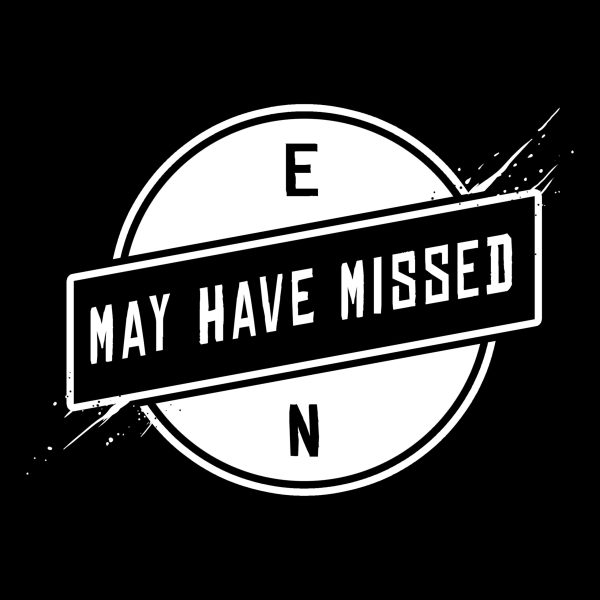 "May Have Missed Volume 12" is an attempt to counter the volume of requests I receive in the various Ear Nutrition inboxes as I type away. The venture of EN, when it boils down to the barebones of itself, is a spare-time hobby. I try to do what I can, as, after all, there is only so much I can electro-scribble down on a screen. Some don't fit, others are simply irrelevant to the site but overall, if they pique my interest or fit the site and whatever trend it's pursuing at that time, they get featured. I obviously don't have the time to cover everything and even though I would if I could, it's just not possible.
So, without further waffle, here is some music that I haven't had the time to sit down with-proper. The purpose of this series is to provide some varied new noise as an enticement to indulge in the plethora that is the underground music scene worldwide. "May Have Missed Volume 12" consists of cuts from the inbox, but also outside of it. Enjoy!
Volume 12 and the past volumes of May Have Missed can be found – Here
---
Fenris Fuzz – Freaky Stories Of Daily Life (February 2022)
(Post-Hardcore)
Hardcore is a common feature on the "May Have Missed" series. The ever amorphous stylistic is very much that in today's scene, pulling in more influences than you can reasonable name and yet still coalescing into a cohesive whole. Enter Fenris Fuzz, linked to and comprised of members of Krod Records mainstay, Fire At Will.
The band's 2022 debut Freaky Stories Of Daily Life very much epitomises this contemporary variety found in Hardcore but also more specifically the trend within the fellow contemporary brand of continental European 'core. Enter names such as Fire At Will, Kill Her First, Forgive and Phantom Bay and the sound of Fenris Fuzz and their debut make sense. Powerful Stoner groove is applied to an intense, lumbering melodic Post-Hardcore in the opening 'You Pathetic'. Vocals rife with pure scorn are contrasted by a discordant and meandering melodic guitar work as mildly Metallic Hardcore makes itself known casually, only within the context of the intensive opening track.
FF play with ambient, intricate guitars over rumbling drumming and attitude-rich bass tones. They incrementally build and imbue their "Post-Hardcore" with instrumentals heavily influenced by Post-Rock and Post-Metal and yet never lose their Hardcore bite. The band also encroach on what could be considered "traditional" 'core stylistics from time to time and yet within the process of your acclimation to it, they ply whatever trait you have recognised with structurally seamless yet accosting nuances. See the excellent 'Time Is The Distance'.
As Freaky StoriesOf Daily Life blazes its debut trail, the album continues to alternate and earnestly take that risk of displaying its entire self for that first time. Doing so on a debut release is the age-old risk and such a point is hard to contest, but, with Fenriz Fuzz exuding nothing but comfort within themselves, said "risk" is decimated. See the stylistic journey that is 'Live It Now' and the brilliantly orchestrated rise in fervour that is 'Bitter Man'.
Listen to Fenriz Fuzz.
Fenris Fuzz: Facebook / Instagram / bandcamp / Spotify / Apple Music / Deezer
---
CUFFS – 'Watch Me Die' (February 2022) (Hardcore Punk)
CUFFS have been on Ear Nutrition before and if you fancied seeing in what capacity, by all means, mosey those incessantly tapping digits over to – Here.
A band based in Bristol writhing simultaneously in anger, rage, alacrity and dedication to the DIY scene that gives them their platform, CUFFS have been twisting Punk and Hardcore their way either side of this ongoing pandemic and age of "Jesus fucking christ what now". Drawing from the riff-heavy and metallic adjacent groove of New York Hardcore and its legacy, the pervading influence Hip-Hop has had on Hardcore and an awareness of the raucous yet refined stylings of Post-Hardcore, CUFFS finish their barrage with the brash conviction of this latest generation of Punk swagger.
Peruse their back catalogue and watch them live – and believe me, you absolutely need to – and you'll find a band that give more than a few shits either side of and within enjoying what they do. 'Watch Me Die' is their latest single, shall we?
With powerful reverberating riffs and a voice box alternating its intensity in fine, flowing increments, CUFFS, batter down what's left of the now splintered door into 2022. Wild yet momentary melodic lines from the band's sole guitar creep around the pounding rhythm section hitting at a later and more focussed performance as resolute drumming cycles through the same kinetic charge.
Post 1:45, CUFFS' guitar strides past its previously wild and manic interjections, becoming more confident and boasting some of its best work in the outfit. Similarly and not long after, the band's rhythm section begins to writhe, sardonically and maniacally smiling their own way through the four-piece's latest existential anthem. CUFFS then flex their new muscles and spool their mechanisms one last time ahead of a barrage of immensely satisfying Punk-Rock, again glazed with further standout guitar work and all the bonafide indications of yet another comfortable, confident and committed contemporary Punk band.
'Heavy AF Bristol Punk' indeed.
CUFFS: Facebook / Instagram / BigCartel / Spotify / Apple Music/ YouTube Music
---
Brighter Days – 'You, Waiting for Me to Fall Away' // 'And Maybe Never Come Back' (February 2022)
(Post-Hardcore/Emo/Math-Rock)
"May Have Missed" Volume 12 continues on the same theme as apparently EVERYTHING was released this past February. Brighter Days hail from Prague in Czechia (The Czech Republic) and are yet another cog in the Post-Hardcore and arguably Emo revival. Don't allow the infamous notoriety of that three-letter word dissuade you from contemporary music. Though its cliches endure and attract legions of fans, there is a DIY side to the genre and stylised spin-off of Post-Hardcore and it's more than worth your time. Not that the big bands aren't, love what you love, but this entry is all about Brighter Days and specifically, their latest two singles, 'You, Waiting for Me to Fall Away' and 'And Maybe Never Come Back'.
Both are the forerunners for their forthcoming LP and mark quite the emotional journey. Brighter Days transcend "hearts on sleeves" with cleverly but minutely Math-toned, Indie-esque Emo structures as dual vocals alternate between the former's expected delivery and that of their Post-Hardcore majority. 'You, Waiting for Me to Fall Away' is one of a tale of two, existing to crucially form the narrative and to (expertly) display the band's versatile, multifaceted sound beyond simple classification and foundation. 'You, Waiting for Me to Fall Away' is rife with jarring yet fluid and beckoning twists and turns teasing a future dulcet and melodic sound as much as one considerably more charged.
The Post-Hardcore revival and all its vibrant fruit continue with the band's most recent tease of their LP. Brighter Days burst with enthusiasm despite hindsight hanging over. Layered, melodic and driven, the band's cycling second single toasts the Math-inclination of the previous single, embodies a comparatively brash yet also refined Post-Hardcore populated with sharp time changes feeding a wholly evocative display. In perhaps one of the most satisfying aspects of this second single, Brighter Days, shamelessly but with undeniable confidence, tease a penchant for the ethereal, soaring and expansive reaching realm of Post-Rock between 1:43 and 2:06 before their layered vocals guide you to the end.
Keep an eye on Brighter Days. The forthcoming full-length is due for release very soon.
Brighter Days: Facebook / Instagram / bandcamp / Spotify / Apple Music / YouTube Music
---
Liquid State – 'Static' (February 2022)
(Post-Hardcore/Alternative Metal)
Here we are yet again, focussing our hearing on the sonic microcosmic eclect-a-verse that is Bristol. Liquid State are this time the band in question, one whose hybridised assault on the eardrums is notably powerful and more than worth the time your traversal through contemporary heavy music is taking.  The band have been on EN before with their previous single 'Face To Face'. Said single comfortably and yet confidently encapsulated the Post-Nu-Metal generation but also took in the lingering influence of early 2000s Post-Hardcore left in its wake. You can find my breakdown of it – Here.
With pounding, leviathan-level "riffery" and pervading groove hybridised from Post-Hardcore and the band's domineering Alt. Metal, Liquid State have, as the cliche goes, doubled down. 'Static' takes the comparatively more melodic sound of 'Face To Face', emulates its structure to a degree but augments the cumbersome presence beyond itself. The aforementioned melodies, layered vocals and guitars climb and climb before jumping into a freeing and unobstructed soar, contrasting the now even lower and more grounded brooding, looming and underpinning work the band's bassist has now illustrated across two singles.
Vocally, a powerful, earnest and strained cathartic release announces the presence of Liquid State into 2022. Layered and perfectly timed interjections create a powerful, urgent depth and the soaring melodic chorus, paired with the fellow and aforementioned guitars, create a hook-laden, beckoning and enveloping "power grab" impossible to impede.
Despite such a melodious display in places, Liquid State truly are at their hardest regarding their penchant for Metal. Though the Post-Hardcore is in a symbiotic relationship with it, Metal is the alpha in the relationship. The level of keen serration, though not as populace as the gargantuan riffs, adds an almost playfully menacing grin to proceedings.
But that's just my opinion. The band's next EP, Cherished, will release later this year.
Liquid State: Facebook / Instagram / Official Website / Spotify / Apple Music / YouTube Music
---
Protospasm – Unreachable Summit (February 2022)
(Hardcore Punk/Crossover Thrash)
"May Have Missed" volume 12 keeps on the heavy, stays in February and motions towards Australia for the Hardcore Punk we all knew was coming. Hailing from Melbourne, traditionally known as Naarm by the Kulin people of the area, in the land situated somewhere beneath "under", in February 2022 (but again) Protospasm unleashed their raucous debut.
Unreachable Summit not only colours your impressions of what's to come with its title alone but wholly within the total 2:53 of its eponymous opener, it showcases Protospasm in their utmost. Rock n' Roll flirtations, seamless forward motion and an underpin of Crossover Thrash, Protospasm combine the lot with a vintage Hardcore approach sautee with an earnest Skate Punk chorus. Danni's snarling confidence is clear and straight to the point with its rage against forced beauty standards with 'Unreachable Summit' as a whole standing as a defiant yet giant and effortless hook.
This Crossover Skate 'core continues in 'Confusion', where the level of comfort the band exude is only intensified on "our end" by production that couldn't be more intrinsic. The band's debut isn't all charged pace, however. 'Kleptomania' reverberates to a mid-tempo groove whilst 'Enough' only darkens such into an album highlight, rife with jabbing Post-Hardcore lines winding through a band-wide barrage only relenting for foreboding refrains designated to charge the batteries.
Of course, if unrelenting Hardcore is what you yearn for to charge your own batteries, Protospasm don't disappoint and seemingly feel your pang. 'Fake' lambasts those who embody the very word for their gain. We see through you, the band see through you and the volatile Thrash-infused 'core of track seven of ten equates this volatility sonically, cut with further playful and comparatively Post-Hardcore nods between a track that demolishes the word relentless. The aforementioned Rock n' Roll and dare I say Hard Rock-isms, that I absolutely dare to say are for fans of The Bronx, then go on to rule the existential anthem that is 'The Devil'.
But, that'll do from me. Listen to Protospasm.
Protospasm: Facebook / Instagram / bandcamp / Spotify / Apple Music / YouTube Music
---
[slab] – Ready For The Light (January 2022)
(Post-Rock)
As it happens, something did actually happen in January. [slab] hail from Manchester and after the previous "May Have Missed" iteration, contacted me with a simple request to listen to their EP after their compadres in Chihuahua were featured. If wild, maniacal yet technically brilliant Noise, Hardcore and Post-Hardcore are your caustic jam, follow the link to volume 11 – Here.
Now, however, Hardcore behind us and to close, we have the warped Post-Rock of [slab]. Post-Rock, though wild, varied and only becoming increasingly so as it evolves, has a bonafide and recognisable set of prevailing themes and stylistic underpins. [slab], with their debut Ready For The Light adhere to some but certifiably nuance and warp the others.
The band's three-track opens with no holds barred on the eponymous track one. Post-Rock is a genre that though chaotic and complex in its own way, is still only often so in controlled increments. With 'Ready For The Light', the band's home in a city known for Punk-Rock and a roster of bands defining the word "eclectic" within guitar music makes a powerful and frenetically charged level of sense.
'Ready For The Light' is layered, hypnotic and attention sequestering. It carries all the hallmarks of the genre and yet, charges, twists, contorts and distorts them into maniacal versions of themselves. At times you feel as if you're listening to alternate timeline Post-Rock Fugazi and at others, the pure amalgamated and healthily lucrative well of influences the genre can pull from at this stage of its existence. [slab] are heavy with their Post-Rock and crucially so because they do so without straddling that line so many do between it and its brooding and often explosive cousin, Post-Metal. [slab] are charged with Post-Hardcore, Noise and likely others my ears are missing and this truly accentuates their prominence in the Instrumental Rock scene.
And that is simply my reaction to track one. 'The Billionaire Space Race' carries a sarcastic and sardonic tone akin to how the concept of its title is truly disconcerting. The band's only vocal ebb meaders here as it does elsewhere adding depth as [slab] navigate their version of a more traditional Post-Rock. The band's drummer, notably here and more than once on the EP carries so much attitude as they perpetually cycle power, sat comfortably and completely in control of it. All the while, pedalboards get quite the workout keeping up and supplementing a seamless layering, grounded by a warming and inviting bass tone.
I'll leave it there but there is one track I am yet to mention. [slab] are a band to watch, figuratively and literally.
[slab]: Facebook / Instagram / bandcamp / Spotify / Apple Music / YouTube Music / Deezer
---
The was "May Have Missed Volume 12". There is hopefully more content coming in general. Thanks for reading and supporting my spare time venture.
This is article number 583. The rest, well, I don't need to tell you where they are. Support the independent music scene.
You can find all the other volumes – Here.
Laurence Crow Illustration: