The Expanse Of The Internet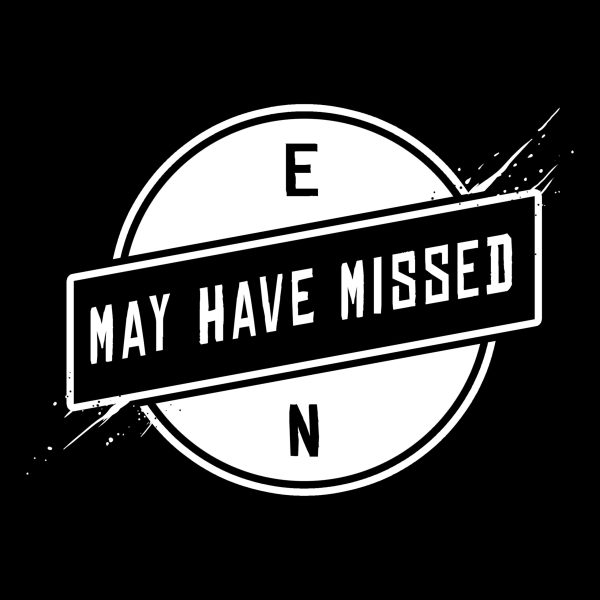 "May Have Missed Volume 11" is an attempt to counter the volume of requests I receive in the various Ear Nutrition inboxes as I type away. The venture of EN, when it boils down to the barebones of itself, is a spare-time hobby. I try to do what I can, as, after all, there is only so much I can electro-scribble down on a screen. Some don't fit, others are simply irrelevant to the site but overall, if they pique my interest or fit the site and whatever trend it's pursuing at that time, they get featured. I obviously don't have the time to cover everything and even though I would if I could, it's just not possible.
So, without further waffle, here is some music that I haven't had the time to sit down with-proper. The purpose of this series is to provide some varied new noise as an enticement to indulge in the plethora that is the underground music scene worldwide. "May Have Missed Volume 11" consists of cuts from the inbox, but also outside of it. Enjoy!
Volume 10 and the past volumes of May Have Missed can be found – Here
---
Wrong Again – Wrong Again (December 2020)
("Gruff" Melodic Punk-Rock)
Despite now being in 2022, 2020 in all walks of life, good, bad, ugly and considerably uglier, still maintains its shadow. This, as you've probably deduced has expanded and cast itself over my various message and email inboxes. So, within the purpose that "May Have Missed" was created for, we have the debut full-length and fifth release from Russian melodic, gruff, gritty and cathartic life-Punks, Wrong Again.
Punk, at its core, is honest and since the metamorphosis it undertook in the notorious '80s, we've seen an exponential rise in angular, melodic and unapologetically evocative music. Infused and inspired by Emo, Alternative Rock and the crucial, seminal genealogical grandfather of both that is Post-Hardcore, to this day, this subsect of the greater Punk scene is resoundingly strong. From the notable names of China Drum, Leatherface, Dag Nasty, Iron Chic, Gunmoll, Hot Water Music and Ship Thieves to the Lawrence Arms and more, Wrong Again's debut adds further credit to the, at this stage, indomitable breed of playful but emotionally drenched Punk.
'Dark and Cold and Dreary' opens the self-titled with a sombre line ahead of upbeat, melodic yey charmingly jagged Punk-Rock, layered, simply but notably via the legacy of Post-Hardcore. The band employ a reverberating power in the verses, a streamlined drive in the chorus and a post-chorus juxtaposition before a gloomed andequally heavy emotional weight fights to find positivity. This is "life-punk" and Wrong Again cathartically release with no shame as everyone should. 'Youth Anthem' then follows and furthers the ear-worming charm Wrong Again employ from their gruff-intermittent vocal harmonies, stop-start riffs and warped, fuzz-subsistent melodies.
And the rest of the album? Well, I'll leave that to you bar one sentence pertaining to it. Wrong Again are simply being themselves across thirty existentially resonating minutes you'll blast time and time again. Or something like that.
Wrong Again: Facebook / Instagram / bandcamp / Spotify / Apple Music / Deezer / YouTube Music
---
CHIHUAHUA – Violent Architecture (May 2021)
(Post-Hardcore/Noise Rock/Hardcore Punk)
There was a time where Punk-Rock was the epitome of sonic chaos. Hardcore and Post-Hardcore soon followed to up that sonic ante and the rest is history. A wondrous, dangerous, eclectic, electric, apoplectic history. Of course, all of those are and can be worthy of such description but the formation of those genres, styles and ways of noise was just the beginning of an open world. An open-world that has seen each of those hybridised and spun into insert-deity-knows-what here. The possibilities are as frenetic as the individual examples and CHIHUAHUA are one of them.
Post-Hardcore and Noise are just as much a part of the greater Punk scene as the more "recognised" variants and I won't have that argued with. If you want proof then simply listen to the first two tracks from CHIHUAHUA's debut album, Violent Architecture. 'White Cane Bruise' captures the indignant rage of Hardcore Punk, the unbridled NEED to warp everything Noise Rock brings to the stage and the refined yet brash-tonal skill of Post-Hardcore. Short, sharp, voracious Post-Punk vocals cut through the wild, cacophonic din. A weighed, rumbling bass grounds it all as violent, cycling drum patterns punish the kit. All the while, competing guitars joust each other playfully outside of their mutually assured destructive and lacerating displays. This is all outside of the looming, maniacally repetitive refrains, incrementally charging between these bouts. That is just track one.
And what of track two? Well, in short, 'Drawbridge' attacks a sense of national superiority articulated in such a way, that its words are visible. Following siren-like synths CHIHUAHUA jet into a discordant, gritty, unabated Post-Hardcore Punk stopping only to push a rage-induced Noise aesthetic set to permeate the unabated drive further. CHIHUAHUA are fast, riff heavy and disgusted on track two. Now, what of the rest of it?
Well, to be honest, there's more to it and it's no easy ride and I mean that in the best, existentially charged and fear-inducing way possible. Do not sleep on this band.
CHIHUAHUA: Facebook / Instagram / bandcamp / Spotify / Apple Music/ Deezer
---
Confused – Black Colours (December 2021)
(Melodic Punk/Alt. Rock/Post-Hardcore)
Melodic Punk makes a second appearance on this iteration of "May Have Missed". The very term is quite the large and amorphous umbrella and in the case of Confused from the Black Forrest of Germany, it is very suited. Released at the tail end of 2021 and after many moons in the underground Punk game, Black Colours is an example of how lucrative a well of influences the genre can employ and draw from.
On Black Colours, Confused shift through their sound with fluid ease. Though there are some considerably stark deviations, there is also a pervading and thoughtfully arranged continuity. 'No Gods, No Masters' slams predatory doctrinal control to a choppy, stripped back Punk-Rock matching classic brash grit to anthemic melody. 'New Songs' furthers the post-Post-Hardcore "gruff" Punk approach harder into a cathartic wash of driving rhythms and melodic licks to round the rough nature of Confused. 'The Man That Killed' then slows proceedings in a reserved to heavy, melodic to jagged Alternative Rock soundtracking a poignant tale of revenge.
Punk-Rock is very much the foundational underpin of Confused, that much is obvious and openly well-worn. The band aren't showcasing anything new, groundbreaking or idiosyncratic within modern Punk but the rate at which Black Colours cascades an influences list I would imagine to be vast is again, well arranged and skillfully done. 'Colours' was one of the mainline singles and after a Grunge-inflexion over a Post-Hardcore-spun Alternative Rock mid-point, refreshes the album's forward drive onward until the next example of modern underground rock.
Black Colours dips and dives between whatever style was destined to be conjoined with the bare-all "life-Punk"-conditioned songwriting. Mental health, existential thought, alcoholism and beyond, Confused's mastery of their craft is evident on tracks such as 'Have To Keep Doing it' and the closing '3 Days' in particular as an album of pure catharsis ends. One that sounds exactly as it should.
Modern underground Rock and Punk-Rock are more coalescent than you think.
Confused: Facebook / Instagram / Spotify / Apple Music / YouTube Music / Deezer
---
Squidge – 'Overcast'/'Tirumasu' (December 2021)
(Melodic Punk/Pop-Punk/Alt.Rock/Post-Hardcore)
Squidge are another proponent of both a trend permeating this volume of "May Have Missed" and a greater, resoundingly powerful Punk-adjacent Alternative and underground Rock scene. The band have graced Ear Nutrition multiple times for good reason and you can peruse said appearances to your heart's content – Here.
But what of their latest? Well, honestly, I would argue it to be their most uncontestable opus yet. 'Overcast' tackles the cranial drudgery of the post-university grind, the expectation, the reality and the cavernous suckhole of stop-gap complacency. Musically, Squidge have always had a strong pervading penchant for Pop-Punk. On 'Overcast' the playful but contrastingly sardonic tone (especially when the lyrics are applied) is sponsored by a mildly, Easycore-esque coat over thick, stripped back Alt. Rock structures.
With help from Maddie All Smiles In Wonderland/Safe With Sound, tri-toned vocals hammer the existential confusion, disappointment and desired alacrity home in this driving anthem of feeling lost. Squidge are powerful on 'Overcast', with the track cleverly capturing the definition of the word and just as expertly converting it to describe this ubiquitous existential pickle. One perhaps better known as the often alcohol saturated exclamation of  – "Well, that's that. Now what the fuck do I?".
Track two of the A/B single, 'Tirumasu', is not only a considerable deviation but perhaps the band's best track to date. Squidge are no strangers to forcing metamorphic contortion within their Alt. Rock foundation. 'Overcast' is a clear enough example of this, as is their robust back catalogue for that matter. However, with 'Tirumasu', their hybridised Emo-infused Melodic Punk and early 2000s Post-Hardcore is another beast entirely. The track is obviously Squidge but akin to 'Overcast', it sounds tenfold larger than usual. This, as a side note, is in no small part due to stellar production.
'Tirumasu' is anthemic, layered and aggressive. Its earnest need to vent is powered by an (again) desired escapism charged by forward-facing, weighted-drumming and juxtaposing vocal alternation, seeing a strained, depression-beleaguered and desperate scream join this run for the exit. Vocally, Squidge have come a tremendously long way and yet notably, not from anywhere negative. I only hope that this penchant for a compositional hybrid of Ship Thieves and Alexisonfire surfaces again down the line.
I'm 31 in April and I still laugh at the word "Squidge".
Squidge: Facebook / Instagram / Spotify / Apple Music / Deezer / YouTube Music
---
Mawpit – 'Harlem' (December 2021)
(Alt. Rock/Grunge)
I suppose you could say I'm cheating somewhat here as Mawpit includes a member of the band featured above but as I have no one to answer to but myself, I'll speak to me later. Mawpit, a three-piece band contributing to the powerful but not-dead-yet formula have been casting socially-aware Grunge and Alternative Rock out into the world since 2020. Though not exactly a year famous nor synonymous for seamless sonics emanating from the DIY music scene, Mawpit are still a success story from it.
The band have released six singles since formation, with 'Harlem' standing as the third and last of three total releases in 2021. From heavy-set, disgruntled Grunge riffs, Post-Punk-esque nuances on warped melodic leads, thudding drums and vocals motioning from gritty disgruntled scorn to soaring soulful tones, Mawpit have crafted quite the inhouse display in their short but tumultuous time as a band. They have also appeared on EN before – Here.
'Harlem' carries a brooding almost indignant tone across its slow, rhythmic angular plod initially. Mawpit then segue into the soaring melodic juxtaposition they so often and effectually employ over their rumbling, pissed off amble. 'Harlem' is not the three-piece's most aggressive but still through what I would attribute to both skill and clever production, projects itself far beyond its one guitar, drums and voice box formula.
That's all I have on this one. Get to know the rest of Mawpit, you will have no regrets. Truthfully, I could have just as easily chosen any of Mawpit's three singles from 2021 for inclusion in the "May Have Missed" series. For each are of an uncontestable and intrinsically occurring quality. Alt. Rock ain't dead.
'The third single of the EP, Harlem, is inspired by the incredible Madam C J Walker. She was the first female & black female millionaire and a distinguished businesswoman. After watching the series 'Self Made' on Netflix, Cait was inspired to write about this heroic figure who gave opportunities to other black women in the United States during the 1920s. Over a century ago, C J Walker proved that women could be powerful leaders in business and inspired others to take control of their lives and to step out of the shadows of men.'
Mawpit: Facebook / Instagram / bandcamp / Spotify / Apple Music / YouTube Music / Deezer
---
ACiD CLAW – 'Horror Comic' (October 2021)
(Hardcore Punk/Metal/Thrash/Ska-Punk/And The Rest)
At this point in Punk music history, anything truly goes. This mantra, sentiment and arguable default can now quite reasonably yield just about any nuance, idiosyncrasy or hybridised stylistic and that is where we find ACiD CLAW on this volume of "May Have Missed". ACiD CLAW's debut from 2021 is quite the experience. Rhythms that cut like glass infused with brash brass and whatever else along for the ride, onward to arbitrary Post-Rock instrumentals, synths, keys and again, whatever else.
'You Know', despite the playful abrasion that is to follow actually offers quite the beautiful slice Post-Rock for before it's fall into the violent, pummeling and classic, brass-spun Hardcore Punk of 'Icontrol'. Infused with this pervading brass and partial-Ska beat refrains, track two's metallic Skacore is unforgiving and foreboding in its entirety. A tirade of noise that you'd expect to continue. Expect and be wrong! Initially, that is.
'Ghost Club' maintains this foreboding demeanour, incrementally building in density in the most comic-book way possible as you wait for expected combustion. 'Ghost Club' may start slow, but it warns of a great evil to violently fast D-Beat before melody returns via a permeating (and obviously) spooky brass. 'Meatball', with its menacing, increasingly maniacal laugh and looming horror-Classic Rock guitars segues, thankfully, luckily and to great effect, to an equally spook-infused Ska ahead of a haunting yet melodic, Doom-Punk cut with short, sharp, blood-soaked refrains.
The above is but four of ten. 'Rage Through Life' falls into a more traditional Skacore in a jagged and standout instrumental tirade, rife with the constant twists and turns of this existence we traverse. 'Sleepwalker' though initially settling into the Ska groove the band have been careful filling, navigates the other eventual path ACiD CLAW were always going to find the most dimly-lit route to, that of Thrash. 'The Bee and The Absinthe Saga' with the best song title on the record, pushes on a release that champions a "fuck-it-why-not" fluidity. Matching vocals mired in the trappings of more extreme Metal and an aesthetic that screams nothing but Classic Rock and Metal theatrics, track seven is (also) quite the experience.
There is considerably more to it, of course. ACiD CLAW are an incredibly ambitious band and one that I hope to properly experience live one day. For now, I will leave but a few hints at what I haven't passed comment on already. Country, Ska, Hardcore and Metal rolled into one, thudding power encroaching on Post-Metal, aubergines, melancholic Latin Jazz and gargantuan riffs. It's a caustic old time. In a good way.
Acid Claw: Facebook / Instagram / bandcamp / Spotify / Apple Music / YouTube Music / Deezer
---
"May Have Missed Volume 11". That's a lot of bands! Consider reading through the previous volumes and of course, getting your fill from all the other audible nutrition on this website!
You can find all the other volumes – Here.
Thanks for the support as always.
Laurence Crow Illustration: