The Expanse Of The Internet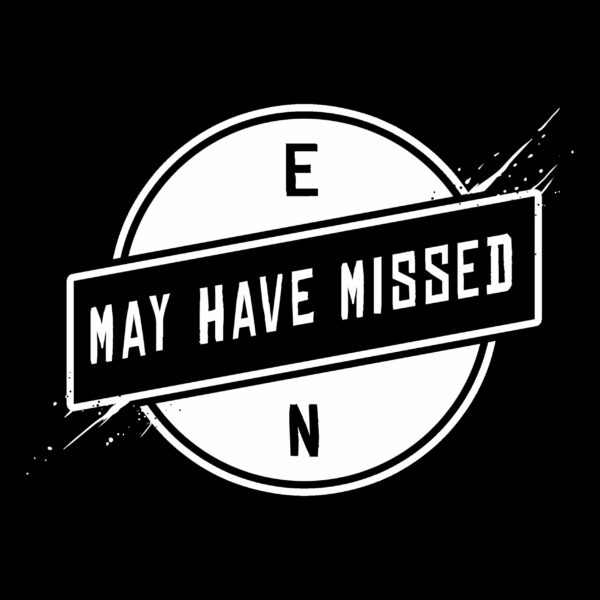 "May Have Missed Volume 10" is an attempt to counter the volume of requests I receive in the various Ear Nutrition inboxes as I type away. The venture of EN, when it boils down to the barebones of itself, is a spare-time hobby. I try to do what I can, as, after all, there is only so much I can electro-scribble down on a screen. Some don't fit, others are simply irrelevant to the site but overall, if they pique my interest or fit the site and whatever trend it's pursuing at that time, they get featured. I obviously don't have the time to cover everything and even though I would if I could, it's just not possible.
So, without further waffle, here is some music that I haven't had the time to sit down with-proper. The purpose of this series is to provide some varied new noise as an enticement to indulge in the plethora that is the underground music scene worldwide. "May Have Missed Volume 10" consists of cuts from the inbox, but also outside of it. Enjoy!
Volume 9 and the past volumes of May Have Missed can be found – Here
---
Enola Gay – Gransha (October 2021)
(Post-Punk/Noise Rock/Shoegaze)
The fluidity and ever amorphous lineage of Punk music is a phenomenon nothing short of impressive in its ubiquitous and perpetual tenacity. No matter where you are in whatever scene, the seminal musical and cultural development will continue to surprise you as its cathartic standard is nuanced time and time again. Enter Belfast's Enola Gay and their debut EP Gransha.
To say that Enola Gay are intense is trifold a given, an understatement and precise. On 'Sofa Surfing', the refinement Post-Punk offered ahead of Post-Hardcore's appearance and the subsequent Noise Rock later on, maintains the omnipresent grit of Punk's abrasive lineage but warps it further by the second. A droning, meandering bass is almost hypnotic as lashings of layered, Shoegaze guitars soar in uneasy expression. Enola Gay are pulled tight within a set of defined parameters but within those expansive confines, run unabated. The aforementioned Noise Rock moniker is one of a constantly infused and yet simultaneously impending and looming presence, one that makes the existentialist cycle of destruction that is 'Sofa Surfing' as enthraling as it is.
'Scrappers' sees a vocal urgency take hold as a raucous, distorted line spins a tale of refused admittance and of out control bouncers to an exuberant Noise-sieved Punk-Rock. The very credit of contemporary Post-Punk, its resurgence, evolution and awareness of the greater genres' aforementioned amorphous accolades is captured to the highest degree on 'Scrappers'. 'Salt' employs the lasting but not always noted influence of Hip-Hop on Punk and Hardcore music to further, stellar hypnotic bass-work and abrasive, chaotic and volatile but far from needlessly overt distortion and precision cut layering. The Post-Hardcore aspects of the Enola Gay sound may not be their foremost selling point but their inextricably linked and brash presence is felt throughout both 'Salt' and 'Through Men's Eyes', in a wonderfully chaotic symbiosis with their spasmodic and integral Noise Rock.
Listen to this band. Post-Punk is so much more than it used to be.
Enola Gay: Facebook / Instagram / bandcamp / Spotify / Apple Music / YouTube Music / Deezer
---
The Slime 'Death Champs/'We Shine' (August 2021)
(Hardcore Punk/Crossover Thrash)
It really wouldn't be a "May Have Missed" without an entry pertaining to more "traditional" Punk and Hardcore. In August, Toronto's The Slime not only joined forces with Cursed Blessings Records but released a follow-up to an impressive 2020 release schedule. The aforementioned year saw a full-length and an EP depicting a sequential refinement of The Slime's vintage approach to a cross-section of Hardcore Punk, with no small infusion of its common Thrash Metal bed-fellow.
Hardcore has truly become a staple of the Punk scene when it comes to progressive takes on itself. The genre is often either the veritable sponge for other genres or is the very liquid absorbed. That said, though this progression is producing some truly interesting records and sounds, there is a prevailing refreshment satiating the Hardcore scene as I type. A gasp born of pure aggravation, vitriol and a warped modern take on the traditions that will not die. Though nuanced with modern existentialism and production, the raw rage that catalysed Punk's transition into Hardcore and its development therein still eviscerates its opposition. This is where The Slime come in on their latest.
'Death Champs' boasts crashing drums to a pummeling bass and a greater rhythm section rife with deeply metallic tendencies imbued into a heavy-set Hardcore chord progression whilst a light ode to more melodic variants carefully glides over the abrasion. 'Death Champs' only increases in power as vintage New York Hardcore with winning production passes into 'We Shine'. Track two of the double single takes the grounded riffs, rhythms and rage into a deeply balanced Crossover Thrash devoid of unnecessary frills bar its crucial mid-tempo bridge and latter barrage of riffs to close.
The Slime will be releasing their next EP, Living On Borrowed Slime in Autumn 2022.
The Slime: Facebook / Instagram / bandcamp / Spotify / Apple Music / YouTube Music
---
Virgins – 'Vows' (August 2021)
(Shoegaze)
If you're aware of the Irish, Northern Irish or Belfast music scene specifically, Virgins, via a few affiliated names, may well be something you were relatively near to discovering ahead of this volume of "May Have Missed". If this is the case, then I am glad Ear Nutrition could be a part of that journey and if it is to the contrary, then I'm glad you're here anyway.
Comprised of Michael Smyth currently playing in NI Alt.Rock band Paper Tigers and formally of THVS taking care of instrumentation and compadre Brook Valentine Lorimer on vocals, Virgins released their debut in this very confusing year. In fact, within the tail end of 2020 and now in this 2021, it has been an enduring, combustive and defiant time for the underground music scene. 'Vows' is Virgins' debut foray and mark upon this ironically thriving scene. Notably, the band have also managed a few shows since their formation, which is again a testament to the determined survival of underground music.
Landing at a 5:18 duration, 'Vows' takes you on quite the illustrative journey. Akin to Shoegaze as a whole, though increasingly diverse as it infuses the modern music scene, there is an intense and enthrallingly dense beauty and depth to 'Vows'. Virgin's debut single is a cautionary tale. One warning against the miasmic atmosphere solicited by others as they wish for you to dance and coalesce to a beat or way of life so contrary to your own. An unpleasant social intoxication. 'Vows' tells of such through a wash of illustrative sound and layered power, representing the urge to fight the manipulation of others.
A grounded, reverberating bass via Jonny Woods of Wynona Bleach who produced 'Vows', anchors you to the hazy, obscured reality of it. There may well be a confounding, confusing and 'deafening'[…] din of mouths' but it's a necessity to hold onto yourself. 'Vows' is pummeling in places, aerated and soaring in others but enthralling throughout, hooking you via its layers of delicate ethereal lines, progressing to and meandering between discordant melody and thickly fuzzed guitars.
That'll do.
Virgins: Facebook / Instagram / bandcamp / Spotify / Apple Music / Deezer/ YouTube Music
---
Karloff – Karloff (October 2021)
(Mathcore/Post-Hardcore/Noise Rock)
In what is seemingly one of the most devout forays into progressive guitar music since I started the "May Have Missed" series, we have Ontario's Karloff. This year, Karloff, three years into making music, unleashed their near-cacophonic sentient mass. Said mass is a violent Post-Hardcore release rife with the sheer, unabated, yet technically incompressible and refined ravings of Mathcore and the raw, unfiltered abrasion that is Noise Rock, all sponsored by a fervently depicted contemporary existentialism. That was a long sentence. The eponymous record from Karloff can be summarised as thus if required but there is much more to it. So much more intertwined and coalescing within, simply trying to survive such a violent catharsis.
'Untitled' provides a messy, din-like maelstrom of an intro comprised of feedback alongside what sounds like vigorously bludgeoned instruments before segueing, with a brief pause, into a raucous yet rhythmic Post-Hardcore Punk teetering on the periphery of noise considerably more extreme. Of course, this inexorable extremity isn't more than a count away. 'Abre Los Ojos' is eviscerating outside of the words bloody meaning into an audible and chaotic abrasion only tempered by the thudding breakdowns riding the last of the track's energy to its close.
A threading, Noise-esque and enthralling lead fights its way through the following 'Endut! Hoch Hech!' and its predominant Mathcore tirade. Given that this description is of a collective 3:30 only, Karloff's power begins to feel inexhaustible.
Despite all this overt and obvious abandon, Karloff cleverly contrast and accentuate it another way. Tracks such as the 4:09 'Fortune Harbour' take an intermittent, eerie, untrustworthy and foreboding punt at Post-Rock-esque instrumentals, as well as more "recognisable" emotional Post-Hardcore, both twisted and contorted by Karloff's myriad of tenacity. 'Ocean Or Other' examines how fast we seek to change and heal without any consideration for who we are in a further evocative take on life with a deep delving into a layered and Math-infused Post-Rock. This doesn't last, however, in the very same way that moments of real-life calm are fated not to endure.
I have described but five of a ten-track debut full-length. I implore you to experience the rest.
Karloff: Facebook / Instagram / bandcamp / Spotify / Apple Music / Deezer / YouTube Music
---
A Lake Of Ayes – Ouro Sobre Azul (October 2021)
(Post-Rock/Post-Metal/Shoegaze)
A Lake Of Ayes are a band I discovered via Ripcord Records of Scotland of whom, if you don't know, are a veritable, hard-working and fantastic label specialising in the harder, heavier and more progressive end of underground Rock and Metal or to be more precise, what has arrived "Post" such genres. I've had the pleasure of working with them a few times, so I will leave such work – Here. Moving on forthwith, however, this segment of "May Have Missed" concerns a band who elicit nothing but a feeling of regret in my husk for not opening Ripcord's email sooner.
Though both Post-Rock and Post-Metal incrementally become more amorphous as they progress and popularise, there is a point of intersection across the fence that separates the inextricably linked stylistics. Similar to this, there is another point where the styles near their extremes as they drift apart and yet can still catch sight of each other on their respective horizons. If I were to "sum up" the position of Ouro Sobre Azul and A Lake Of Ayes, it would have to be thus. Alas, however, moreover and that said, it really isn't that simple. I'm not going to describe the band's five-track and thirty-nine minute (and one second) debut opus and extravaganza wholly, for I would need more time and incalculable quantities of words. But, I will endeavour to give you ample reasons to keep reading then discover the album for yourself.
The band's Post-Rock is enabling as it fluidly alternates from the more traditional to the comparatively harder and more intense end of the craft. Their Post-Metal is abrasive, gargantuan, powerful and serrated but for the most part, only displays the cataclysmic destructive and technical tenacity known in the genres extremity when intrinsic to the flow of the band. Track two, 'Preserve', is a fantastic example of this intrinsical flow, incrementally building to showcase either end of A Lake Of Aye's craft, as well as seamlessly hybridising into a beautifully illustrative wall of sound.
Despite both genres being typically vocally reserved, the vocal displays from A Lake Of Aye's sonic leviathan are nothing short of expertly placed. The jagged abrasion of 'Tell Schrödinger I'm Alive' is a bonafide example of this thoughtful placement. Though tempered by a meandering melody, a juxtaposing weighted Post-Rock and threading leads, the band unleash a vocal rage once to thudding riffs, once to a contrasting refrain of eerie but soaring melody and spasmodic drums and finally to a driving, ascending and almost ethereal display.
Do yourself a favour and let the sound of A Lake Of Ayes and Ouro Sobre Azul take you.
A Lake Of Ayes: Facebook / Instagram / bandcamp / Spotify / Apple Music / YouTube Music
---
Well, that was "May Have Missed Volume 10". I'm actually quite amazed that this has persisted into a ten-volume existence. Finding the time or motivation to write anything yet alone multi-band features and reviews is a struggle at the best of times but as I have found this enjoyable, more will follow. – Here.
A short time ago now, I also published a column-style opinion piece on why webzines such as this are important to the underground music scene. If that is something you would like to read, you can find 'An Argument For Online Zines' – Here.
Laurence Crow Illustration: