The Expanse Of The Internet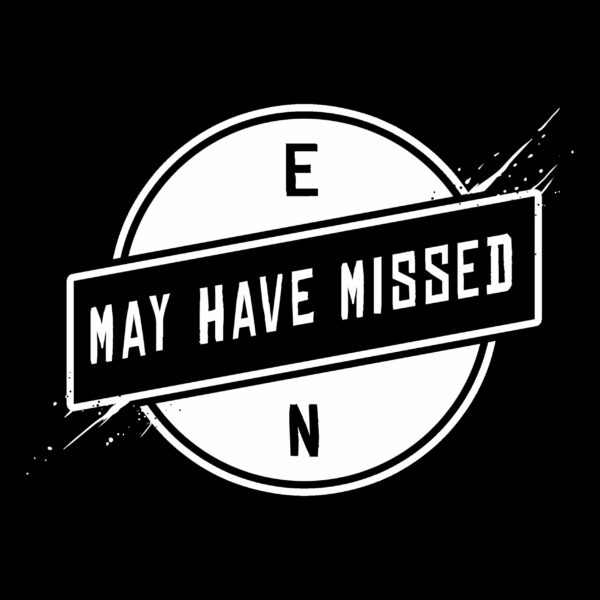 "May Have Missed Volume 9" is an attempt to counter the volume of requests I receive in the various Ear Nutrition inboxes as I type away. The venture of EN, when it boils down to the barebones of itself, is a spare-time hobby. I try to do what I can, as, after all, there is only so much I can electro-scribble down on a screen. Some don't fit, others are simply irrelevant to the site but overall, if they pique my interest or fit the site and whatever trend it's pursuing at that time, they get featured. I obviously don't have the time to cover everything and even though I would if I could, it's just not possible.
So, without further waffle, here is some music that I haven't had the time to sit down with-proper. The purpose of this series is to provide some varied new noise as an enticement to indulge in the plethora that is the underground music scene worldwide. "May Have Missed Volume 9" consists of cuts from the inbox, but also outside of it. Enjoy!
Volume 8 and the past volumes of May Have Missed can be found – Here
---
Last Generation – Greatest Stakes = Greatest Say EP (July 2021)
(Punk-Rock/Hardcore Punk)
It is fair to say that Punk music is often synonymous with youth. Although this is not always the case and older bands, fans and people on the periphery can be just as invested in the multi-faceted genre and movement, when such a stark example of literal youthful exuberance presents itself within the greater scene, it would be idiotic not to take notice. Enter Last Generation from Derbyshire.
Last Generation are a four-piece ranging in age from 13-17. This is an impressive enough feat as it is but pair that with their chosen moniker and there is a sad but unequivocal and crucial poignancy to it prior to any noise. This past July saw their debut EP boast a refreshing take on the meeting point between classic Punk and Hardcore. Now, within that, the angular metallic riffage, cycling drum patterns, bedraggled bass-tone and snarling to throaty-growls are of no surprise considering the Nirvana, Gojira and Slipknot tees often worn by Last Generation. The four-piece motion through a barrage of purposely simplistic but abrasive rhythms across their eponymous opening track, ahead of the UK-spun, Post-Black Flag, Grunge-tinged, pummeling-Sludge Punk-hybrid that is the following 'Rebel For Life'.
For a band as young as they are, their conviction is the dictionary definition of refreshing, give or take an inordinate amount of scorn, utterly and inescapably indicative of how indisputably fucked the UK is accumulatively becoming. Track three is a haunting, rousing and sonically standout anthem denouncing the Conservative Government, Brexit and this very disposition of being "fucked'. A meandering, eerie lead-line populates a vintage, aggravated Punk-Rock as it crosses over into the frenetic realm of the Dead Kennedys, in a minute but noticeable twinge as their awareness of Hardcore and much of what it inspired appears as organically as the ripping solo prior to the last chorus.
'Birds Nest' closes with a raspy, raucous not-quite Hardcore Punk cut with more Sludge-esque refrains as, with absolutely no reservation, Last Generation lambast UK PM Boris Johnson with a defiant, uncompromising tirade. None of the issues discussed so vehemently on this EP (and it goes beyond those mentioned) are new, but the fact that such is being sung by the younger members of society is nothing short of powerful. As an interesting and supplementary tidbit, Greatest Stakes = Greatest Say E​P was recorded in 2019.
It's almost as if we should listen to the young as we stand on the precipice of this (what feels like a) invariable cataclysm.
Last Generation:  Facebook / Instagram / bandcamp / Spotify / Apple Music / linktree
---
For What Your Burn – Going Nowhere Fast (April 2021)
(Instrumental Rock/Post-Rock)
And now for something completely different. Post-Rock, Instrumental and progressive guitar music, in general, have never been too far from the audible populace of Ear Nutrition. The "May Have Missed" series has had a few and now, it's the turn of For What You Burn from Germany. Truthfully, I had been meaning to feature the band in some way MONTHS ago but life and literary burnout got there first. So then, Going Nowhere Fast.
Firstly and in a way no less than paramount, the band are a nuance on the Post-Rock and Post-Rock-adjacent soundscape before play is pressed. The band's two-track debut, recorded in the winter of 2020-2021 with members separate from each other, does not present the assumed and elongated track duration often synonymous with the genre. Instead, the band's two tracks succinctly cascade through a melodious and combined 5:03. 'Going Nowhere Fast' navigates the same delicate structures and subtle layering but does so beneath a prominently and ear worming line that lights the path for a latter meandering lead and a reverberating rhythm section with its own shifting complexities. There's a determined, forward-facing intensity to the band and on the first of the two singles their thicker, cohesive display provides an excellent foundation for more.
'Wild Swimming' substantiates any wonder or interpretation of For What You Burn's sound having any influence from both Alternative and Indie-Rock. The For What You Burn variant of Post-Rock pushes an upbeat tone not too dissimilar to what is found elsewhere but nuanced with their penchant for the above. 'Wild Swimming' ends abruptly but akin to its predecessor, will have you hitting repeat earnestly.
For What You Burn: Facebook / Instagram / bandcamp / Spotify / Apple Music / YouTube Music / Deezer
---
Wrong Life – Dreamer's Gait (April 2021)
(Pop-Punk/Punk-Rock)
The next deviation of "May Have Missed" favours the latest project from ex-(The)Murderburgers front-person and poignant lyricist Fraser. This is another I had been meaning to cover for quite some time in my persistent perpetuity of that excuse. The Murderburgers' fluid mix of Pop-Punk and Punk-Rock has more than earned its legacy in the Scottish and UK Punk scene. That much is a given. So, when the band decided to move on and Wrong Life, a project that comprised of Fraser and '[…] a bunch of my friends are kind enough to play with me' boasted further credence to the argument that Pop-Punk isn't just confined to cliche, there was quite the hubbub. Onward!
As a minute digression, Wrong Life's debut New Sun EP from 2020 is a stop I implore you to make either before or after Dreamers Gait. Now that's done, as you may expect, the lyrical songwriting on this latest EP is just as personal and poignant sponsored by an ingrained and intrinsic sardonic demeanour subsisting as equally on the sarcasm as the sarcasm is on said demeanour. Punk music's affair with existentialism has infected and influenced it scene and genre-wide and on Dreamer's Gait, this is nothing to the contrary. The age we inhabit is moving as fast as sound yet is also mired in a (seemingly) slow and worry-ridden motion. It's a mess and Punk is often there on either side of creation for both catharsis and as a coping mechanism.
This is what I personally get from Wrong Life in the best possible way. The down-tempo take on the genre is in symbiosis with the thoughts to words and echoes the respective parts of Fraser's previous work with The Murderburgers that often yielded some of their best.
There isn't much else to say on this EP or Wrong Life in general. Only that you'll be reciting every bare-all lyric and be hooked on every sombre vocal and guitar line and contrasting brash rhythm soundtracking this frustrated and cathartic grit.
Wrong Life: Facebook / Instagram / bandcamp / Spotify / Apple Music / YouTube Music / Deezer
---
Phantom Bay – 'Separate Ways' (November 2021)
(Post-Hardcore/Melodic Punk)
Phantom Bay are one of the latest to join the Krod Records family as they continue to motion through contemporary Alternative music from Punk, Hardcore, Emo and whatever else they fancy. The Berlin-based label has defiant to the pandemic, continued in their unwavering support of the DIY and underground music scene and as said above, Phantom Bay are the latest to be encouraged from their Bremen home.
The band are at the veritable and variety propagating intersection of Hardcore, Post-Hardcore and its derivatives that have been nuancing the base genre to the definition of fluidity for quite some time. Phantom Bay and their respective debut are children of this school. The band's three-piece stature also stands them apart from what is now arguably a four-piece standard and in no way restricts 'Separate Ways' reach.
With strained yet near-melodic vocals from the earnest yet evocative class within the school of emotive Hardcore music, Phantom Bay lament to the past and wonder into what was, what could have been and why. 'Separate Ways' constantly shifts from melodically tempered and down-tempo Hardcore rhythms into that of melodic Punk, all the while dusted in a ubiquitous but uneasy Post-Hardcore tone. Such Post-Hardcore-isms go beyond such a state of simple "isms" however. For as 'Separate Ways' progresses the band's simple but tightly knit layering comes into its own post-1:24, where despite maintaining pace, Phantom Bay up their intensive ante as a possible hint to future harder contrasts to their innate ability to write an infectious chorus.
Phantom Bay: Facebook / Instagram / bandcamp / Streaming Services
---
Hike The Peak – Two (November 2021)
(Skate Punk/Melodic Hardcore)
Hike The Peak are next on this volume of "May Have Missed" and chances are you may well have seen them on Ear Nutrition before. However, if not, then you can find them – Here. Hike The Peak, succinctly put, is a collaborative project helmed by one Lee Byatt with a helping hand from various members of the contemporary fast Punk scene, from blistering Skate Punk to charged Melodic Hardcore. Two is the second two-track EP in this project and is also another of many more en route.
'Defeatist' enlists one Petter Mossberg of Rebuke to lend not only his words and voice box but also a lashing of his own guitar-craft. Mossberg's unmistakable vocal tones are paired with a prominent lead guitar through 'Defeatist' as it sits at the highest point on a series of anthemic layers, charged with an earnest but lamenting filicide-sponsored catharsis. 'Defeatist' is unrelenting in pace but tactical regarding where its intertwining layers intersect between blasts of crunching late '90s Skate Punk. Hike The Peak, instrumentally speaking but four tracks in, have a foundation but it is nothing less than impressively natural how each track maintains continuity whilst embodying and reflecting the background of those lending their talents.
'Dust, Wind, Dude' epitomises the point at which the inextricable link between Skate Punk and Melodic Hardcore intersect with grounded, driving riffs, emotive meandering guitar lines and soaring choruses. Robert Lee of No Contest fronts a track decidedly more aggressive and twice the length. Akin to 'Defeastist' there is a pervading sense of loss, possible further loss and destruction on 'Dust, Wind, Dude' and the constant tempo-changes and serrated edges add a sense of uncontrollable dread to it all. This is the balance of Hike The Peak. Both releases to date have segued between the two aforementioned fervently familial stylistics over the two tracks with one leading the comparative drop into Hardcore's legacy more so. 'Dust, Wind, Dude' is this "one" of Two and symbiotically runs parallel to 'Defeatst' as much as it prominently charts its own course. As soon as the crushing abrasion takes hold, there is always a chance that a fast, streamlined dash for hope, melody or both will appear quite intrinsically.
Hike The Peak is not a project to cast off as more of the same.
Hike The Peak: Facebook / Instagram / bandcamp / Spotify / Apple Music
---
Television Screams – 'Break Your Legs'/ 'Don't Ghost Me' (October 2020/October 2021)
(Punk-Rock/Post-Punk)
It's more than likely that I have those dates incorrect but oh well, this is Punk-Rock. It was impossible to simply feature one of Television Screams' two tracks to date so here we are. Television Screams are in fact best described succinctly via their own words as 'ANGRY FEMME PUNKS HERE TO FIGHT MALE BOOKERS WHO SAY THERE'S NO FEMALE BANDS AROUND'. Not only is that incorrect, but if you are in fact one of those who uphold such a view, quite frankly, where the hell have you been? Moving on, then.
'Break Your Legs' was the band's first single. Riding a raucous and tenacious propulsion of vintage '80s Punk drumming, 'Break Your Legs' exudes pure disdain to a narrative of anger against male assumption, privilege and the expectation of sexual returns for nicety. 'Break Your Legs' is a focussed, perfectly targetted catapult. The band's 1:03 races to the beat kept with a gliding melodic guitar infused with just as much gritty attitude as the band as a whole. There is little more I can say, yet again, for 'Break Your Legs' is a pissed off Punk track to the exact archetype of writhing catharsis.
Television Screams' second single rescinds in pace for a delve into their down-tempo but not necessarily reserved side. Naturally, two tracks in it is hard to gauge a band's modus operandi and quite often many will simply release tracks not too contrary to each other. However, others don't. Television Screams' second single is enveloped in an uneasy Post-Punk lacquer propped-up by a weighted and begrudging (almost) Grunge-Punk rhythm section about as enthused about the antagonist as the lyrics are. That's synchronicity kids. The line 'don't ghost me I'm not a graveyard' along with the majority of the lyricism as a whole is delivered with a blunt and wonderful deadpan dryness that is just as infectious as Television Screams are themselves.
Eyes on Television Screams. You've been told. Trust me, I'm a dietician. Apparently.
Television Screams: Facebook / Instagram / bandcamp / Spotify / Deezer / YouTube Music / Apple Music
---
Yaramiso – She Is Another You (October 2021)
(Indie-Rock/Alt. Rock/Grunge/Punk-Rock)
Someone who I used to write with on another webzine articulated the term, "The Mighty Three-piece" once in a review and I haven't been able to expunge it from my word bank since. "May Have Missed" wouldn't be the same without yet another deviation. Ah, the beauty of unabated DIY press. Hailing from Germany, Yaramiso capture a time where Punk as well as Post-Punk and Post-Hardcore sequentially, were either influencing or producing alternative guitar-driven music that would itself go on to do the same. This is where Yaramiso and specifically She Is Another You traverse freely.
"The Mighty Three-piece" is a fitting description for the Berlin band. 'Go Sailor' opens with a sombre, discordant and gritty tone and a warped melodic approach that encompasses the accessibility that underground Rock can have without losing its originality or charm. 'On Time' is rife with driven grounded riffs and raw harmonisations whilst 'Potato Cake' propagates a stripped-back Grunge beset with a juxtaposing and soaring penchant for melody contrary to floor-dwelling bass tone. Skillfully, however, the melodic, upbeat tendency of track three ascends in both tone and mood into a fantastically rough-cut melodic singalong Alternative Rock unto its end.
The vocal displays on She Is Another You are another huge selling point. Through either backing, alternation, harmonisation or direct vocal leads, Yaramiso's two vocalists contrast and pair with each other to a fantastic T across this debut full-length. See the melodic amble that is 'Contribution' or the Indie-to-Punk-driven Alt. Rock of 'Pedestrian'. Later on, 'Poste' then persists with this Punk-centric display and after that, the charged 'Delete' does so even further. Throughout She Is Another You, Yaramiso are seamless as they traverse an influences list I expect to be vast but impeccably well organised. This organisation and propensity for sleek genre deviation, inextricably held together by stripped back but well-deployed guitar lines, is truly felt across She Is Another You and I expect this to be an album I will revisit time and time again.
Or something like that.
Yaramiso: Facebook / Instagram / bandcamp / Spotify / YouTube Music / Apple Music / Deezer
---
Well, that was "May Have Missed Volume 9".  I truly hope you discover something new from this list and that maybe, you'll sift back through the other "May Have Missed" volumes all of which you can find – Here.
A short time ago now, I also published a column-style opinion piece on why webzines such as this are important to the underground music scene. If that is something you would like to read, you can find 'An Argument For Online Zines' – Here.
Laurence Crow Illustration: