The Expanse Of The Internet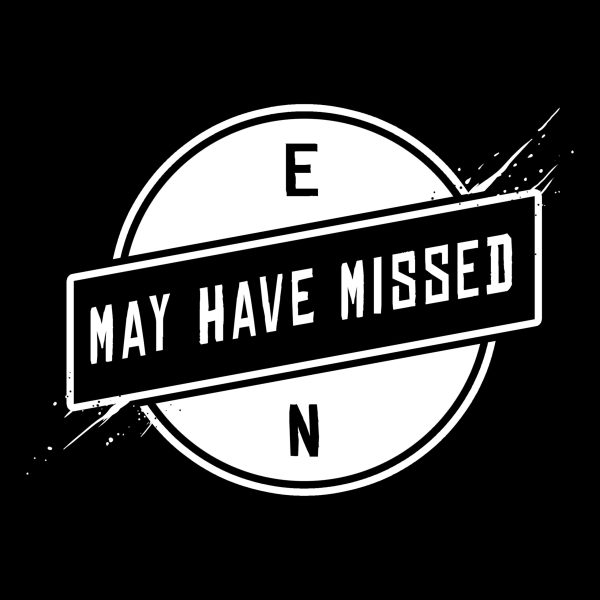 "May Have Missed Volume 15" is an attempt to counter the volume of requests I receive in the various Ear Nutrition inboxes as I type away. The venture of EN, when it boils down to the barebones of itself, is a spare-time hobby. I try to do what I can, as, after all, there is only so much I can electro-scribble down on a screen. Some don't fit, others are simply irrelevant to the site but overall, if they pique my interest or fit the site and whatever trend it's pursuing at that time, they get featured. I obviously don't have the time to cover everything and even though I would if I could, it's just not possible.
So, without further waffle, here is some music that I haven't had the time to sit down with-proper. The purpose of this series is to provide some varied new noise as an enticement to indulge in the plethora that is the underground music scene worldwide. "May Have Missed Volume 15" consists of cuts from the inbox, but also outside of it. Enjoy!
Volume 14 and the past volumes of May Have Missed can be found – Here
---
SKIV – No Context Bangers (May 2022)
(Melodic Punk/Pop-Punk)
SKIV have been slogging it out for a while now. If you haven't witnessed their hybridised melodic Punk live, then you may have seen some of the four-piece "filling in" for other equally earnest DIY devotees and if not that, you've likely seen them at the front, fucking about and supporting their peers. When you open, press play or find yourself in the presence of this slowly-becoming household four-piece, you will always find it a ride through humourous, alacrity-ridden enthusiasm emanating from a thankfulness derived from simply existing in the DIY space they inhabit.
The band's music has always been entertaining and each sequential release has been a nuance on the last. You can find some words on their first INiiT Records release – Here and but now, in 2022, INiiT's own penchant for "getting SKIVVY with it" has resulted in a second and yet also first. This first SKIV full-length is known as and is consequently full of, No Context Bangers.
Now, I have to say, such a moniker though somewhat on the silly side, is undeniable. SKIV are a band that despite remaining their loveable and silly selves, have matured and moved into a new realm and this latest release and debut full-length proves without a doubt how hard the band have worked. Their previous forays into gruff, melodic and layered Punk-Rock are doubled down, their (predominately classic and UK-centric) Pop-Punk exuberance permeates the experience and the structurally classic Punk runs just as strong and parallel to it. Notably, the band's nods to '90s Skate Punk, specifically Bad Religion and especially in the standout 'Thumbprint', also show a band in the utmost comfort.
With their rhythm section honed, powerful and ballsy no matter the deviation of Punk the band are channelling, the four-piece reach a heightened level of clout. Across the album, ripping leads and melodic lines thread through every possible gap with yet more of that utmost confidence, see the classic Punk meets the equally classic Pop-Punk hybrid that is '13 Sugarz'.  Vocally, on top of it all and album-wide, Connor's quintessential and certifiably Pop-Punk'ed urgency pairs as well with Jordan's increasingly soulful displays as each voice box holds its own individually.
No Context Bangers is the sound of a confident band and is out now on INiiT Records with vinyl likely following. As ever, getting "SKIVVY with it" and scurvy are VERY different things.
SKIV: Facebook / Instagram / bandcamp / Spotify / Apple Music / YouTube Music / Deezer
---
Three From Above – Self-Titled (April 2022)
(Garage Rock/Garage Punk/Post-Punk/Blues-Rock)
As per the usual with the "May have Missed" series, much of what is featured is quite simply what I've not had the time for. So, enter Three From Above from Liverpool, a band I've been lucky enough to have seen twice. Earlier this year, the band whose writhing Garage Rock has always danced devilishly adjacent to Punk, amorphously navigating the inner workings of itself and mapping whatever is next en route to find its apex, found said apex in the form of their Self-Titled EP.
Three From Above have never too explicitly certified themselves as a "Punk band" but, as stated above, they have intentionally placed themselves in close proximity to it. Through their naturally scouse-sponsored and defiant volatility to what is happening both around them and nationally, the band have pulled an EP that very much captures such a fervour. Punk, after all, is not tied to one genre.
'Vagabond' is very much what the three-piece does when showcasing their best. Stripped back yet jagged, track one of their latest is aggressive and cantankerous yet seamlessly adheres its hooks to you in a casual manner. The charged jab of the intro, repurposed as a reputable bridge between everything else captures the aforementioned fervour whilst with the raw yet melodious chorus, TFA streamline the rest of 'Vagabond'. Notably, the band's Blues-led Rock n'Roll also rears its crooning head in 'Vagabond', with the track more than placing you in line for what's to follow.
Three From Above's prevailing Post-Punk-isms are cleverly integrated into the politicised 'Magic Monday' ahead of a more rounded, coalescent Punk-fuelled sound. The former never truly leaves as the band cut across their influences once more, playfully smiling in a juxtaposition to their ills. TFA's blast of perfectly fitting Alternative Rock is flanked and infused with their recurring Blues rumble marking 'Magic Monday' as a "best of" from the band to date. 'Killer Inside' deviates again with a droning, slow plod of a baseline setting the path for a sizable drive of wild psychedelic mania from the main axe. TFA then charge and spool their engines into a brief but effervescent and vicious Punk-chug into a whirling Blues reverberating bout, chasing a ripping lead into a thudding, low-ridden endgame.
The band then close an EP destined for your end of years lists with their nuanced but classic repertoire. Their raucous Garage Rock, Proto-Punk, Garage Punk or whatever you deem their work to be, is cut with the exploratory nature of the EP as a whole on 'At Sea', cementing the statement that this band should be huge.
Three From Above: Facebook / Instagram / bandcamp / Spotify / Apple Music / YouTube Music / Deezer
---
21 Bricks – Follow The Rats (June 2022)
(Synth Punk/Electro-Punk/Hardcore Punk/Crust Punk/Metal/And The Rest)
"May Have Missed" often unearths some of the more idiosyncratic wings of the Punk scene. So, with that said, enter the Californian two-piece, 21 Bricks. The band and their indomitable prolificacy have been featured on Ear Nutrition before. If you motion your primary life tool over to HERE you will find an EP that in itself and amongst a rapidly volumising back catalogue, was a huge deviation within the band's inborn swathe of veritable variety. Now, but six months after such a release, one that cut a path through multiple sub-genres of Hardcore whilst toasting the band's Synth Punk underpin, 21 Bricks are at it again.
Haunting, disconcerting, enveloping and certifiable transfixing. The latest from 21 Bricks is quite the experience. '8 Minutes' sits in front of a familiar backdrop but chases a melodic version of itself amorphously shifting as per the 21 Bricks modus operandi. On track one, the deeply fuzzed, distorted, almost "cybergoth" aesthetic flirts with an Emo-led chorus either side of a doomed, slow, cumbersome barrage fronted with the band's token but not unwelcome vocal variety.
'Country' begins with a sombre piano before said keys fall behind a raw, early 2000s call back to an Industrial and dare I say, Nu Metal focus before an almost "Blackened" Electro-Post-Metal takes hold. This, as expected, does not last. The newfound and prevailing metallic incursion pushed to the forefront of the band's previous work is developed beyond itself. 21 Bricks take a route charged by a fervent Punk focus. The band cascade through an amorphous Metal sound that ultimately leads to a fantastically eerie, raw yet melodic and demonic metallic Crust Punk that itself is nuanced with their expansive repertoire.
'I Drink Too Much' evocatively charts the course of a numbing substance dependency through an Electro-Post-Hardcore onward to a cathartic uptempo release. If the band's previous EP moved further from the foundational electronic music that pervades the Punk hybrid on offer in favour of a harder guitar sound, then Follow The Rats fortifies their exploratory venture with what came before, doubled-down and shamelessly over-driven. See 'Deadbeat'.
The absolute experience that is Follow The Rats closes with the pummelling yet hook-laden 'All At Once'. A title that, unrelated to its lyrical content, is a fitting term for the expansive tirade of 21 Bricks. The two-piece will be playing as a live three-piece in their home of California this summer, so if you're around, for the love of Punk go and see them and send me the footage. 21 Bricks are one of the most exciting bands I have heard in some time. Go forth.
21 Bricks: Facebook / Instagram / bandcamp / Spotify / Apple Music / YouTube Music / Deezer
---
SHIIVA – 'TTG' (June 2022)
(Hardcore Punk/Alt. Rock/Groove)
SHIIVA have been on Ear Nutrition before and now they have signed with Wiretap Records, I should think you'll be seeing substantially more of them. For the sake of denoting whatever noise each of these entries make on the "May Have Missed" series, SHIIVA are a hard one to pin down for the most outstanding reasons. Their debut, though founded in Hardcore, brilliantly supplemented it with California melody and otherwise through the genre's younger pre-fix siblings "Melodic, "Post" and of course, timely infusions from the ubiquitous uncle "Groove". You can find some words on Groove – HERE.
Now, in amongst a new era with a new line-up and with a second EP entitled Cyclone set for August, SHIIVA have released the tenaciously melodious ear-worm known as 'TTG'. I've always been amazed by the band's seamless command of melody, their diversity and their intrinsic, life-affirming and forever occurring "groove".
'TTG' channels the comparatively reserved, dreamy Alt. Rock that found its way into their debut alongside the seminal additions "Melodic" and "Post" added to the greater genre in the late '80s and '90s respectively. 'TTG' is seemingly reserved but the cycling, reverberating rhythm section gives it all away. 'I wanna roll with you' is repeated over a Hardcore rhythm for all to see but still arguably cleverly hidden behind the soaring, harmonic nature of 'TTG'. Though markedly different from the band's more pounding, higher octane 'core, this new single is nothing new in the most positive sense. SHIIVA are developing and honing the sound presented on half of their debut into a stronger contender here and I truly can't find any fault across theit four-piece board.
SHIIVA are effortless. Follow them.
SHIIVA: Facebook / Instagram / bandcamp / Spotify / Apple Music / YouTube Music /Deezer
---
Gravel Pit // Wolves – Split 7″ (April 2022)
(Hardcore Punk/D-Beat/Crossover Thrash)
Punk-Rock, Hardcore and all the rest are global. Borders, language and culture are all transcended and in this age, there is a wealth accessible at our fingertips and wonderful work for us to do to find and support it all. With that in mind, we are off to New Zealand/Aotearoa for another injection into the unending tradition that is Hardcore Punk split 7″s. Two bands and five tracks set at either end of the North Island of the far-flung country with just as much to offer to the scene as anywhere else.
Gravel Pit of Auckland have to date, outside of this split, two volatile, tempo-junkie Hardcore Punk-Rock EPs that require your attention on either side of your navigation through this release. With a dusting of melody via ripping leads touching upon Melodic Hardcore and sharp, unfiltered forays into Crossover Thrash, Gravel Pit channel a naturally occurring Hardcore sound, cleverly researched but raw and tied to their evocative approach. No-frills, just cathartically honest thrills.
GP's allocated four minutes and four seconds begins with the stripped-back, low-driven, rhythmically ear-worming D-Beat of 'Last Sip'. Gravel Pit's confidence and natural ease of their MO has always been laid bare for all to see and with 'Last Sip', the better production and greater presence carried over from their previous EP is only increased. Moving on, 'Riverside' laces its mid-paced and riff-heavy Modern Life Is War-esque rumble with pathfinding leads in stark contrast to the straight-running 'Last Call'. Harmonised (for Hardcore that is) vocals in the chorus add another layer in yet another contrast to the urgency of Baley Palmer's tones in the verses as do the band's regular and timely backing interjections. 'Riverside' also crucially nods towards '80s "Dischord" and other comparatively seminal Melodic Hardcore efforts from the past alongside the MLIW-isms found throughout. Despite two past EPs to indulge in, Gravel Pit have effectively, for the most part, showcased who they are on their side of the split, beckoning you to come closer and find the rest.
Wolves' side of the split is their debut dive into the Punk and Hardcore scene and sees the Wellington band go all out with no holds barred. Citing their craft as for fans of Metallica, Drain and Madball, Wolves deliver their contribution to the illustrious traditional Hardcore split as they go about their task of maintaining momentum but not treading a path too close to whoever went first.
Thick, viscous and viciously cycling riffs thud into being, charging batteries set for whatever destructive catalytic power is to follow. 'Animal Instinct', the first part of the double-barrelled  'Animal Instinct/'Tried For Treason' symbiont, couldn't contrast the Gravel Pit half more. The thunderously-grooved legacy of New York Hardcore gives way to a Crossover hybrid of itself in 'Tried For Treason'. Between these bouts of lacerating shredding, the band's NYHC-penchants continue to accrue power for the next combustive bout. The legacy of Thrash permeating Punk and Hardcore is more than substantiated as Wolves lose all restraint over what they have to do to survive.
The namesake 'Wolves' takes the pummeling riffs of its predecessor, borrows the ear-canal tearing Thrash and continues to present the Wolves' repertoire in its rawest form. Hardcore, fully present and coalescent with its Thrash compadre. 'Wolves', akin to the second track from the Gravel Pit half, markedly and notably shows a different side to the band, breaking away from the omnipresent risk of crashing through two complacently similar tracks with no discernable difference.
This is an EP drawing two sides of the Hardcore spectrum together, half by a band whose feet are now planted in refinement and another whose debut effort is a statement of intent. It's no wonder the physical 7″ sold out so quickly. Find both bands and their music below.
Gravel Pit:  Facebook /Instagram / bandcamp / Spotify / Apple Music / YouTube Music
Wolves: Instagram / bandcamp / Spotify / Apple Music / YouTube Music / Deezer
---
And so passes "May Have Missed Volume 15". There will be more of these volumes for along as I do this, trying and battling to draw attention to the music you didn't know you needed. You can find all those preceding this one – Here.
As usual, thanks for reading and supporting my spare time passion. Recently, I have added a new section to the 'Courses' menu, pertaining to non-review-centric features. You can find 'Columns and Guides' – Here.
This is article 607.
Laurence Crow Illustration: