21 Bricks – Los Angeles, California, USA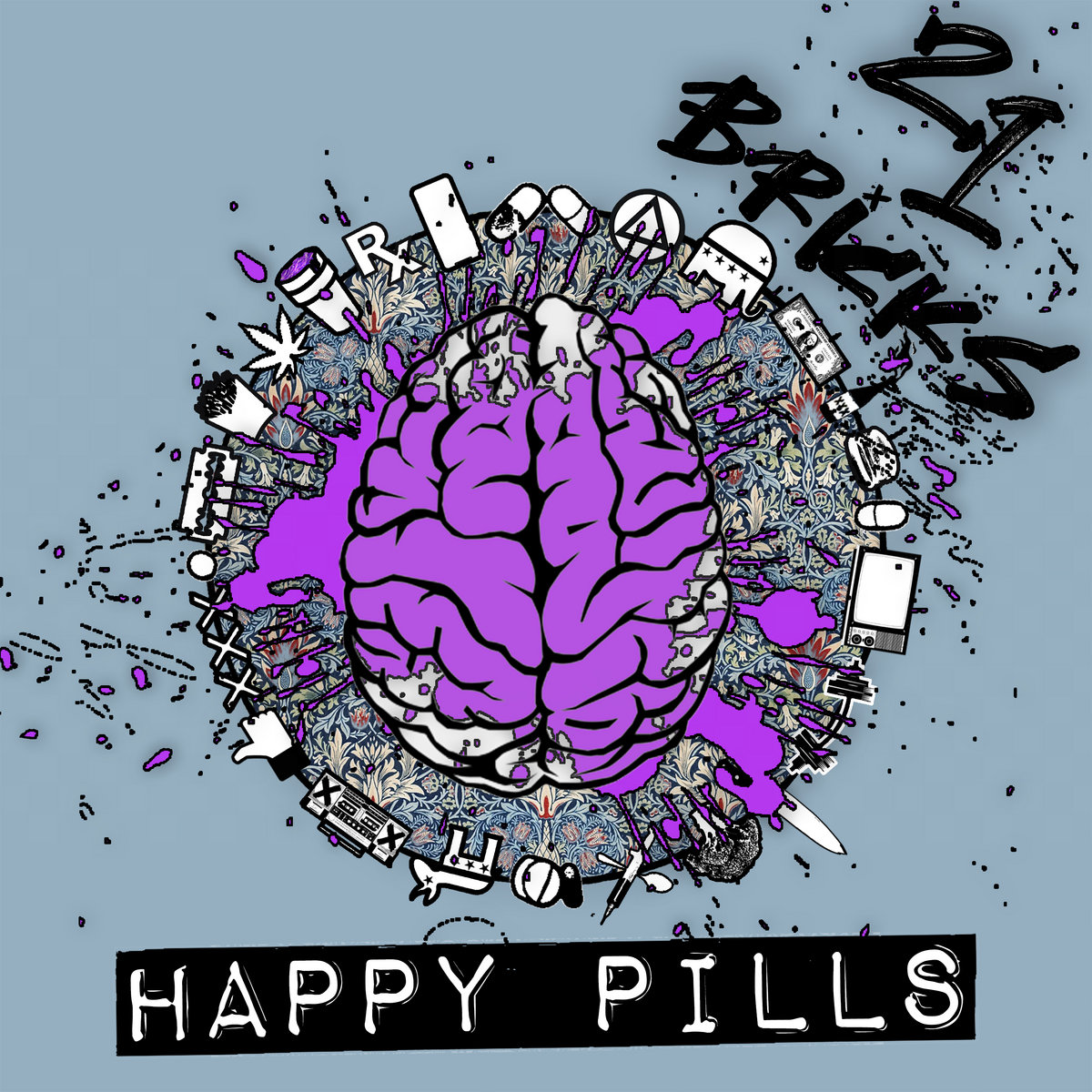 April this year saw 21 Bricks and Happy Pills enter its collective effort into the huge swathe of music that has exploded from the confines of lockdowns and restrictions that many have faced these past years. This seemingly unending tirade of tenacious noise can be traced back to much of those beleaguering socially confined episodes within the seasons of our lives, seeing fruition and transition into audible sustenance for the masses that need it. 21 Bricks since 2020, otherwise known as "that year", have been cascading through a stylistic maelstrom of amorphous Hardcore Punk cut with varying degrees of Post-Punk and Synth Punk injected directly into the two-piece's abrasive and well-researched repertoire.
21 Bricks and Happy Pills then, shall we? To Los Angeles. Or just LA, whatever works. *NOTE* The band have just released ANOTHER EP, so that will also get a write-up soon!
'I'll Take Your Word' furthers the stylistic adventure it is to listen to 21 Bricks. The two-piece interchange and trade their contrasting vocals over a union of raw, yet fluid Melodic Hardcore into Crossover Thrash atop a drumbeat trading its own composition between D-Beat and proto-Skate Punk. The inherent Synth fuzz so prevalent across 21 Bricks' work is marginal but still present as they navigate a cranial maelstrom of confusion getting worse by the existential second. 'I'll Take Your Word' is as pure a hook as it can be to pull you close for the next of the four-part tirade.
'Anarchist Cat' provides a warning worth heeding when considering a household companion who in all probability, doesn't understand any system of governance. Initially track two is muddled and raw but as it crosses further into the fervent warning, its variety-laden, diverse prevailing and metallic Punk sound substantiates itself with ease. The Crossover and straight-Thrash then return to dominate, eventually leading to a whirling, reverberating Crust-lead that rips above the shredded underbelly of 21 Bricks. Match that with an intermittent groove 'core and track two eventually blows you out of the cat flap with little to no care.
The marketed deviation the band have undergone for Happy Pills is a stark departure. They have overhauled and increased their incendiary guitar-led sound, leaving a virulent fervour favouring a level of serration indicative of the abrasive strain the world scores upon us. 'More Than This' is this fight and not only that but is by far the strongest on Happy Pills. Lyrically, the bleak, continuous and abject spiral of humanity into capitalist and environmental-sponsored nullification is brutally depicted. Musically, the band's Synth Punk confidently merges with the now hegemonic Crossover Thrash, supplemented with their ubiquitous, warped and melodious yet foreboding and raw Crust Punk presence. 'More Than This' is fierce to the utmost definition, juxtaposed by perhaps its greatest and most poignant contrast between 2:58 and its finish.
Just when you settle in the most unsettled fashion, your acclimation to 21 Bricks is agitated again. In 'The Golden Hate' is faster beyond reasonable expectation. Sharp enough to cut sound and the truest coalescence of the band's previous and current selves. I shall leave the rest to you. For, the finalising number of Happy Pils is one incumbent with and indicative of unrivalled, tenacious power.
21 Bricks and Happy Pills. Get at it. The band are part of the Riot Ready Records. The band are in the process of playing as a live three-piece this coming summer.
Updates:
Music:
Riot Ready Records: