Rejection Pact – Boise, Idaho, USA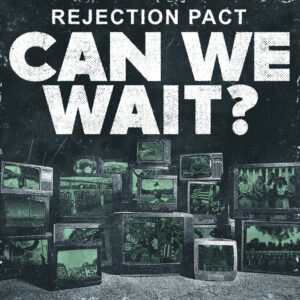 Rejection Pact and Can We Wait? have just landed via the Safe Inside Records mission of modern US Hardcore. The Boise, Idaho band have been crashing through a vicious, vitriolic, cathartic yet existentially grounded and self-contorted culmination of Hardcore Punk since 2017. One rife with as much streamlined tempo and melody as it is genealogical odes to the legacy of east coast and New York Hardcore and beyond. Consider the buzzwords, Battery, Go It Alone, Youth Crew and Melodic Hardcore, such will assist in time and alleviate any pressure to gain a rapid-fire understanding of Rejection Pact quickly before we go on. Add the band's back catalogue to that and you're sufficiently prepped – Here.
With a buzz of radio chatter onward through a sombre intro, 'Imperative' eases in prior to an incendiary, Thrash-imbued riff lacerating any peace ahead of a raging, scathing attack on suppressive, opportunistic, incredulity-mired ideology. 'Hollow Ethos' a bitter reaction to a rise in loud deafening insecurity and obsequious adherence to idols and flags poised to hate. Though sharp and powered by frantic tempo and quickfire barrage-like drum fills, the raw, natural nature of Rejection Pact's sound on 'Hollow Ethos' is tempered by a rounding melodic lead contrasting but far from negating any clout.
'Indifference Is The Enemy' ran as a single and with its reverberating groove, shifting instrumental and vocal dynamic as well as an earnest rise in mid-track tempo, quantifies the urgency of education and progress within ourselves.'Social Murder' teases a high-octane charge but instead falls into a low, mid-paced Hardcore classicism, at least initially. Bursts of pace via excellent tempo control accentuates each rise and fall in pace across track four, with the brilliant contrast of the Battery-esque refrain from 0:59 until 1:25 where a whirling, intrinsic lead is cast across a harsh truth. 'Collective Will' ponders some interesting, contemporary societal questions and observations. The band pairs such with a 1:09 blast of a majority raw Melodic Hardcore with brief bursts of viscous and indeed vicious abrasive power before peeling off incrementally to muted vocals and an almost, Post-Rock-inspired amble.
Said "amble" then pervades the intro of 'Western Glitch' momentarily teasing the sequential Post-Metal before Rejection Pact nuance Can We Wait? further. A meandering, majority-subdued lead snakes its way through the pounding, metallically-toned thud of the verses, beset with doom and gloom over the existentially beleaguered contemporary way of it. 'Western Glitch' is one for the lyric sheet being in front of you as you absorb its, frustrated, dour display. The"way of it" is furthered focussed on with capitalism as the primary sample on 'Profit Engineering' with the band owning the idea of "instrumental Hardcore" by proxy.
'Grave Gold', though rife with metallicized abrasion, shifting Post-Hardcore-esque structures and aggravated vocal interplay continues the flex of the band's influences and ability while acclimating you to the soaring melodic guitar work contrasting the voracious, standout display of the following 'Prune'.
'Working Off The Past' perpetuates the thematic line found throughout Can We Wait?, with a little help from Kat Lanzillo of fellow Safe Inside roster-mates FAIM. The outdated systematic propensity for antiquated ways of thought and the like, these are the issues the band are breaking down across the record but in 'Working Off The Past', Rejection Pact substantiates this album's place as a product indicative of our time.
Rejection Pact, though not alone in this, are a band championing a spate of furious Hardcore that in no semblance of shame, is layering, infusing and downright owning a melodious assault. A variant simultaneously, skillfully and confidently churning out a dichotomy sound that is both Hardcore Punk-Rock supplemented with melody as well as that of canonical, streamlined Melodic Hardcore. Look no further than the closing triumvirate of 'Blockhead', 'Failed Animal' and the finalising 'No More (S)' for this masterclass on an album up there with the best of the years Punk and Hardcore.
Rejection Pact and 'Can We Wait?'. Out now via Safe Inside Records.
Updates:
Music:
Safe Inside Records: