Bazookatooth – Nashville, Tennessee, USA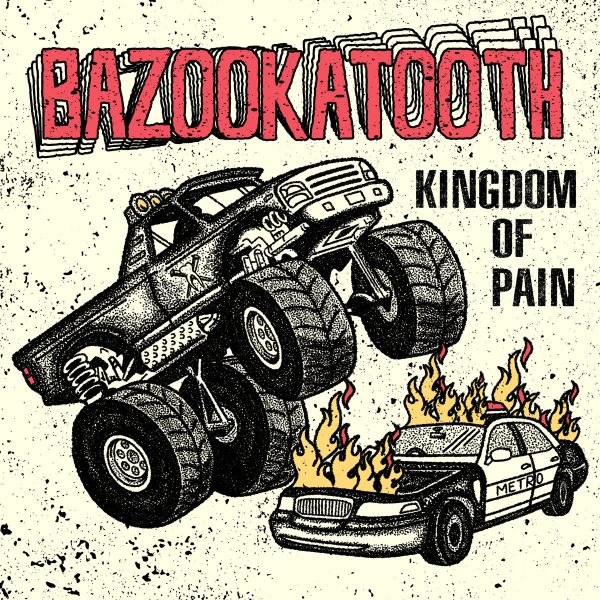 Bazookatooth and Kingdom Of Pain are another of 2022's entries into a North American Hardcore scene producing some of the best bands the genre has seen in years. Not only that, but Kingdom Of Pain also marks yet another acquisition and release from San Diego's Safe Inside Records in their quest of promoting a roster of bands truly representative of the contemporary Punk and Hardcore scenes. I thoroughly implore you to make your journey through Safe Inside's catalogue to date but for now, the second release from Bazookatooth beckons.
As an expedited preface, I also implore you crash through the band's previous 2020 release, Assimilate. For what you're about to experience from Bazookatooth and Kingdom Of Pain is the result of the band's metamorphosis from the three-piece format of the former to the four-piece they are now. Shall we? To Nashville.
The band's fast, abrasive, Metallic Hardcore Punk embodied a fluid mix of all its components on Assimilate, though it leaned heavily on faster straight running Hardcore. Now in 2022, though Bazookatooth honour that phase in their timeline, within seconds of 'Only Smiles', it is clear how their MO has shifted. Short, fast bursts of pace, heavy metallic down-tuning and comparatively accentuated groove boast their (now) four-piece stature. 'Only Smiles' concerns the abject, rapidly worsening environmental situation we find ourselves in and the incredulous, apathy-laden smiles that intentionally eclipse the issue.
'Overflow with mirth, we're witnessing the final gasp of Earth'
This latest version of the band is confident beyond any doubt. Track two odes to their underpinning Hardcore pace, unabatedly driven harder to equate the sheer rage of the now heavily metallicized Hardcore they pedal. Vocally, the band's staple interplay is by default, due to the higher-octane abrasion all the more grounded and completely eviscerating. 'Death Blow' carries an addictively satisfying groove in its latter parts which, on par with the explosivity of the band's tempo and their command over such, marks track two as a notable high point on Kingdom Of Pain.
'Glue Trap' hybridizes NYHC groove with Crossover Thrash and a vintage Punk-Rock bite before unleashing a barrage further stating this the more Metal Bazookatooh is truly here to stay. Though admittedly some will prefer their previous considerably more Hardcore and Punk rooted sound, there is no denying the presence the four-piece Bazookatooth have. There is more variety, more complexity and greater command over the entirety of their craft on this latest. To be succinct.
The eponymous 'Kingdom Of Pain' whirls into existence before shifting into a brief Punk rhythm, ahead of said eerie "whirl" returning and hitting like a reverberating blast of metallic Crust Punk backing the band's most terrifying vocal display yet. Track four is a lumbering leviathan.
Bazookatooth close Kingdom Of Pain with 'Red Soil' pummelling whatever is left of you by this point. Though evident EP wide, it is in coming to the close of this latest that its production, though clearly polished and sleek, doesn't for one second negate any of this band's inherent grit or unstoppable clout. You feel everything from the battering of the snare to the brooding, rage-filled bass tone and distorted, shredded to warped guitar strings. Though probably one of the heavier bands currently on Safe Inside Records, Bazookatooth are a worthwhile, uncontestable entry into a Hardcore scene at the top of its game.
On Kingdom Of Pain, Bazookatooth unleashes what ails their troubled craniums with a ferocious, fervently indomitable Metallic Hardcore that is truly up there with this years' best. Find both the band and label below.
Updates:
Music:
Safe Inside Records: