Bent Blue – San Diego, California, USA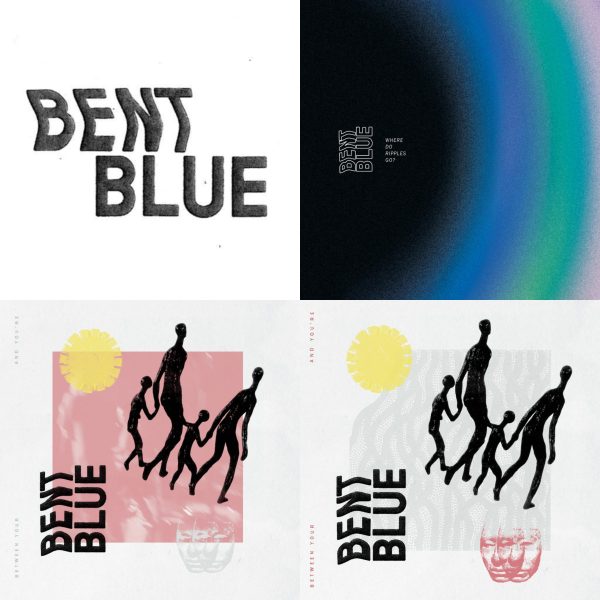 Introducing Bent Blue. In today's scene, when discussing Hardcore, variants of the genre are often attributed and said to lean toward two seminal US "coasts" as a base before a myriad of nuances and idiosyncrasies are applied. However, like many things in life, amalgamating traits from various columns can produce a veritable wealth of results. This is where introducing the San Diego-based Bent Blue come in. A band that despite it all, have been yet another success story in a time where the music scene worldwide has and continues to struggle against odds far from in its favour.
Formed in 2020 and heavily inspired by that seminal swathe of DC Hardcore Punk-Rock and the perhaps the even more crucial and sequential Post-Hardcore period, Bent Blue released their Between You and You're debut in 2020 and then followed on with an expanded edition in 2022 after joining WAR RECORDS. The debut's opener is a discordant, dissonant blast of Dag Nasty-esque Skate Punk filtered through a tight yet unrefined and emotive Post-Hardcore gauze. The following eponymous track pulls from the reverberating realm of early Fugazi, cut with the same band's unsettlingly meandering leads and jarring refrains and then brought forward and imbued with a touch of contemporary weight.
The band crash through the metaphorical doors in the rooted, east coast Hardcore raging against the circumstance of the "lost generation" in 'Rungless Ladder'. Tracks such as 'Influence Me' broodingly ebb from the lowest to highest of the band's tempo range whilst the chugging, rhythmic pound of 'Echo Chamber' injects a latter timeline, "other" east coast groove. Bent Blue may be heavily inspired by a DC region so powerful in Punk history but in 'Wild Words, Strange Sounds' their intrinsic west coast genealogy is more than present, coalescing with spun-out Post-Hardcore conditioning.
Epitomising the band's MO, 'Take It Back' is completely open to all of the above and in its way, echoes the playfully melodious Hardcore grit of New Jersey's Lifetime.
2022 not only saw the rehashed and expanded debut but also Bent Blue's second effort, Where Do Ripples Go? On the second EP, the groundwork, exploratory forays and underpinning Hardcore fervour are accentuated and imbued by confidence and comfortability as individually as they are together. Though their first EP showcased variety in both tempo and running order, Bent Blue's second is exponentially more considered. 'Where Do Ripples Go? is struggling with itself through its uptempo blasts onward to its reduced pace channelling and cathartically releasing a repurposed energy.
Though sometimes in momentary respite and others as an introductory precursor to thick, pummelling riffage, the band's alternating pace is now more defined. These changes are now of such a functional point of contrast that Bent Blue's existentially beleaguered urgency is freer to achieve a higher octane catharsis. 'See Dissonant', though truly, such excellence is not limited to any one track and is indeed release-wide.
The band's complexity is also gifted a new gleam on Where Do Ripples Go? 'Chastity Of Mind' is effectively an advert for the legacy of '80s Post-Hardcore and how its longevity in the scene is still so indomitably emblazoned across its metaphorical walls. 'Commodified Existence' also pulls from Bent Blues's now extensive pools of influence and together with the previous, exemplifies the versatility they achieve on Where Do Ripples Go?
Despite exemplary forays into faster, refined Hardcore, the slower tempos and clever stylistic shifts mark some of the record's finest moments away from their bedrock of combustive and intrinsic explosivity. In fact, in no small way, said agitated and evocative "bedrock" catalyses the entire Bent Blue display regardless of sonic specificity. There isn't a moment on either of the band's releases where you aren't engaged, musically and lyrically, but this is especially and unequivocally so on Where Do Ripples Go?
Introducing Bent Blue, that'll do.
Updates:
Music:
WAR RECORDS: