Friends With The Enemy – Gold Coast/Brisbane, Queensland, Australia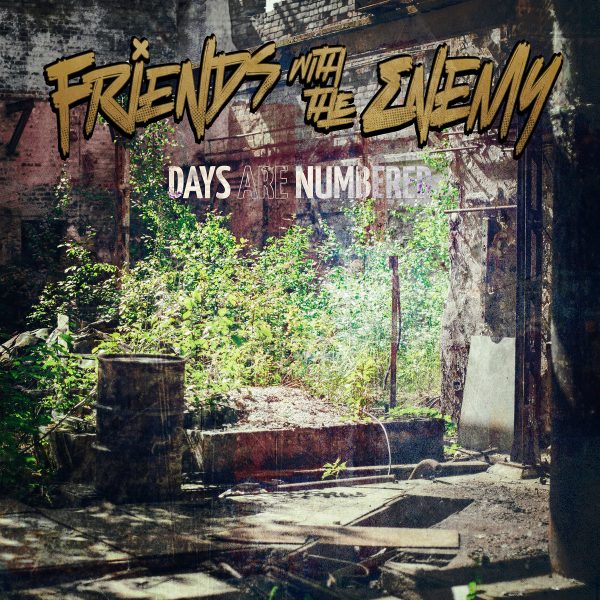 Today concerns Friends With The Enemy and 'Days Are Numbered'. Though beyond understandable, a sizable amount of time has elapsed since the last release from the Gold Coast/Brisbane five-piece. The Australian band's past is fast, technical and odes to the groundwork laid by those seminal names of the '90s, dusted with a pinch of the increased level of technical proficiency and complexity found in the latter part of the decade and beyond. Consider No Use For A Name and NOFX, add the likes of Pulley and then move onward to the tightly wound and equally seminal world of Mute and Belvedere and you have a band whose back catalogue yearns for your perusal.
Now revived by Canadian fast-Punk enthusiasts People Of Punk-Rock Records, Friends With The Enemy have returned with 'Days Are Numbered'. Though the five-piece's previous acumen is more than up to the metaphorically, technically deployed scratch of the contemporary Skate Punk scene, 'Days Are Numbered' marks a simultaneous refinement as much as it does a confident departure.
FWTE are not messing around upon their return. Though their older material had metallic tendencies tucked away, it is in 'Days Are Numbered' that the five-piece unabatedly unleash their darker side. The initial two-stage intro sees the band's guitars flex into a down-tuned, shameless chug laying down the path for tightly wound metallic drumming with melodic Punk guitar strings opportunely darting amongst it all. Vocally, the band's melodic repertoire now stands far more prominently as it juxtaposes the serrated leviathan beneath.
Though heavily hegemonised by Metal and specifically Thrash, 'Days Are Numbered' has not forgotten its Skate Punk roots. Though consistently charged by this underpin, the band's Skate Punk confidently strides into itself with track's low-ridden underbelly crashing forth in support of a contrastingly soaring chorus. In fact, post the 1:40, Friends With The Enemy' flips the shred-ratio on its head, seeing Skate Punk roots taking the lead with the timestamp of 2:21 to 2:44 particularly standing tall. 'Days Are Numbered' is easily one for fans of Our Darkest Days or Colorsfade. 
It is also important to commend the production of this new single. For the contrast and accentuation of the varied elements that the band have brought to the dissident workbench on 'Days Are Numbered' are captured to an intrinsic standard. 
Friends With The Enemy and 'Days Are Numbered'. That should tide you over until the next one.
Updates:
Music:
People Of Punk-Rock Records: