Zombies No – Paris, France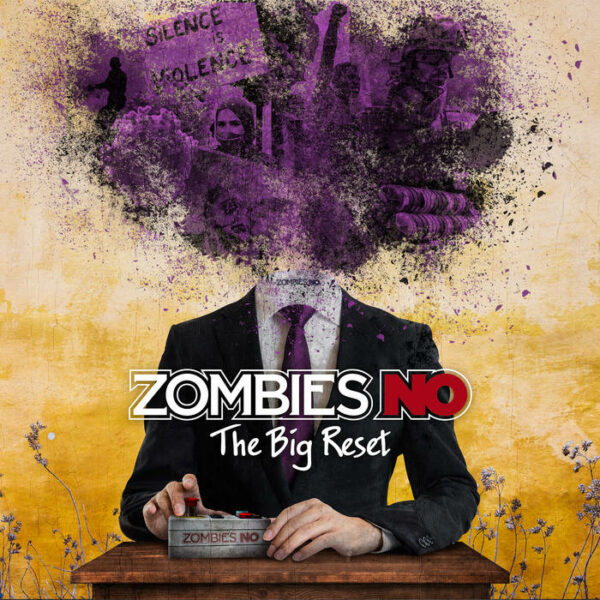 Zombies No and The Big Reset have begun the initial part of their combined, tempo-dependant trajectory into the contemporary fast Punk scene. The Paris-based but in reality, Punk-Rock band from everywhere are no strangers to the tenacity of said scene, be it through their era-spanning Skate Punk, penchant for Thrash or observational lyrical narrative. Eleven years as band have yielded two full-length albums and two EPs, with the most recent EP debuting the voice box of one Claudio Balest. The band's back catalogue will be linked below but for now, Zombies No and The Big Reset beckon.
After an intro you may recognise, on 'Unnecessary Thoughts', Zombies No playfully hint at their Thrash-led beginnings as they bounce confidently between such and that of light, tightly-wound technical Skate Punk before further contrasting both with bouts of mid-paced melodic Punk. The lingering influence from the likes of Propagandhi, Bad Religion and A Vulture Wake seamlessly meader through the band's own ever-shifting and dynamic Punk sound in track one, prefacing what's to follow.
The jagged, stop-start, complexities of 'A Letter From Nowhere' ran as a single prior to release, with those very words completely substantiating why. On their previous EP, the four-piece broadened their sound beyond the simple use of Punk-charged Thrash, instead morphing decisively into a more expansive technical sound inclusive of it. Track two is a stop in this continued development. Three on the other hand, through examining how the past few years have warped minds, achieves a further and this time sonic "warp" seeing the band employ an almost Post-Hardcore nuance to a Skate Punk Thrash majority.
'Shadow Refection' initially boasts a refined version of what made All You Can Hate tick through another fantastic display by drummer Maurizio Rivagli. That said, its serrated Skate Punk, Melodic Hardcore-crossover isn't the track's be-all and truly can't help itself in displaying the further progression The Big Reset shows so unapologetically. The 3:16 of 'A Useful Forgiveness' maintains flow with a sparring barrage of colliding guitars, high-octane refrains of varying lengths and drum patterns continuing to impress in a wash of pummelling Skate Punk, incrementally wearing you down like an amalgamated, accumulative blast of Bad Religion, Adhesive and Mute.
A rendition Domenico Modugno's 'Malarazza' (Bad Breed) marks a break before differing ignorance is blasted in 'Neither One Nor The Other (But Quite The Opposite)' and 'War Lullaby' cut across the bedrock of this era of Zombies No with an intrinsically occurring confidence catalysed by incontestable comfort. Though The Big Reset is rife with a clever roster of nuances and development, the band's innate awareness of their roots and inspirations yield plenty for those initially captured by their initially tenacious.
The band have never shied away from longer track durations but with the progressive twangs on their underpinning Skate Punk more confident here, the aforementioned 'Neither One Nor The Other (But Quite The Opposite)' and 'I Preferred Orwell As A Writer Than As A Prophet' make skilful use of the time. This is particularly the case with the stand-out, harmonious, 'I Preferred Orwell As A Writer Than As A Prophet'. See 2:46 until its end.
Though understandable in the highly critical Skate Punk scene, Zombies No played it safe with their choice of singles. This is far from a criticism, but rather an observation as the development the band have gone under has for the most part been left for discovery. From the again notable 'I Preferred Orwell As A Writer than As A Prophet' the last vestiges of the band's metaphorical gloves are off. From 'Alea Iacta Est' (The Die Is Cast) the harmonies are more prevalent, the song structures continuously favour further complexity and the band ride their contrasting mid-range tempos with the same acumen as they do their utmost allegro. Claudios' vocals push harder, the guitars are freer and the band's deep, low, catalytic derision for the way of things is felt in the rumbling depths of metallicized Post-Hardcore the band are supplementing their "expected" formula with. See 'A Well-Known Déjà-Vu'.
Though the band have been showing themselves throughout, unashamedly so, it is in these final four that some of the album's finest moments are found. The finalising 'Dreaming Of Dreaming' moves to encompass as much of the album's whole as possible, marking some of the band's best melodic efforts and specifically so within its excellent guitar work.
'One foot after the other, walking, while trying to reach the sun'
And so passes my thoughts on Zombies No and The Big Reset.
*The album is available now via bandcamp, digitally and on CD with vinyl and streaming coming later via Sound Speed Records (USA), Sick My Duck (France), 20 Chords Records (Spain), Dr Skap Records (Germany), Lockjaw Records (UK), and Goldmine Records (CAN).