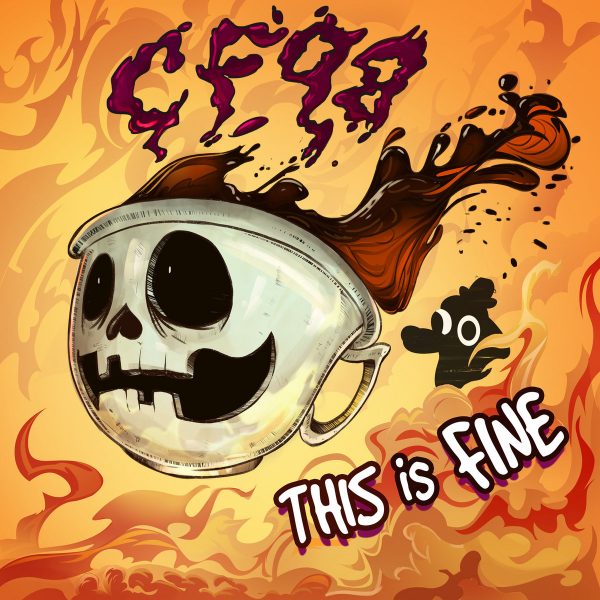 Today, we are here for just a few questions with Kraków's CF98. A band whose presence in the European Punk scene the past few years has been nothing short of impressive given the way of things. But a short time ago, the band released their latest full-length with a little help from both Sound Speed Records and the ever-expanding SBÄM Records, seeing the four-piece cutting through thoughtful, intro and extrospective melodic Punk, Skate Punk and odes to the Pop-Punk music that inspired so much of what they do.
The band have been a regular feature on Ear Nutrition and you can find my review of their previous release, Dead Inside (2020) – Here. For now though and without further waffle, here are just a few questions, with CF98. Enjoy!
---
To start, tell us who you are and what you do using some of your lyrics!
"I come from a small town, still know my roots, we are a little dead inside
I'll tell you something about my band, the equal parts of our universe
We played for hundreds or just a few
That's loving someone and loving something can do to you"
And now – guess the songs! 
Despite everything these last few years, you've had a very consistent release schedule. How have you managed it?!
We are crazy AF and a hard-working band! We always have long-term plans and look ahead. We don't have to force ourselves though, magic happens when you love doing something and you are super motivated within a band. The final result – the album. Which is just the tip of the iceberg of the whole process, which, is not always visible.
How did you end up on the SBÄM train? The number of bands they have signed in the last few years alone is incredible, all things considered. How does it feel to be among one of the fastest growing Punk labels?
It all started with our set at SBÄM FEST in 2019, it was huge for us to play such an amazing festival abroad. We met Stefan, started to talk and years later we ended up having a record coming out via SBÄM  (and Sound Speed Records who released our both EPs as well).
"Communication, that's what it's all about" – Adhesive quoted here obviously. (Here) 
Do you have any favourites from the SBAM roster?
I don't like to choose anything as a favourite – Favourite food etc… How can you pick one favourite meal? Impossible haha!
I'm super proud to be among all of those bands, including The Dead Krazukies, NOFNOG, Not On Tour and Krang.
With each release differing in sound across your career, what is it about Pop-Punk and Skate Punk that keeps pulling you back?
You will never feel like a part of the family anywhere else in a different scene. Punk-Rock, Pop-Punk and Skate Punk people are my home and family, we help each other and support one another. Of course, we are not perfect but we try to give as much as we get. I always felt that the simplicity and honesty here are sometimes the most difficult things to get from life.
From 'Dead Inside' to 'This Is Fine', how has the journey been?
After 'Dead Inside' we knew we didn't want the next thing to be rushed. We wanted to slow down to write songs, produce them (with Ishay again), chill at the studio and then slowly work on the cover art, videos and promo. The last two EPs were recorded during two weekends. So, you can imagine – It was all or nothing – If someone got sick, we would lose the studio reservation. Too much pressure!
This time we wanted to relax and focus on the quality of the songs. We wanted to write more, so after we caught some attention with EPs, we wanted to give all of you a full length. And we did and it's beautiful! Plus, we hope you like the songs haha!
On that note, is there anything different this time around that has influenced the writing and sound of 'This Is Fine'? 
OMG, everything is different! The whole process was different. We were writing the album for almost a year, and then the recording took more than two weeks. The album was basically ready in January 2022! We wanted to have it out on vinyl at the same time, that's why we decided with Stefan (SBÄM) on September 2022. Now, the album is yours, in your hands and the new adventure begins! 
Who are your favourite bands in the European scene at the moment, who have you been listening to?
Again, hard to choose! Recently I was listening to Darko, Rabbies, Melonball, Blowfuse, March and new the Straightline songs. So many great bands.
How has the scene changed since you've been a part of it? What's the most surprising thing you've found yourself doing?
Maybe it will not be an answer to your question but I do think one thing has changed. As an international Punk-Rock community, we slowly realised there is no "female-fronted" genre and I think that's awesome.
At the beginning of our band, everyone was using the term and we were a "female-fronted" band even on the posters. I totally understand that this could be inspiring to all of the girls out there but the sex of the band members should not create the genre guys!
What is the music scene in Poland like at moment? Do you find yourself going elsewhere to play?
As we speak about it quite often, there is no real Skate Punk scene in Poland. Hardcore is doing well and there are a lot of good bands.
Of course, we want to play the songs from 'This Is Fine' live and we have gigs planned in Poland and other countries. COVID, please stay quiet!
Every country has been different, but how have you found playing shows again now they are more common?
I always appreciate every show, no matter where and no matter how many people are there. My attitude hasn't changed at all. Nothing is given forever!
I ask almost every band I interview this. If you could make a five-track sampler from your entire career to date, what tracks would you choose?
I would definitely choose '45' as this song is super powerful and meaningful to play live. The second choice would be 'Dead Inside' as this song defined how we and our friends felt when COVID hit and changed our lives. 'One Day at A Time', as I finally described my thoughts on my mental health. 'She Doesn't Like' as I wrote this song while missing adventures, summer and feeling alive in the middle of a grey November. The last choice would be 'Missing Part' as I simply love our slow-motion video to that song.
What would you say about the album to those who haven't heard it? What bands were you listening to while you were writing 'This Is Fine'?
It has thirteen different topics, lots of melodies and it has powerful and fast but also quiet emotional moments. This album is vibing!
My lyric inspirations were Comeback Kid, Descendents (listen to 'Get Old Nicely'), Authority Zero, Blowfuse and Taylor Swift at the same time haha!
Is there anything from previous recording sessions that has found its way onto 'This Is Fine'?
Delma: Nope, it's 13 fresh songs! And to be honest, we put every song that we wrote on the record, it's a 2021 diary of CF98. One month, one song challenge and a bonus track for Christmas hahaha!
Karolina, tell me what inspired 'Get Old Nicely'? Was it something that was on your mind for a while or did something specific inspire you to write it?
Thanks for asking about that song as it's special to me. I wanted to write about this topic for months actually. I noticed that some of my friends or people in the comment section (wherever), can't accept the fact that a new generation always has different artists, different approaches and different needs. The world is constantly changing and you can't just criticize younger people's choices. I always try to understand WHY people like that artist and that type of music instead of judging that it's shit. That's why I would prefer to inspire young people and learn from them rather than building a wall between us.
Get old nicely friends. Your parents also despised your music choices!
Delma, there are some considerably harder riffs and sharper guitar work on this release. Are you teasing a heavier direction for whatever is next? Who are your personal biggest influences?
Delma: That's interesting! I think the riffs are still very similar to the direction we had on 'Dead Inside' but the value of recording is a bit different. Filip Halucha from Heinrich House Studio did an amazing job and made tracking of this album super easy and fun.
One of my biggest influences guitar-wise is Stephen Egerton from Descendents/ALL – The guy is a magician on guitar and I'm not even talking about shredding, but about the melodies!
What are both your personal favourites from 'This Is Fine'?
Delma: It's like asking about your favourite food hahaha! It just depends on the mood. I'm proud of every song on this release but my personal favourite is 'Clever'. There is some magic in that song, with lyrics and simple melody that caught my heart, maybe, because I never felt clever? Hahaha
Karolina: 'I'm So Tired' because it's about running out of the city into the woods, which I do quite often. 'Double sunrise', 'She Doesn't Like' and 'Sad But True' would be on my list too.
And, most importantly regarding the release, when did you decide on the album cover?
Delma: I remember it was just after we finished the recording, we got inspired by the comic by KC Green but it's also a perfect summary of life after 2020. I think it's going to be super funny when we will ask somebody – 'How do you like the new record?' – 'Oh, this is fine' haha
To close, if you could put on your dream festival in Poland, what would the lineup look like?
Karolina: Many years ago I dreamed about having New Found Glory and No Doubt in Poland at one festival, I think I still do. Let's start there.
---
Updates:
Music:
SBÄM:
Sound Speed Records: