Stage Banter – Beverwijk, The Netherlands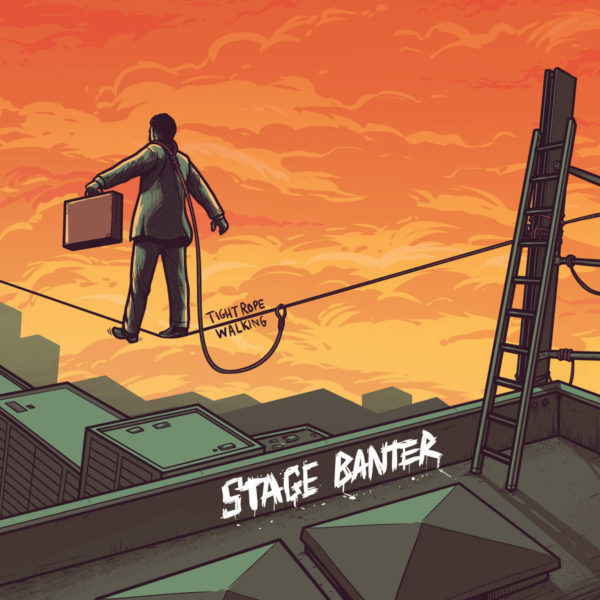 Tightrope walking is a precarious activity indeed! Enter Stage Banter – Tightrope Walking, a band and a release endeavouring to be the very fuel you need to overcome the terror of it all. The band take on this monumental task via fast, melodic, social-political commentary in true Punk-tradition but not without the genre's penchant for "having a laugh" along the way.
As a warranted disclaimer, this is Skate Punk release, so let's settle down with that statement before we expect something epic and idiosyncratic. The band cite the Epi-Fat schools of melodic Punk and all their respective arts as much as you'd expect. In truth, what band can't take at least some influence from said institution?! Likely not many, however, something notable is Stage Banter's citation of Dillinger Four.
'Lay Down The Guns' epitomises OG Skate Punk in its intro, yet leans towards the rougher cut wing of the genre. This isn't unheard of but it seamlessly segues into chuggy, riff-led, mid-tempo verses cut with the grit of D4. Stage Banter take the dual-vocal interplay and double-fuzzed approach and replace much of Skate Punks assumed melody without abandoning the genre entirely.
Tightrope Walking arguably opens far better not adhering directly to the tried and tested formula. In fact, it only strengthens itself when the band do openly follow their most numerable roots. You can find 'Impending Doom' in EN's Skate Punk and Melodic Hardcore playlist for that very reason – Here.
'Leave It Up To Us' follows this driven melodic sound further but the thicker, rumbling dirge is what it is foundationally built on and it becomes all the more obvious. The recording and production of the release, although suffering marginally regarding vocal clarity, ultimately bolsters this rougher-cut Skate Punk approach as it flirts with Melodic Hardcore.
The eponymous and penultimate number questions societal stagnation over a sound comparable to classic 88 Fingers Louie. Stage Banter's control of the flow of this debut is a crucial selling point. The band bare-all, but not in a manner of overextension. 'Tightrope Walking' maybe on the periphery of the sound the band have carved unto this point, but the EP wouldn't work in its absence.
The riff-laden, shredding Melodic Hardcore is not finished with your ears. Stage Banter crash into their final foray a very different band comparative to their past selves; to a point at least. As the track continues down this rhythmic Skate-Melodic Hardcore route, you can't help but hear Dillinger Four nestled in. Although rooted in Hardcore, the band's crunching breakdowns and refrains subtly tie-in track one's legacy unto its fifth.
Stage Banter could be criticised on their clarity. It does impact the vocals somewhat but it honestly becomes less of a problem as the release continues and flows. The latter-most word in the sentence is the most crucial, paramount and notable. Why? Because the flow on Tightrope Walking is excellent.