Sketchy Trench – San Antonio, Texas, USA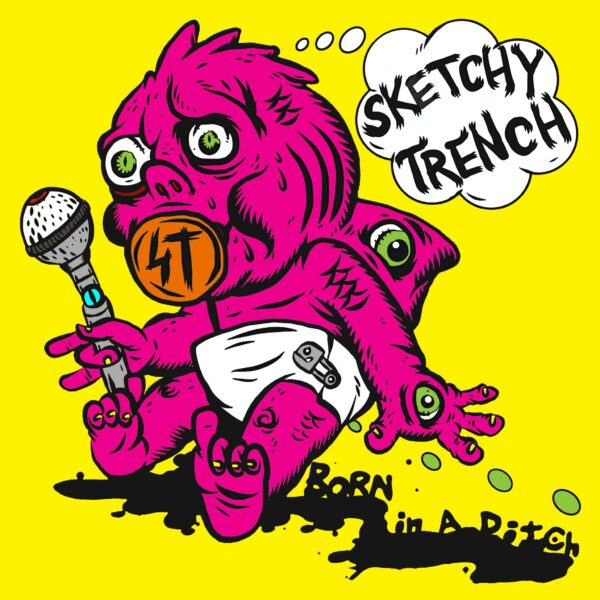 The words Sketchy Trench and Born In A Ditch are wonderfully related and conjure some interesting imagery; quickly. The San Antonio band released their debut full-length of sorts via Beefcake Records at the end of 2020 and in the spirit of the Skate Punk tempo, let's get on with it.
'Bear The Maize' is a track of three modes. Sketchy Trench introduce themselves on heavy riffs onto a melodic almost brooding Skate Punk drive before, '50s Rock n' Roll tells them to eat vegetables. For reasons that become apparent, the band choose not to and catapult off once more on light-hearted classic Skate Punk, cut with a tendency to lean to the darker side of the tone. The band cleverly and seamlessly alternate between this archetypical melodic sound and the very same but driven lower with Melodic Hardcore inclinations. This latter infusion reverberates heavily in the thick-cut mid-pace post-1:44 onward to the tracks end.
'Greater' breathes the lasting influence of NOFX and Pulley in its vocal harmonies. Track two maintains and furthers more of the upbeat repertoire of the former but yet still hints a foreboding heavier-set below. It is also notable that in relation to this, the band's lead effortlessly controls the mood akin the likes of Good Riddance's Luke Pabich. 'Strangers Remains' toasts the quirks of the '90s blueprint at a playful mid-pace with yet more of this inherent attitude-rich lead and contrasting grittier bite.
Sketchy Trench have certainly done their homework, that much is clear. 'Rolling Away' is rife with escapism. Track four captures the Hardcore-rooted veracity of the early genre ala both vintage Bad Religion and Pennywise, without crucially losing the Good Riddance-like melodic lacquer. 'Rolling Away' wants to skate way doing just that. Between 1:25 and – 1:56 a looming, bass-line juxtaposes upbeat jabbing guitars as layers build toward a breakneck Skate-charge to fringe Melodic Hardcore and jabbing-riff to close. Sketchy Trench capture the very music that inspired so many and would be completely at home on a Tony Hawk's Pro Skater soundtrack. Hint, hint Activision.
'Old Days' is more lament and an unwanted revelation than adoration. However, it is also one the best of Sketchy Trench and Born In A Ditch adding further names to the "if you like this" pile. Which in this case is a name drop of both The Bollweevils and that of 88 Fingers Louie. 'Old Days' is a step towards the band further occupying the Melodic Hardcore steading on vast-Skate Punk expanse. Sketchy Trench are in a cohesive yet constantly alternating state that often seamlessly moves in what feels akin to split-second increments. In a matter of words, 'Old Days' is soaring, cathartic and intense.
This aggy-tendency in the band's Punk explodes in 'Mother Tongue'. Track six does so in a crucially timely fashion. Sketchy Trench are far from complacent despite their chosen sonic-gene pool. The band alternate stylistic per-track with ease and the same echoes within their track arrangement. 'Mother Tongue' pushes toward Hardcore and 'Evaporative' the complete opposite. The penultimate falls back on the mid-pace of track three, this time combining a defiantly Pop-Punk-lead with bouncing, almost classic Punk riffs and cascading vocals. It is here than despite its onset contrast, that 'Evaporative' is another release highlight.
'Number 9' closes a release of impeccable flow. There is no bullshit here. There are no delusions of grandeur or of genre-breaking forays. Sketchy Trench simply end as they exist, playing the music they love their way. Born In A Ditch won't lose your attention and is yet another melodic Punk release that is what it is in the best way possible.
Sketchy Trench and 'Born In A Ditch', out now via Beefcake Records digitally and on vinyl.
Updates:
Music:
Beefcake Records: