Ink Bomb – Nijmegen, The Netherlands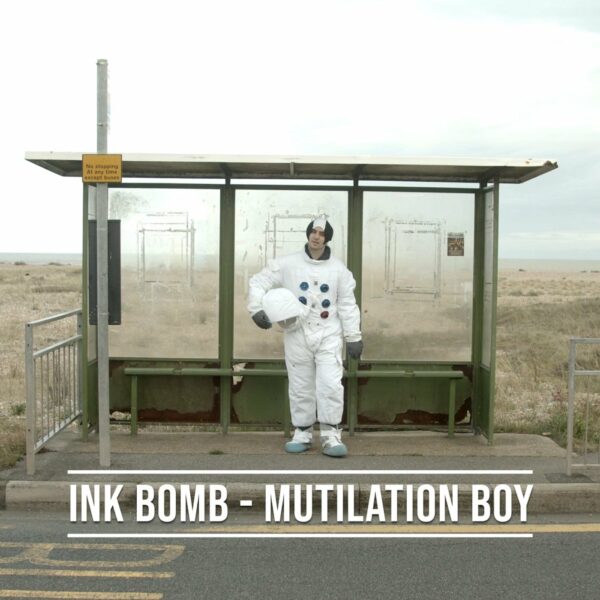 In 2019, a Dutch band twisted Skate Punk to their tune. That band was Ink Bomb and 'Mutilation Boy' is the first page of a new incoming chapter. The Nijmegen four-piece presented their sound with precision cut classic Skate and upbeat melodic Punk, inclinations toward contemporary tech-Punk and even contrasting quantities of Emo and Post-Hardcore. Now, however, the band have released their new single ahead of their new split 12″ with fellow Dutch compadres, No Breakfast Goodbye. In an EN first, as both singles are now out, reviews of both will be published simultaneously. You can find a breakdown of 'The Losers Club' – Here.
But yes, 'Mutilation Boy'. Ink Bomb kicks the door down with their brooding Skate Punk the way they know best. Despite overt genealogy indicative of the '90s Punk scene and its often upbeat legacy, Ink Bomb are a resoundingly darker band and it suits them. The band's earnest, powerful drive hurtles forth on an 88 Fingers Louie-esque, Melodic Hardcore-leaning segue in an almost haunting first verse. This move is anchored by an unstable catacomb-dwelling bass tone and a contrasting and excellently unsettling, sardonically-smiling lead melodic line. Ink Bomb certainly make an entrance.
'Mutilation Boy' contrasts its darker self with a marginally, upbeat chorus but in reality, all it does is accentuate how heavy-set, driven and indomitable this new single is. Ink Bomb transcend Skate Punk as much as they tribute to it. 'Mutilation Boy' is a cathartic force, obliterating anything in its way almost automatically as its ferocity matches its existential crisis. The key contrast between this violently combustive Melodic Hardcore-straddling mass of aggravated tempo that is alleviating the band's cranial stress is paramount to why 'Mutilation Boy' is so notable. Ink Bomb have doubled down indeed. Throughout the track, their incessant teetering upon the precipice of further Hardcore-centric sonics is dangerous but a beckoning rock back and forth. One that the band is in complete control over.
It is also important to say that through production clarity, the band maintain that crucial balance between sheen and gritty Punk charm. Moreover, it is also important that this is the first of three more tracks from the Ink Bomb side of the six-track split. Now, with the way in which 2019's Fiction masterfully cut across both Skate and melodic Punk, the two still to come could yield anything. You can find a full review of Fiction – Here.
The forthcoming split from both Ink Bomb and No Breakfast Goodbye releases on the 18th June 2021. Horn & Hoof Records will be handling the UK release, Dental Records the same in Canada and Concrete Head Entertainment in the US. All pre-order links can be found below.
Updates:
Music:
Pre-orders: