Long Birds – Chicago, Illinois, USA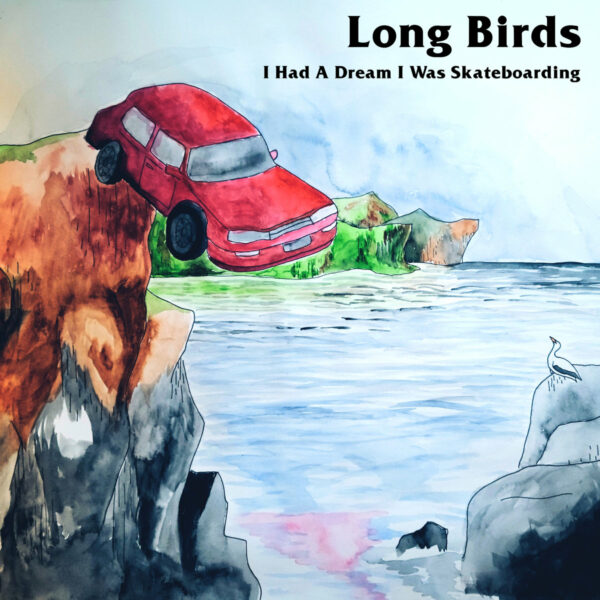 Earlier in November, Long Birds and I Had A Dream I Was Skateboarding made their play into the Skate Punk-a-verse. A "verse" that now varied in its penchant for Post-Hardcore, Pop-Punk and various veins of Metal, continues to venerate its genealogical ties to the inexorable journey Hardcore was always going to make toward melody and recklessly exuberant tempo. Though much modern scene is sustained by the post-2000s technical displays, these aforementioned '90s roots run unquestionably deep. Long Birds and I Had A Dream I Was Skateboarding are fed from these roots and supplemented by a few others. Shall we?
'Skate Punk Revival (we cant skateboard)' – Long Birds
'I Had Dream I Was Skateboarding' crashes through a tight, jagged, serrated and playful wash of '90s Lagwagon-esque guitars and intense vocal interplay. Long Birds seamlessly transition from faster and cathartic tempo to reflective mid-paced existential defiance and downtempo refrains, all echoing the seminal work of Dag Nasty in the late '80s. Track one organically merges near-to-three separate tracks into a vibrant 3:46.
'Constraints' pushes on to the more technical late '90s (and its legacy) with dashes of stripped-back Melodic Hardcore echoing 88 Fingers Louie. Track two employs constant tempo deviations to match the equally spasmodic nature of the lightly dusted Post-Hardcore of the three-stage intro as the above is fed into their lightning-fast Skate Punk. Heavy-set breakdowns and drum-fills the duration of a blink soundtrack a song of frustration felt with the fantastic vocal crossover of Elliot and Mina. In fact, I would go as far as to compare the writhing Punk sound on 'Constraints' to the seminal work of A Wilhelm Scream.
The 1:24 of 'The Apothecary' teases a chaotic and vintage Black Flag-ism ahead the pure-to-form catharsis that is 'Realizing What's Important (Changes Over Time)'. Track four is another pertaining to the existential frustration vintage Skate Punk soundtracks so well. Five, 'Calling Off', then frantically cuts from raw and reverberating Punk into a jaunting and urgent guitar-Ska (and not for the first time) in an echo of the seminal (there's that word again) work of The Suicide Machines. Long Birds, despite these confident deviations, do not for any semblance of a second allow you to rest.
Longs Birds though compositionally tight, define the words frantic and frenetic in 'Driving To Rapid City'. A melodic guitar-line that couldn't be more fantastically vintage rounds their organic abrasion, soundtracking the escapism that defines the OG genre and I Had A Dream I Was Skateboarding wholly.
'June' sees vocal duties reversed as Mina takes the lead to nuance the band's excellent interplay. 'Two Part Plan' then affirms the likeness to Cigar you've been hearing unto this point in more evidence of Long Birds fantastic ability and "homework". 'Evacuation' treads on late-'90s proto-tech Punk before fully embodying the full whack on its Thrash-infused way out. 'Evacuation' is also another where Long Birds focus heavily on a more melodic and layered sound without losing their intrinsic abrasion nor the excellent contrast in guitar and bass tone.
Three-fold Hardcore Punk is the next stop. Though nuanced stylistically, Long Birds with Mina at the vocal helm motion from early west coast chaos to a riff-heavy, metallic New York-esque sound whilst shamelessly infusing Post-Hardcore's own latter chaos. And so passes 'Safety Net/Third Degree'.
Skate Punk is the foundation of the Chicago band, but their indisputably shameless and amorphously unobstructed approach of  "why the fuck not" allows them to contort it freely. On that note, 'Missing Pieces' playfully airs out the brass and operates the ivy with a charm even I can get on with.
Long Birds are exhausting on I Had A Dream I Was Skateboarding but there isn't a moment on it where you aren't smiling as unbridled energy grins back at you. The debut full-length captures the lost minds of a generation perpetually kicked down and gaslit. 'Slice Of Life' in its breakneck 0:47, is but one of these soundtracks. To close, 'To Kimball' presents itself as a bonafide positive Punk song denoting how important happiness really is.
I Had A Dream I Was Skateboarding was mixed and mastered by the band's own Elliott Ross and truthfully captures the band's take on '90s Skate Punk to a lovingly precise T. Long Birds are a band to watch and you can pre-order the I Had A Dream I Was Skateboarding on vinyl below. But fast.