Ink Bomb – Nijmegen, The Netherlands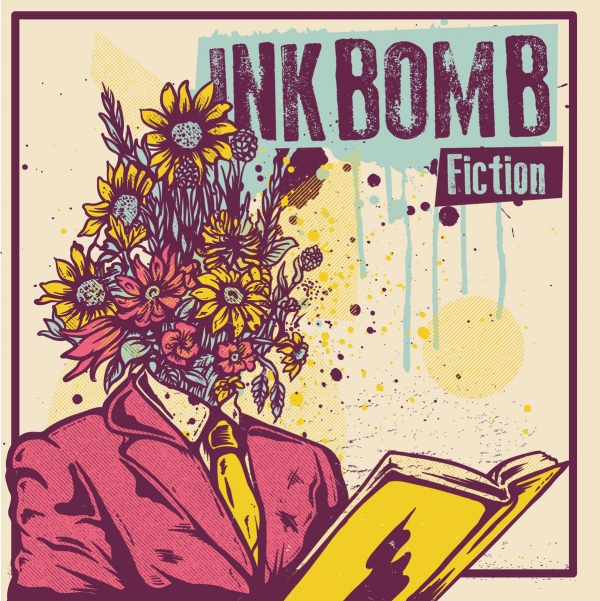 It's nearly 2020 at the time in which that I am writing this and '90s Punk is still a bonafide "thing". Just let that settle into your cognitive function and then add the following words: Ink Bomb – Fiction.
With a history spanning two EPs an a number of singles, Fiction is the first full-length by Dutch four-piece Ink Bomb. The band's past is littered with fast melodic Skate Punk songs that are rough, ready and choppily crashing through your eardrums in the manner of those brilliant '90s. Fiction uses this as a solid backing but pushes a little further forward into what the genre is now.
You can find the opening 'Griefwalker' in our house Skate Punk playlist – Here. It was added instantaneously for its sound akin to the contemporary melodies ala A Vulture Wake crossed with Bad Religion's 90-92 sound. Mid-to-late Lagwagon fans will not be disappointed either. An excellent start.
'Brittle' will ensnare the modern Tech-Punks but ultimately plays the more dated shredded Punk of Cigar and such. Vocally, the harder edge of Scott Radinsky (Pulley) crossed with Chad Price (A Vulture Wake, Drag The River) is perhaps the best comparison. The band make use of melody outside of their past work that only contrasts their jagged, yet dark and melodic Skate Punk further. Ink Bomb are all that they were but now, present themselves as both comfortable and driven. See – 'Anchors'.
Time changes and a little unconventional structure adds some techy-modern-flavour to the four-piece as the aggression is repurposed into precision in the semi-native language 'Sternschanze'. 'Scourge' sounds like it was written by the Bouncing Souls had they lived in southern California via The Netherlands. It stands out and breaks rank but its more than welcome. Who said political Pop-Punk wasn't a thing? Fists in the air for those 'woah-oh's, now!
Initially, the band's emotive stylings, down-trodden and brooding tone stood Fiction a little off the mark. This was mainly the case in the faster numbers but after a little immersion not only does it make sense, but tracks that tread their own path such as the Emo/Punk of 'Count To Ten', stand tall.
'Rerun' see's the band at their sharpest and shortest in duration in the Post-Hardcore precision of 'Rerun'. Ink Bomb aren't a one-trick pony sonically and their chosen words are nothing if not relatable. See and find 'Midnight In Desert' – Here.
'Leap Of Faith' returns to the game but not without a semi-departure in its round trip. Layered Punk-noodling over a classic bass and contrasting up-tempo drumming segues into heavy-set riffage before '90s Punk returns. The band are at times running the risk of convolution but never quite fall prey to it. Ink Bomb overtly push towards Post-Hardcore and Emo-tinged Punk is absolutely not what the first half the album eluded too but here we are. Think about it while you listen to the ballad that is 'Cauterize'.
'Ploughshares' closes with more emotive guitar melodies led-in anthemically in a manner befitting the socio-political lyrical-jabs. Ink Bomb closes a diverse and emotive Punk/Skate Punk record that I have to say, is bloody brilliant.