Quietus – Charleville-Mézières, France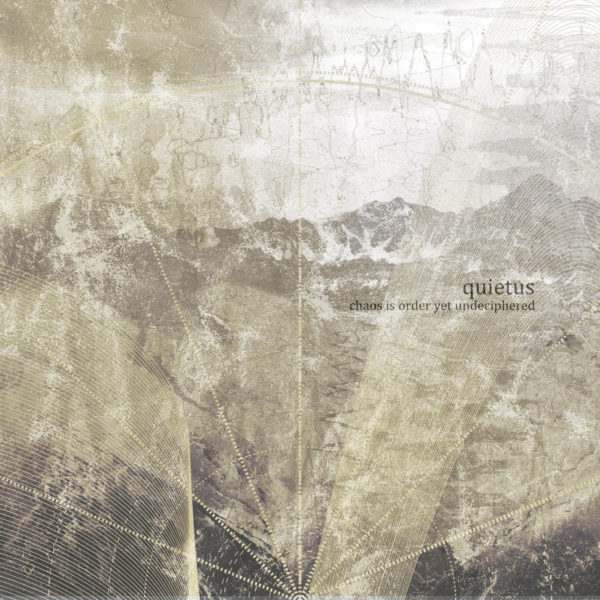 The myriad, maelstrom and wealth of Progressive Rock music and it's adjacent noise is unquestionably lucrative. Quietus and Chaos Is Order Yet Undeciphered are words befitting of this umbrella and it's protective and creatively nurturing shelter. Of course, I say "Progressive Rock" but in truth, in my usage of this word, I extend its meaning far further. Progressive guitar music is something this French four-piece know well. In fact, through describing their clear knowledge of it, my point regarding the reach of this expansive term is substantiated.
Quietus entered 2020 with a debut full-length in a move wasting no time. The band's inspirations more that adhere to the aforementioned progressive expanse, with the stylistic descriptions of Post-Metal, Post-Hardcore, Mathcore and Post-Rock all appearing to varying degrees. But how did that go? Onward then, to Quietus and Chaos Is Order Yet Undeciphered.
If the above genre-dropping mass didn't pre-warn audible chaos, I don't know what will. Within moments of 'Modern Rome', the progressive chaos of Quietus is emphatically evident. 'Modern Rome' opens via visceral metallic Post-Hardcore Punk that very shortly gives way unto vastly more metallic breakdowns before a contrastingly slow, gloom-thick ebb. This is all within one single minute. The band's Post-Metal penchant breathes through this ebb before a return to the visceral Post-Hardcore Punk leads the way via a determined yet thin melodic drive over the down-right aggressive everything. Vocally, the band embody not the expected low screams and growl so synonymous with these metallic displays, but one far rooted within the realms of the diversity that is the legacy of Hardcore Punk. By the 3:40 mark, 'Modern Rome' further embodies its Post-Metal displays, contrasted with ebbs of ambient melody.
Post-Metal is a genre often laced with ambient bridges linking it to its Post-Rock cousin. This is something you'll indeed find with Quietus but it is often sidetracked in favour of a powerful inclination to further Post-Hardcore. 'Always A Matter Of Sexual Thoughts' illustrates this as clear as can be. The band's Metal is at its most brutal but with spasmodic, marginally melodic Post-Hardcore on-side; it is terrifying. 'Le urban de Möbius' pushes further and further towards Quietus-brand Post-Metal and yet still crucially nods to their considerable homework throughout. The band's near-constant change in dynamic, tempo and even general structure accentuates the rage of the former base-genre but through applying technically minded efforts, creates as much of a dichotomy as a symbiosis. Change my mind.
As 'Le urban de Möbius' progresses, the band warrant less archetypal comparisons to bands such as ISIS, and rather more toward the likes of Refused and At The Drive-In. 'Johnny crevé' given the chaotic flow of this debut up until its current stage-time, is a huge deviation. The band rescind a hugely comparative amount of their complexity in favour of the Post-Rock and Post-Metal hybrid I had been hoping for. Quietus gradually construct layer upon layer as the story of inherent chaos looms through Spoken Word. 'Johnny crevé' is an arguable highpoint of this debut.
'Yokin Club' returns to the unreserved tenacity of Chaos Is Order Yet Undeciphered. Quietus employ a welcome blast of sporadic Hardcore tempo resultant from an impressive effort band-wide but more than specifically focussed on the seemingly effortless drumming. 'Yokin Club' embodies Chaos Is Order Yet Undeciphered thus far and lays the groundwork for the further exhausting, yet unquestionably enthralling 'Intrication quantique'. Despite their constant organised chaos and cacophonic mass, Quietus never lose momentum and with 'Intrication quantique' push their crucial Post-Hardcore unto the fringe of Mathcore territory with no real effort. – 'Individualism is religion.'
Another unambiguous strength of Quietus and Chaos Is Order Yet Undeciphered therein are the song durations themselves. Cramming too much into a single song or even, on the contrary, attempting the polar-opposite, are risks all too tempting within Progressive Rock genres. Quietus I am happy to say, although they may divide Post-Metal purists, do not stray anywhere near gratuity beyond the positive sense of the word. The band's shortest to longest sit from 3:22 to a modest 5:25 and result in their inherent intensity having just enough breathing room relative to the fluid transition of styles.
Both 'Le Colosse Aux Pieds D'Argile' and 'Anomie' tie themselves adequately to an album rife with adrenalised and overt displays only gratuitous in the most positive extent and meaning of the very word. Quietus close their debut less inclined to the complicated ferocity the first half of the release was built on. These aspects are still present, but particularly in the case of the former, are contrasted and tempered. Through the latter, they reflected upon and simplified into a driven and overall Post-Hardcore sound.
Quietus perpetually interchange between two stylistic mainstays as they absorb all that is respectively in between. Chaos Is Order Yet Undeciphered is an exhausting and difficult listen but one unambiguously required within the realm of heavy and Progressive music in 2020. In a word, Quietus are unrelenting.