Byenary – London, England, United Kingdom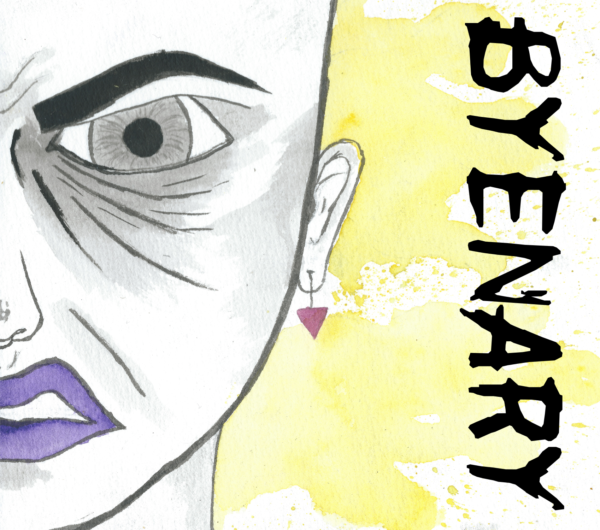 Byenary and their debut Self-Titled enter a Punk-Rock scene undergoing some changes. The contemporary scene has stood-fast on its stance to be an inclusive, welcoming and progressive hub for those considered minorities within it. This, within a greater scope, also extends to society itself. However, to be succinct, despite forward-progression, it is not even, for some bubbles are further ahead than others. These specifically expedient and leading spherically-shaped floating bastions require growth for not only themselves and their respective self-sustaining safeties but in order to educate. Again, enter, Byenary and their debut self-titled via Hell Hath No Fury Records.
In the forthcoming latter quadrant of August, the London Queercore two-piece will be unveiling their debut Self-Titled release spanning six-tracks of trans and gender-nonconformist rage, humour and politics. Identifying against the grain of the majority-view within gender and sexuality in this modern age is something visibly not easy. This is even emphatically evident from the perspective allies of the movement. This is why bands and scenes such Byenary and what they inhabit exist and require your attention. Onward.
After being greeted by screams and shouts denoting to rhetoric that even a gender-conforming person would find annoying, Byenary unleash immediately. 'I'm not your fucking princess […] I'm not your handsome little boy' is not only archaic within the now, where boundaries are blurring and shifting but is actually quite damaging. Byenary, through a sporadic blast of early, Garage-esque Hardcore Punk, destroy such rhetoric. The band then return with what's left of it and then swiftly exit through the front of the stage. 'Princess Give A Fuck' closes with lone-vocal repetition taking the schools and techniques of Refused and Petrol Girls and driving them into the barrier they wish to break, with unrelenting and determined vigour.
'We Will Not Be Silenced' is a battle cry beyond the cliché of said description. Track two is threaded with a mildly warped line that accompanies exuberant, yet dangerous and archetypical cycling drumming. The two-piece Punk band formula is indeed simplistic by nature. That said, in Byenary's case, their instrumentation is purposely limiting itself to match the primal nature of themselves. The band's instrumental aggression is at a stage where it can exist wholly. That said, for me anyway, Byenary tease possible future, higher-octane forays. To be concise, the band's message is their operative focus.
'Pint Of Piss' is another in this vein. Byenary's numerically middling effort is sardonic in its humour at its base but soon segues into a rage that fuels the very humour itself, then obliterates it. The band have a point you know, there certainly is a uniform. 'Pint Of Piss' not only marks a highlight in the band's cathartic expression but boasts Chuck SJ's and Jodi Freers best vocal dynamic, interplay and contrast. Musically, akin to the proceeding 'You All Bore Me Shitless', 'Pint Of Piss' is a release notable.
'You All Bore Me Shitless' is perhaps the rawest expression on Byenary. Chuck and Judi champion expression within their own circles and bubbles as much as they do generally. Byenary verbally lambast societal parameters limiting self-expression. The norms are challenged and Queer-society is on its back foot and ready to defend itself. The band's message is delivered via inherent, sarcastic, sardonic humour laced with unequivocal conviction.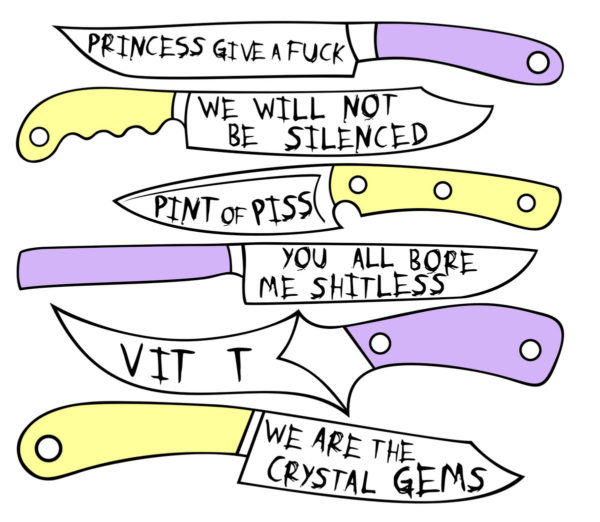 Releases such as this debut, are by the marginalised, for the marginalised but that doesn't mean they can't strike a chord with the "normies" of society. 'Vit T' delves into the inner mind, struggle, rumination of Byenary-daily life. The track is a humourous yet hopeful and honest expression of what it means to be gender-nonconformist. However, the musical-musing and educational resource that is 'Vit T' is hereby locked until the 28/08/20.
'We Are The Crystal Gems', instrumentally speaking, is comparatively more driven than much of what Byenary offers. The closing number presents more of what I would like to see from this aspect of the infectious yet simultaneously symbiotic abrasion displayed the band. This debut release is one of shock-factor-vintage-Punk-Rock and in each of its six-offerings is unquestionably intrinsic to its verbal running mate. After all, there is a reason why the stylistic has stood the test of time.
But what of 'We Are The Crystal Gems' and its insights? Well, if you were to play a track to those deciphering the profundity of gender-nonconformity, of whom required it in layman's terms, you'd play them this track. However, 'We Are The Crystal Gems' is resoundingly more functional than just that. The closing track of Byenary's heart-occupied sleeves is a defiant and empowering anthem for their own, much like the record as a whole. – 'We are human, just like you'.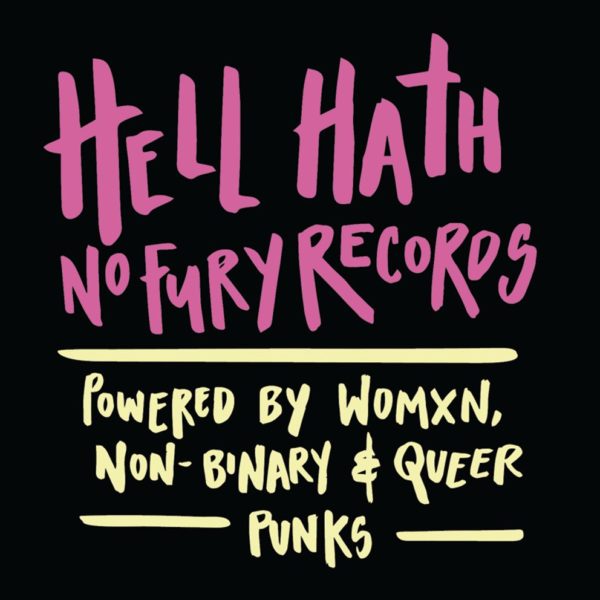 Byenary and their debut Self-Titled will release via Hell Hath No Fury Records on the 28/08/20. Find all things Byenary and HHNF below and pre-order the physical EP – Here and Here. Upon release, Byenary will be available in all the usual places.
Updates:
Hell Hath No Fury Records: