Forever Stormfest – The Butler, Reading, England, United Kingdom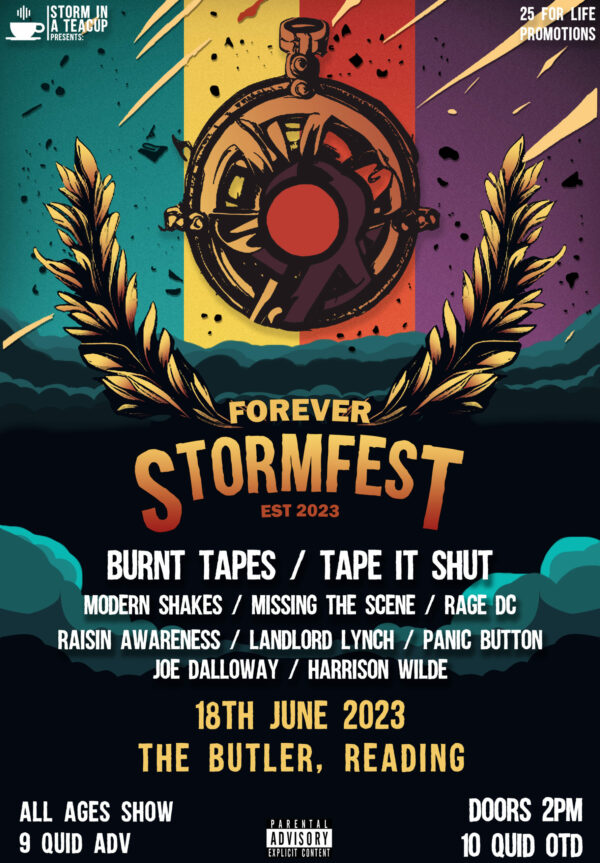 Mid-June. The DIY Punk music scene. What is set to occur? Well, Forever Stormfest on 18/06/23 my dear live music co-dependent! That sentence indeed explains itself but similarly, it requires a little literary shove to both quantify and tell you precisely why Forever Stormfest is set to be such a wonderful time and crucially, also why, you should absolutely consider supporting such an event boasting such a stacked inauguration.
Forever Stormfest will be hosted in the heart of Reading at The Butler with a dual-focus modus operandi. The day of June 18th will be dedicated to the proliferation and support of not only the local DIY scene but also that of the UK as a whole and also, decisively parallel to them both, coming together to support causes that permeate the lot. Forever Stormfest is not only showcasing bands close to the heart of the Reading music scene and beyond but seeks to raise money and awareness towards the constant need for mental health services that many require in the high octane yet paradoxically dismal day-to-day of modern life.
With their local x entirety mantra clenched in the conviction-imbued fist of Punk-Rock backed with swings of community clout, the day festival will be raising money for both Mind and their ubiquitous out-stretched hand, but also locally for No5, who fight on their own flank of the good fight against such a crucial lifeline in modern society.
But what of this line-up? Well, in a move increasing in seamless frequency across the DIY-scape, Forever Stormfest's two stages at The Butler are set to have no clashes, giving the hybridised wash of local favourites and equally as devoted out-of-towners the chance to push their dopamine-inducing wares to all those in attendance. And who are we to credit for the incoming festivities? Well, the masterminds of this event are Reading promotional staples Storm In A Tea Cup Presents and the age-defying Forever 25 Promotions.
Compiled from the current, the fresh-faced and the veterans, June 18th is well-catered. Be it the emotionally heavy-hitting "regret punk" of London's Burnt Tapes or lone voiceboxes complete with their organic cathartic axes, Forever Stormfest has you. If the playful bounce of Pop-Punk is your jam, the aptly titled Raisin' Awareness are ready and waiting and if it's melodious, existentially-fuelled Punk-Rock then look no further than Modern Shakes and Missing The Scene. Though of course, this fledgling festival has more to offer, I would be failing my own canon if I failed utter but a few words pertaining to the inexorable pace of Skate Punk set to emanate from home-town fast-punks Tape It Shut. But fast.
The combined vision for Forever Stormfest is to establish itself as a staple of the Reading music calendar but also to join the ever-expanding gig and festival roster that we all as tributary veins of the beating heart that is the live music scene are a crucial symbiotic part of. Waffle aside, combined, Forever Stormfest have plans to bring bigger and better things in the years to come and the 18th of June 2023 is but the beginning.
All profits from the festival are being donated to both Mind and No5, with tickets and other information, including for both charities linked below.
Storm In A Tea Cup:
Mind:
No5