The Menstrual Cramps – Bristol, England, United Kingdom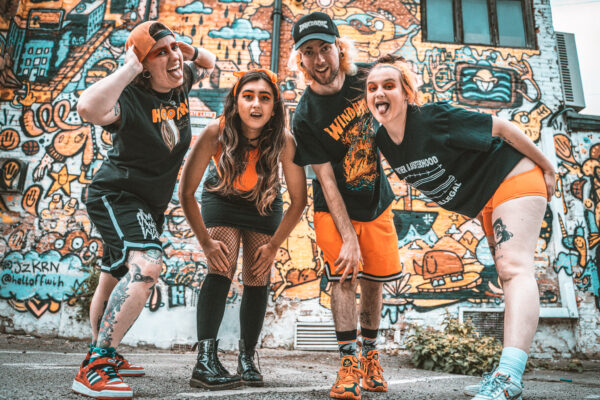 "The Most Annoyingly Loud and Expensive Instrument: AJ From The Menstrual Cramps" is today's order of audio-adjacent discovery. Now, truly, if you've spent any time within the UK Punk scene this past half-decade, you're bound to have come across The Menstrual Cramps, in, around or outside of the southwest. A name firmly placed in smiling defiance and fervour wherever they are, the four-piece are a staple, foundational and crucial name not just within the Feminist and Queer Punk scene but across its total breadth and specifically so when considering the city of Bristol and its own contribution, one itself charged with a vibrant alacrity for change.
Over the tail end of 2022 and also with a few words treading into this very year, I had a digital chin-wag with the band's resident skin beater AJ. What spurned this interview? Well, because drummers are also in the band I'm told and indeed on stage. Somewhere…
And so, The Most Annoyingly Loud and Expensive Instrument: AJ From The Menstrual Cramps.
---
Firstly, because starting silly is always good, explain who you are and what you do as badly as possible using as many Bristol colloquialisms as possible. I'm hoping to move there soon, so I should probably learn!
Well funnily enough (like most people who live here) I'm not FROM Bristol. Emilia is the most Bristolian out of all of us and they would describe me as:
"Alright me loverrr! Arr AJ is arr gert lush drummer, and also arr driver (cheers drive! Also need to get the air con fixed cus the car is MAFTING), me old mucker is a dab hand at the ol' artwork (ark at ee mind!) so she knocks that up an' all!"
You know what? I had a feeling that might be a response after I sent it. It's the same where I live! Well, that was fantastic AND I (mostly) understood it. Twelve years in the southwest is paying off.
On with it then! How does it feel to be back playing shows again? Especially as you've had such a run over the summer.
Haha! I know right? I'm still not quite sure what it all means.
The shows towards the start of the year were definitely a struggle! I don't know if I had long covid or just my stamina had disappeared after 2 years of no gigs but our first show back was at Fishstock (March 26th) and after the 3rd song, I was really worried I wasn't going to make it through the set.
Fast forward 5 months, and we're back into the swing of regular gigs again I'm feeling better! Just in the past 6 weeks, I've done 13 gigs. Autumn and Winter will be a lot of practice, writing and recording.
I was actually going to ask you how that show was but you've beaten me to it! If it's any consolation, it didn't seem like you were struggling from where I stood. I'll ask you more about the newer material later.
As you're first summer back that's quite a few! I have to ask, in all seriousness, have you missed loading in? Even a little bit?
Hahaha!
We had to sell our van not too long into the start of covid – With the unknown deadline of when our next gig would be, it was a bit of a money drain, and with the 2 members leaving we had to basically start from scratch again anyway.
So for now, we use my personal car, (I'm not going to dox myself on what car I have) but let's just say, the years I spent playing Tetris as a child have FINALLY paid off, and there is a little bit of satisfaction when I can tessellate everything in.
But it does REALLY suck when venues/promoters tell you to bring gear and you end up lugging HUGE, HEAVY hardware that you drive all the way up north with and when you finally get to said venue, you then have to drag that heavy box down flights of stairs to realise you didn't need to. AND to then lug that around for the rest of the tour…
Let's just say that was pretty damaging to our wallet and backs. Then they went right into our little black book of promotors to never work with again. hahaha!
I worked in retail for many years and I've been running bars for some time, post-Tetris tessellation is a skill far too fabled!  
Sadly, that's not the first time I've heard that, were you plagued by this on the most recent tour? Also, comparatively and generally speaking, have you found issues concerning backline and gear and such become more or less prevalent in the years you've been in a touring band or is it simply luck of the draw? 
Nah, it was just that one tour!  Those memes about house drum kits, well, let's just say, there is a reason they exist haha!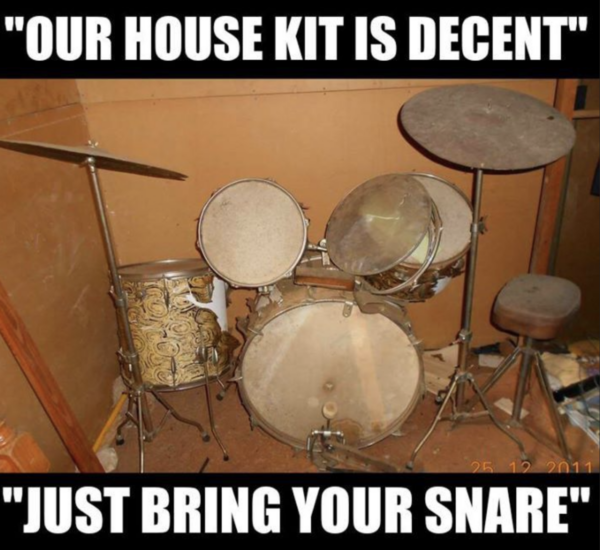 Some have been a little bit on the rougher side but I would rather play that, than lug my whole kit because 1) we don't have the space and 2) I am honestly so tired after all the driving, that the thought of THEN having to set up my whole kit ?!? That would probably kill me off.
Luckily most of our other shows this summer have gone fairly well! We did have a few shows at festivals where the edge of the stage was an inch behind the drum stool, so I couldn't move the stool back or lean back because I would just fall into a void and off the stage.
Sometimes I feel the void is preferable with the way things are. What's the most ridiculous set-up you've seen? Have you ever been met with a shrug mid "what the…" as you're met with a house kit?
Speaking of kits you've seen, sort of, I read in another interview that you've been playing in bands since you were 14, outside of Kiss me Killer and The Menstrual Cramps, what were the other bands like? We're they in a similar vein?
Haha the worst easily is where the stool was a fold-out plastic chair with a big crack in it which would pinch my back and the snare stand had an arm missing so, I had to hold it up with my leg the whole time. The stage also had a big gap in the middle where Emilia almost snapped their ankle off in it. 
Oh yeah! Actually, my first band was a Riot Grrrl band, we started with covers from The Distillers, Jack Off Jill and L7, so kinda similar vibes.
But yeah I've hit quite a few genres: Screamo, Pop, Synth-Pop, Country/Jazz, Surf Punk, (I even auditioned for Rash Decision when I was about 17, but I couldn't drive yet!) and I also played Synth in a Pop-Punk band. So I've kinda gone full circle in a way. 
Jesus Christ. I am somehow always surprised despite hearing stories like that all the time. 
You can't go wrong with (The) Distillers covers, but yeah, that's quite a list. So, with that in mind, can you remember the moment when you decided drumming was the one? Notwithstanding any awareness of structurally devoid fold-out chairs haha
I tried everything… EVERYTHING! before I landed on drums. My Mum used to play violin and piano when she was younger and my Dad is a bassist, so they pushed me and my siblings to pick an instrument. I started with the usual primary school crap – the recorder. That didn't last long at all.
Then I did some piano, guitar and bass, then I really wanted to play sax. I met the teacher, and he was sooo sarcastic to me and was really grilling me about why I would want to play (I was into Ska-Punk). He shoved a sax in my hands and said… "try to make a noise out of that". I did, to his surprise, and then he just went… "no, actually you can't play, your hands are too small!" – Bearing in mind I was in year 9 at this point. I think it was blatant misogyny honestly because my younger brother then went on to play the sax.
Anyway, I was also into Slipknot, so I went home and was like, well I wanna try drums now. My school had a lovely female teacher, she fully embraced my music taste. I remember she even transcribed tabs into sheet music for 'Chop Suey' and 'Fat Lip' for me pretty early on, and it stuck! My parents were so understanding of me picking the most annoyingly loud and expensive instrument, they used to force me to practice for half an hour before I went out, and I had to downgrade to a bunk bed to fit the kit in my bedroom. It's safe to say I have no regrets, and I am so thankful they pushed me to practice!!
ha! The recorder! I remember that! They just left me with the Xylophone. Going to school in the '90s and 2000s I'm sadly not surprised to hear that. You should find a practice space conveniently near to where he lives!
Outside of Slipknot / Joey Jordison, who else were you inspired by and who else had an effect on your playing? – What releases or tracks made you want to drum back in the day and how many of them are still on "regular rotation"?
Xylophone is definitely an instrument that you rarely ever see shredded in the Punk scene, maybe you should pick it up again! Haha
Derek Youngsma of Bleeding Through was also one of my original favourites, he definitely has a lot of influence on how I play the double pedal, and I am so glad they are back!!! I still listen to them regularly.
I Wrestled A Bear Once was a band I was obsessed with, they just had a strangeness that really tickled something in my brain. Mikey even gave me a bunch of tips after a show at the White Rabbit, Plymouth (RIP). I still listen to them and Courtney's new band Spiritbox is easily in my top 5 at the moment.
When I got more into practising, I used to drum along to the whole of 'Rise Or Die Trying' by Four Year Strong. I haven't listened to them in an age, (so I) might see if I can still do it.
Not many women were in the scene when I was younger as you can tell hahaha.
From what I remember when I was first finding my feet (ears?) in Alt music, that seems especially the case with drummers. On that note, who are your favourite drummers who are women and queer folk in the current scene and extending that, who are your go-to bands in the current crop?
Female/and nonbinary drummers in the scene… There are still not too many, (and most are in multiple bands), but some great drummers are:
And through the power of the internet, some of my favs are Luana Dametto, Kristina Rybalchenko, Sarah Thawer & Senri Kawaguchi.
Bands I'm obsessed with at the moment:
There are some great bands on those lists. If you were to put on a festival or all-dayer, along with those, who else would you put on? This can be from the past and present if you like.
And also, quickly, how was the show with Petrol Girls in Bristol? I was actually supposed to be there but rather contrary to this "brand" of mine, one of my ears decided to give up for a bit.
Ohhhhh okay, so a hypothetical festival, that's so tough, I'm just going to include a bunch of old bands and then some bands I found this year…
So I would also have to include:
Bands from the grave:
As much as I have a love/hate relationship with Spotify, the recommended playlist I get every week really does show me a bunch of great bands!
Oh no! Hope your ear is doing better now! – The Petrol Girls show was amazing! It was a little bit too smokey though! I couldn't see a thing and the fire alarm went off! My parents managed to come up and watch (their first time seeing The Menstrual Cramps) They said they understand the hype now, Hahaha.
James King was doing the sound, and it was amazing! He did also mention we had the fastest sound check of the year, so I dunno if that says more about him, us or everyone else haha! It was a great show to end our summer with, we then took a month off to recover and rest.
I also had cracked all my cymbals – minus the ride, so I had to replace them all!
"Bands from the grave" made me laugh perhaps a little too much. As for my ear, full cliche "jokes" regarding the webzine's name have resumed, thanks! 
I'm glad it went well and that your parents saw you play but I am gutted I missed it. Oh dear, it seems EVEN smoke machines have got it in for drummers! 
Looking back at that list, there are some to be heavy-set bands on there. So, with that in mind, as it stands, what do you have cooking as a band? Has the dynamic for writing and such changed much with the new blood safely in circulation? 
Haha as if it isn't hard enough to get a decent photo of me playing, best add loads of thick smoke for good measure.
Ah yes! So Zam has written a bunch of demo tracks already and at the start of the year we were sending bits back and forth. We have very similar music tastes so it's fairly easy for me to write the drum parts.
Emilia also gave me all their lyrics and I quickly drafted the 2 new singles in time for our first gig ('Abortion' & 'Body Politics') – Even to just see how fans/friends reacted.
It has then been full-on since then, we have had loads of great feedback, (so I think they will make the cut) and I think they kinda set the tone for the next album.
We have a couple of gigs this month (November '22) and then it will be writing and recording time to hopefully have a new album in time for next Spring and a big ol' release party; obviously!
That's really good to hear it's going well! Is there anything else you can allude to stylistically? What influences have cropped up this time? And to further that, are you planning an EP? An album? To infuse a Xylophone into the mix? Obviously, I don't want to get you into too much trouble!
Honestly not yet! We are aiming for an album but there are no limits set out. So who knows what will happen!
It's going to be a pretty big experiment and learning curve & still DIY of course.

Abi only started learning bass in lockdown to join the band
Zam hasn't been in a band for 5 years prior to this, and although I've been in the band since 2019, we're all new to writing material for this band (except Emilia of course)
So it will be all new processes and our inputs mashed together. I think lyrically that the themes will still exist.

We also met sooo many cool people this year. So there may be some sneaky collabs.
If we need a Xylophone, you'll def be the first person I'll ask.
Now you've played the new tracks live, what would you say is your favourite MCs track to play live and why?
My favourite track to play live is probably 'Abortion'. It's got some good grooves and a nice chunky breakdown. It's really satisfying when everything all clicks into to place and I think it's going to sound really powerful once it's recorded.
I'm sure fans will be pleased to hear that! I'll make sure to practice and keep an eye out for the "batman" style TMCs logo in the sky.
I wanted to ask you about how you're feeling about the scene "at the moment", though "recently" might be a better term. However, first, before we get serious for a bit, I have to ask, how was the "minimal swearing" debut? Apologies if you've been grilled about that a million times already!
Hahaha! I can see it now. Maybe I'll actually draw it, y'know just for emergencies or for when the 'Tofu Eating Wokerati' light is under maintenance.
Ohhh, hahaha! So practice was too funny, we were trying to come up with alternative lyrics for the heavy swearings songs:
"Corporate cunts" into "corporate cats"
 "Mullet bitches" became "mullet witches"
 "We wank off to gay male porn" was subbed with "we won't buy your vegan Quorn"
"fuck" became "stuff", "bloody" became "heckin"
With 'Mutual Masturbation' we tried a few jokes like "happy church vacation" and "mutual mastication" but it made no sense so that one didn't make the cut. When we got on stage there was a row of kids sitting at the front who were probably between the ages of 5 and 9. It was pretty funny!
After the show we had loads of parents coming up with their young kids wanting to get photos with us. Parents told us we should have sworn anyway haha! (but you never know the organisers can react!)
Although our set was slightly different, it did make us think about making some underage shows, or something similar, so that it's more accessible to under-18s. Looking back as a young teenage girl, it was impossible to go to shows unless I could convince my parents to take me.
That's incredible, I wish I could have been a fly on the wall for those! That's actually a really good point, "all-ages shows" don't seem to be as present here.
I remember seeing the band's IG posting about some issues with "crowd killing" at a show back in the summer. Looking back at your experience, pre-pandemic and post-restrictions, how have you found the atmosphere at shows and festivals?
I don't know if it's because of our like liquor licenses here or what? Maybe we just need to bring in the big straight-edge black crosses again, so you can come, but you gonna have fat-ass sharpie crosses on your hands (that last for 3 days) and a bouncer may smack a drink out of your hand without warning. Just in case. But yeah something definitely to consider.
Also the lack of accessible shows. During covid, all these bands doing live streams or video streaming gigs, and people had access to see shows, and now everything is back to normal that's all gone? I watched The Distillers, Every Time I Die, and Billie Ellish's shows during covid, all very different, but all really good. So hopefully that is also something we can do in the future, it's the technology/streaming side that we need to look into haha!
OHHH!!!! yeah, that was actually kind of funny cause when Emilia stopped the show and called him out, he tried to blame Cheri, my girlfriend, trying to get her kicked out. Like no, I don't think so. 1. We can see what you are doing 2. Stop trying to blame someone else 3. Get out – Then Emilia split the crowd like if you wanna mosh go on this side, if you don't wanna mosh, go on this side. The crowd split themselves up, and apparently, it stayed like that for the rest of the weekend. Haha, at least everyone can enjoy themselves then at least, and there were people in the crowd who had canes, crutches and wheelchairs, it's just common sense.
Post covid there is a bit of a weird dynamic. Some shows are really nice and chill and the crowd is very aware of everyone else, people have space, some people still have masks on, there's no aggressive dynamic, and it's fun. Some are almost too chill. No one wants to look like they're having too much fun or enjoying themselves. Not looking at London specifically (but mostly London haha)
Others are like, insane (usually, younger people just do keys and go a bit crazy). I wonder if it's those kids that turned 18 in the pandemic and never had the chance or option to go to shows and learn "crowd etiquette"? So they just go and just start moshing unnecessarily. Like my guy, did you not see that other person just walking past holding 3 pints that you've now just punched everywhere? And, that's not just shows we are playing, but shows that I'm attending. I'm too old now to get a flying spin kick in the tit or an elbow to the top of the head. I end up standing at the back a lot now, I can't risk getting hurt, and I'm still getting over a sprained ankle, but dang everyone is so tall now too, OR I just got shorter hahaha.
He sounds like a delightful being. You've really hit the nail on the head there, it's definitely simultaneously more considerate, reserved AND more extroverted.
How have you found the attitudes of the bands at shows, as well as gig, venue, and festival staff and ofcourse promoters? Has that changed much for you now you've played either side of said mess? Do you still find the same old issues pervading it all?
Most of the bands have been amazing! We've made some really good friends and hopefully, we can sort out more potential shows together in the future.
Attitudes have all been very positive, I think having like 2 years off has been hard for musicians. I really missed playing and performing and seeing friends, especially on drums. It's not something I can just play in my flat haha. Some festivals have been absolute chaos. Trying to wave down a minibus at Boomtown at midnight with gear, to then have to sit on each other's laps and almost not get let back in, is always a struggle when you've had no sleep haha.
Of course, there is a lot that goes into planning a festival but when you play a lot back to back it starts to become really obvious which ones are well planned and which one's aren't.
There are always the same issues. Not being let into venues as you are loading because they don't believe you're in the band. Bouncers that have to check your ID every time you enter the building. Security trying to remove you from the venue as you are packing up and pouring out your water when you try to enter with a bottle and you can also always tell who has read your tech spec haha. Luckily we've not had any threats this year so that's been nice! Hahaha.
Make sure you update the "Years since last incident " sign – Joking aside, no threats are always positive.
That said, it does lead to something else I wanted to ask.
Speaking of people not believing you're in the band, how have you found the attitude toward women and queer folk in the scene? Both on this side of "the mess" and in general over the last few years. On the surface at least, from a fan's perspective, there seems to be a greater drive toward inclusivity but if you were to give your unbridled opinion on the scene as a whole, as a fan and an active musician as it stands, how do you feel about it?
I ask differing forms of this question in most of these interviews and the scope of answers tends to vary.
I don't think the incident counter would ever surpass a month, to be honest, and I feel like there are not enough hours in the day to keep on top of daily life let alone scrubbing back to zero all the time hahaha!
Inspiration does come from the strangest of places. We did just get a pretty funny youtube comment, which had me in stitches. Maybe I can slip it into a song somewhere, the haters really do give us some comedy gold. It said – "Wow, I cannot belive (sic) it, you have outdone yourselves. This is the shittest thing I have ever heard. Congrats!"
In our scene, the attitude is always really great, and everyone is so supportive. But, when you are in a queer band, playing a queer lineup to queers, sometimes it can feel a bit like an "echo chamber". It's nice and safe. But we definitely notice the difference when we are maybe the only band with female/female-presenting people. Sometimes we are definitely the box tick/black sheep on the line-up, which is fine! But on the stage, you can feel the scepticism from people in the crowd, you can feel the energy in the room is different. As the old saying goes – "A woman must be twice as good as a man to get half the recognition."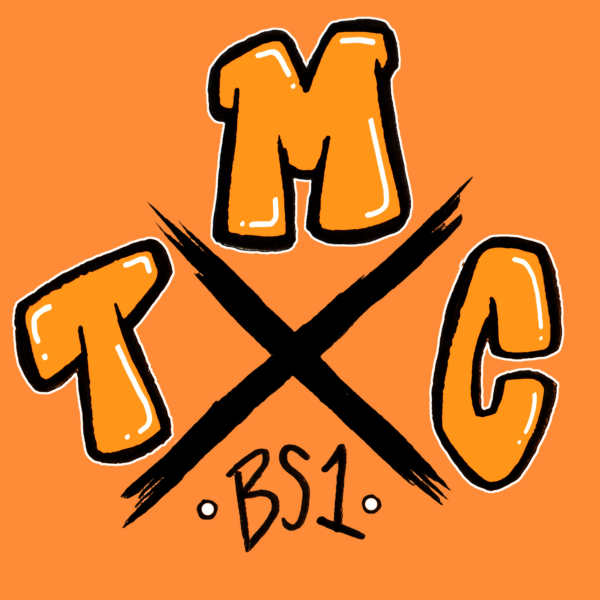 It's always nice when we have some friendly faces in the crowd, and you can focus on them, and not on the staring, analyzing, crossed-arm people. We sometimes have people come up after we finished, like –  "omg that was great / I didn't know what to expect, that's just what I needed / or I only watched out of curiosity because I thought your band name sounded funny / I came to see if anything kicked off." – It can be a mixed bag of compliments.
I think bigger bands taking and using their platform and being more vocal about it is great, but there is something a bit jarring when a big band will be like – "we don't tolerate racism, fascism, or transphobia" and you just hear whoops from just the women* in the crowd, and you look around but the crowd will still be predominantly men. I don't know if they are just shy, or if they don't agree. *I use that as a general term.
To name a few I recently watched PUP and The Wonder Years and they both said something along those lines and had a nice range of support bands on their tours. You do still see a big disparity in festival lineups on the lack of diversity. Like, they do exist, we exist. There are so many resources and google docs available and you don't have to always default and book the same bands/bands with allegations against them.
There isn't much room to argue with that perspective and I should think you'll have resounding agreement from many reading this. I do look forward to the "youtube comment song", however, so please let me know.
Before we get a little silly again, based on what you've said, how do you think an interaction with a young AJ would go if such a thing was possible? What would they make of where you are now?
I think the younger me would be pretty happy! There are still some tick boxes I guess that I am kinda waiting to tick off, like; I was dying to play something like Warped tour, Download, or Groezrock. But it's all about "who you know", sooo maybe something more achievable would just be to play some iconic venues like the Underworld or Rock City?
Oh, and I would have LOVED to be in something like Kerrang or AP, not that I'm even sure if people buy magazines anymore, or that anyone would want a picture of my face on their wall hahaha? Maybe the younger generation isn't as obsessed with posters as we were.
Although I'm sure younger AJ would also be shocked that I still have to work full time and that we crash on sofas and airbeds and I have to pay for all my own gear, and it really is the LEAST glamorous lifestyle ever!
And, it's that moment when I'm unloading my car in the rain at 5 am, after driving back from somewhere like London, and I'm like… " oOoOoh I'm A RoCkStAr !?!?!" haha, no but I do love it, or else I would have given up a long time ago. But, I am definitely feeling more my age now. I have to warm up, injuries take longer to heal, and I have to almost access everything beforehand like:
What chances of getting hurt?
If I get hurt, am I going to be able to play this gig?
Can I still work so I can pay my rent?
Can I still drive to the gigs?
I sprained my right ankle right after coming off a stage, right in the middle of the festival season. It sucked SOO BAD! I still had to drive, camp, set up, and play. I just had to push through. I think I better start doing some yoga haha!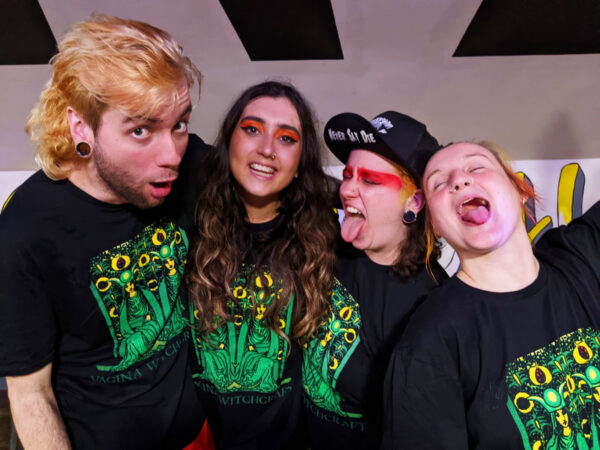 There's still time! And also, don't be silly, as we've discovered no one takes photos of the drummer! Too much smoke or *insert reason here*.
RIGHT. You're putting together a line-up/supergroup of sorts comprised of members from the "Big Mouth and Human Resources" universe and you're also in the band. Who is playing what? What genre is being smashed out and what is the name of the debut album?
I think it would have to be keeping in The Menstrual Cramps theme. Sooo, 'AJ & and the hormones'. Although maybe, like a HEAVY horror surf band, but purely about "surfing the crimson wave" and with period puns for track names.
Debut album name: 'Under the full Moon(cup)'
I'll go on vocals, I guess drums too. Maybe it could also feature some screams from Menopause Banshee, with Mona on guitar and backing vocals. Connie is on bass and also backing. I think those harmonies would sound great personally.
Sticking with fiction for the moment. I know we have previously joked about no one ever photographing the drummer, so if you had to write a comedy/sitcom about being the one sat at the back, the drummer that doesn't always get photographed, what would you call it and what would the pilot episode entail?
Hahaha, um maybe I would just call it 'The Caboose'. I feel like it would play out a bit like 'It's Always Sunny […].'
The pilot episode would include me setting up and planning an elaborate photoshoot for me to finally be photographed. But then to have all the issues arise like, all the lights don't work, the photographer falls out the window, the camera has no film in, no one has any memory on their phone, and the only photo taken is me out of focus with the cymbal covering my face. A bit like on Monsters Inc. when mike finally gets on the cover. Hahaha.
I would watch that. You could also do a "Charlie Work"-style episode where the drummer gets their own back.
Right, I have a few different things to ask before we pull the curtain (only over the drummer though, obviously) – Firstly, do you have a band merch/merch "vice" at all? What do you have far too much of?
Secondly and far more relevant, if you had to compile two bands from the UK DIY Punk scene to play in two "supergroups" for a double headline tour, who would you call upon? You're playing bass in one band and drums in the other.
And, lastly and most importantly, what advice would you give to any women and queer folk looking to take up drumming in this great game?
Haha! I feel like my life is "Charlie work", so I'm glad that I would have at least one fan hahah.
Band T-shirts. Oh my god, I have waaaaay too many. I even tried to upcycle a bunch and now have a pile of cut-up shirts that I need to do something with. I wanted to sew them onto a duvet or something, but I've just not gotten around to it yet. There are far too many coming into my life and not enough going out. I just have some weird emotional attachment to them all and way too many memories to just throw them away. I CAN'T even get rid of the ones that don't fit me, or have had the sleeves off, or bands I don't listen to anymore. 
Okay, supergroup 1 would be comprised of my Cornwall pals, it would be:
Me on drums. Bass would have to be Si (Big Tasty) of Monolithian. Guitar & vocals – Sarah of Tiger Empress and on 2nd guitar and vocals Nat from F.Emasculata/Swansong. It's gotta be heavy and fast and the vibe is like your petrol tank is on E but you are speeding your way to a 24 hour Tesco in Truro for some snacks like Ben and Jerrys, cause it's the only shop open in the whole of Cornwall, you're on your period and you feel like you might die without it.
2nd group:
Me on bass, Andrea from Cydernide on vocals and on drums, Dan from Pizza Tramp. On guitar, it would be Lennie from Pink Suits. Oh and Jordan (Incisions) is also on vocals and the vibe is just chaos and noise. Like your radio, tv and phone are all going at the same time while trying to write an email and then a random animal just walks into your flat. hahaha does this make any sense?
Ohhh advice for taking up drums, (besides making sure you have a credit card) is to find people to jam/connect with. (Just) lessons and practice make a lonely feeling. Being with other musicians/drummers/anyone! – really helps. I learned so much from just playing open mic nights or playing music I didn't know and joining all the bands possible. Just throw yourself in the deep end and you'll be surprised how much you can figure out. This year I really want to find time to trade chops with people and just have some more little practices with other drummers.
Also, you can just message me. I love meeting people interested in taking up the drums! Heck, I'm even taking drum lessons! The learning never stops!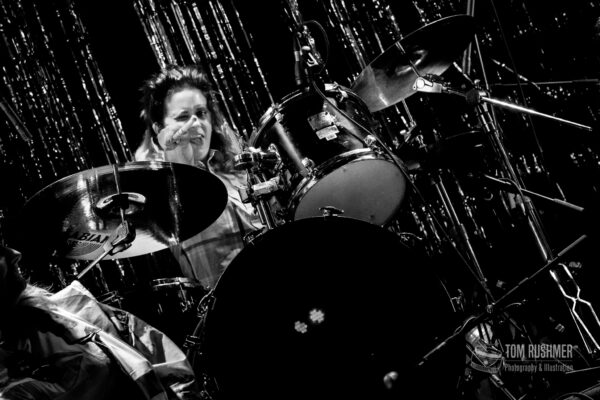 ---
Well then, that was The Most Annoyingly Loud and Expensive Instrument: AJ From The Menstrual Cramps, otherwise known as discernible proof that drummers exist behind the blurry shots, mountains of gear and everyone else!
Jesting aside, you can keep up with The Menstrual Cramps below and don't forget to take a deep dive into the plethora of bands mentioned in this interview.
Nice. But in focus.