SENECA – Devon, England, United Kingdom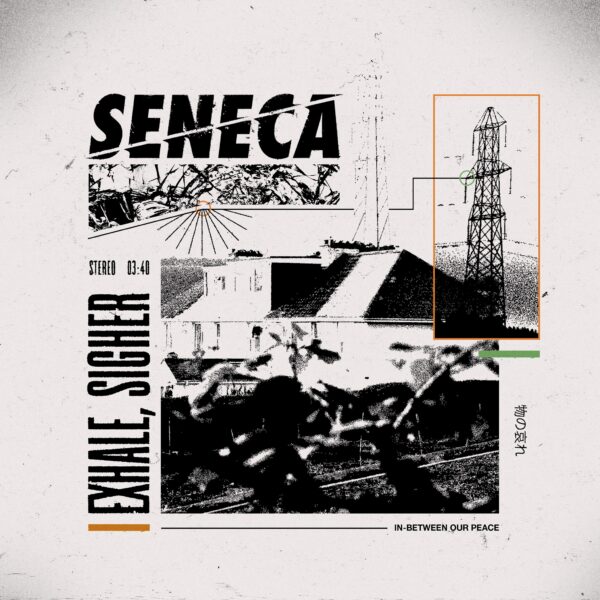 SENECA and 'Exhale, Sigher' fit into an interesting time within the underground music-verse. The ability to churn-out releases and even write and practice has been severely inhibited these past twelve-plus months and yet, the music scene has remained indomitable by a hairsbreadth. 2020 saw a tirade of ironic releases and a fellow earnest drive to write and record newer work. SENECA and 'Exhale, Sigher' are very much the next chapter and a bonafide part of the latter. 2021 seemingly, at last thus far is set to be more of the dismal same. However, the aforementioned fruits will soon be ripe. The second reason why this time is interesting is that now, so late on in the timeline, "alternative" music has reached a huge and amalgamative wealth regarding its influences and capabilities.
SENECA's debut cut a huge wedge in this plethora of source material. The band are resoundingly indebted to Post-Punk in their gloomed vocals and sombre, brooding demeanour. They are resolute in the weight of their Alternative Rock and Post-Hardcore and finally, intoxicated and excited by the spasmodic, writhing mass of precision that is Math-Rock. Now, however, it is 'Exhale, Sigher' that is free to roam.
The debut single reached its end in a combustive reverberating Post-Hardcore and single #2 mirrors this intensity. SENECA waste no time on 'Exhale, Sigher'. The band cycle around their kit with jabbing defined layers and charged Math-Rock-led Post-Hardcore as the lineage of Punk-Rock intensity makes itself known. Vocally, the inherent Post-Punk of their former single moves to and from such foundations with an impressive, soulful range in an impressive, dynamic and harmonic display. 'Exhale, Sigher' is melodic as it soars but it is unquestionably intense and its glossed Math-chorus is enthralling. The opening and carried-over heavy-set aspect of the band is rounded and contrasted but not gone. SENECA effortlessly combine their multi-faceted sound, achieving an impressive symbiosis in a calming yet aggressive display. I wouldn't be surprised if At The Drive-In and their legacy is of influence to the Devon band, especially on the harder refrains and jabbing leads.
SENECA outlined this process and goal in 'The Ventriloquist' but it is in 'Exhale, Sigher' that every aspect is amplified. The band's melodies are self-sufficient. The further developed and cutting Post-Hardcore and Math-precision alike conjoin and leave open the ability to yet seamlessly split if required. Individually and as a band, SENECA hone their craft, lending to the dark tale of sleep paralysis depicted quite intrinsically as a soundtrack. The band are in symbiosis but only after juxtaposition has been defined, which in many ways, matches the exact mantra of the song. Acceptance feeds resilience.
Given that is the only the second single presented to the public, SENECA are of unambiguous quality and skill across their varied pigeon-hole resistant board. In other words, the brooding, emotionally-evocative, harmonic and ethereal display on 'Exhale, Sigher' is a considerably high benchmark.
I don't know what is to be next but if this single is anything to go by, it's going to be a gargantuan display of sound.