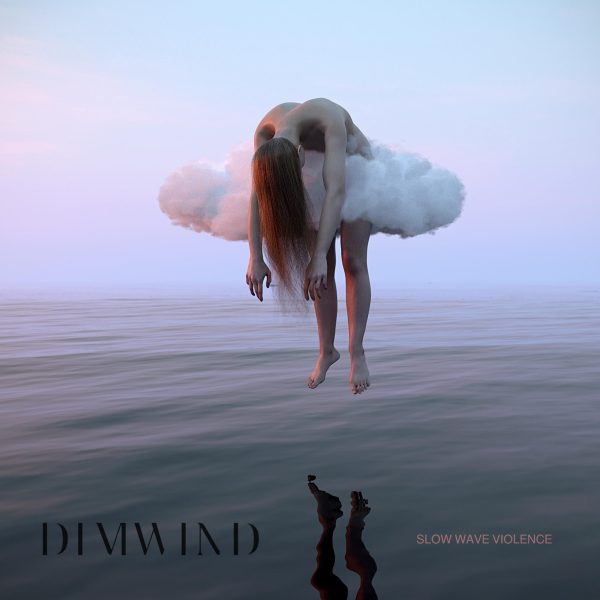 Dimwind and Slow Wave Violence. Truthfully, though initially missing it within my cavernous inbox, upon the reorganisation of said far from sonically devoid crevasse, Dimwind were discovered and a note was made. Here, now and without further superfluous waffle, the Gothenburg-based Post-Metal band enter with their debut Slow Wave Violence.
It is no small feat, but from Pop to Punk and onward to whatever contortion of Metal music you prefer, the nation of Sweden is never far from musical conversation. Speaking of Metal as a whole, the modern genre is often far too easily generalised or cast aside. The big "M" is often perceived by many as the same four or five "big" bands, an extremity of noise too coarse and abrasive to bear or simply confused with anything descended from heavy Rock. In short, its unquestionably lucrative variety doesn't get the attention it deserves. Post-Metal, though on the fringe of the Metal-scape, is one of these that should be championed. So now, enter proper Dimwind and Slow Wave Violence.
Dimwind's forty-two and a half minute opus begins with 'Blinds Drawn'. A melancholic fringe-Post-Rock incrementally builds a tension clearly impossible to circumvent, as short, melodic but no less brooding refrains add a reprieve to this uneasy plod, populated with a reverberating and jagged chug. Though Dimwind are safely entrenched within Post-Metal as a whole, they wear their penchant for Post-Rock openly. 'Blinds Drawn' through the use of effects, playfully guides you through a transfixing gloom of tempo alternation and intermittent layered intensity. A slow, reserved, bass-led refrain then introduces a charged chaos onward to the track's close. This final stage of 'Blinds Drawn' charges the batteries for what is to come.
With their foot firmly in the door, Dimwind are free to expand. Post-Metal is itself diverse. Some bands prefer inordinately heavy and gargantuan displays, some have a more persistent charged veracity and others favour incremental progression. Dimwind cleverly cross many of these boxes in the melodic but riff-heavy '4 AM'. Track two unleashes a barrage of frustrated riffs ahead of a contemplative tap from the kit, one chasing a whirling lead itself representing the maelstrom of the thoughts of these early hours. Track two represents a melodic but traditional Post-Metal, simplistic but hard to criticise.
'Slow Wave Deceit' on the other hand, from its opening, erratic, frustrating drum beat, is the opposite. The band's melancholic displays corrupt further melody as a snarling, dangerous rhythm section is goaded by short lashings of lead guitar before notable, two-stage breakdowns are rounded and barely tempered by a slow, whirling lead. Dimwind constantly employs and retracts this combustion, breaking its cycle of power with spasmodic and teasing refrains and bridges designed to negate any complacency. Though at times you're left wanting for more of this unbridled power, Dimwind maintain your attention nonetheless with quality alone. In fact, the band's calculated Melodic Post-Metal is truly settled by track three.
The 7:02 of 'False Awakening' playfully flirts with Post-Rock in between 0:47 and 1:53 in one of the finest reserved moments of the debut. However, it is followed with a similarly satisfying flexing of the band's metallic muscles, jabbing incessantly at atmospheric leads. Akin to track three, 'False Awakening' is a rousing confident display of Dimwind's take on Post-Metal. On a record that is clearly inspired by the feeling of melancholy and how such a feeling can interject and be interjected by washes of violent anger. The slow pulsating ebb of 'Håglös' follows and captures the overarching theme of listlessness. The term Håglös itself translates from Swedish to "listless".
'Pelagic Vim' marks a turning point on Slow Wave Violence. With "Pelagic Vim" pertaining to an enthusiasm for the "open sea", track six fittingly presents an explorative and strongly hybridised metallic Post-Hardcore. Though unexpected, this move is laced with the records previous efforts, as it charts a deviated but alacrity imbued course. Dimwind may have settled into a foundational sound but embody the beauty of the Post-Rock and Metal genres, that being the freedom to explore artistically.
Moving on. 'Broken Silver Cord' as you might expect, takes full control. Though inevitable, through the flow of Slow Wave Violence, track seven takes the balance employed throughout and magnifies and augments the full force of Dimwind's stylistic tendencies. Powerful, precise and charged drumming amorphously cascades through the Post-Rock and Post-Hardcore infusions, as they lay across the tempered but still writhing Post-Metal foundation. On 'Broken Silver Cord' Dimwind navigate their repertoire in the most calculated, seamless and fluid fashion, in the only way Slow Wave Violence should end.
The underground instrumental Rock and Metal scenes are in a period of uncontestable vitality and its releases such as Slow Wave Violence from Dimwind that are pivotal in its continued proliferation.