Blowing Silence Down – Haute-Normandie, France.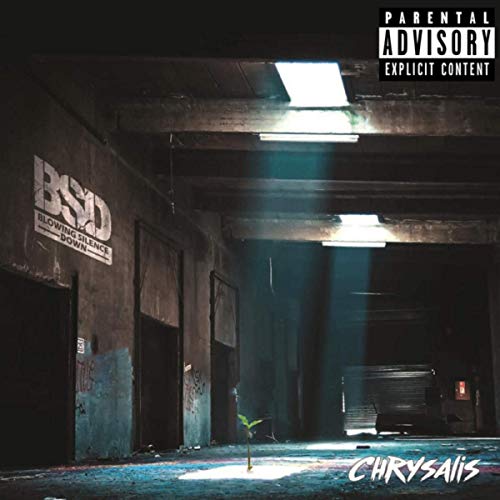 Cover photo credit: Guillaume Vilgrain.
The European music scene is one of strong variety and a welcoming "anything goes" mentality. Bands from the UK, US and of course a multitude of European nations, populate bills, tours and festivals so regularly that through either through use of social media or perhaps even the old fashioned use of those ever-so useful leg-things we are born with, will yield live music nights permeating almost every major city you could prospectively find yourself in.
This is where Normandy natives, Blowing Down Silence make their way onto your to-listen list or at least will have likely staked their claim after you've read this.
'Not Your Slave Anymore' carries all the hallmarks of early 2000's Alternative Metal and Alternative Rock where bands simply couldn't decide which medium was more viable for their dark catharsis. This leads perfectly into the Metallic yet Audioslave-esque riff introducing 'Wake' a song that then uses this link to Mr Cornell (RIP) to move then onwards towards Soundgarden-esque Grunge in satisfying melodic verses.
'Rise Like The Sun' builds on the melodic, lighter tone that 'Wake' very much pushed the band towards. Imagine yourself back in the day in the company of people declaring tracks and bands like this Emo or "scene-shit" etc… because it wasn't purveyed by some light-hearted painfully bland Indie-Rock band wearing white skinny jeans and (badly) rocking messy hair. The amusing thing being that labelling music such as this "emo" is way off the mark but due to the context of the time, was unavoidable. 'Rise Like The Sun' is very much one of these tracks but looks past falling prey to this stereotype as emotional Rock really isn't a dirty word. The band's guitars shine here in all their brooding, regretful glory.
After that display, Blowing Silence Down return to their riffs with 'Unleash The Beast' and its Stoner Rock-tone but solid Alternative Metal structure. Admittedly the track holds good continuity within the release but fails to be much more than a "good number" despite its well-put-together pieces and obvious live-show potential.
Blowing Silence Down may well be very firmly set in the early 2000's gloom and one particular scene but they fail not to look elsewhere and you have to admire that. In 'Break Free', Pop-esque drumming, brooding melodic vocals and a haunting guitar-line open a track that at first seems like somewhat of another filler number. But how wrong I was! The 1:14 mark see's the band suddenly, sharply, surprisingly and flawlessly segue into Punk until the 1:59 mark where they retreat back to the stylistics of the songs opening, with it this time actually sitting rather well until it then morphs in a Grunge-Punk hybrid refrain before the championing Punk-Rock returns.
It goes without saying that this is an album you have to commit to for its duration is not a short one. 'The Battle' merges feedback and sounds fitting of its name for 0:45 before RHCP-esque rapping and bass-groove is warped into Nu-Metal-infected Hard Rock and you find yourself transfixed on but rather confused with. Personally, I quite enjoy 'War' however, I would assume many will not.
Blowing Silence Down are going all out and continue to keep the listener's ears on their little sonically receptive toes. 'Don't Go' breaks the pace and aggression with a lamenting, emotional ballad before, droning, classic Punk-toned bass slowly ebbs in a track landing on its feet within rhythmic yet melodic Grunge paired with contemporary Alternative Rock; all with those guitar shining once more. 'What You've Become' is an album highlight absolutely and unambiguously.
This already becoming a mammoth-sized review but I feel this album deserves no less, especially in regard to the respect it warrants. It has its questionable moments and owns them and it has its cliche moments and re-invents them. 'Hurricane' is very much another staple to their sound as a more rounded Alt. Rock stylistic really does see the band more than at home. If Black Stone Cherry were more inclined to the darker angst enveloped side of Hard Rock or had spent more time listening to In Utero then they may well have churned out the likes of 'This is How It Ends'
Closing with 'So Hard To Let You Go' and 'Cold Winter Of My Soul', Blowing Silence Down now know that they have had your attention for better or for worse and now wish to slowly release you. Both tracks respectively move from dulcet Soft-Rock building intricate layers to accompany the by-now intrinsic emotive vocal-style onward to an eventual cathartic end, where classic Alt. Rock ('So Hard To Let You Go') and sharp, focussed and rage-inclinded Alt. Metal ('Cold Winter Of My Soul (Snow)') end this gargantuan and ambitious release.