The Packets – Adelaide, South Australia, Australia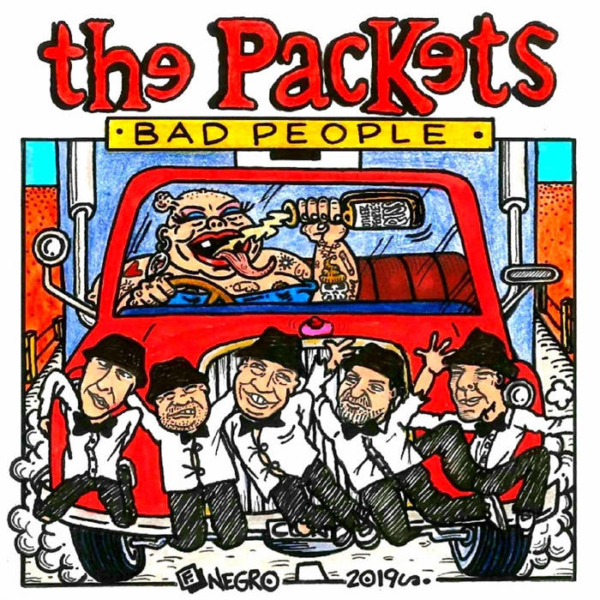 A disclaimer before we start, The Packets – Bad People, is not a serious release. So if you're expecting some sort of seriousness, either stay and have some fun or trundle along in search of the revolution.
Hailing from Adelaide, the five-piece take classic Punk and the Pop-Punk that came later and ply with a complete disregard for anything other than themselves and their humour. Think the Ramones and Teenage Bottlerocket but a little less serious, pair that with the Bloodhound Gang and Masked Intruder and I'm sure you'll have prepped adequately.
Opening eponymously with 'Bad People'. It becomes obvious that the track is likely the result of some sort of wishful thinking via a little comedic horror, gore and mortality. Infectious Garage-Rock plied with vintage Pop-Punk vocals sing of the worst happening to the worst people and its truly hard not to smile.
'Handjob' is near-to-pure Ramones appreciation bar its obvious penchant for The Beach Boys. That's all I really need to say on the matter other than I can imagine the first few rehearsals and renditions of this song took quite some time. But, its time to forget it all via the brass-tones and playful chugging of 'Shut Ya Mouth (Or I'll Smash Your Face In)'.
This third track is one that, much like the rest of the mini-album, will likely yield more than a little audience participation as The Packets cathartically express hatred via their token-comic delivery. Sonically, the brass-led Garage-Pop-Punk sees the band at their best thus far on a release where the music clearly isn't the main selling point.
'Ugly Girls' is again, exactly what you would imagine it to be about. The Packets are ugly boys looking for ugly girls via Guttermouth-esque fast-Punk. These ugly boys are true to form in regard to the age-old maxim of – "there's someone for everyone". The Packets aren't meant to be taken seriously, just remember that.
'Dial 666 S.A.T.A.N' opens with an excellent whirling lead showing more of an appreciation for surf-like tones in their Garage-Pop-Punk of dreams. Track five is entertaining but more of the same, yet that really isn't an issue. On a serious note, the production on this latest effort has improved tenfold from their previous and only aides the melodic yet gritty fuzz.
After listening to an album such as this sonic debauchery, seeing a track entitled 'Soap', you begin to wonder. I mean, tracks named as thus, it could go more than one way couldn't it?
Relax, it's about not washing. Fans of the Bloodhound Gang will enjoy this one.
Be honest now, no one likes being 'Surrounded Be Dickheads'. The closing number on this latest from The Packets is very much all about that very problem. You're not alone.
But anyway, that was, The Packets – Bad People. You never know, you might learn something.