The Raging Nathans – Dayton, Ohio, USA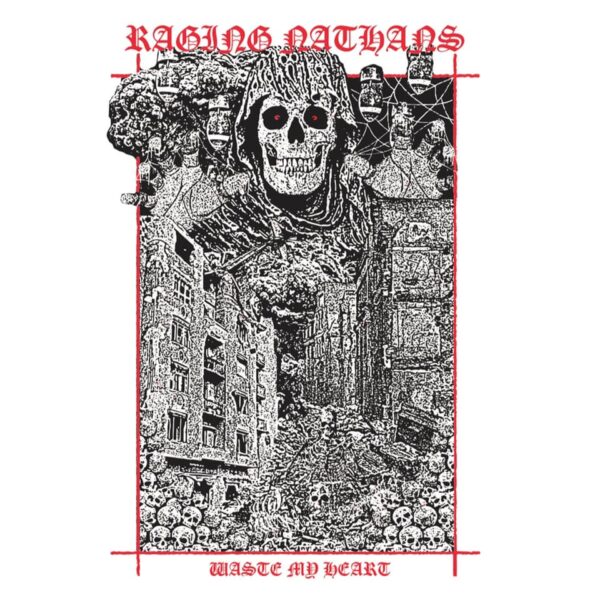 It's been a veritable "time" for this Dayton band in recent years. After a long road, the words Waste My Heart now join The Raging Nathans as the latest in their slew of relentless sonic fornication. An album, they are set to release an album. The band's output and that of Rad Girlfriend Records is nothing short of prolific. For both band and label cut across as much Punk-Rock deviation as they please. The band's 2020 record, Oppositional Defiance, was the first full album written as a four-piece and it confidently bared all and shouted its statement of refinement and maturity to all that would listen. The full-length capitalised on life experience quite naturally with a youthfully exuberant call back to the past, while still looking defiantly confident and wide-eyed into the sandstorm that is the future.
The Nathans are never stale. Their hybridised melodic Punk ranges from Green Day and Ramones-esque Pop-Punk onward to harder Skate Punk and Hardcore and arguably reached its zenith on Oppositional Defiance. If you wanted to read what I thought in full, go – Here. Work on Waste My Heart began shortly after that release and now it's in front of me. To Dayton, then!
The eponymous 'Waste My Heart' is a societally-reflective blast of playful but combustive fire. The backdrop of 2020 and its legacy is serenaded by a mass of Pop-Skate Punk, rife with harmonics leads, vocals and more of the very style the last record needed more of. Capitalism, self-reflection, the "American Dream" and societies deconstruction of itself, these are the themes that charge track one. The band's power output is not simply confined to Patrick's energetic drumming, however. The Nathan's status as a four-piece, one track in, is as resoundingly comfortable and powerful as it's been to date. This is particularly the case with Nick's lead and but also his and Christian's increased vocal presence supplementing the continued refinement of Josh's lead vocals.
'Rewards' is a deep cut from the band's past. That said, the track marks one of their best archetypically Skate Punk-orientated tracks to this day. It's an aspect of the band's style I am enamoured with personally and even objectively, it is a required supplement to their Punk-Rock traversal. Track two, 'Freedom', is its spiritual successor. 'Freedom' perpetuates the reflective nature of 'Waste My Heart' and directly following it, marks them both as earnest battle cries. 'Freedom' stokes the fire lyrically but musically, it really develops Nathans-brand Skate Punk to yet another contextual zenith. However, it's not all-permeating lines and serrated rhythm sections, for the band are also quite taken by underground Punk-a-fied Pop-songs. 'I Could Never Fall In Love With You' is quite frankly all over the place and wonderfully so at that. The confidence this band are now exhibiting exudes from Waste My Heart with a shameless grin.
'Wide Awake' is a classic Nathans offering. Goldman's and the band's songwriting as a whole has always followed a "this is on my mind or this happened and I'm going to write a fucking song about it" formula. It's a formula difficult to knock and it's on form for the insomniac track four. Both 'Wide Awake' and 'Out Of Touch' are tributes to the band's roots via a route laden with their newfound contemporary confidence. I would also argue the latter to be a standout on Waste My Heart and a bonafide example of how the band own their sound.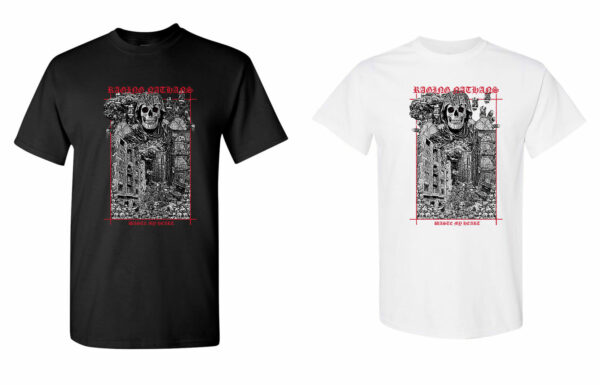 'Remember' re-employs the cathartic and emotionally drenched lead of tracks one and two and doubles down. The band cut the pace and present in a fashion only really mildly touched upon until now. Track six is ridden low and angular in the verses, streamlined everywhere else and within context, is unequivocally evocative throughout. 'Remember' becomes increasingly unlike the band as it goes and yet, it is still unambiguously tied to The Raging Nathans moniker. The brooding, crooning and heartfelt harmonies, melodies, (fantastic) leads, lines and hooks are effortless and the final blast of Skate Punk couldn't round it off any better.
The Skate Punk contingent of the Dayton-four is one that for the most part is resoundingly vintage. Their previous effort began to show and propagate a harder edge. However, on Waste My Heart, the refinement (there's that word again) is exponential. Their harder, faster approach not only puts the "Hi(gh)" in Ohio, but captures the seminal late '90s and early 2000's serrated and technical proficiency and twists it to the Nathan's beat. It is easy to feel the lasting and vintage influence of bands such as Bad Religion and even the likes of early-Propagandhi across Waste My Heart. Change my mind.
'Overworked' then follows on, cut with the band's vintage sound in an anthem of the modern age that never (sadly) gets old. Unlike those caught within the machinations of capitalism that is.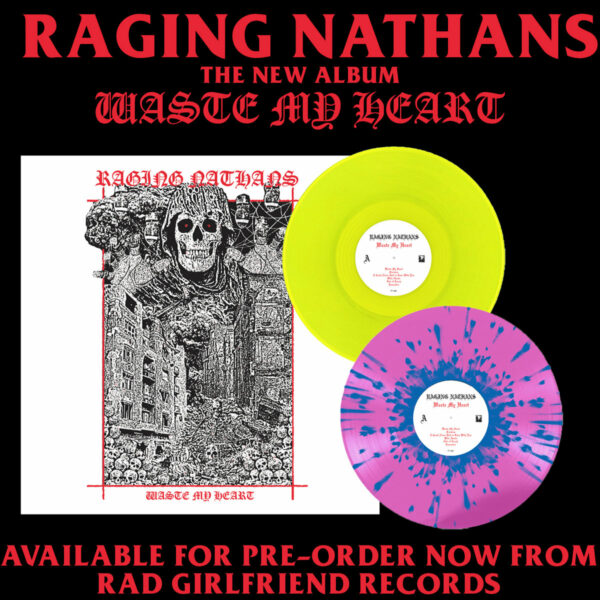 'Tempus Fuckwit' is another harmonised slice of the Nathan's pie that is further proof of how far they have truly come. The band have never refrained from showing themselves. They have also never had any issue alternating their work but in tracks such as the aforementioned, the newfound depth of the band is obvious. It makes sense then, that Luke McNeil of The Copyrights and Hospital Job recorded Waste My Heart. Furthermore, it makes even more sense that the release was mastered by Stephen Egerton of ALL and the Descendents.
'New Direction' battles personal hindsight and looking forward in another brilliantly placed mid-tempo mature Pop-Punk 2:50. Ten is by no means a standout blast on Waste My Heart. However, its playful Ramones-esque cathartic croons and almost mischievous guitar work juxtaposes the existential lyricism with a smile. This is something the band, but particularly Goldman are beyond proficient at. The ability to hybridize Punk bravado and confidence with unquestionable emotional honesty is a huge appeal of this band. No matter what these songs are about, there are no pretentious pontifications or overt soliloquy, just emphatically natural fucking songwriting. Punk-Rock then, yeah? The Raging Nathans with Waste My Heart, want you to know how much of themselves they have put into this.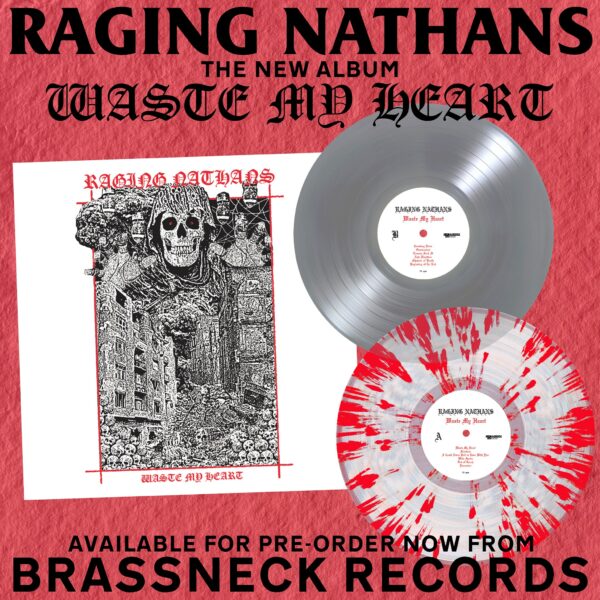 Moving on and I promise ill soon nullify the existence of my fingers as not to bore you for too much longer, we have 'Shadow Of Youth'. Though the band have doubled down on the Skate Punk, their fringe Hardcore-isms are less present on Waste My Heart. I would complain, but it is fruitless. For with the rate at which this band churn-out music, I'm sure the 45,678 7″s en-route will have plenty. The penultimate 'Shadow Of Youth' cuts classic Hardcore with the very same that inspired the fateful OG record from Bad Religion and its fantastic, serrated and shows the versatile ease of the Dayton band.
The Raging Nathans close Waste My Heart with 'Beginning Of The End'. The lyricism of twelve bounds forth anchored down low by a brooding bass-tone, angular, crunching rhythms and a tenacious (yet at ease) drum beat. There is no looking back on this last foray. Nick's lead is wildly maniacal and determined as it rips through everything in the band's path. It is also here that the distance that Goldman's vocals have travelled is clear. That's not to say they have changed overtly but rather that they are now more themselves than ever. This, moreover, is exactly the case with the whole band on Waste My Heart.
The Dayton-four have done it again. The Raging Nathans have set an arguably indomitable benchmark with Waste My Heart that is unambiguously and utterly intrinsic to its very self and the people who made it. Waste My Heart will release on the 4th of June digitally, on vinyl and on cassette. Rad Girlfriend Records and Dead Broke Records are handling it in the US and Brassneck Records in the UK/EU. All pre-order information is left below.
Updates:
Music:
Pre-orders: