The Raging Nathans – Dayton, Ohio, USA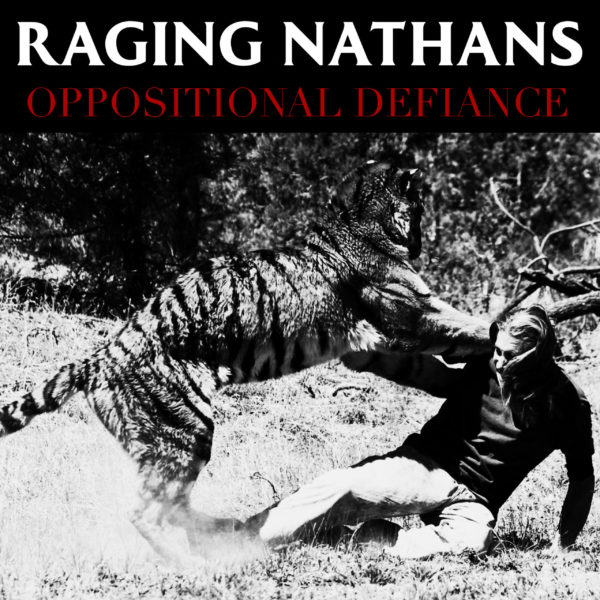 The Raging Nathans and Oppositional Defiance are soon to imprint on 2020. The Dayton, Ohio band are perhaps best described as playing a pure-to-form manner of Punk-Rock indebted to the Ramones as much as they are what would be rehashed in the '90s. In essence, depending on your viewpoint and Punk (*sigh*) politics, they are either organically purveying no-bull expressive OG Punk or rather Pop-Punk how it should be played. Most of the time that is, for the now four-piece often venture beyond that. The band's two full-lengths and the prolific unrelenting rhythm at which they release splits, yield much, much more. The Raging Nathans only partially straddle the scrappy Pop and or otherwise Punk fence. They have throughout their near-decade regularly crashed through both classic Hardcore and Skate Punk as if they had never but straddled those youthfully exuberant planks.
Oppositional Defiance is the start of a new day therein. The record is the first full-length release written as a four-piece and see's dare I say a marked maturity among much more. But is it any good? Do read on.
Opening with 'Tragedy Ghouls: An Introduction'. The band's prior to this marginal use of lead-lines and such matched their scrappy Punk yet, despite this tracks intro status, are used as a statement of intent of where the band are going. The track itself concerns the mass shooting from August 2019 in the band's home of Dayton, Ohio and sits within the greater issue of US gun control.
The Raging Nathans' lyrical themes have always denoted to life and its resultant internal musings. Points are made, often sardonically and a track via band can be as serious as it isn't. And yet, they often resonate seamlessly regardless. From the very opening second, the band's four-piece recording of punch-face prominence boasts refinement. The band's buzzsaw '90s Punk takes on the North American tendency to (sometimes) over-describe everything and pulls it from its occasional and laborious tendencies. Such a stylistic has its place and The Nathans force-march it to their beat. 'One Day Closer' is a witty existential blast of the band's Pop-Skate Punk sound, but exponentially refined and utterly intrinsic to contemporary itself. – 'After all of these years, you'd think I'd know how to act'.
The manner in which these songs have been written maintains the band's main lyrical draw but approach this vector via greater life experience. 'Where Ya Been?' is testament to a more driven sound. An excellent, lumbering Punk bass tone allows the guitars to layer cohesively over tightly-wound drumming. Vocally, Josh Goldman's strained tone persists as it always has but feels more whole in and out of harmonious backing. Three tracks-in and the band using more lead gets better with every note. This particularly supplements the spasmodic tempo-changes of the post-Green Day Pop-Punk meets mid-'90s Skate Punk of 'Don't Miss The Train'. This jagged abrasion is further propagated in a track that unambiguously substantiates the band as a four-piece. 'Parole Violation' channels the band's occasionally volatile Hardcore Punk explosivity in verses contrasted with harder-melodic Skate Punk laced with bitterly aggressive Hardcore n' roll leads.
'Signals' interrupts with a soliloquy of further lamentation. Don't let the band's delivery fool you, 'Signals' is a modern cry for help set to ear-worming melodic Punk. Both 'Signals' and 'You Are Not Me' are the band we have heard countless times. They embody the majority of the band's work and thus are nothing overly new. It is arguable to say that could present a point of criticism, but personally, at least, I think not. Both these tracks have been placed at the middle of Oppositional Defiance for a reason that should be obvious *cough* Refinement. 'You Are Not Me' is a playful jibe at self-imposed veterans and "know it alls" and defiantly sits as one of the best of Oppositional Defiance.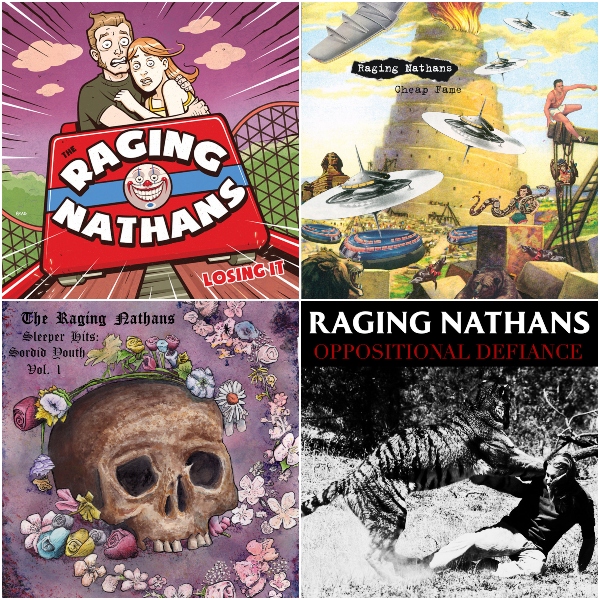 'Big Mouth' is another targetted tightly-knit-blast of self-critique that eventually does an amusing u-turn. The band's tried and tested sense of humour befits their Pop-Punk done-right inspirations and continues into the clever-lyrical confessions of 'Stargazing'. Number ten is another highlight and tributes a time before Pop-Punk was caught in the tenaciously unending grasp of bubblegum. Again, I feel I must state that depending on how you look at it, The Nathans are either Punk attributing to an earlier care-free delivery or embodying the prefix of "Pop" the definitively correct way. Or maybe? A good song is just a good song?
Moving on – fear not, I'll stop soon, I promise – the lingering wish for Skate Punk is thankfully indulged. 'Old Blood' fills one of the very few gaps of Oppositional Defiance at just the right time. The band have always excelled when pushing towards such a sound and here, their newfound approach speaks for itself.
To say this release has an overarching theme of self-reflection would be an understatement. The band's lighthearted delivery only assists the wording to commence slapping you in the face once its finished with both Goldman's and the band's. The words – 'And I've got nothing left to say' permeate the track alongside with an equally worming guitar-line as the band's piece has been said, understood and reflected on.
Negatives? Truthfully, Oppositional Defiance could extend the reach of its Skate Punk and indulge in more of the band's penchant for Hardcore-esque tones but in the end, such is only either conjecture or myself clutching at straws. Oppositional Defiance is the sound of a band that has finally found sonic comfort. The Raging Nathans have tightened EVERYTHING with the canvas pulled-taut around a frame of introspective existentialism rebounding off the brain and manifesting in cathartic sound for us to hear.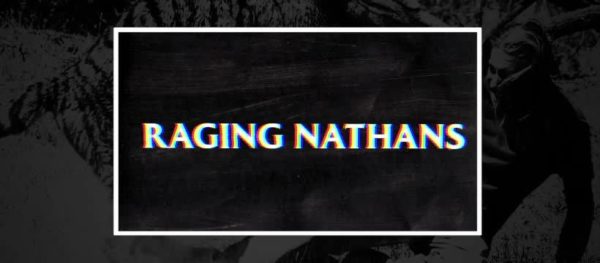 Oppositional Defiance is available to pre-order from Rad Girlfriend Records in the US and Brassneck Records in the UK/EU on vinyl. It can also be found on CD via Rad Girlfriend and Beefcake Records in the US with Waterslide Records taking stock in Japan. Finally, European Distribution of the CD format will be handled by Bearded Punk Records. No Time Records will also be releasing a cassette tape version in the US.
Updates:
Music:
Pre-Orders: