No Quarter – New South Wales, Australia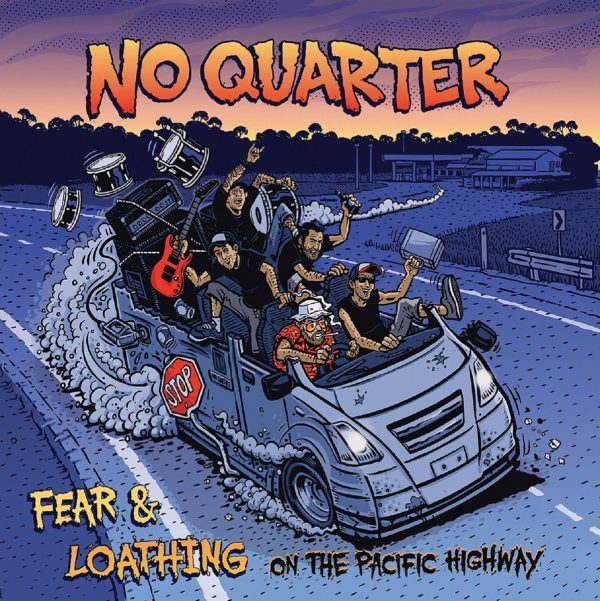 No Quarter and Fear And Loathing On The Pacific Highway are finally here. Releasing music in this age of  "you can't make this up" has been an arduous task. However, now, and proudly, the New South Wales band offer their latest from a greater Australian scene you'd be a fool to ignore. Hack The Mainframe, The Phosphorus Bombs, Friends With The Enemy, The Decline, Clowns and more, the fast down under has no shortage of Punk to offer the rest of the world and this is the scene No Quarter are part of. But who are they? Consider the above, the likes of Pennywise, Pulley and particularly Strung Out and the proto-tech Skate Punk of the late '90s and you'll be there.
I have the new album in my ears as I type. Shall we fast forward and see what future Matt thought of it? No Quarter and Fear And Loathing On The Pacific Highway. Let's go!
Based on the video game, 'Homefront: The Revolution'  and boasting a two-tempo, two-stage intro, 'I'll Have One Ticket To The Revolution, Now Pass Me My Brick' takes cues from the post-2000s, tightly-wound rendition of vintage Skate Punk played (and mixed) to a higher technical standard and polish without losing bite or anthemic drive. In short, the band's meandering leads have you in track one, firmly in place for what's to come.
'One By One' toasts times past with youthful vigour equating the very memory it's recounting. The band's adoration of Strung Out is clear with verses toasting the band's early, seminal records and the chorus infusing the very same bands' latter and considerably more streamlined version of themselves. Track three then combines the sombre-toned guitars the previous two toyed with, within a track struggling with the distant friendships many were forced to accept over the past two years juxtaposed with hope and relief that they survived. Musically, the tight, soaring melodies are just are present, laced in and around an incrementally intensifying and technical sound.
'Empty Apologies' follows this line. Infused with Thrash and built on a late 90's structure, track four crucially deviates at the right time. This heavier sound also quite notably matches the poignance and intensity of its lyrical focus, that being the scourge that is domestic violence. Five follows, lighter in tone musically but contrasts such by continuing with the band's socio-political underpin. 'Children Of The Faith' tackles paedophilia in the church close to home but also arches over into the trappings of religious manipulation.
The daily grind and the resulting existential monotony are the foci of track six. Down-tempo and riff-heavy, 'Blinding Light Through Tired Eyes' is another bulwark against the ever precarious risk of Skate Punk albums failing to do anything other than play fast. Six also features guest vocals from one Chelsie Bomb of Friends With The Enemy, which inturn does nothing but add depth to this all too relatable anthem.
'For You Are A Witch, and Witches Shall Burn' takes inspiration from both occult lore and fiction but also from personal matters within the No Quarter camp. Seven also without a doubt proves how the band have considered their track placement. Melodic Hardcore, Skate Punk and Thrash intersect equally across its 4:55.
'Truckstops and Sunsets' is another archetypal '90s melodic Punk track yearning to be on the road whilst, on an album where lyrically the band punch at serious issues, things become a little juvenile. 'Heather Brooke Where Are You?' is very obviously tongue in cheek and very obviously about exactly what you think it is, so I'll lump it in the "Longview box" and move on.
'#cry4attention' then ups the attendance on the pertinence train. The age of social media has bred many things. Some, in the band's view, are fantastic and others, the egregiously abject reverse. Truthfully, with its harmonious melodic guitars and Thrash-infused Skate Punk, it stands as one of the band's best as it rages against performative social politics.
'The Nights We Won't Forget' could be easily lifted from Suburban Teenage Wasteland Blues or Twisted By Design whilst further refining the harder, heavier and keenly-edged sound No Quarter experimented with on Freedom. 'Salesman' then nuances the age-old debate of "selling out". The penultimate drive on No Quarter's and Fear And Loathing On The Pacific Highway addresses how all the elements that can enrich and spread a band's message and reach in this world, can also leave it devoid of itself. Nothing is immune to corruption in some way or another.
No Quarter continues to cut the shit in the closing 'Shout Out'. There is a lot of personal reflection on Fear And Loathing On The Pacific Highway and the band are close to home again on 'Shout Out'. With its precision, Thrash imbued verses and hook, line and sinker guitar work, rumbling refrains and brooding tones, the unbarred and intense depiction of the debilitation of cancer is directly in front of you and equated in sound. That said, 'Shout Out' also lambasts monetarily backed pseudo empathy in this actionless age AND stands as a rousing anthem of support. Show support, you can't do everything but everyone can do something.
No Quarter and Fear And Loathing On The Pacific Highway is an album that holds you in place and navigates the risks of pushing a sound that has been done and does so very well.
Melodic Punk Style are handling this one. Though the album is available now on bandcamp, on the 29th of April it will arrive on streaming services with pre-orders for June's physical releases to below. Find all you need below.
Updates:
Music:
Melodic Punk Style: