Failing Up – Los Angeles, California, USA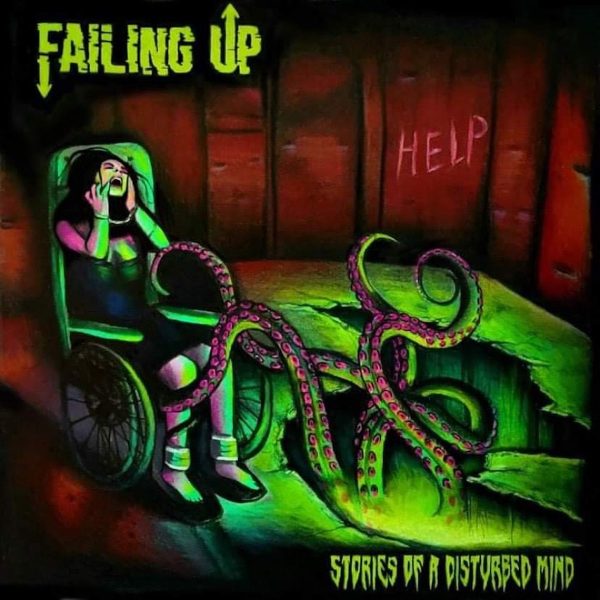 Today concerns Failing Up and Stories Of A Disturbed Mind. Now, chances are, in the wonderful but often overstimulating din of contemporary music releases, a time where opus after opus is cascading rapidly from the former bulwark of restrictive social confines, that Failing Up and Stories Of A Disturbed Mind may have passed you by. The Los Angeles four-piece have been going at it via a genealogical line linked to the likes of Bad Religion, Good Riddance and Pennywise since 2017 and if you take but a brief audible glance at their work to date, you'll see a band that have taken a propulsive and cathartic route through the last few years, crashing in an abrupt yet mindful manner through the Punk-Rock stylistics that continue to inspire them as they vigorously navigate their contemporary existential status.
Or something like that. Shall we?
Emotional ties to a past situation are earnestly and cathartically expressed, shouted and screamed in 'Fry My Mind'. Such a vent rides on a path torn through the air by sleek but still keenly abrasive saw-blade rhythms, themselves charged by drum patterns cycling in equation to the cycles of frustrated cranial stress. Failing Up tear any suggested facade around this album's honesty. The band then fall in and out of a simple but strong California melodic Punk chorus before the words 'I just want to fry my mind' are shouted in unison and in sheer frustration. This lyrical and verbal outcry cathartically follows a contrastingly more aggressive version of the melodic line that broke the album in. However, this time, it moves onward to a technical meander through more cycling drum patterns before the grounded rhythms and lyrical exclamation finish a track that quite frankly, isn't fucking about.
If' 'Fry My Mind' can be suggested to emulate the hard-edged melodic Punk of the likes of Good Riddance and Pennywise, then 'Not Today' matches it with its intro and refrains as the band display increasingly charged forays into Hardcore Punk adjacent barrages over determinedly energetic drumming. Failing Up contrast with just enough melody (ala GR's Luke Pabich) in order to accentuate the unbarred nature of themselves, from rhythmic punch to their consistent lyrical poignancy.
'Far Frome Home' marks a stark deviation as it longs for home over markedly more melodic Punk adding to the gravitas of the album's mix. That said, track three cannot be contained as the band's instrumental and technical flair finds it way to the top ahead of Skate Punk-infused 'Bully'. 'Resistance' then completes this transformation. Match the seminal Punk of Bad Religion's Suffer, No Control or Against The Grain with the same band's latter, Brian Baker-enriched works and then pair that with Failing Up's native flair and 'Resistance' lands as one of the album's best.
'Parasite' see's an original effort from Failing Up given a deserving re-hash without losing the band's "somewhere between old-school Hardcore and Skate Punk" fury. 'Worst Enemy' then moves to further substantiate the lasting influence of Bad Religion and Good Riddance on Failing Up-brand Punk. This is especially so in Tanya Delgado's powerfully honest and natural lyrical and vocal prowess. Here, Failing Up also notably employ the tightly wound metallic displays the genre has worn proudly since the late '90s with seamless ease. 'Hollow' then cuts the tempo with an abrasive and lacerating barrage from a rhythm section in its continued, release pervading element.
The band's jabbing guitars match the defiant punches coming from Delgado's escapism in the melodic high note that is 'Only Human'. After such a precision and decided spooling of the band's engines, their forays into Skate Punk continue. 'Never Settle' takes over, is flawlessly powerful and an unequivocal credit to how well Failing Up know their craft.
Sean Rule's drumming throughout Failing Up's Stories Of A Disturbed Mind is nothing less than flawless. Rule's control over tempo puts them at their best when following fast, relentless Skate Punk but adds an underpinning, indomitable and dependable foundation to the band across the board.
'Pray For All' is another illustrative high point on a record defined by that word before Failing Up close with the combustive high velocity that they have perfected on Stories Of A Disturbed Mind. Explosively navigating existentialism encroached upon by externally pressured uniformity, 'Pick Your Poison' is visceral, indignant and struggling with itself in line with the record's unbridled thematic catharsis.
Stories Of A Disturbed Mind is a Punk album indicative of its time built on and refreshing what came before it. The album is available now from Sell The Heart Records and the band themselves on CD with vinyl coming later from Sound Speed Records. You can find all else Failing Up below.