Pink Suits – Margate, Kent, United Kingdom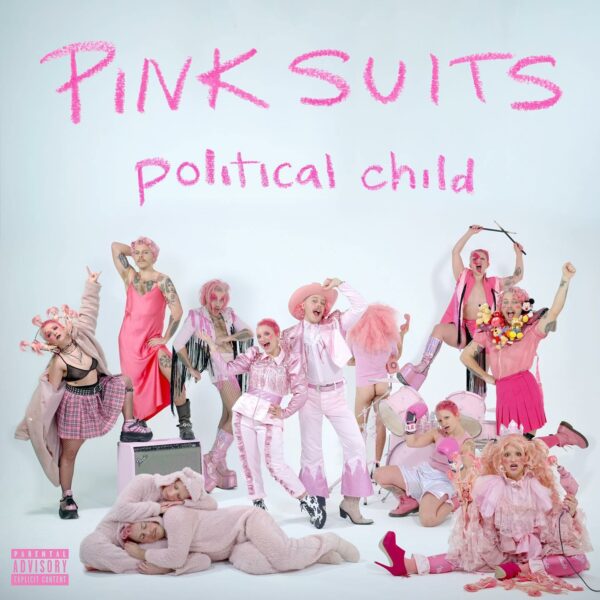 Introducing Pink Suits to the punk-a-verse is something that's either going to result in me writing a chronicle or at the very least half of one. I will endeavour to keep it short but still write enough to entice and push your little ears toward yet another notable force doing rounds in a scene hurtling forth with a smiling but caustic and determined drive. Or something like that.
Punk music as a whole is diverse, genre-bending, genre-traversing and almost always intrinsic to those who make it. Pink Suits are a two-piece Punk-Rock band from Margate partaking in this diverse maelstrom of vitriolic catharsis aimed at the very society that produced them and now pushes them to the side for not marching to a complacent beat. No one is perfect, but pushing in the right direction and quite simply doing something, is still something. A something that is only going to stack, layer and grow the more it is pushed. For many, Punk is the soundtrack and way of things in this fight. This, again, via thick, angular stripped back rage is the message of the Pink Suits.
The band's 2020 single 'Fake Great Britain' is how I found them. In one of their best, they accost the very fabric of the UK and its pseudo-greatness in a sardonic and fuzzed tirade earnestly tearing an already frayed fabric veil of Britishness. It's depressing, it's shit and yet it's a fight that needs arms. The duo sing, chant and shout a plain truth that's so obvious, you'd think more people would be listening. Thus is the reason why this band their first single exist. Pink Suits plod along to a simple beat, supplemented with inherent grit playfully to juxtapose and simultaneously highlight their emphatic disdain further. Never mistake sarcastic, playful tones for simple piss-taking.
This is the mantra of the band's debut album Political Child. 'My Old Man's Dustbin' paints a dismal picture of uncomfortable truth but one that needs heeding. Tracks such as 'Decades' incessantly jab with a brash yet targetted groove that pummels you before it's even become obvious in a raw unrestrained manner tributing and suiting the fluid rage of Punk.
'We Can Shout' is a subversive battle cry to yet more rhythmic fuzz. The two-piece are primarily focused on and comprised of their convicted message but that's not to say that their raw simplistic cross of Punk and Post-Punk isn't well put together. The band's beat is determined and the axe-work on offer is not only driven hard, warped and serrated but it's fantastically natural. The quirks of Post-Punk are churned into the vintage rage of Punk with much of what it borrowed from Garage Rock on the one hand and what would go some way to inspire Hardcore on the other. See the snarling, maniacal hammers of 'Gold Girl' and 'Anarchist Wisdom'.
Governmental wrangling into the military and toxic masculinity are deconstructed from the other side in 'Be The Best'. 3 AM is a harmonised existentialist gripe matched with optimism that may not seem achievable amidst a social media trap and self-subsisting anxiety. Pink Suits are true to themselves introspectively but always have an eye on the extrospective.
Political Child is not only charged with Queer societal rage but that of it all. Pink Suits are a band that can see faults and have experienced them first hand. They are a band that has had enough, in a generation that has enough and their words go beyond simple catharsis. The eponymous 'Political Child' rivals 'Fake Great Britain' as the band's best and most memorable. 'Scarred' is the band's fastest and renditions the Ramones formula in what I hope makes every live set the band play, while the closing 'Pink Suits Everyone' just wants to revamp your wardrobe smiling defiantly at those who said they couldn't.
Well, that's not really a review per se but that was my attempt at introducing Pink Suits. The rest is up to you. I don't think I wrote toooo much. Links below.