Nc17 – Richmond, Virginia, USA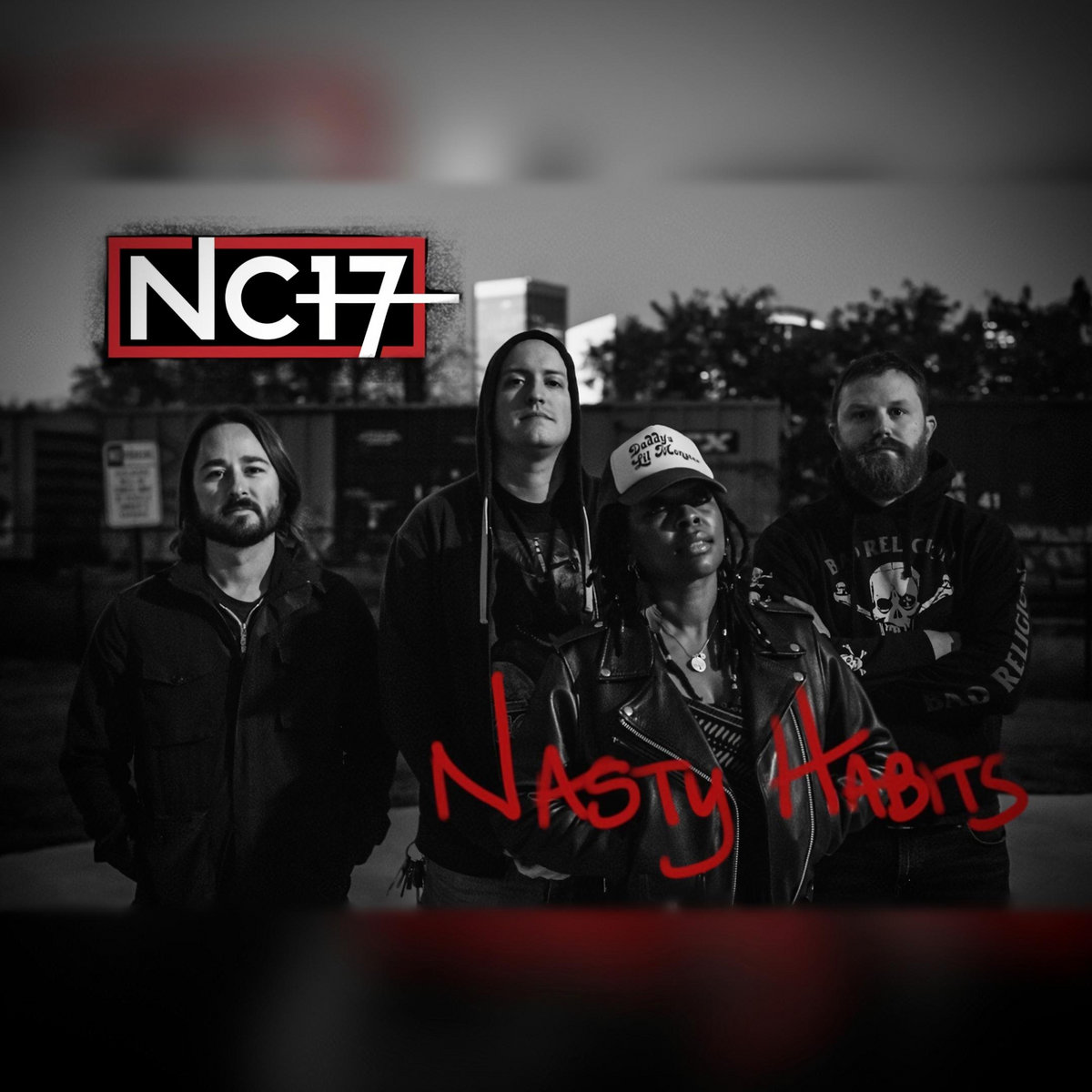 Introducing Nc17, where do I start? Well, the reason why such an introduction is necessary now is that the above image is the cover of their forthcoming debut EP, Nasty Habits, set for release on the 21st of this month. Secondly, now is opportune, relevant and really quite simply uncontestably necessary in this here 2022 because of the ironic health that much of the music scene is in, despite it all. Thirdly, it's that despite the sheer wealth of sonic variety in the Punk music scene, sometimes, kicking it old school and toasting the past with unashamed refreshment is just as valid, as is doing so in a scene rapidly and fantastically filling with faces contrary to the same old. Punk is for everyone.
Nc17 are, by their own words, monikered as "Chainsaw Pop". Take one look at the cover photo of this feature and the album art above and their aesthetic speaks for itself. Attire toasting classic Punk as much as the world post both Skate and Pop-Punk suggests the natural display the band will emanate on their debut EP. Luckily, however, we have two singles already.
Caught somewhere off the coast of post-Green Day island and Alkaline Trio rock in the Ramones archipelago, Nc17 are all about crunching, angular guitars, rounded, rumbling basslines and buoyant, energetic drumming. Yani's vocals are soulful, soaring and naturally casual to a point where every hook ensnares with you with ease by categoric definition. This is Pop-Punk, unashamedly so yet constructed from parts nuanced and cut from either side of whenever it was supposed to have started. Green Day-esque rhythms, sharp drum fills and a humming bass tone join early Alkaline Trio-spun melodic lines and vocalisations stamped with Yani's own mark.
As a quick digression, if any of the above sounds appealing, check out a band named The Jacklights – Here.
Much in the way of early Punk-Rock from the Ramones to the Buzzcocks built on the fuzzed-Pop and Garage Rock abrasion before it. The '90s would then pass and such was reimagined in those Pop-Punk bands and albums many of us needed to get us where we are now.
'Party's Over' and Nc17 as a whole, are that transformation. Fun and confidently so at that. The band's second single teases a faster, almost classic Pop- Skate Punk intro before falling into a more driven, fluid mid-paced but classic Punk-fuzzed Pop-Punk. Nc17's latest single ahead of Nasty Habits subtly hints at further tempo and a darker, more brooding sound whilst juxtaposing such with their melodious majority. 'Party's Over' despite its crystal clear classicism, also hints, treads, edges and encroaches on a marginally more recent and dare I say mature Pop-Punk sound, with 2:01 to 2:51 providing that alluring tidbit.
'We wrote and rewrote and rewrote this song, but I think it paid off. Yani's ability to sing the same chorus over different instrumentation blew me away on this one. I think this is an all-around good anthemic song that represents us well, and can still be a bit of a challenging one in a good way.' – Derek, Guitarist of Nc17
Introducing Nc17. That'll do I should think. Find all you need below and mark the 21st January in your whatever-you-use to record the meaningless flow of time. There are countless bands on the underground and plenty of zines, podcasts and blogs covering them. All are worth supporting.