The OBGMs – Toronto, Ontario, Canada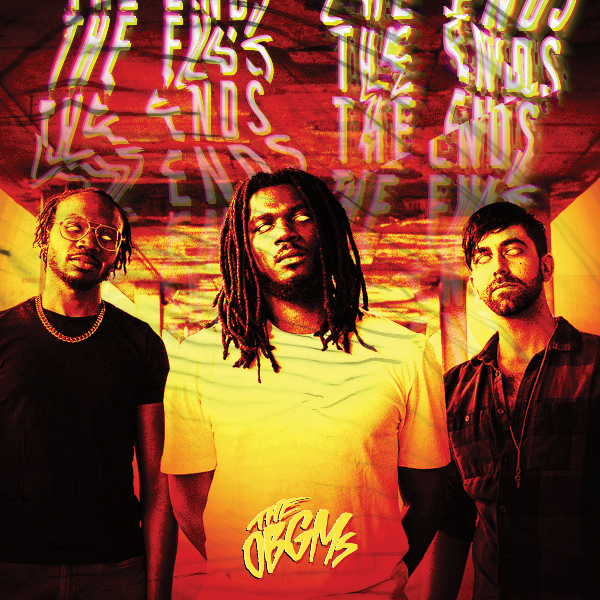 Rambunctious, raucous, writhing and resolute. These are the words both codified and prospective regarding The OBGMs and The Ends. The first three speak for themselves through the band's Garage Punk n' Roll thus far but the latter most word? Well, in a succinct, high-velocity nutshell, The OBGMs and The Ends are on a infiltrate and conquer mission into a same-faced music scene. This is the mandate of the Toronto band as they pridefully stride into a white-dominated scene to prove that they are out there to both rock the boat, the stage and any other gate-kept facade. Music should be freedom and equality and in the words of their own Densil Macfarlane – '[…] we are black and we out here' and ready to make their mark and enrich.
Rock n' Roll is at the core of the band but only as a starting point. The OBGMs blast a mass of warped Garage Rock, back-to-basics Hardcore Punk and the inherently defiant attitude therein. 'Outsah' is the band's most recent single. For reasons that they needn't ever explain, 'Outsah' is exuberant yet forebodingly tied to snotty attitude via its floor-dwelling baseline as bongo drums interchange and run alongside a perpetually cycling kit, itself on the verge of combustion. This combustion embodies Hardcore Punk rage, a whirling, yet warped and eerie lead soars sardonically and dangerously over the combustion below. 'Outsah' is different, determined, dangerous and waiting for you outside.
'Cash' was also given to the public early. The OBGMs re-imbue the dangerous and raw nature of Garage Rock and I'd be failing if didn't theorise that this mannerism may well have been influenced by, to some extension, by the same move a band called Death made way-back-when. Garage Rock or Proto-Punk laid down much of the groundwork for what would become the expanse of Punk-Rock and with 'Cash', the band borrow both inherent intensities and reunite them in a cathartic, care-not gamble to be noticed. Ah, capitalism, you selective shit-bag you. Macfarlane's vocals are natural beyond themselves and his final blast of defiant anger is nothing but indicative of how resolute he and the band are.
'All My Friends' further navigates the Punk-tree with a heavy-set Grunge and Alt. Rock rumble. Track three shows a playful side to the band's exuberance without sacrificing their Rock n' Roll flare, fuzz and tom-fuckery. 'All My Friends' is marginally more melodic but in this playful nature, is positioned in excellent contrast. In fact, the track would be doing the record a disservice if it were placed anywhere else. Plus, who doesn't like a singalong?
'The Fight Song' ala its namesake, is a different kettle of starving-piranhas. The OBGMs reverberate around their personified existentialism-derived opponent in their mandate and lyrical magnum opus. Despite this being the operative brilliance here, the band's formula is on sharpened-point and particularly shines through notable vibrant leads. 'Not Again' further substantiates its previous pole-position as an album forerunner and stands as the best choice to showcase The OBGMs. There isn't a moment here where the band's rhythm section isn't the hegemon of your coordination. Self-destruction is indeed a perpetual cycle and this is a Punk-Rock band plain and simple.
The band finally release their own-brand Hardcore Punk In 'Triggered'. The three-piece utterly unleash, combust, rebuild and repeat. 'Triggered' is an utterly destructive stylistic maelstrom of the band's best. 'WTFRU' then merges grooved-Hardcore Punk with raw, loose Proto-Punk cohesion only just grounded by the band's stellar drumming yet again. 'WTFRU' is intentionally complex and structurally inconsistent, almost as a test to see if you're still with the three-piece at this stage. In truth, the track is jarring and yet is also beckoning.
'Karen O's' then borrows some of this groove before jetting off into Punk-Rock territory again in a marginally Dead Kennedys-esque instability and yet, much like it's predecessor, argues a case for the words Cage The Elephant to come to mind. In yet another nutshell, this time circling tirelessly, The OBGMs cannot sit still for if they did, they wouldn't exist. This is a band constantly recycling their unrivalled, ubiquitous, unfiltered energy.
'to death' falls back on the Grunge less-represented in the band's sound. The penultimate offering, akin to 'All My Friends', differentiates at the right time and is further credit to the band's tracklisting. Reserved but not resigned to simply glide by, the band fall into a stripped back, simple, melodic yet sonically welcome trudge. The closing 'Move On' retains this focus on melodic guitar work but has a considerably harder time holding back the band's spasmodic complexities and bursts of raw power. That said, the final foray indeed manages just that. 'Move On' is intent on its escapism and has no time to reflect. What's done is very much that. Much like The Ends as it departs through the gates it kicked down upon entry.
The OBGMs and The Ends are set to be unveiled on the 30th October via Black Box Music. The Ends may be the end of some behaviour and the end of some personal journies but it is also the staging point at which this band are only going to increase their presence. You can pre-order The Ends physically – Here and digitally below.
Updates:
Music:
Black Box Music: