Our Darkest Days – Quebéc City, Quebéc, Canada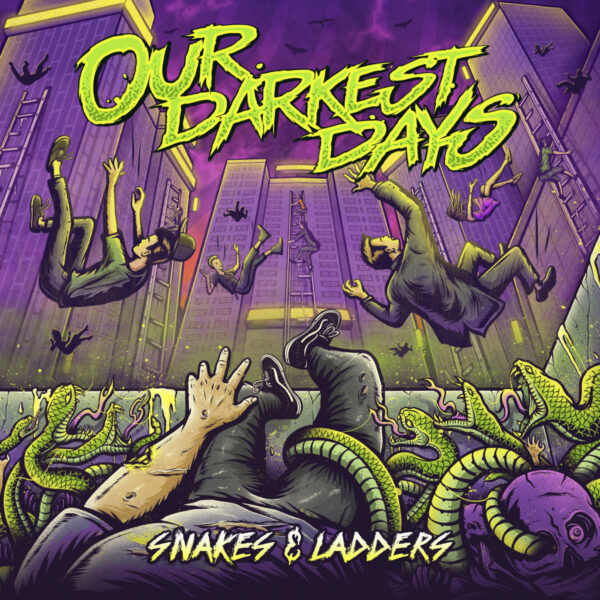 It is safe to say that the incoming album from Our Darkest Days entitled Snakes & Ladders has, though rapidly approaching, been a long and arduous time coming. In the interest of expedition and getting to this review as fast as the Quebéc City band themselves, even on a slow day, I shan't keep you confined to this introduction. Thousand Islands Records of Canada and Lockjaw Records from the UK have taken on this first full-release from the five-piece since 2016 and allowed me to peruse it early. Let's go!
The fittingly apt 'These Fast Times' was the band's second single. Borrowing vocal tones from one Steve Rawles of Belvedere and showcasing a sound instantaneously refined and resoundingly fast, 'These Fast Times' lives up to its name sonically as lyrically a distorted line of sight takes hold of our lives. We move fast trying to keep up but do we live as fully as we should? Our Darkest Days have never been a band to shy away from their immediate observations and neither the tightly wound metallic tenacity of the last twenty years of Skate Punk.  – '[…] we finally recognise, we have to sacrifice to enjoy every moment'.
'When Dust Settles' was released as a tease and affirmation of the band's existence back in 2019. Track two shows a tighter and more voracious variant of the sound that occupied 2016's A Common Agony, with nods to both the late '90s sound and that of the post-Mute and Belvedere world. 'When Dust Settles' is another where the inexhaustible energy of drummer Sean Connors is nothing short of impressive.
'A Sea Of Lies' is rife with satisfying tempo changes, jabbing axes and a bass tone only adequately described as "filthy". Positively, that is. It is also here that Vince Fournier's genre-unmistakable vocals really show how far they've travelled. 'Countdown To The End' then begins with a foreboding metallic intro before charging off to a sad and inescapable truth juxtaposed with hope.
Despite their tightly wound approach, intricate layering and relentless rhythm section, there are down-tempo bridges, refrains and choruses expertly placed throughout this record. 'Through Our Veins' is a testament to Punk being what you make it, whilst also being part of the coalescent whole as a permeating lead threads through a comparatively classic Skate Punk song, nuanced by a technical band.
'Loss For Words' continues this classically orientated path as everything is pulled in close for a low-driven and serrated display. Track six also contrasts this with one of the best choruses on the release paired with the best of the progressive and almost ethereal guitar work. Fans of The Dead Krazukies and much of the UK and European theatre of the scene will very much find something across this album's soaring choruses.
'Influent Sores' rides the anthemic wave 'Loss For Words' catalysed with both its strength and simultaneous crime being its 1:30 duration. 'Against All Odds' channels the Melodic Hardcore flirted with across Snakes & Ladders in its grounded riffs, as metallic drumming and a harmonious everything-else permeate the emotive Skate Punk exuded so naturally. 'Against All Odds' also features the vocal presence of one Etienne Dionne of Mute. Enough said.
'All That Remains' laments evocatively as the legacy of Cigar and Adhesive is turbocharged forward to stand alongside the Bash Brothers, Heathcliffs, Straighlines and Strung Outs of the world as Sean is completely unleashed. 'All That Remains' also marks another of the notable and markedly slower bridges employed on Snakes & Ladders from 2:19 to 2:55. 'The Road To Nothingness' follows on with another ode to the late '90s sound and its spasmodic tempo changes cut with an aggravated, Propagandhi-esque metallic edge. It is also here that the risk of up-tempo complacency is staved off with yet more down-tempo efforts that in no way inhibit Snakes & Ladders.
Thrash Metal's lingering and inexorable infusion into the genre is no stranger to either Our Darkest Days or Snakes & Ladders. 'Anchored' epitomises this whilst also taking genre-staple guitars and warping them to the band's best. Despite themes of unity, extrospection and societal existentialism, Snake & Ladders is also quite introspective. Geir Pedersen of Adhesive lends his help in the determined internal battle that is 'Silence Is Golden' respective of this.
Our Darkest Days close Snakes & Ladders eponymously. The Quebéc five-piece amble through 1:14 of a crooning guitar and sombre keys. On an album the very definition of tenacious, this introduction is a refreshing respite from a record that has so much to say. Though the final part of 'Snake & Ladders' is set with an outro of further sombre yet reflective keys via Valerie Morin, the middle of the track casts you back to all the reasons why Our Darkest Days captured ears initially cut with more organic Skate Thrash.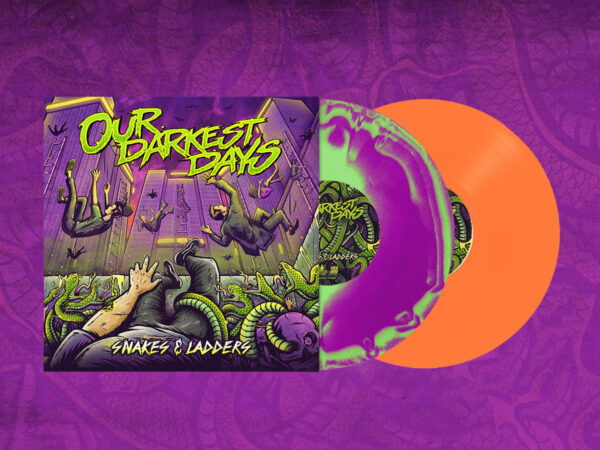 Life really is a game of snakes and ladders and Our Darkest Days have a lot to say about it. A lot to say made emphatically sleek and indebted to the excellent work of the band, Danny Greene and Vincent Cole from recording to mixing and mastering.
Our Darkest Days and Snakes & Ladders. Now to address that *. Snakes & Ladders releases on 19/11/21 digitally and on CD, with vinyl coming in 2022. All of the above are available to pre-order below.
Updates:
Music:
Pre-order: