Wolfrik – Edmonton, Alberta, Canada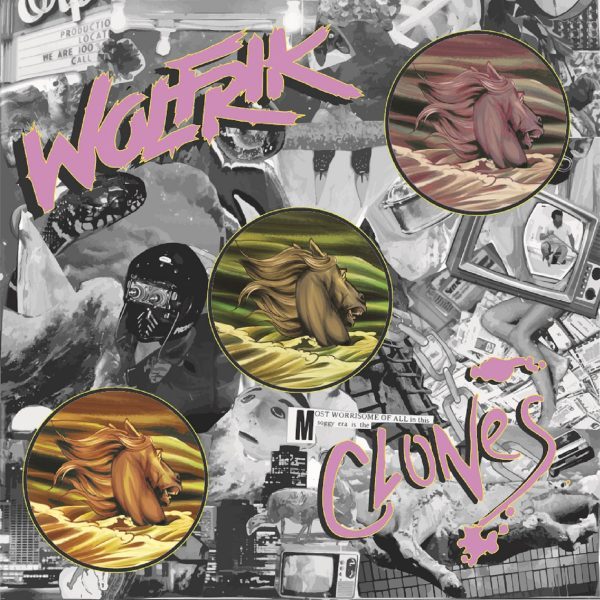 Wolfrik and Clones are soon to appear via their Edmonton home, catapulted by the likes of both Thousand Islands Records and Lockjaw Records into a fast, heavy but also melodic music scene where genre lines are now wonderfully blurred. The band's debut blurred these lines further with its eviscerating, indomitably fluid blend of Hardcore Punk, Thrash and a myriad of shamelessly overt and relentless metallically comprised structures. The lines have indeed blurred, for the third time in this paragraph as traditional "divides" ebb into fluid and welcoming corridors bound for coalescence.
But, you aren't here to hear me get all riff-a-sophical, rather to hear about the forthcoming Wolfrik and Clones.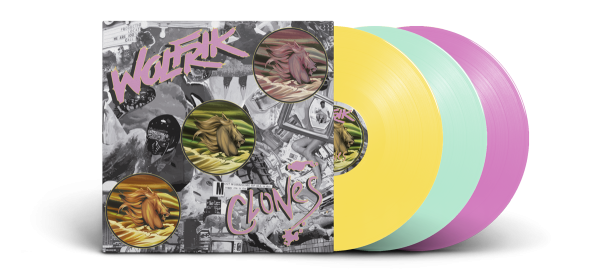 Despite their earnest and chaotic alacrity, Wolfrik are in what I would argue to be a result of their proximity to the Punk scene, capable of quite the melodic display. 'Mortal Towns' is that display. Track one rumbles with a casual but confident metallic amble, jabbing Punk rhythms and cycling melodic leads entwining in their approachable Metal-centric precision.
'Bashem' began the run of singles that would end in Clones. Track two epitomises the "Hard Rock/Heavy metal" moniker the band now self-present but not without an aggravated Punk and Hardcore bite. At its heaviest, reverberating and technical Metallic Hardcore rules but throughout and especially in the pre-chorus and chorus itself, a winding lead conjoined with Hard Rock croons and darts between it all. 'Bashem' is a statement.
'The Black Mare' was the band's most recent single and shifts again. Three of ten employs the ear-worming flowing melody of track one charged by the intensity of two. 'The Black Mare' matches mid-to-fast melodic Punk with fantastically deployed writhing leads that (playfully) battle for the limelight as they morph into the wild hybridised sound of the five-piece. Hard Rock, Punk, Metal, all of these are displayed by Wolfrik to an incredible discipline rife with shifting structures, tempos and dynamics. The blurred lines continue. But again.
'Forty Fives' is a consolidation of power with demonic melody lashing against the tectonic rockface that is the band's rhythm section. Tempos ranging from resolute cycling patterns onward to bursts of Hardcore alternate into voracious, multifaceted layers themselves far from slow. 'Forty Fives' is an adrenalized highlight of Clones musically. That and boasts some of the best in the way of tonal variety within Wolfrik's lead voice box.
Clones shifts again at the halfway point. A sombre lead dimly lights the way as the band's kit charges for what's next. The fast, Thrash-infused Melodic Hardcore from the band's debut makes a resurgence and it's particularly well contrasted with the vocal variety offered this time around. Inexorably, Wolfrik of course also segue briefly into a bout of fantastically standout contemporary Skate Punk on the 5:07 opus of 'Fend and Turn'. In fact, despite its risky length and a few other surprises, track five is a real testament to the skill and confidence the band are so imbued with on Clones.
'All Tongues' odes the late '90s Skate Punk so important to the timeline and also marks yet another twist and turn through the complexity that makes up Wolfrik. Six is less overt and less varied but in this defiant and melodic contrast, might just be the best on the release. However, for those wanting power, 'Slime Beneath Us' emerges. In truth, Wolfrik's constant chop and change is exhausting and 'Slime Beneath Us' sees the band overwhelm the senses with a spasmodic powerhouse of shifting structures. Seven will either be too much or exactly what you needed. Either way, you can't negate the band's skill.
Provided you've got anything left, 'Red Wing' carries upon it some of the best vocal lines on the record as the band battle to never give up. 'Red Wing' is yet another infectious highpoint within a list of a few that are all crucially so for different reasons. 'KP' then instantly punches down. Stop-start structures and melodic leads blaze a trail through into fast-Punk. The band's Hard Rock then incrementally motions toward Metal whilst at times simultaneously flirting with Hardcore akin in a fashion to fellow Canadian stalwarts Comeback Kid. Wherever Wolfrik are within their expansive myriad of entwining influences, their precision displays are at their apex.
The band close eponymously. 'Clones' follows an erratic and frenetic lead as it teases a full-frontal assault to anywhere. As is the modus operandi of this second opus from Wolfrik. If Post-Hardcore Hard Rock was a certifiable "thing", then that would be 'Clones'. Initially, that is. Of course, with Wolfrik, it's never that simple. The final track akin to the entirety that has preceded it has so much more to it. Which, in a wonderful surprise, includes the flowing and elongated instrumental from 2:01 to 4:01 where the band achieve a different kind of intensity.
Wolfrik and Clones will release on the 25th of February. Find all things Wolfrik and any pre-order information for Clones below.
Updates:
Music:
Pre-Orders: