Strangers With Guns – Dublin, Ireland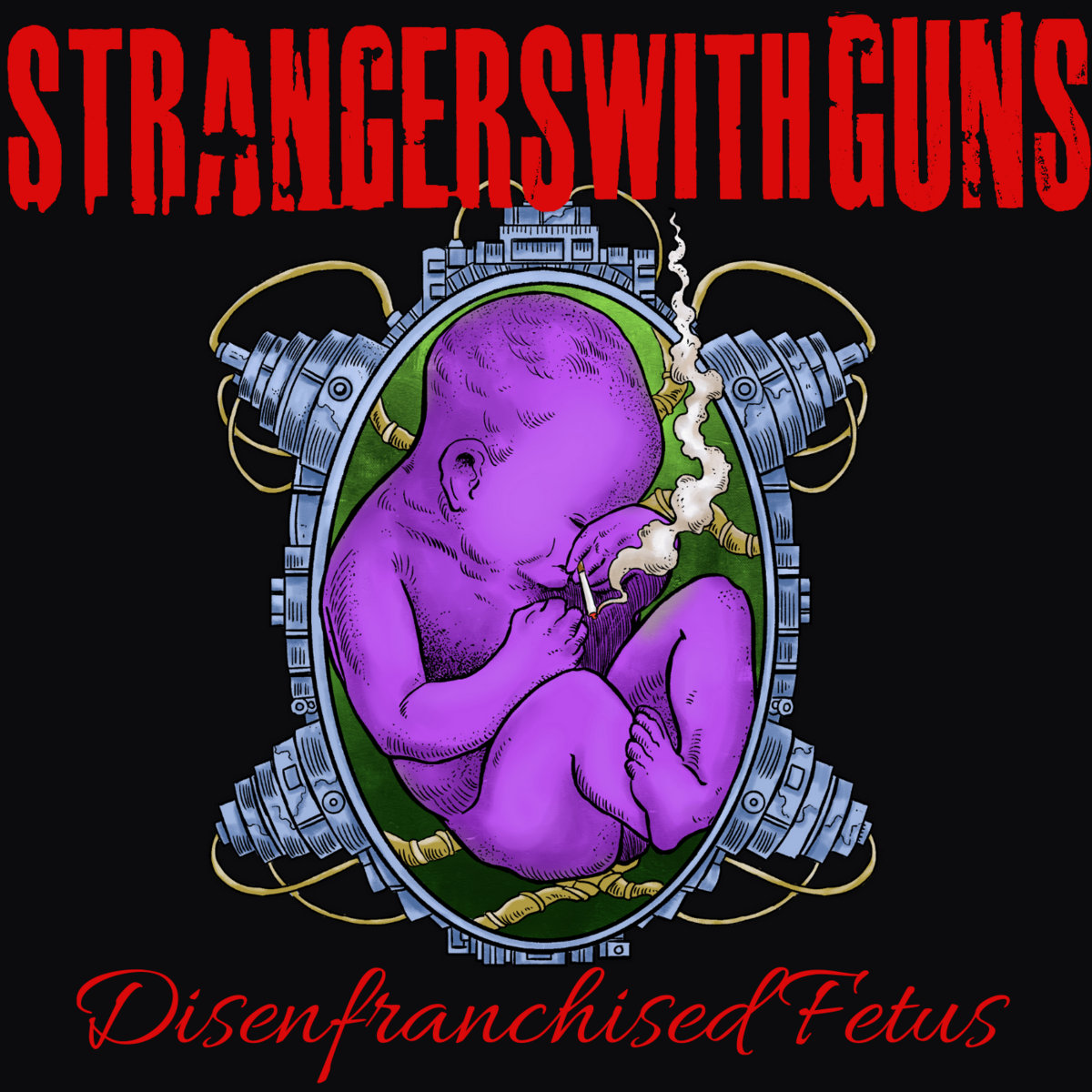 Enveloped in a viscous and foreboding sentient groove, Strangers With Guns and Disenfranchised Fetus enter 2020. The Dublin band embody much that is rare in the contemporary music scene, or rather more so that it was. The mighty, abrasive, sonically aggravating three-piece Alternative Rock band. This format has indeed survived. Alternative Rock, Grunge and Stoner Rock have endured and persisted but the general locale of the genre is unfortunately dominated by the old rather than the grassroots new.
Strangers With Guns, although influenced by the golden-years and monikers, by default exist to propagate the underground Alternative Rock scene. The band's 2019 debut full-length was the culmination of four-years of determined reverberating rhythms, riffs and rambunctiously soundtracked social-political jabs. Strangers With Guns cascaded through Grunge with its OG abandon and gritty Hardcore Punk tendency but at a moments notice infused Southern-centric American Hard Rock. The result would lay the foundation for Strangers With Guns and their Disenfranchised Fetus.
Disenfranchised Fetus is a direct response to underground band frustration. The band's second EP breathes a cathartic yet reluctant mass of energy. In this underground scene, nothing is easy and success is hard-fought or simply and sadly often the luck of the draw. 'Cants' begins the combustive response to this, slow, gradually and determined in practice but surly in tone. 'Cants' build off Grunge-disinterest toward a metallic, Stoner rumble from the rhythm section and an aggressively trudging assault. However, just as the band enter the realm of risky-repetition, their lumbering seemingly one horse alternates. Strangers With Guns soften their firing with an eerie but brilliantly contrasting melodic lead, whirling until the tracks abrupt end.
'Cants' is in truth, somewhere between an intro and a fully-fledged track of its own, subsisting on its own disenfranchised self. Track one is very much the mission statement for Disenfranchised Fetus. 'I Got This' follows on and lumbers in. The warped eerie lead of the former 'Cants' infects track two, adding that contrast to the heavy-set floor shattering rhythm section and glass cutting axe. The band's lumbering Stoner-Grunge can barely see past its own gloom. This may in fact seem like an ineffectual cliche description, but it is literal.
'I Got This' is an existential mental health conundrum, battling and fighting to simply get moving. The slower, marginally warped discordant psychedelia on offer represents the struggle, while the pummeling, stripped-back riff and blasts of Punk-Rock mark the eventual emotional cataclysm. 'I Got This' has one final card to play, however. For amongst mental-maelstrom, beats the fact that this is a slump of socio-political causation. The sad reality is that now, everything is political.
The penultimate 'Last Tango In Paris' is comparatively playful. The opening, jagged-bounce gives the band for the most-part Spoken-Word-esque muted vocals more of a fighting chance against the raw dirge. Strangers With Guns populate the first half of this 2:29 with a refreshing homage to Grunge's Punk-roots, showing their majority to be very much that rather than their bonafide all. The band could simply continue on with this aforementioned raw-cut but choose rather, in the spirit of variety to fall back on an outro of cycling Stoner-Grunge. This is a move that can be understood, but arguably, 'Last Tango In Paris' would have had its last dance somewhat more memorably had its brash-Punk persisted. However, it fair to say that track three is still a contrasting notable of the release.
Three leads to four beyond being numerically sequential. The Dublin three-piece close their latest with the last stop of the comparatively more reserved wing of their sound. Disenfranchised Fetus is a slow-motion barrage of fists. The release lowers is the ferocity as it progresses, standing over your immobilised corpse. A corpse lying next to their that of their own motivation. 'Somebody Needs A Hug' is ridden with sardonic nihilism. A feeling that is only extrapolated by further sardonically toned bass-work, itself laughing at the existential gloom.
Disenfranchised Fetus abandons most of the Hard Rock-centric displays. The EP pushes the Punk-wing of Grunge and tributes to some of the better melodic moments of their debut. The second release, although perhaps two-tracks too short, is still a promising refinement. The punches it lays across your face are brash and primal but not so uncivilised. Disenfranchised Fetus produces, expells and then subsists off its bare emotional strife and frustration and you can feel it through every note.
Underground Alternative Rock is lucrative and shouldn't be overlooked.