Maybe Not – Amsterdam, The Netherlands.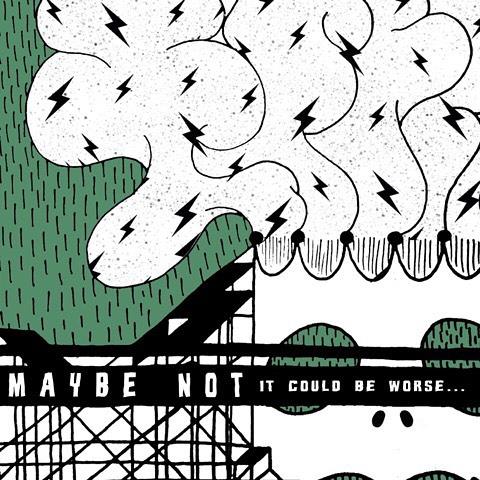 Ah European Skate Punk, a scene that continues to populate the greater global scene with some of the best new bands atop a legacy of contributions down-right impossible to ignore. Maybe Not hail from Amsterdam and are very much another to add to the ever-growing list of bands that you need to allow in to your ear canal for optimum ear nutrition…
Believe it or not, that's the first time I have made such a pun/name-drop and if you don't believe me please don't allow it to put you off. Maybe Not have just released their second release and debut full-length marking two releases in two-years with a sound channelling notable names from Pennywise to Dillinger Four and countlessly countless more.
Opening with the Cali-Skate-core of 'No Way' the Dutch four-piece are nothing but relentless in a track as melodic as it is cutting in true Punk grit. It's a track of hopeless rage and would hit nowhere near as cathartically hard without the pummelling rhythm ad curious but contrasting Ska-Punk-esquse refrain itself flirting with classic 'core.
'Wrong' is another for the Pennywise fans as cutting rhythms and subtle melodies charge forward propelled with impressive drumming and playful, classically Punk-toned bass strings. 'Wrong' is another jet-stream of sardonic attitude and Punk abandon and much like its predecessor in the running order, can be found in our 'One Skate, Extra Punk Please!' playlist – Here on Spotify. Best served shuffled!
The band's moniker-self-titled track takes their adrenalised approach back… slightly. Maybe Not fool you into perfect content with the slow ebbing bass and layered guitars into a gentle chug paired with the person-to-person strife of the track's wording. You would be happy with such had the machine-gun drumming and melodic leads not whisked you into near-perfect 90's Punk defiance that boasts much of the best of this ten-track delight.
By default, I should think you could if you had to name the style in which Maybe Not are championing in 'Problems and Nightmares' as Melodic Hardcore but I'll leave that to you but I will say that the opening contrasting NYC Hardcore-esque riffs are a treat. 'Sometimes' is beautiful in its Pop-Punk-isms and joins 'Maybe Not' in another one of our playlists – Here. 'Douche Kids' falls back on classic US (East and West coast) Hardcore without disrupting the flow quite cleverly showing the band to not be a one-trick-pony.
'No No No No No' embodies the best of classic shredding Skate Punk with much of its intensity borrowed from early Hardcore as it was in the early days complete with more reckless abandon and an excellent solo to boot. The band have proved how adept they are at faster Punk but with tracks as the melodic Dag Nasty-leaning classic Punk cross of 'So Far Gone' they add needed variety to It Could Be Worse… It's indeed a "good track" but one that in truth falls relatively flatter compared to its predecessors in places and would simply stay in "good" territory without its stellar solo and relentlessly contrasting end.
'Demons' is simple and excellent in its resonation. After all, screaming and shouting to get those demons out is very much the best medicine, which is fitting as 'Demons' is perhaps the best of the release and leads excellently into the closing 'Rock n' Roll'. This final onslaught is very much the other side of the same mind-set of its aforementioned partner in a very obvious yet clever way. It's all well and good cathartically expressing your desire to change but sometimes you do just lose control. Maybe Not mix their nihilistic Punk abandon with a self aware need to eventually change and it closes this fast album very well.