The Expanse Of The Internet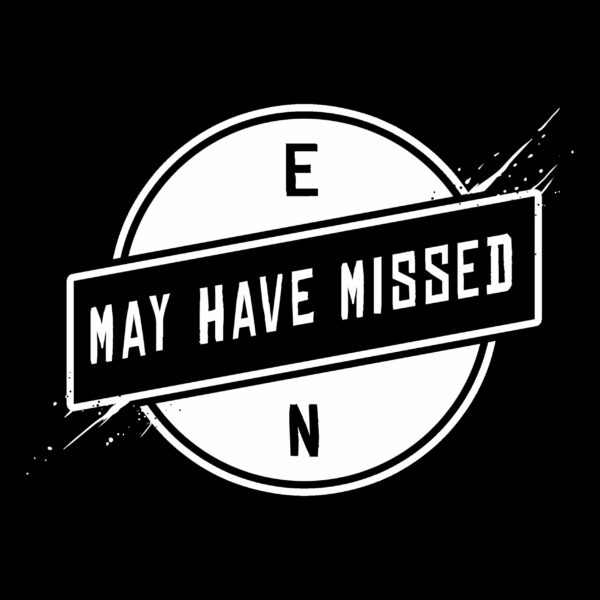 "May Have Missed Volume 5" is an attempt to counter the volume of requests I receive in the various Ear Nutrition inboxes as I type away. The venture of EN, when it boils down to the barebones of itself, is a spare-time hobby. I try to do what I can, as, after all, there is only so much I can electro-scribble down on a screen. Some don't fit, others are simply irrelevant to the site but overall, if they pique my interest or fit the site and whatever trend it's pursuing at that time, they get featured. I obviously don't have the time to cover everything and even though I would if I could, it's just not possible.
So, without further waffle, here is some music that I haven't had the time to sit down with-proper. The purpose of this series is to provide some varied new noise as an enticement to indulge in the plethora that is the underground music scene worldwide. "May Have Missed Volume 5" consists of cuts from the inbox, but also outside of it. Enjoy!
Volume 4 and the past volumes of May Have Missed can be found – Here
---
Adelleda – Decadelleda: 10 Years Of Keeping It Fast! (June 2021)
(Melodic Punk/Skate Punk)
Adelleda are a band I have been following for a while and yet another from a steadfast Canadian Skate Punk scene that, outside of the big names, produces some of the best in the world regarding its sonics. After all, a scene that birthed the likes of Belvedere, Mute and is home to Thousand Islands Records among others, is going to be one to constantly affix at least one ear to. Adelleda are one of those bands.
As is obvious, this very 2021, the band reached their ten-year milestone and hence why they are on "May Have Missed Volume 5". The Hamilton four-piece have cut through the world of fast melodic Skate Punk classicism, the onset technical variant and the post-Pop-Punk world with ease these past ten years in a motion of constant refinement. The band are known to re-record, rehash and dust off older efforts and the ten-year anniversary EP is exactly that. Adelleda's crooning, melodic, technical but streamlined ear-worms on the 2019 eponymous release is a must-listen for the comfortability of it but also for how it has influenced the rehashes. For, except for a cover of a famous naughty faith five-to-six piece, two of the three tracks on the EP are originally from the 2013 album, Distress.
'Innocence' returns with a considerably higher octane charge, contemporary gloss and determined clout. The band thread a jaunting yet emotive meandering lead through jagged, Melodic Hardcore-esque rhythms cut with the serration of the late '90s all glossed with a post-2000's finish.
The melodic Punk of 'Rollercoasters' now has the reach it always deserved. Adelleda play Pop-Punk the Skate Punk way and akin to the likes of the less Metal-orientated Strung Out, crash through the perfect song to juxtapose many of their more serious forays. However, sandwiched betwixt the two, is a cover. Bad Religion's 'Do What You Want' is given a shredded, Adelleda-brand nuance and of all the covers this song yields, the Canadian four-piece's rendition is up there.
Adelleda: Facebook / Instagram /  Bandcamp / Spotify / Apple Music / Deezer / YouTube Music
---
Me The Guts – Spilt Guts Over Rough Cuts (April 2021)
(Skate Punk/Melodic Hardcore/Hardcore Punk)
On to next one for "May Have Missed Volume 5" and we are still in Canada. This time, however, in Saskatoon for Me The Guts. Spilt Guts Over Rough Cuts is yet another album I had wished to cover prior to now but due to life hurtling forth at a pace comparable to this very band, it proved impossible. Thus, here are a few words to do it justice. Me The Guts are the perfect segue for this list before I intend to get somewhat offbeat.
Me The Guts have been crafting jagged yet melodic and soulfully spasmodic Thrash-infused technical Skate Punk and Melodic Hardcore since 2015. At this time, it is only fair to say that their precision-cut lacerations are at their apex. That said, Me The Guts are also a riff-heavy band that crossover into the melodic and emotive "gruff-Punk" that has been doing the cathartic rounds for the past ten-plus years. This, quite plainly said, despite all the inclinations to Skate Thrash, adds a huge contrast and then allows the alternation into aggravated existential abrasion to accost all the harder. It is quite easy to say then that Spilt Guts Over Rough Cuts is the band's magnum opus. From its violent yet intrinsic Hardcore Punk and Thrash supplementing the more melodic and streamlined efforts, it is impossible to lose interest at all.
Spilt Guts Over Rough Cuts is an album you'll play again and again. It's an album that's natural to the highest degree and that, quite contrary to my usual modus operandi, is all I'm to say on it. Oh and that album is available on vinyl via Wasted Wax Records.
FFO: Class Of 86, Blacked Out, Laughing In The Face Of, Fair Do's.
Me The Guts: Facebook / Instagram / bandcamp / Spotify / Deezer / Apple Music
---
Lightning Sharks – Life Is A Hideous Thing (April 2021)
(Blackened Noise Rock/Hardcore Punk/Crust Punk)
This one is considerably closer to me and approximately ten minutes away on the train. Fancy that. Lighting Sharks are from the sonic eclecta-verse that is Bristol in southwest England and as promised, it's time to get weird with it. That is within the context of "May Have Missed Volume 5" that is.
Splicing the word eclectic with another was the right choice regarding Lightning Sharks, for the band's work with Halfmeltedbrain Records resoundingly suits the label's MO as much as it does itself. Noise, Hardcore Punk and Crust, are often the varied but obnoxiously loud, progressive and combustive Punk subgenres and the debut from Lightning Sharks is very much amidst it all. The band's chaotic Noise Rock is powerful, foreboding and cleverly spun with its genealogy from both Hardcore and Post-hardcore but especially so on this debut EP. 'Below The Snakes' is enthralling, rife with spasmodic tempo and dynamic changes, whilst also being vocally eviscerating. LS are in controlled chaos but still evoke the sense of dread unorganised chaos does so effortlessly. All the while, their Black Metal-aesthetic and infused approach laces through the mash of high octane deviations.
And that is just track one. 'Nomads' furthers the discordant but melodic inclinations of the 'provocatively horrible Noisecore band from Bristol' with precision noodling and harmonising guitars in cutting contrast to the strained vocals. However, the band's Noisecore catches up and reverberating breakdowns prep you for the melodic yet shrill and aggravating rage to come. Lighting Sharks are clever. The band have taken a cross-reference of genres that are either directly related or can be so via associations on the fringe of one and amalgamated them confidently. 'Best Dressed Sex Pest' closes an EP that is a must for those partaking in the warped world of Punk music genealogy. You might need to sit down afterwards, however.
Lighting Sharks: Facebook / Instagram / bandcamp / Spotify / Apple Music / YouTube Music / Deezer
---
Going Feral – 'Too Late, Already It's Too Late' (January 2021)
(Post-Rock/Post-Metal/Instrumental)
After debuting with the Post-Metal abrasion that was 'Ghoul Rebellion', Leeds three-piece Going Feral returned again in January in order to take their two guitars and drum kit elsewhere across the soundscape. Although heavily reliant on a base of Post-Metal, the band's first single was still expansive and covered ground across both Prog-Rock and Post-Rock in something no less than terrifying. You can read a full review – Here. For now though, Going Feral's extrapolation beckons, for it's 'Too Late, Already It's Too Late'.
The band's rough instruments are far less inclined to hew flesh from bone in the second single. Meandering guitars intertwine after a slow, dulcet intro, breeds an air of comfort despite the tracks title. The contrast between this and what the majority of' 'Ghoul Rebellion' pushed is refreshing. Though their unique composition was confident on the aforementioned, on this second single its potential is further realised awash with complex drum patterns as the layers build careful and with little pause. That said, there is a turning point.
Between the band's 4:18 until 4:40, the energy from the three-piece's drummer breaks the dam and he flows solo. It is then that the serrated guitars emerge, this time playful but no less sharp or foreboding. The line straddling between both Post-Rock and its heavier counterpart is blurred and yet the band cleverly still beckon you closer despite a rise in aggression and tempo. One of the band's axes leads the way confidently while the other falls into the jagged, grinning but untrustworthy and exuberant rhythm section.
Of course, the band's tempo then alternates and falls into a layered but warped refrain as is the realisation of it being far too late finally hits and quells such exuberant drive. Though closer to archetypical Post-Rock, Going Feral still keep reserves of power ready to be unleashed. In fact, from 6:40, it begins to seep through on a plain of progressive layering that only leads to one thing. The cathartically brilliant finale. "May Have Missed Volume 5" would be nothing without some progressive guitar music.
Going Feral: Facebook / Instagram / bandcamp / Spotify / Apple Music / YouTube Music
---
Erotic Secrets Of Pompeii // Beefywink – 'And Then They Dug Our Graves' (July 2021)
(Post-Punk/New Wave/Post-Hardcore/Bizarro Rock)
What happens when you take two bands from a city where anything goes sonically in, out and around the Punk scene? What then also ensues within that when the those of said amalgamation are two bands that relegate the word vibrant to the worth of an idly toned audible utterance of the word "different". Well, that would be another trip to the eclecta-verse. I will die on this hill.
Moving on. For Beefywink, a history of sonic and personnel alternation has yielded a band that constantly reverberates around Punk music, staying strong to a core of Post-Punk, Grunge and Alternative Rock that has provided a home from which to annex their surroundings. A full review of the band's last release can be found – Here. However, this time, it is only their juxtaposing voiceboxes that are present in 'And Then They Dug Our Graves'. For Erotic Secrets of Pompeii soundtrack the song and describe it as thus.
'Daizy, Az, K Rush and Robbie provide the battle cries in support of those who have ever felt threatened and unprotected by the status quo – female, trans, non-binary, male, and anyone who has faced injustice no matter race, sexuality or gender. As the song implores, "Who makes our streets safe?" We, ESOP, back their verbal punches with what we do best – a maelstrom of noisy, hooky, Bizarro Rock. Solidarity through music.'
'And Then They Dug Our Graves' is a maelstrom of aggressive points akin to its incessantly jabbing and artful "Bizarro Rock". The joint single is spasmodic and is flexibly strewn somewhere between warped Post-Punk and an energetic Post-Hardcore The beautiful thing about bands, tracks and mediums in this vein is that the longevity of Punk spirit, stylistics and progression is substantiated with intrinsic ease.  'And Then They Dug Our Graves' has a maniacal energy without it compromising the direction of its conviction. Or something like that. No one listens to me.
Erotic Secrets Of Pompeii: Facebook / Instagram / bandcamp / Spotify / Apple Music / YouTube Music / Deezer
Beefywink: Facebook / Instagram / Official Website / bandcamp / Spotify / Apple Music / YouTube Music
---
Mug's Game – 'Mug's Game' (November 2020)
(Hardcore Punk)
To close "May Have Missed Volume 5" we are going back to 2020 also known as "the year that would only make the following year worse" because time is but a construct really isn't? Completely meaningless. Completely meaningless unlike what often inspires the fast and loud pushback and tirade of Hardcore Punk. For all the (welcome) nuances and derivatives Hardcore now has and on an even greater spectrum, Punk in general, sometimes, a return to the stripped-back formula is what satiates. Enter Mug's Game.
The Essex-based band are caught in what they define as their chosen name. The band's socio-political observations, their quest for clarity and reality and reactions to the negligent sewn seeds of others are propelled by a soundtrack just as honest. Mug's Game favour the riff-heavy, Metallic Hardcore pushed by the likes of Madball, Sick Of It All and all they themselves inspired with bursts of both Crossover Thrash and fast, classic Hardcore Punk. The band's whirling, subtle but whirling nonetheless melodic leads show but a glimmer of their existence in the energetic drive of 'G.F.L', providing that woven line between the classic vocal urgency and a powerfully sharp set of rhythms.
Mug's Game capture a perpetual sense of foreboding doom akin to the year that spun society out of whack and exposed more injustices than you can roast a gammon at. The band's debut effort is nothing new. It has been done before but therein lies its power. Mug's Game reverberates around their six tracks in under twelve minutes with natural ease. Mug's Game sounds exactly as intended and reaches its magnum opus in 'Fit The Mould' where that timely melodic lead rears its head opportunely again. This isn't simply a "fuck, this, fuck that" heavy-set stomp. Mug's Game's musings are, though simple and straightforward, by no means contrived.
The classics never get old when done right.
Mug's Game: Facebook / Instagram /bandcamp / Spotify / Apple Music / Deezer / YouTube Music
---
And so the words fade, that was "May Have Missed Volume 5". I may well do another, you never know.
Ear Nutrition now has WELL-OVER five-HUNDRED individual articles on hundreds of bands they are all waiting to be read. Tell all your friends and support the dying medium that is underground music journalism as it battles the seemingly uncontestable indomitability of the attention economy.
As always, thanks to Laurence Crow for the continued and amazing work for all things Ear Nutrition art.
Laurence Crow Illustration: