The Expanse Of The Internet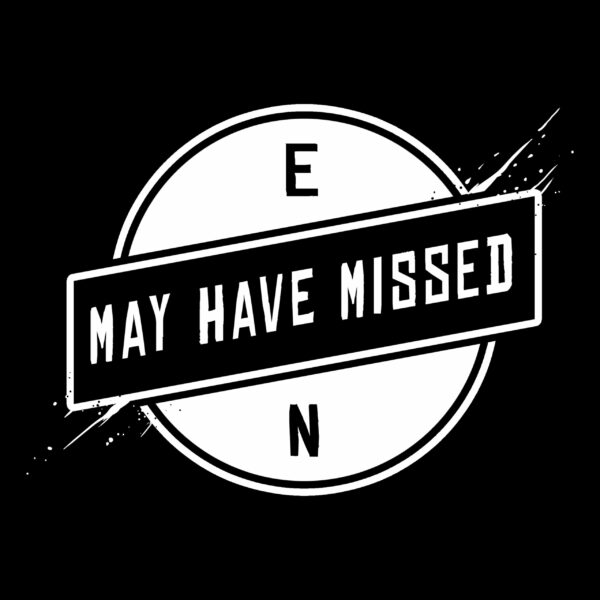 "May Have Missed Volume 4" is an attempt to counter the volume of requests I receive in the various Ear Nutrition inboxes as I type away. The venture of EN, when it boils down to the barebones of itself, is a spare-time hobby. I try to do what I can, as, after all, there is only so much I can electro-scribble down on a screen. Some don't fit, others are simply irrelevant to the site but overall, if they pique my interest or fit the site and whatever trend it's pursuing at that time, they get featured. I obviously don't have the time to cover everything and even though I would if I could, it's just not possible.
So, without further waffle, here is some music that I haven't had the time to sit down with-proper. The purpose of this series is to provide some varied new noise as an enticement to indulge in the plethora that is the underground music scene worldwide. "May Have Missed Volume 4" consists of cuts from the inbox, but also outside of it. Enjoy!
Volume 3 and the past volumes of May Have Missed can be found – Here
---
Streets To Ourselves – Suspension Of Disbelief (November 2020)
(Prog-Rock/Post-Rock/Alt.Rock)
To simply label the solo-headed but collaboratively comprised project of Streets To Ourselves as "Progressive Rock" is a fitting but simple way to categorise a musical project and album that is in reality that and so much more. Streets To Ourselves is the brain-child of Toronto multi-instrumentalist, Daniel Peachy an is the result of twenty-five years of band and music industry experience giving nuance to his background in Alternative Rock, Pop-Punk and Emo-led stylistics. Suspension Of Disbelief is an abstract approach to the aforementioned. There is a clear influence from Blink-182's self-titled album and it's seminal discordant musings but there is also more. There is an inherent grit with this album and its diverse displays.
'11/5/55′ opens and charges a dulcet, Post-Rock-esque ambience with warped, spasmodic and Prog-fuelled displays. 'Turning Tables' takes a melodic, yet marginally discordant Pop-Punk aesthetic and applies an aggressive Alt. Rock weight and a looming, foreboding possibility that it could erupt into something completely different at any stage. This is the power of Suspension Of Disbelief. The latest from Streets To Ourselves boasts long, drawn-out instrumentals sometimes completely removed from the tracks they are apart of before completely influencing and corrupting their path to the way of their own.
Tracks such as 'Black Spring' and 'Drown The Stars' offer acoustic and semi-acoustic Post-Rock that simply meander over a deeply contrasting, almost haunting bass tone ('Black Spring') while chasing playfully after the explorative keys and harmonised guitars ('Drown The Stars'). 'Stay Together For The Money' in its clever tribute to Blink-182 once again, ties itself to the previous tracks only by its guitar tone as Streets To Ourselves pushes it's Pop-Punk past. I could go on and describe this project further but in truth, I would cheapen it. There is a hugely varied skill and knowledge set on this release and you have to experience it for yourself.
Streets To Ourselves: Facebook / Instagram / Streaming Services
---
TRAPS – The Fighter (January 2020)
(Noise Rock/Post-Hardcore)
The Fighter wasn't the only choice I had when looking back at last year's TRAPS back catalogue. In fact, I spend some time ruminating on what to include in "May Have Missed Volume 4". The Brighton band had quite the year of releases. Brain Wee (April) pushed its drug-induced cacophony of Psychedelia, drawn-out Drone-like synths and it's a general maelstrom of "what". It made for quite the time laced with its socio-political overtones. September's A Day With The Curtains Open was a blast of further heart-on-sleeve political musings among other things warped with the band's progressive Noise Punk into further TRAPS controlled waters. However, with all that said, it was January's The Fighter I decided on.
The opening 6:50 of 'Cowboy' effortlessly smashes the door in. The band crash through the now splintering frame on heavy-abandon before subsiding into contrastingly melodic, harmonic and yet disconcerting jabbing Noise-conditioned Post-Hardcore. There isn't much time to acclimatise in 'Cowboy'. TRAPS' constant alternations deconstruct the legacy of heavier-Punk music and slam it back together as they go. Post-3:30, the band fall into a juxtaposing, confusing but "why not" looming, near-instrumental completed with reserved, vocals and whirling, Prog guitars. However, they then of course fall into an overly gratuitous but not unwelcome thudding display flanked with 'Cowboys' penchant for eerie melody.
'Cyborg' is fitting technical ala its name as vibrant Progressive Rock everything hegemonises for as long as it needs to. TRAPS are a band that clearly enjoy themselves and I can't imagine how fun the composition period was for this EP. 'Cyborg' epitomises the chaos of Noise Rock, the refined technical Post-Hardcore so useful in their craft but also the inextricable link to the Hardcore Punk origins of both. The tracks impressive 8:08 duration is not to be taken lightly and within the context of the three-track release, is a bonafide, reckless and destructive yet alluring force. In a rather abrasive, blunt-force-trauma-capable nutshell, TRAPS are a testament to contemporary heavy music.
And now, the second time on "May Have Missed Volume 4" I'm going to shut up and leave the rest to you. That is, however, other than leaving you with the statement that 'The Count' is the absolute best of the three. TRAPS are currently running with Halfmeltedbrain Records.
TRAPS: Facebook /  bandcamp (label) / Spotify / Deezer / YouTube Music
---
Steel Bridges – Flames Revisited (Part 1) (November 2020)
(Punk-Rock/Metal)
Steel Bridges is another hybridised project perfect for inclusion in this series and for "May Have Missed Volume 4" specifically. The Quebec project is the brainchild of one Philippe Routhier and his adoration of both Metal music, '90s melodic Punk and the contemporary wave of technical Skate Punk of the last twenty years. The symbiotic relationship of the three is something bonafide and entrenched in the modern scene and in 2019 gave birth to Steel Bridges first solo-work The Flames. The ten-track, instrumental release cascaded, dipped, dived, incessantly noodled, harmonised and layered relentlessly across mid-to-fast tempo Punk and Metal hybridisations and within its very existence as an instrumental record in this vein was idiosyncratic at first glance. However, in 2020 Routhier decided to take it one step further.
Flames Revisited (Part 1) takes three from the aforementioned ten and not only rehashes the recording but applies Routhier's vocals with lyricism on two of the tracks provided in collaboration. 'The Hand', now complete, rides forth on a gentle drumbeat and cycling acoustic strings before, Mute-esque tuneful vocal harmonies and specific isolations of the Metal-wing of that epochs sound are championed. Steel Bridges carries the again harmonic melodies, hooks, permeating, ear-worming lines of the contemporary Tech-Punk but overhauls in favour of near perpetually shredding Metal. 'Going Though' further encapsulates the metallic-majority of the project's penchant and those over-driven refrains so common the modern Skate Punk scene.
'Going Through' is very much a track in an apologetic adoration of traditional Metal guitar-work. This is the main selling point of Steel Bridges but especially on Flames Revisited (Part 1) as the faster tempos of its precursor form are eschewed in favour of this guitar-heavy approach. That's not to say that hints towards the Punk-inclined side of the project are missing, this is only Part 1 after all. 'Last Horizon' employs a rousing vocal display, building layered harmonies as a demonic line leads into rhythmic chugging.  Steel Bridges vocals are at their best on 'Last Horizon' and although again, we are yet to see them on the faster-Punk or Thrash-led tracks, for the most part, that is, there are still seven tracks to come.
Steel Bridges: Facebook / Instagram/ Streaming Services
---
Dotzd – Tempo (December 2020)
(Post-Rock/Post-Metal/Shoegaze/Blackgaze)
"May have Missed Volume 4" wouldn't be the series it is without a considerable Post-Rock and Metal contingent and the veritable, varied and ambient vibrancy of Mexico City's Dotzd is more than fitting. The one-human project has been navigating the realms above since 2014 and with his 2020 release, Tempo, both generates and explores a plethora of sounds and emotions while simultaneously subsisting off them in a perpetual cycle.
Post-Rock and all its instrumental affiliates are usually pigeon-holed into a myriad of long durations and drawn out sonically illustrative epics. Although Dotzd definitely falls into the latter category, cleverly and notably, he does so without treading on the former. 'Alba' champions the ethereal ebb of Post-Rock and opens the record as a statement of intent. That of a mantra to warp and infuse the genre.
'Alba' gradually builds layers but opts not for the expected cathartic cumbersome thud of Post-Metal, but through its permeating Shoegaze tone, blackens is surroundings. 'Alba' at 1:52, merges the ethereal with the explosive as it catapults off, chased by a whirling lead and an intrinsic yet contrastingly powerful scream. 'Destello' persists and infuses Dotzd's Post-Rock foundation with a heavier-set gusto, without losing the ease of the projects Shoegaze whilst playfully infusing it with a penchant for Math-Rock. It is truly a testament to the skill of Dotzd that all this is across two of the eight tracks.
Tempo seamlessly glides through its pool of influences. 'Punta Cometa' is pervaded by Post-Metal despite its soaring aesthetic and 'Capicua' moves from a Psychedelic Rock ebb to a brooding, demonic Sludge with not a reservation visible. If it wasn't obvious, there is an overtly comfortable and skilled artistry on Tempo. Despite Dotzd's deviations in the genre, be them slight or stark, there is an ease to the release, so much so in fact, that whether you listen sequentially, choose a song at random or idly press "shuffle", its immersive power undeniable. This is actually especially the case even in the Deafheaven-esque disjointed Noise-Blackgaze of 'Plétora'.
There isn't much else to say here. Dotzd has crafted something incredible and epic in the manner of progressive guitar music's best and yet has done so in a modest thirty minutes. I can't stress enough how passing on Dotzd would be a colossal mistake comparable in size the world his music pulls you into.
Dotzd: Facebook / Instagram / bandcamp / Spotify / Apple Music / Deezer
---
Television Villain – Days Of Youth (Demo EP) (April 2020) 
(Post-Punk/Psychedelic Rock/Alt.Rock)
Television Villain, in some ways, are rather close to where I am currently sat. In fact, if I walk for ten minutes, I would arrive at where their vocalist currently resides. Bath is a small place, but not in sound. This is especially the case with Television Villain. The four-piece are not one to sit still stylistically, their 2018 debut cut across Post-Punk, Punk-Rock, Alt. Rock and Post-Hardcore with regular forays and infusions from Indie-Rock and New Wave with educated ease. Since then, although halted by the pandemic, they have been experimenting with a variety of offshoots of the above as well as blatantly outside of it. Enter the Days Of Youth (Demo EP). A release standing as a showcase that is considerably better produced than the word "demo" implies. However:
'We wanted to make sure we didn't take away from the fact that they are demos. There are mistakes, little clicks and pops, overblown effects and a whole lot of fun, but that's what creating music is all about right? That said, we are proud to put these songs out there for you to hear!'
'Technicolour' conjures and traverses a soundscape far removed from the energetic Punk of the band's debut. Television Villain's ubiquitous ties to Post-Punk are still present in Dan Stothard's vocals but now take their time, ambling alongside an eastern, Desert Rock Psychedelia that eventually erupts into a spasmodic maelstrom of sound that can only really be described as "technicolour" itself. 'Make It Over' on the other hand boasts a double-fuzzed, low-ridden aggressive Post-Hardcore Punk-Rock with all the TVV-brand warped jaunts. 'Don't Dig Up My Grave' on the other hand drives on a hybridised '90s Alt. Rock, beset with an earnest Punk-drive, strained vocals and a wildly overt Rock 'n Roll solo. TVV's canvas is expansive and yet their playful genre-hopping is expediently interconnected.
'Embers' is a call back to the band's Post-Punk foundations and is one of their best open-hearted ballads while 'Hold Me Down' shows another side to the band entirely. The Days Of Youth (Demo EP) is disjointed by nature. It's seven songs show a band with a seemingly limitless well of talent, skill and inspiration. You could argue that there are many TVVs on this release and yet, as much as you could hold-down such an argument for a while; you'd buckle eventually. For this is aband comfortable in their perpetual sonic transit. They are just showing all the aspects of who they are. 'Pretty Boys' and 'Ghosts' close an EP that definitively deserves attention.
Television Villain: Facebook / Instagram / bandcamp/ Spotify / Apple Music
---
That's the end of that then, "May Have Missed Volume 4". Indulge in some new bands, check out the previous volumes in the series soundtrack these dismal times. There will likely be a Volume 5.
Ear Nutrition is now fast approaching FIVE-HUNDRED individual articles on hundreds of bands they are all waiting to be read. Tell all your friends.
As always, thanks to Laurence Crow for the continued and amazing work for all things Ear Nutrition art.
Laurence Crow Illustration: