Krang – Valasske Mezirici, Czech Republic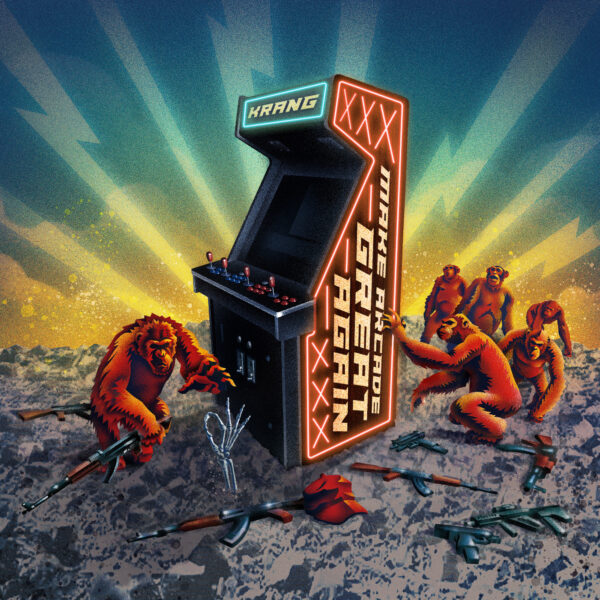 It's been a fast and turbulent time these past few years. Krang and Make Arcade Great Again are soon to crash through it all once more, this time assisted by both SBÄM and Sound Speed Records. The band's fast, serrated, yet melodic and sardonically laced, sometimes humourous socio-political commentary was last seen in 2018 and it is safe to say, much as transpired since then. This "much", aside from the abject fall of society toward complete and utter destabilisation and various proto-fascistic-dystopias, is also a new Krang album. Shall we?
'Time Is Ticking' was the band's return to the fold. The first single from Make Arcade Great Again provides the gritty, late '90s Skate Punk-serration the Czech band are known for. There is also a clean, keen refinement of the contrasting and melodic Pulley-esque, classic '90s Punk melodic inclinations which come as no surprise given who the band count as influences. Krang, it is safe to say, choose well with their first single.
Krang until now, inhabited a specific point in the Skate Punk timeline. The band could be found amongst the post-classic Pop-Punk period and the interchanging melody-to-jagged slash to the face of the proto-Tech Punk age. However, recently, there has been a huge drive toward crooning, soaring and tightly wound anthemic melodic Punk across the scene. This has taken place in-and-out of these intricate technical displays and is where the emotive 'Make Arcade Great Again' and 'Tintin' reside. Now, Krang are no strangers to heartfelt lyricism and stoic principles. This a given but already within three tracks, the accentuation of their previous melodic work allows this conviction to be fully realised. This is still Krang, but Make Arcade Great Again is approaching from a different angle. 'Melt All The Guns' is perhaps the most obvious example of this and although it prominently stands-out from the band's previous work, it's still an album highlight.
The production of this latest is also resoundingly more polished in reflection of this more melodic approach. The band are still short fast and loud but are now increasingly streamlined. 'Marion Cobretti' is a definitive child of the post-Pop-Punk world and increasingly sees Krang lean toward a latter timeline No Use For A Name, NOFX or MxPx inclined effort. The Cigar and Adhesive-esque earlier work is now less obvious but, it is important to state that the same level of precision is still strongly present. '1968' powerfully and poignantly references Czech history, while 'Bird Is Going Down' initially passes by unremarkably but in good continuity until you realise what it references. Not everyone in the scene is a saint, you know, even if they can fly and attack simultaneously.
'Homeless Man' then precision-glides through a Pop-Skate Punk echoing latter-career Ten Foot Pole in a sleek fashion. Krang's new sound truly settles by track eight. As much as I can see it potentially splitting fans, it's hard to contest with it (and the albums) quality. Krang have crafted what suits them. That's Punk, isn't it? 'Food Song' marks the "silly" entry of the melodic Punk record while 'Vacant' renditions the band's roots cut with their 2021 harmonies. 'XFilesX' pushes vintage, fast Pop-Punk through a gauze of maturity without losing its exuberance whilst the closing existentialist 'Counting Days' hits a sad, resonating home. Yes, I've mentioned the controversial "Pop-Punk" double-barrel a few times now and no, it isn't a dirty word. So you can forget about bringing that age-old bullshit up.
'Counting Days' laments past joy whilst battling an over-encumbering deflation. Krang are fed up on 'Counting Days', track twelve captures the recent lockdowns, doom-scrolling through social media and the general feeling of unease that permeated 2020 and that of 2021 so far. Will it ever end? Who knows but 'Counting Days' one of the best on Make Arcade Great Again. 
Krang and Make Arcade Great Again release via both SBÄM in Europe and Sound Speed Records in North America on the 16th of April. The band may have deviated and contrasted but again, the quality of Make Arcade Great Again is resoundingly strong. Find all you need below as well as all pre-order info.
Updates:
Music:
SBÄM:
Sound Speed Records: