Nurture Nurture – Saint John, New Brunswick, Canada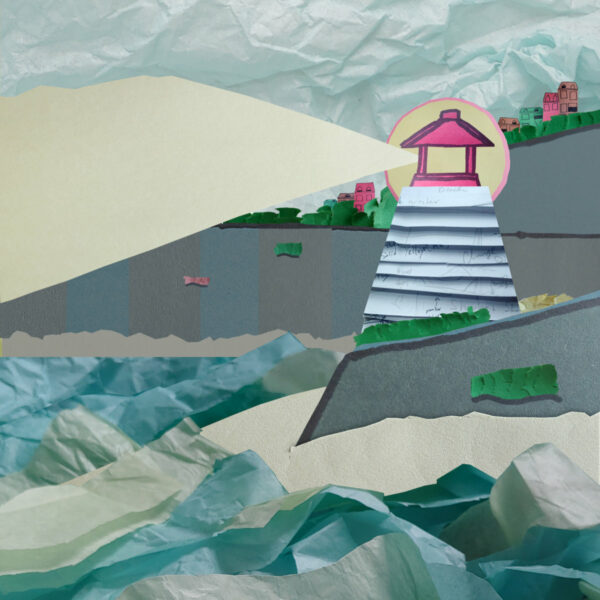 Introducing: Nurture Nurture is simple on the surface but in reality, is beset with such deeper meaning and in-band conviction. The Saint John, New Brunswick duo were incepted into the realm of progressive guitar-music after their respective careers in and around the Pop-Punk and Alternative music scenes from playing to production.
Nurture Nurture is a band developed of cathartic, poignant and emotional honesty. The band's 2019 employed a rough cut, gritty and abrasive take on Math-Rock beset with an exuberance away from the genre, moving on to exist upon its fringes. The two-piece plied the melodic, incessant twinkly noodling of the precision-cut genre with this onset grit and a weighted spasmodic bite befitting of the two-human station. Nocturnal Panic is a release that if you have time now or post literary absorption, you should sample – Here.
Thus far, 2020 has seen Nurture Nurture examine and battle alcoholism and the questing towards eventual sobriety. 'Lonely Habits' pushed a more vibrant vocal range while riding a low spasmodically alternating pace as the story unfolded. However, overall, the band's first single of this year, although tributing the rough-cut earlier material, notably moved towards a better produced and driven sound.
This is where we find 'Heart and Panic'.
Nurture Nurture market themselves as "guitar-driven" Math-Rock and outside of being pedantic, this is actually on the money. The inherent intricacy so prevalent in the genre is juxtaposed by an intensity borrowed from the band's past. Jeffs Cook's crooning Emo-esque vocals alternate in their own way between short, sharp accosting blasts to softer tones, before moving onward to an over-arching comparatively more Alternative Rock inclined display. Mental health is a constant theme of Nurture Nurture and throughout their work, the veracity and unpredictability of where that can take you is matched to their spasmodic and intense Math-Rock.
The complexities of past work are standing to attention but the focus is now less on the overt-nature of the native Math-Rock guitar and now rounded into a scarcely confined fifty-per cent.
The latter of theses halves are in no small part, owned by the thundering drumming of Scott Dincorn. On the band's first release, the kit was simply doing its job. That's not to say that said job wasn't indeed done well, but no more than was necessary. With the previous single but particularly 'Heart and Panic', this is remedied. The guitar grit of Nurture Nuture in 2020 is refined but now heavier set. The vocal efforts of Cook are more diverse and larger in stature, adding grit to the band's sound another way. However, neither of the previous would be worth their respective salt without Dincorn's efforts in 'Heart and Panic'. This I would also like to add, allows the strong, earnest and more mature Indie-Rock-leaning melodic Emo influence to negate any real criticism.
In a rather succinct nutshell, the robust foundation that Scott Dincorn offers allows this heavier, less complicated for the sake of it band to effortlessly rendition the loud-to-quiet and repeat formula. Nurture Nurture feel comfortable and able to move around this refined effort with relative ease. For all the attention I am giving the bravado of 'Heart and Panic', the track is nothing without its crucial contrast.
Onward from the ebbing thud post-2:16 until 2:34, the duo relents this drive for the most part. After one last foray, a looming mathed-Post-Rock-esqse bridge odes to the subtlety the genre can offer. This eventually leads to the driven weight of the band, which is this time tempered by harmonic backing vocals and a prevailing, consistent guitar-tone. This final part of 'Heart and Panic' despite its minute, quickfire spasmodic drum fills, allows the band to close their latest single with a simplified, natural contrast.
However, Nurture Nurture's 2020 doesn't end there. Like many, the band joined the rush to free as much of their music to world as possible before the years close. 'Up There' pushes the playful nature of the band with a robust yet eased socio-political jab. There no help from above for some and this is hammered home as is a need to provide and inspire hope.
Musically, 'Up There' channels the comparatively heavier intensity of the previous away and then back again via the band's roots. The guitar work of 'Up There' is more aggressive yet still maintains a lighthearted approach and hopeful tone. The aforementioned hammering of the point is backed by this sharp, piercing guitar work and its re-channelled and complex intensity. 'Up There' bar its further mathed-Post-Rock refrains carried from 'Heart and Panic', further pushes the refined driven sound Nurture Nurture seem now to be confidently settled within. Introducing Nurture Nurture is nothing without resoundingly stating the importance of mental health awareness, again. This last single is yet another in this vein where the spasmodic nature of their rendition of Math-Rock matches the ups, downs and confusions of the internal emotional maelstrom. The message here is that everyone deserves love, hope and to be happy and that is where I'll leave you.
That was Introducing: Nurture Nurture. Find them below!